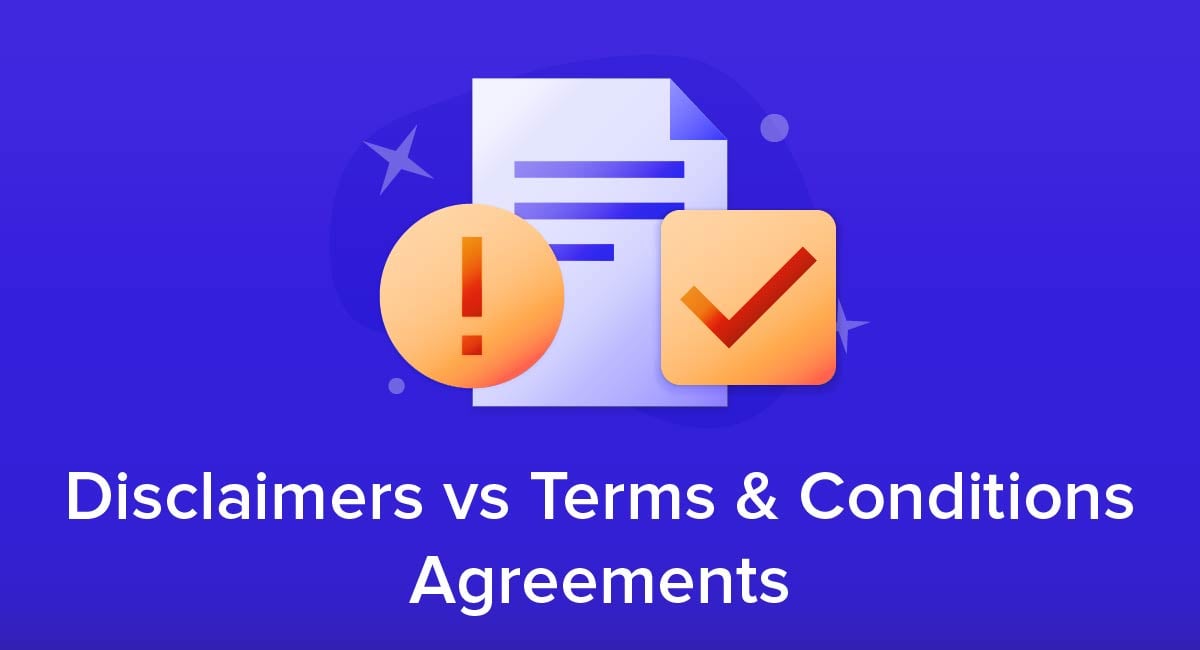 Protecting your website or app from potential misuse and misunderstandings is one of the most essential things you can do. Two of the best ways to do this is by making sure you include both Disclaimers and a Terms and Conditions agreement.
Both are fundamentally created to limit your liability. However, they are different in how they safeguard your business. One notifies users of what you disclaim, and the other dictates how users can use your website or service.
We'll address why including both of these are key to protecting your site from potential issues down the road.
Why Do You Need Both?
Disclaimers and Terms and Conditions agreements, or Terms of Use agreements, are commonly mistaken for each other. Typically this is because many disclaimers are included in a website's Terms section, such as a Disclaimer of Warranty or Third-Party Links.
For example, Apple's Disclaimer of Warranty is part of its general Terms of Use: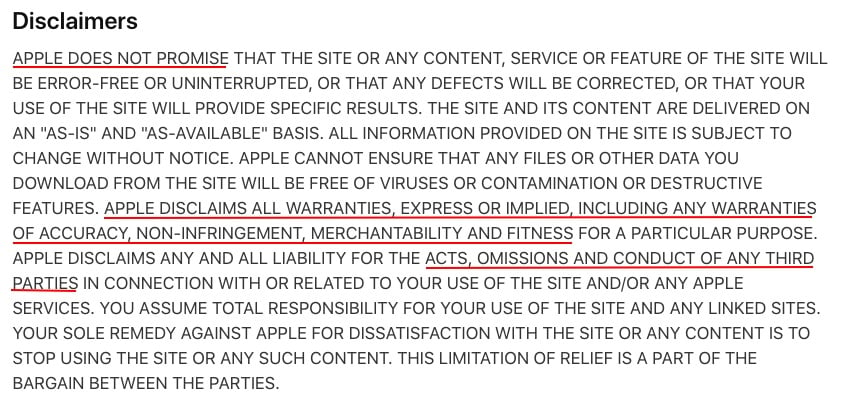 Disclaimers are more specific than Terms and Conditions. They state specifically what your website does not promise or guarantee. A Terms and Conditions agreement is broader and generally explains how a website can be used.
Disclaimers
Disclaimers are statements made by your website or app that notifies users of what you disclaim or do not promise to users. Some general disclaimers are for:
General liability
Liability for third-party links
Issues arising from the use of the website
Errors or omissions on the site
Medical or legal advice
Issues when shipping or for the return of goods
These disclaimers limit your liability if a user develops an issue or receives damages when using your site. They also put users on notice of that limitation. Including these statements is important if there is a dispute over whether users were properly notified.
As we mentioned above, disclaimers can be part of a Terms and Conditions agreement, but they don't have to be. You can have a separate Disclaimer page. However, since many disclaimers deal with issues that may arise from using the site, they are typically included in the terms.
Terms and Conditions Agreements
A Terms and Conditions agreement is your website's policy that states how users are allowed to use your site.
You are not legally required to have a Terms and Conditions agreement. However, not having one could put your site at risk.
A Terms and Conditions agreement dictates how a user can use your site, what they are allowed to upload, and how your site may take action. A few sections every Terms and Conditions agreement should have include:
How your site can cancel or terminate use if a user violates the agreement
What rules a user must follow to use the site
How uploaded user content is treated
What laws govern the agreement and how any issues will be handled
What your site can do to protect its intellectual property rights
A Terms and Conditions agreement is a legally binding agreement. When a user agrees to the terms, they are then legally obligated to follow the policy. This gives your site the ability to take appropriate action if a user violates the agreement.
Examples of Disclaimers

Disclaimers are statements, not agreements or policies. They act as a notice, making users aware of what a website is not liable for or the limitations on that liability.
The types of disclaimers that you create depend on your website and what services you provide. For example, an ecommerce website might have shipping disclaimers, but an online video streaming service will not.
Below are some common disclaimers you may want to consider adding to your website.
Disclaimer of Warranty
A Disclaimer of Warranty is a statement "disclaiming" any promises to users that there won't be any issues with the site, such as errors, features not available, accessibility, or omissions.
This disclaimer reminds users that they are taking the site "as is," which is a common phrase included in the disclaimer. This means that users are using the site as it is, with any errors or mistakes that come with it.
Take a look at how YouTube does it:

A common format for a warranty disclaimer is to use all capital letters to really draw attention to the text. This tactic is also used in the next disclaimer we'll look at.
Limitation of Liability
A Limitation of Liability disclaimer is another key disclaimer to include on your site. Like a Disclaimer of Warranty, it is usually found in the Terms of Conditions since it relates to how users interact with the website or app.
White House Black Market's Limitations of Liability section is a good example of this type of disclaimer: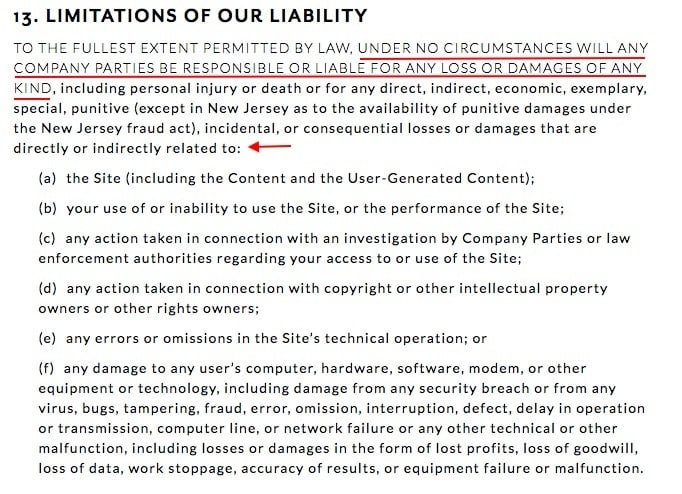 This type of disclaimer states what the website's limitation is on its liability to any damages users may obtain from using the site. This can be things from clicking on third-party links to using copyrighted material to the performance of the site.
Medical/Legal Disclaimer
We mentioned before that not every site will have the same disclaimers. Medical, legal, or financial disclaimers are prime examples of this.
If you have a website or blog that sells workout equipment, tips on legal issues, or tricks on how to improve your credit, including these disclaimers is a must. These disclaimers remind users that your site should not be taken as professional advice, disclaiming any issues that may arise if a user misunderstands or receives damages from following what is on your site.
Tonal sells athletic equipment and includes a disclaimer stating that Tonal isn't a "healthcare provider" and users should always seek professional medical advice:

Another example is from Credit Karma. Credit Karma offers tips and tricks to reduce credit card debt. In its Terms of Service, it has a disclaimer stating that the site is not a legal or professional advisor: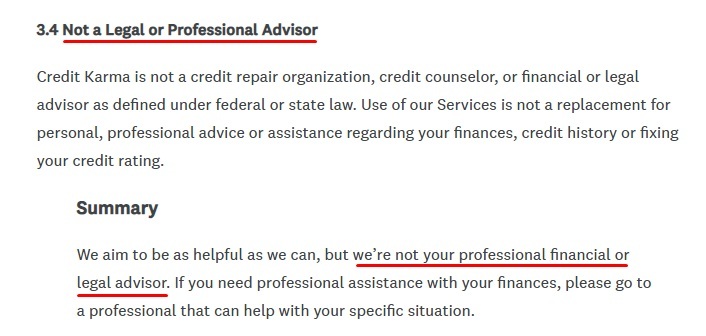 Shipping Disclaimer
A Shipping Disclaimer is important for ecommerce stores. These disclaimers can be included in the site's Shipping Policy and are essential to dictate what your site will be liable for if there are issues when products are sold and shipped.
Barkbox states that shipping dates are estimated and shouldn't be seen as set in stone and there is a time limit for customers to receive compensation if their purchase is lost or damaged:

Return Policy Disclaimer
Similar to a Shipping Disclaimer, a Return Policy Disclaimer is about the limitations of the site's liability for products that need to be returned or exchanged.
Michael Kors includes a disclaimer in its Returns & Exchanges Policy of how items should be returned and specific items that it will not accept as returns:

These disclaimers don't have to be long but should be clear to notify users of what they have to do to receive a return or refund.
Affiliate Disclaimer
Important for blogs and some ecommerce stores, an Affiliate Disclaimer states whether a website is affiliated with third-parties or products. These disclaimers put users on notice that the site receives compensation for affiliated links. You can have these disclaimers in one general location, or better yet, include one on any page of your site that has affiliate links.
Check out Outdoor Gear Lab's Affiliate Disclaimer on the bottom of its homepage.

Third-Party Services
Most websites or apps use third parties or have third-party links on their sites, which is why having a disclaimer for them is important.
Third-party disclaimers are a way for your site to limit its liability for any issues a user may encounter if they click a link on your site or an ad that takes them to a third-party.
Overstock features multiple third-party links for its products and it disclaims any liability that may occur from clicking on those links and how the company is not responsible for the content on those sites:

Now that you have a good idea of what a disclaimer looks like and is, let's switch gears and take a deeper look at exactly what a Terms and Conditions agreement is, and how it differs from (yet can be associated with) disclaimers. We'll look at some practical examples.
Examples of Terms and Conditions Agreements

Controlling how a user interacts or uses your site can be paramount in safeguarding against potential legal issues. As with disclaimers, what you include in your Terms and Conditions agreement is entirely up to you.
Below are some key sections almost every Terms and Conditions agreement will have.
Acceptance of the Terms
A crucially important part of your Terms and Conditions agreement is the Acceptance Terms section. Since agreeing to these terms constitutes a legally binding agreement, users must be made aware that by agreeing to the terms and using the site they are bound by the agreement.
At the start of its Terms of Use, the Robin Hood Foundation states that users agree to the terms by using the site and that if they don't accept the agreement, they can no longer use it:

Note that there is no practical difference between a Terms of Use and a Terms and Conditions agreement. It's basically a different name for the same thing.
Billing and Payments
This section is where you can state how your site handles payments, how users can go about solving any issues in their billing or payments, and the terms for payments.
Hulu breaks down how subscription and fees are handled and the different payment methods users can use in its terms: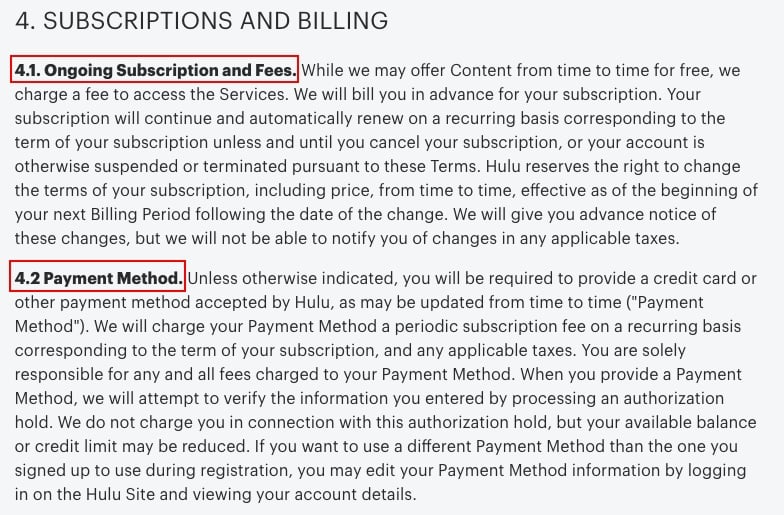 For any site that receives payments, sells products, services, or subscriptions, you will need to have a Billing and Payments section in your Terms and Conditions agreement.
User Submission
Most websites feature sections where users can contribute content to a site, such a blog where comments can be left on articles, or a forum where users can share links, images and comments. The Terms and Conditions agreement is where you can notify users of how their uploaded content is handled, and what rights both they and you have in that content.
Not including this section if you accept user content could leave your site open for liability if there is an issue over intellectual property rights to the content.
Reddit accepts thousands of uploaded content daily. In its User Agreement, it states users retain full rights to their uploaded content but Reddit receives "worldwide" licensing rights to the content when the user agrees to the terms: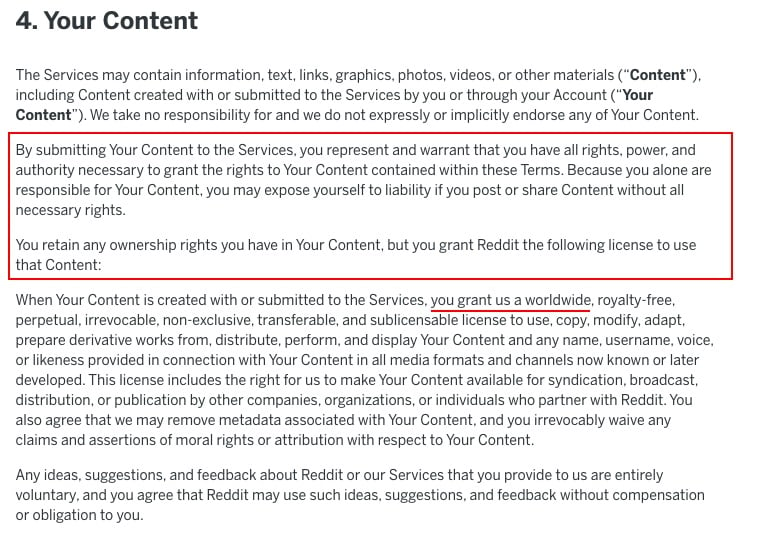 Arbitration Agreement
Some may overlook this section in a Terms and Conditions agreement, but you shouldn't.
Dictating how any legal disputes will be handled can help limit legal costs. Choosing what law will govern is also important as some state or federal law may be beneficial or detrimental to your case. Most sites choose arbitration as it is a cheaper and sometimes faster process than a court hearing.
Food52 states that once arbitration is accepted, it is binding and if either party does not like the outcome they cannot seek litigation:

Termination of Use
You should include a section in your Terms and Conditions describing how a user may terminate their use of your site or service, and how you may terminate a user's use. This can help limit your liability if a user has a dispute over the termination of their use by making them aware of what can cause the cancellation of it.
Apolitical states that users may terminate their account and provides the way to do that:

It also informs users that it may cancel any account for it feels has violated the terms in the agreement. You can also choose to retain the right to cancel a user account for any reason, at your own discretion.
Changes to the Terms
You will likely update your terms at least occasionally to coincide with technology changes or changes you make to your site's functioning, or your business practices. You should make note of this in your Terms and Conditions agreement and let users know how you'll notify them of material changes..
See how Hulu notifies its users of potential changes, how they'll be informed, and what it means when it comes to consent to the new terms:

Summary
Sometimes confused for one another because of how much they overlap, disclaimers and a Terms and Conditions agreement both work to safeguard your website from potential legal issues, but in different ways.
Disclaimers are statements disclaiming liability or the site's limitation of liability to the user if the user encounters issues while on the site.
A Terms and Conditions agreement is a legally binding agreement that dictates how a user may use the site and the actions a website can take if the agreement is violated.
While you will often find disclaimers within a Terms and Conditions agreement, the T&C will cover far more areas of importance, and additional topics outside the focus of the disclaimers.