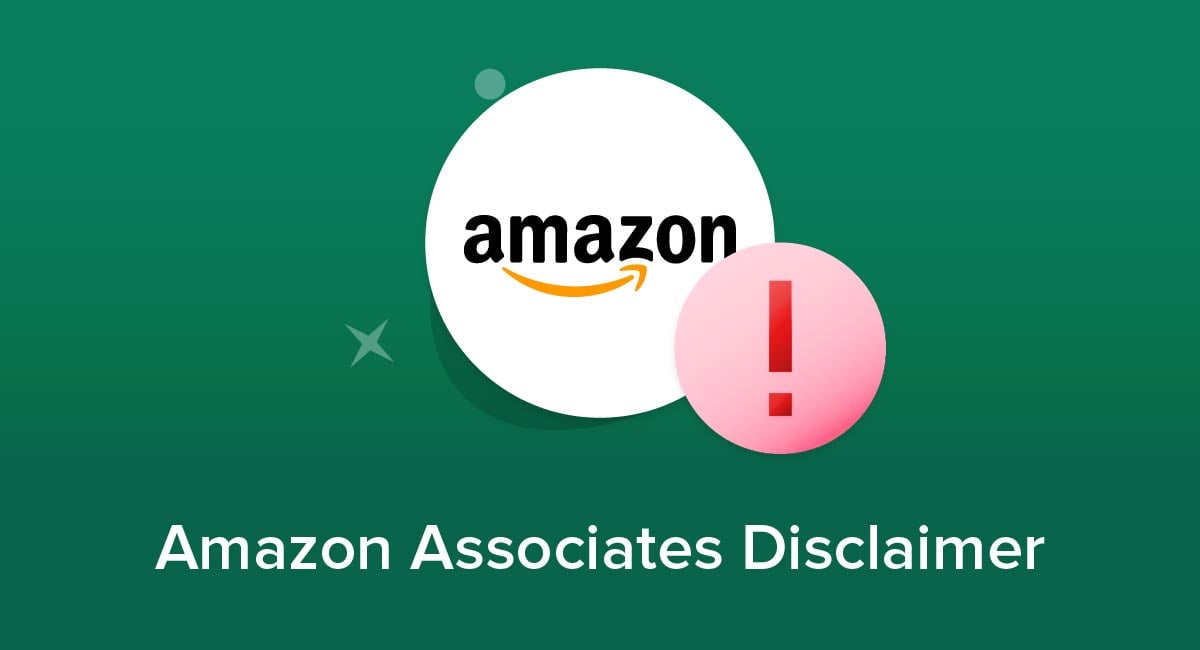 If you participate in the Amazon Associates affiliate program, you'll need to follow a few requirements, including the requirement of disclosure. You need a disclaimer that lets people know about your participation in Amazon's program.
This article will explain Amazon's disclaimer requirement and show you how to draft and display your Amazon Associates Disclaimer to make sure you comply with the rules.
Our Free Disclaimer Generator is designed to help you comply with the requirements of various affiliate programs, such as Amazon Associates. It also includes various disclaimers like medical disclaimer, fitness disclaimer, website disclaimer and so on.
Just follow these few simple steps and generate a Free Disclaimer for your site or your app:
Start by choosing the "Free Disclaimer Generator" on our site.

Then select where your Disclaimer will be used on:

Follow with adding your website/app information:

Enter the country and click on the "Next Step" button:

Continue with building your Disclaimer and answer on questions about your business from our wizard:

Now just enter your email address where you'd like your Disclaimer sent and click on the "Generate" button.

You're done! You can copy and paste your Disclaimer code into your website/app, or link to your hosted Disclaimer page.
Amazon Associates Program Operating Agreement
If you're looking to take advantage of having Amazon affiliate links on your site, you must follow Amazon's Associates Program Operating Agreement.
What's included in the agreement is:
What the agreement is about
How to disclose that you are part of the program (associates disclaimer)
Compliance requirements
Section 2 of the agreement states associates must comply with the agreement to "receive fees." If you violate the agreement, Amazon may withhold any fees that you have earned through your affiliate links and you may not be able to continue with the program:

The key requirement in the agreement is that associates must "identify" themselves as being an Amazon associate, or have a disclaimer notifying visitors that you are part of the program.
Section 5 of the agreement lays out exactly what is required in the disclaimer:

First, your disclaimer must state that you have affiliate links on your website. Amazon doesn't require a certain phrase, but they do recommend including the statement "As an Amazon Associate I earn from qualifying purchases" or a variation that's "substantially similar" to that.
Whatever you say, it needs to put a visitor on notice that you have affiliate links and receive a commission from them.
Second, your disclaimer needs to be clearly accessible. Section 5 states it needs to be "on your site or any other location where Amazon may authorize." This means you can't make a user go hunting for your disclaimer.
Third, in your disclaimer, make sure not to say that Amazon endorses your website. This could mislead a user and could violate the agreement.
FTC Requirements

The Federal Trade Commission (FTC) is a U.S. agency that protects consumers against unfair practices, misleading information, and fraud. With the growth of bloggers and websites featuring endorsed content, the FTC issued guidelines for how to disclose those endorsements and who should do this. The FTC's Endorsement Guidelines apply to multiple types of companies. It applies to those that have links or endorsements for a "sponsoring advertiser."
This can cover bloggers or websites if you:
Are being paid to mention a product on your blog
Receive free gifts or products if you feature the product on your site
Are part of a network marketing program
Amazon Associates would fall underneath that network or affiliate marketing program. The FTC lays out specific requirements for how this association must be disclosed:

First, your disclaimer needs to make the visitor aware that there is an affiliate relationship. Visitors need to know whether you are receiving free products or a commission for including the link.
Second, the disclaimer needs to be clear and conspicuous. The FTC doesn't want users to have to spend all of their time looking for your disclaimer. It needs to be in a place that is easily accessible and not buried in other pages on your website.
The FTC states the "closer to the recommendation, the better." The FTC recommends you include the disclaimer in the product review so that a user can see your review and can have easy access to the affiliate link. It isn't required to have the disclaimer next to the review, but if you have the disclaimer and links too far removed from one another, a user may be confused about which product and review is an affiliate link.
That's why including it at the top of every page you have an affiliate link is a good idea as visitors will see it right away or having a simple sentence underneath the product can satisfy the FTC's guidelines, too.
Third, your disclaimer needs to be informative enough so that users are made aware of what the disclaimer is for.
The FTC doesn't require you to have a long paragraph to inform visitors, but it needs to be enough that users know what is going on.
Not everyone knows what affiliate links are so under the FTC including a "buy now" button or the statement "affiliate link" is not enough. A simple sentence stating you receive a commission for a sponsored link can be all that you need to say.
Now that we know what is required by Amazon and the FTC, let's take a look at some examples of how you can make sure you comply with these requirements.
Examples of Affiliate Disclaimers

Affiliate disclaimers can come in all shapes and sizes. You can have a long one detailing each affiliate you have, or you can simply state you have affiliate links.
Remember, under Amazon's Associates Program Operating Agreement (and the FTC), the disclaimer needs to:
State you have affiliate links
Be clear
Be conspicuous and clearly displayed
Not mislead users
Be simple enough that a user will understand
Remember, Amazon provides a statement that Associates can use in their disclaimer to notify users. You don't have to use that statement, but you can if you wish.
For an example of how you can have a simple disclaimer on your webpage take a look at how Jessie on a Journey does it. She includes this disclaimer at the top of each page where she has affiliate links, like her blog post about Travel Essentials. Note that the disclaimer isn't long, but is simple and clear.:

A longer version of a disclaimer can be found on The Blonde Abroad. She has a link to her Disclosure Policy in her footer. In her Disclosure Policy, she describes what affiliate links are and how she sometimes receives compensation if she includes a link or gives a product review: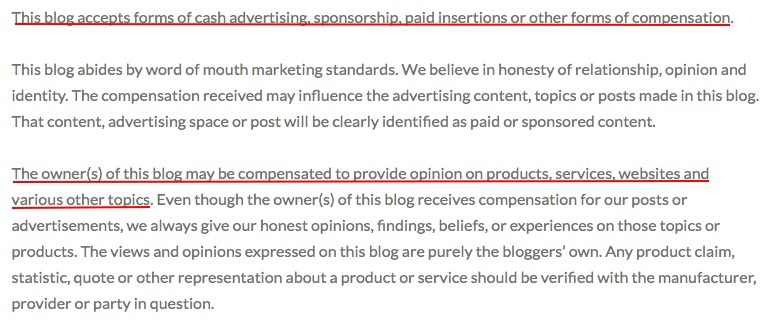 If you are affiliated with multiple companies/networks, and Amazon is one of them, take a look at how Fit Bottomed Girls drafted its disclaimer. It lists affiliates and contact information if a user has a question about one of them: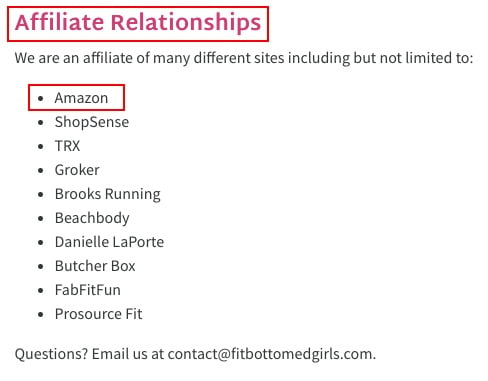 The FTC recommends that you include the disclaimer as close to the product review or link as possible. This is the best way to notify users about your affiliation. Another good location to include a link or your disclaimer is in your website footer.
The footer is one of the most common places users will look to find legal agreements or disclaimers, so it's a safe bet to include one there.
Take a look at how Home Stratosphere does it: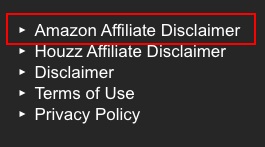 It also separates its disclaimers, displaying one for Amazon and the other for Houzz, making visitors aware that there are separate disclaimers for their affiliates so visitors are not confused.
The Amazon Affiliate Disclaimer link takes you directly to a page with a short statement disclosing the affiliate relationship with the company and Amazon:

A good example of a complete affiliate disclaimer that complies with Amazon and the FTC can be found at Hello Glow. It has a link to its disclosure page that states everything a user needs to know about the site's affiliation with Amazon.
It even notifies users it is following FTC guidelines by providing them information about its affiliation. It uses simple and clear language stating links on the website are "affiliate links" and Hello Glow receives a small commission from them:

It also clearly notifies it's participation in the Amazon Affiliates Program, using similar language to what Amazon suggests:

Finally, a reminder that not everyone knows what "affiliate links" are. Hello Glow is a good example of how you can inform users about what these links are and how they work in a simple way.

Summary
For bloggers or websites that are looking to take advantage of the benefits of being an affiliate of Amazon, you must remember that you have to follow the disclosure requirements in the Amazon Associates Program Operating Agreement.
You must clearly state that you are part of the program, that you have affiliate links on your site, and you receive a commission if visitors purchase something to comply.
Additionally, if you have affiliate links then you must also follow the endorsement guidelines created by the FTC. This means your disclaimer also needs to be clear, conspicuous, and easily understandable.
If you don't follow these two requirements you could potentially be putting your website at risk of losing your partnership with Amazon and being found in violation by the FTC.