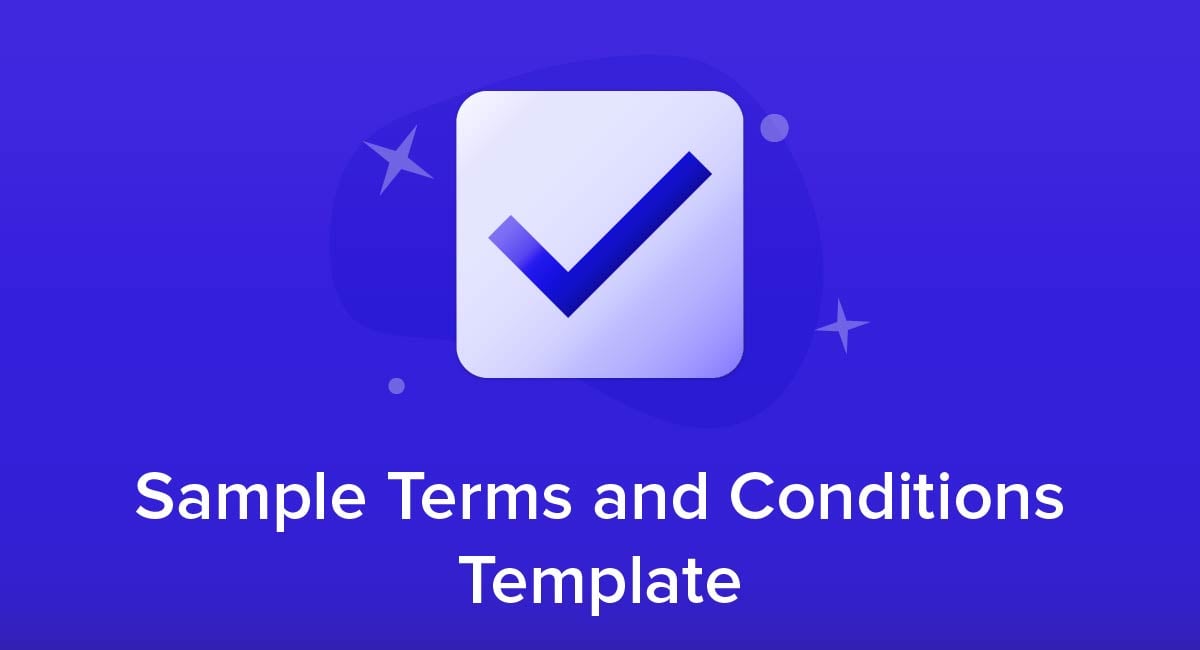 A Terms and Conditions agreement is extremely important for your business to have for a number of reasons, including helping you limit your legal liability and keeping your users informed of your rules.
This article will guide you through creating a Terms and Conditions agreement for your business by covering what these agreements are, what their benefits are, how to create your own and then how to display and get agreement to it.
Our Free Terms and Conditions Generator is created to help you generate a professionally drafted agreement that can include various terms and conditions for your site and/or app.
Start the Free Terms and Conditions Generator from our website.
Select platforms where your Terms and Conditions will be used (website, app or both):

Answer a few questions about your website or app information:

Select the country:

Answer a few questions about your business practices:

Enter your email address where you'd like to receive the new Free Terms and Conditions and click "Generate":

Once generated, you can copy and paste your Free Terms and Conditions agreement on your website or app or link to your hosted Free Terms and Conditions page.
What are Terms and Conditions Agreements?
Essentially, a Terms and Conditions agreement is a contract between your business and the user of your website or app - whether they are an individual or a business. You may see Terms and Conditions agreements referred to as Terms of Service (ToS) or Terms of Use (ToU). There's no practical difference between these terms and companies use them interchangeably.
Having a Terms and Conditions agreement is not a legal requirement, but having one is important as they protect your business and create a set of rules that anyone using your app or website must agree to.
Without a Terms and Conditions agreement your business and customers are lacking clearly defined rights, responsibilities and duties. This could lead to costly disagreements. For example, businesses lacking a payment clause in their Terms and Conditions agreements may receive late payments which affects the business's cash flow and leads to money and time spent on debt collectors.
In addition, whilst not required by law, Terms and Conditions are a good place to include any disclosures that are required by law.
Benefits of Having a Terms and Conditions Agreement

There are a number of benefits that a Terms and Conditions agreement provides. Here are a few of the most important ones:
Protecting your business - Terms and Conditions are crucial to protecting your business as they create a binding agreement between you and your customers, the terms of which can be legally enforced in court.
Setting rules and expectations - Terms and Conditions create certainty and clarity by allowing your business to set user rules and expectations. Customers and business partners should know what to expect and understand what their rights and responsibilities are. This in turn makes them less likely to go back on their word and creates a mutual understanding between you and your end users.
Defining acceptable use of your website or app - Your Terms and Conditions informs everyone who uses your website or app what conduct is acceptable and what isn't. For example, if your website enables visitors to leave comments, your T&C can specify that these must not be abusive in nature. It can also give you the right to ban users that are in breach of these terms.
Creating clear payment terms - Your Terms and Conditions advises users when payment is required, what methods of payment are acceptable and what happens if they fail to pay or pay late.
Protecting your intellectual property - It's likely that your business has some intellectual property or trademarks to protect. Your Terms and Conditions can contain clauses that ensure the user understands what is subject to copyright and what this means.
Limiting your businesses liability - Your Terms and Conditions can limit your company's liability and state that your business is not responsible for errors and omissions on your website or in other content you release.
Clauses For Your Terms and Conditions Agreement

While your Terms and Conditions agreement should always be tailored to your own unique business, there are several clauses which appear in the vast majority of Terms and Conditions. They include the following:
Payment Terms Clause
This clause sets out your business's payment terms including when payment is due, what payment methods are acceptable, at what point payment is taken, what happens if the customer fails to make the payment or if the payment is late and any different rules for overseas customers. This is important to ensure there are no misunderstandings and to ensure your business is paid on time.
The Woburn Hotel's payment clause is tailored to its business and states which methods of payment are acceptable, when a deposit is required and when immediate payment is required:

Retailer Next has also tailored its payment terms by making it clear that the company does not accept credit cards due to expire, cards that are registered to a different address or cards not in the buyer's name:

Limitation of Liability Clause
It's critical to include this clause in your Terms and Conditions no matter what your business is in order to limit your liability as much as possible with regard to any errors on your website or app. The clause needs to explain that your business is not responsible for any inaccurate or incorrect information. This clause is an important part of risk management.
Walmart's Terms of Use agreement contains a thorough Limitation of Liability clause:

Facebook's Terms of Service also contains a carefully drafted clause that limits the company's liability: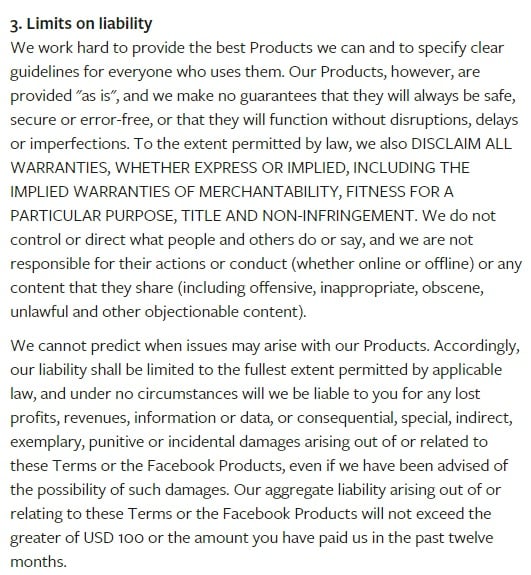 Intellectual Property Clause
This clause tells users what is protected by copyright law and is important to make sure there are no misunderstandings about the ownership of the website or apps content.
Mastercard's Terms of Use contains an intellectual property rights clause which makes it clear what the company owns and what cannot be done with its materials. The clause clearly states that any unauthorized commercial use will violate its intellectual property rights: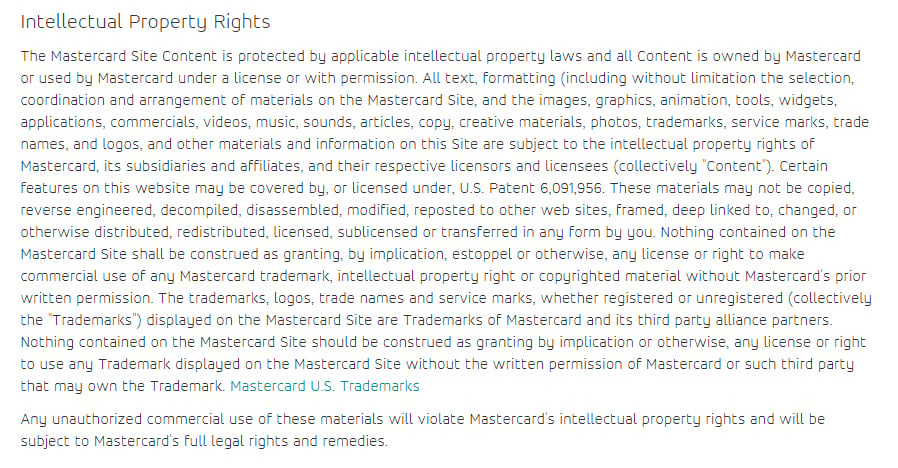 Costco's Intellectual Property clause is split up into three sections and clearly states everything on their site belongs to them, as well as naming all of their trademarks. The third paragraph defines restrictions of use.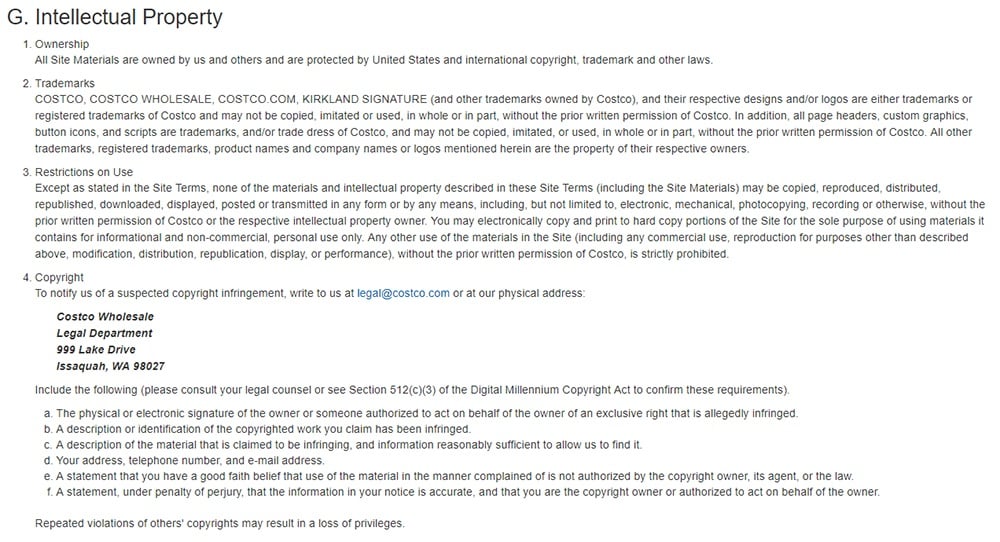 Acceptable Use Clause
This clause creates user guidelines for your website or app. It's important to define what is classed as abusive or inappropriate conduct and to explain what may happen if a user violates this clause.
The clause encourages people to use your website or app appropriately and avoids any confusion about what is deemed to be inappropriate use.
WhatsApp's Terms of Service contains a comprehensive clause about acceptable use of its services, which is broken down into multiple sections. First the company's terms and policies about acceptable use are disclosed, followed by information about legal and acceptable use: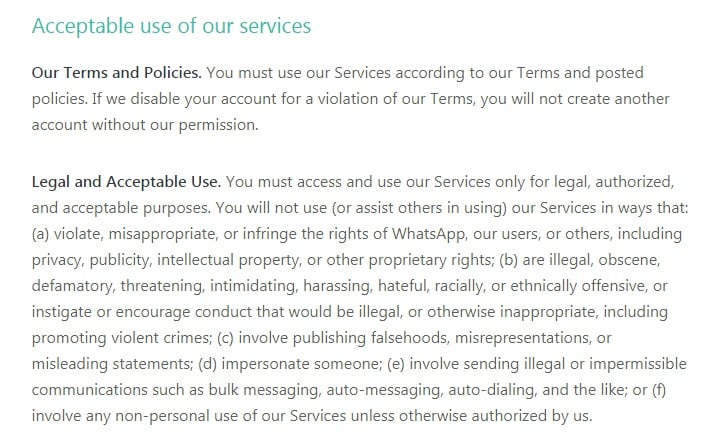 A sub-clause about causing harm to the company or to other users is included, and this section includes a number of things that users must not do, including reverse engineering the software or using it to send viruses: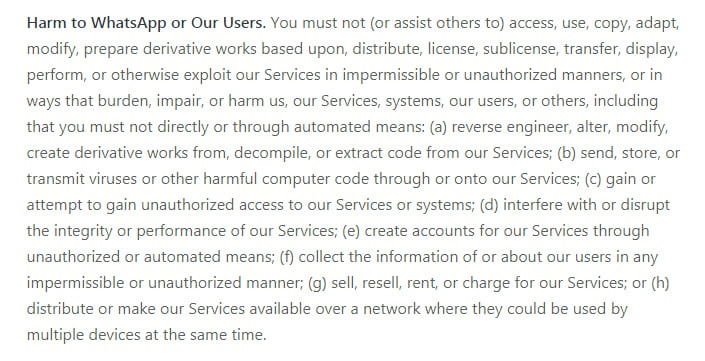 Depending on the nature of your business, your restrictions may be very different than what another company restricts.
Termination Clause
You need to reserve the right to ban or restrict users from your website or app at your discretion, and a termination clause makes this easy to do.
For example, if a user was displaying abusive behavior on your forum, you could delete the person's account and ban their email address from your site. The clause needs to make it clear that your business would not be liable for the immediate termination of a user's account or membership.
In its Terms and Conditions, FTI Consulting makes it clear that it can terminate access to services or its website immediately and without notice:

Governing Law Clause
This is usually a short clause that explains where your business, website or app is based and informs the user which laws govern the Terms. It's important to include this clause as websites and apps can be based anywhere in the world and reach users around the globe.
Holiday company One and Only clearly shows that its Terms and Conditions are governed by the laws of Dubai and the applicable federal laws of the United Arab Emirates (UAE) in this short clause:

A further example is shown in Barneys Terms of Use, which is governed by the laws of the state of New York:

User Generated Content
If your business encourages or allows user generated content you may wish to display a clause specific to this, or even include a separate policy.
User generated content, which can include anything from blog posts to tweets to photographs, is a great way to connect with customers. However, it leaves your business open to copyright infringement and potentially abusive content.
This is why including a user generated content clause, and asking users to agree to it, is so important.
Google Play has a well-drafted User Generated Content clause within its policy: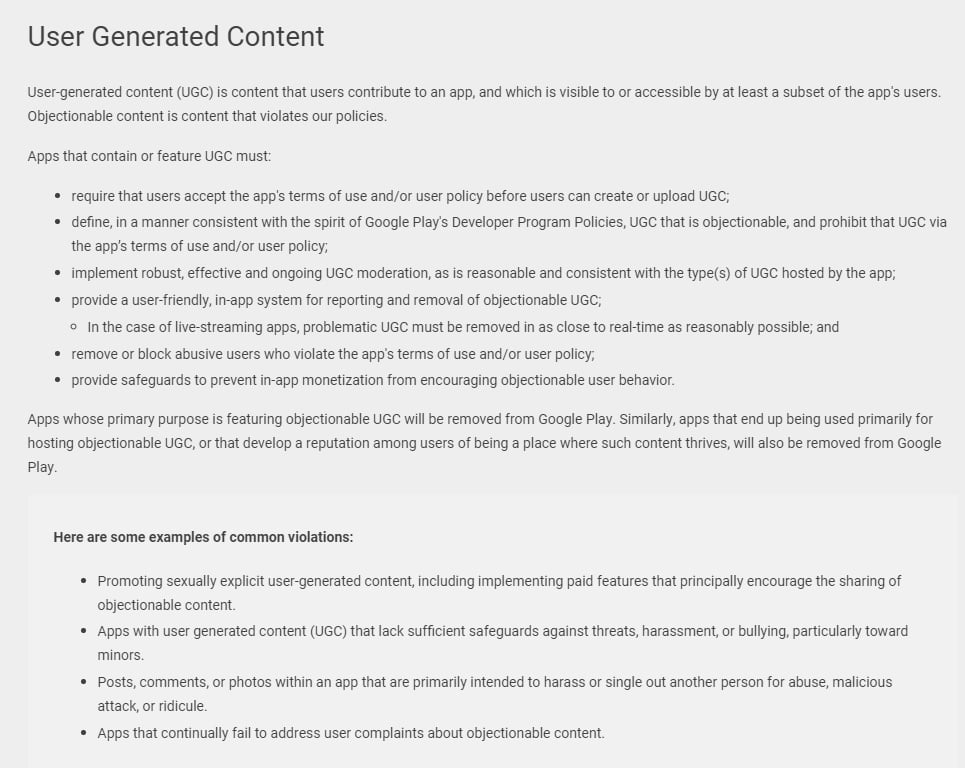 Purina goes as far as having a separate User Generated Content Terms and Conditions Policy that applies to its message boards, blogs, social networks and comment boards: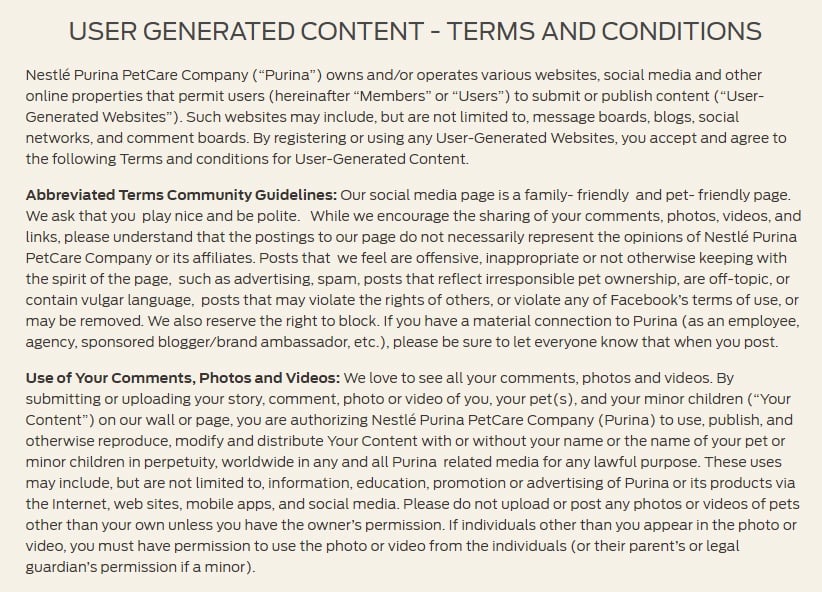 How to Display Your Terms and Conditions Agreement

It's best to display your Terms any time you want users to be aware of them, such as when signing up for an account with you or finalizing a purchase.
Here are some examples of how to display Terms and Conditions:
Footer links
Many companies choose to show their Terms and Conditions in their website's footer. This allows anyone using the website to access the agreement at any time. However, users don't have to agree to them when they're solely placed in the footer.
For this reason, it's best to display your Terms and Conditions in a more prominent location in addition to in your footer.
Amazon displays a link to its Conditions of Use in the website's footer:

Facebook also displays a link to its Terms in the website's footer:

You'll notice mostly every business doing this since it's such good practice and your users will know to look here for your important links.
During Sign Up
If users are able to create an account for your website or app, it's good practice to include your Terms and Conditions at the point of sign up.
Amazon Web Services displays its Terms, coupled with a tick box agreement during the signing up process: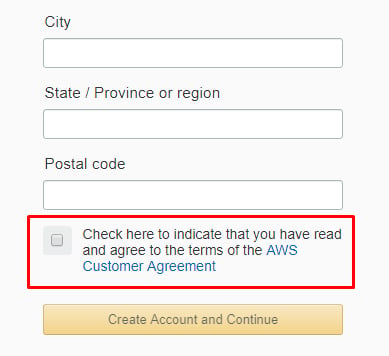 Netflix also displays its Terms of Use during the signing up process. In addition, the company follows up with a welcome email, which includes a link to the Terms agreement and a big reminder that by signing up, you agreed to those Terms: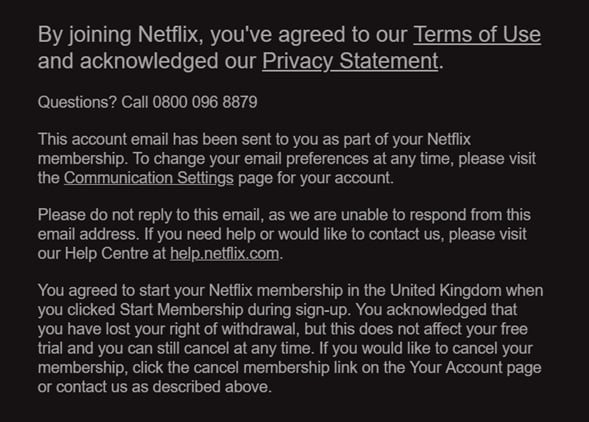 During Checkout
A good place to display your T&C is during checkout (if applicable). This ensures anyone purchasing goods or services from your website has access to your Terms at a time when they may need the information found within them the most.
It's also a great way to get customers to agree to them by adding a tick box for agreeing or stating that by placing an order, consumers are agreeing.
Elf Cosmetics displays its Terms of Use when a customer is making a purchase on its website. There isn't a tick box, but the site states that by placing an order you agree to the Terms of Use. This means Elf Cosmetics gets agreement from its customers as soon as they place their order: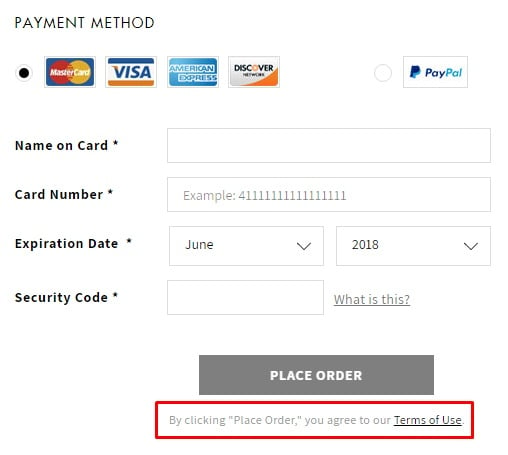 Overall, you should display your Terms and Conditions any time you want your customers to be able to view and agree to it. It's a good idea to use multiple methods of displaying your Terms.
How to Get Agreement For Your Terms and Conditions

The best way to get agreement is with a checkbox.
Your careful placement of your Terms and Conditions coupled with your well-worded clauses will be completely useless unless you get the user to agree to them. Your Terms are unenforceable if the user has not said that they agree to them.
An Agreement Checkbox
A checkbox is the simplest way to get a user to agree to your Terms and Conditions. Many websites offer a checkbox that says 'I agree' with a link to their Terms and Conditions next to it. Then it's up to the user whether they tick the box and if they actually read the agreement prior to doing so. The user is bound by the Terms whether they read them or not once they check that box.
This way is the best since it's clear and unambiguous and requires the user to check the box, thereby explicitly agreeing to the terms.
Food waste app Too Good To Go gets agreement to its Terms and Conditions via checkbox at sign up: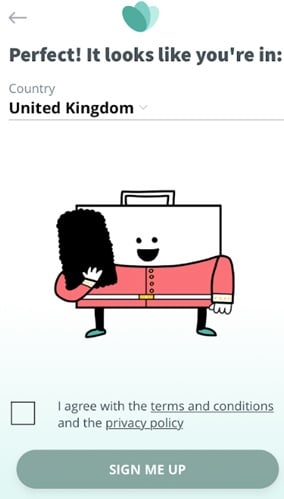 When a user clicks this box, it will be very clear to all parties involved that the user is definitely agreeing to the terms and to be bound by them. Requiring users to take that extra step of clicking the box helps you get that high level of clear agreement that will be very likely to hold up in court if ever needed.
Agreeing by Continuation
A common yet not so legally sound way to get agreement is by stating that the user has agreed once they have clicked a button to sign up or check out.
For example, when users join Twitter, they are bound by the Terms as soon as they have pressed the 'sign up' button according to the text found directly above the button: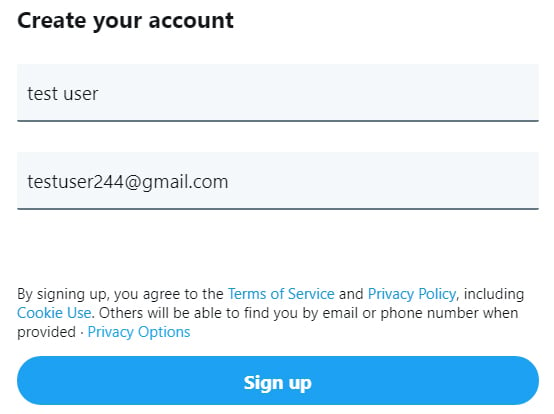 Similarly, the Snapchat App adds the word 'Accept' to the sign up button, which makes it clear to anyone creating an account that they are agreeing to the T&Cs.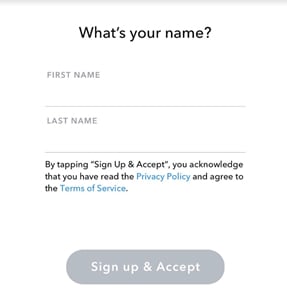 Overall, checkboxes are the best method to get agreement to your Terms as it requires the user to take action to agree with them. The user must actively check the box which equates to them basically stating that they accept the Terms, meaning they are legally bound to them.
FAQ on Terms and Conditions Agreement
No, a Terms and Conditions Agreement is not required by law, only a Privacy Policy is. However, Terms and Conditions Agreements are recommended to be present on your website or mobile app to act as a contract between your business and the user of your website or app.
Summary
If you run an app or website, your Terms and Conditions agreement will be an essential component to have. They can be tailored to suit your business needs and set out rules and guidelines for your customers to follow. While you aren't legally required to have a Terms and Conditions agreement, you'll want one for a number of important business reasons.
To keep yours enforceable in a court of law, make sure it's clear and unambiguous. In addition, it's essential to make sure that users have agreed to your Terms and Conditions.
The best way to get users to agree to your Terms is by including a checkbox that users must check that makes it clear that by checking the box, the user is agreeing to be bound by the Terms. You can do this at sign up or check out, or anywhere else that makes sense.
Include a link to your T&C in your website's footer so that anyone looking for it is able to locate it easily.