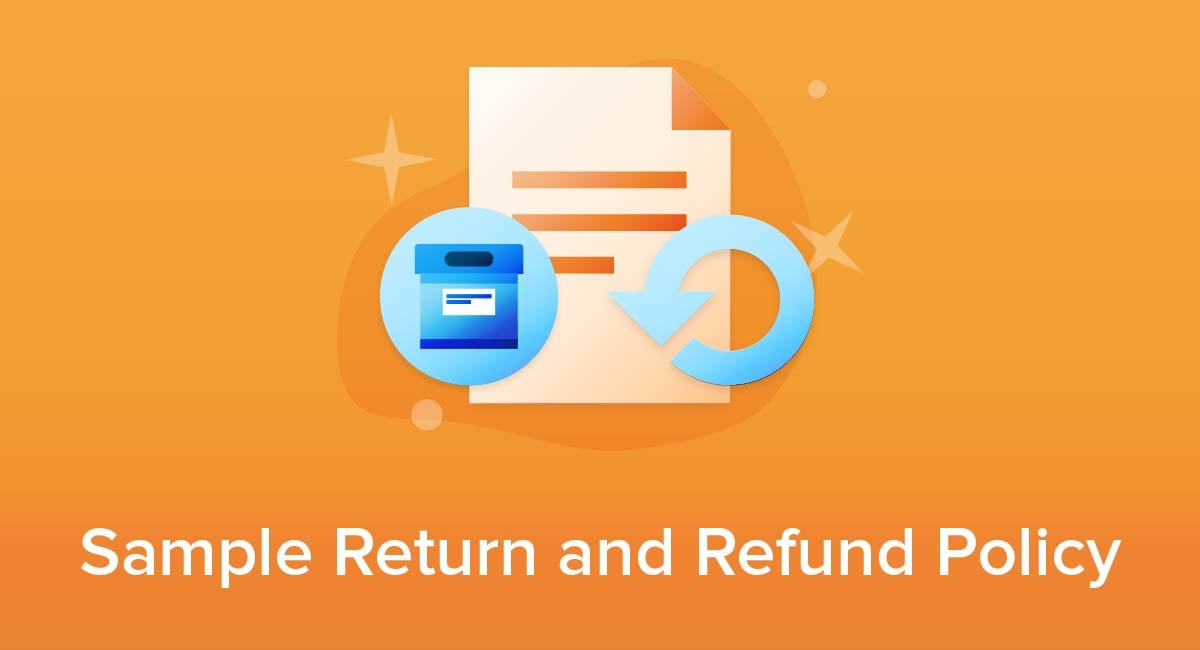 A Return and Refund Policy is where you'll inform your customers about important information regarding their ability to return items and to receive refunds or store credit for the same. Without it, your customers may actually go elsewhere.
Additionally, there are some laws which require you to inform shoppers of various things to enforce your terms.
In this article, we'll show you how to create a Return and Refund Policy, get you up to speed on some legal requirements and give you tips on the best ways to display your new policy once it's created.
Use FreePrivacyPolicy.com to generate the necessary legal agreements for your website/app:
You check our Free Cookie Consent to start making your business legally compliant with the Cookies Directive in the EU.
Boost Customer Trust and Retention
Customers will expect to see a Return and Refund Policy and may wish to read the policy before they shop.
If you don't have a policy you could lose sales since customers who are unable to locate a policy may decide not to place an order as they are unaware of their return rights. This could lead to you losing customers to competitors with clear Return and Refund Policies in place.
On the other hand, if you have an easily accessible Return and Refund Policy, customers are more likely to trust your shop and to purchase from it.
Legal Requirements
There is no overarching federal law in the U.S. which states that retailers must have a Return and Refund Policy. However, various states have created laws regarding returns.
Some state laws require a policy to be displayed in certain circumstances and some state laws require stores to inform customers of certain aspects of their policy in order for the policy to be enforceable.
As a U.S. business owner you can refuse returns at your store's discretion and declare all sales to be final. However, you should be aware that this could discourage potential customers from purchasing from your store.
If you do intend to refuse refunds, you must make this clear in your policy under certain state laws such as ones in California, Connecticut, Florida and Rhode Island.
Let's consider a brief overview of these state laws.
California
California state law requires retailers to display a Return and Refund Policy if the retailer does not offer full cash or credit refunds, and equal exchanges, for a minimum of 7 days from purchase.
This means that if your store sells 100 categories of products but only allows refunds and exchanges for 99 of these categories, you must advise of this within your Return and Refund Policy and display it prominently.
Failure to do so will leave the store liable to issue a full refund to any customer that returns an item (and provides proof of purchase) within 20 days of purchase. Note that some items are exempt from this and are not entitled to a refund including food, live plants, used items and final sale items.

Connecticut
Connecticut state law advises that retailers can set their own refund policies, but does require them to be displayed prominently. If a retailer does not have a Return and Refund Policy, or the policy is not 'conspicuously disclosed,' a buyer is entitled to return goods for a full refund within 7 days of purchase providing they have proof of purchase.
Note that some items are exempt from this and are not entitled to a refund including food, live plants, used items and final sale items.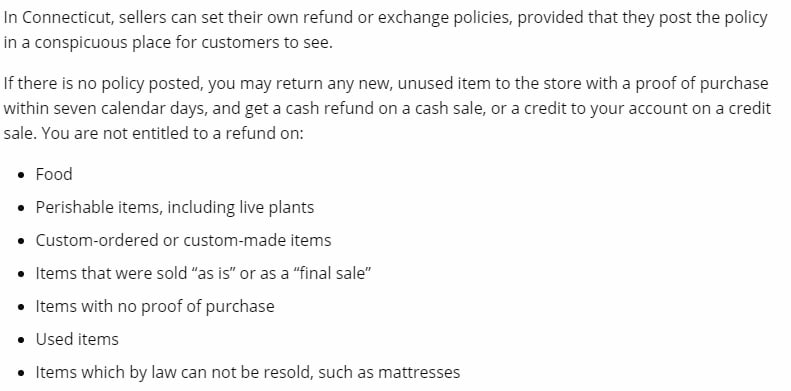 Florida
This law directly concerns retailers who do not issue refunds. Florida state law requires stores to display a 'no refund' sign to customers and failure to do so will mean that a refund or exchange policy exists. The customer will then be entitled to a full refund within 7 days of purchase, providing they have proof of purchase and the merchandise is unused and in the original packaging.
As with the other laws, there are exceptions such as food and perishables.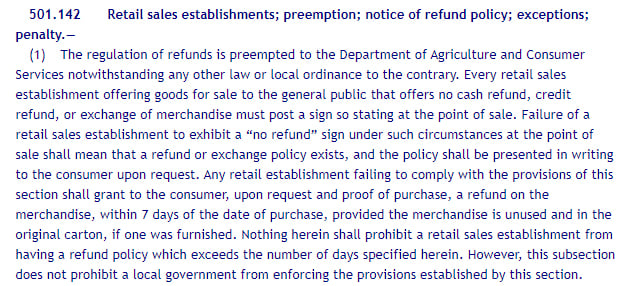 Rhode Island
Rhode Island's state law is similar to Florida's in that any store that does not accept returns must clearly display this to customers. If a business fails to do so, customers are able to claim a refund within 10 days of their purchase. (Again, there are exceptions for certain goods including perishables and custom-made items.)

Become familiar with the laws where you do business to make sure you're including the correct disclosures.
Clauses to Include in Your Return and Refund Policy

It's essential to personalize your Return and Refund Policy to meet the needs of your business. Below are several common clauses that can be tailored to fit your business needs.
How Long Customers Have to Return Items
This clause should specify the amount of time the customer has to return purchased products. Make sure your store states whether the amount of time begins from the purchase date, the shipping date or the delivery date.
Clothing retailer Zara has a Return and Refund Policy on the store's website which contains a short clause about return periods. The retailer informs customers that they can return items within 30 days from the purchase date:

Forever 21's Return and Refund Policy advises that products can be exchanged or returned for a refund within 30 days from the shipping date:

Finally, Fashion Nova allows returns within 30 days of the delivery date and makes this clear:

How to Return Items
It's also important to inform customers how they are able to return items.
Zara's Return Policy states that items can be returned in store. Alternatively, the customer can use a drop-off point or have the item(s) collected from their house:

Asos advises customers that they're able to return items via postal methods determined by customer location: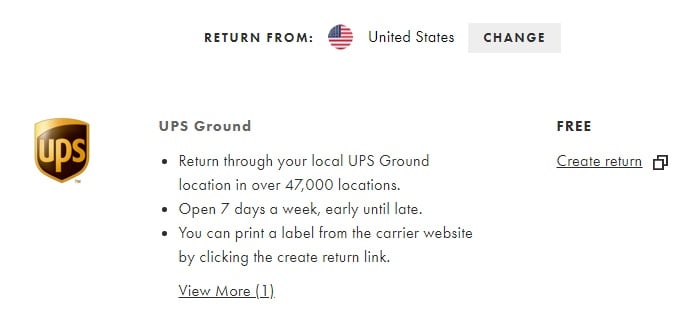 Conditions of Returns
You should include any conditions of returns in your policy. For example, if returned items must be unused and in the original packaging this should be stated. It's also a good idea to advise if a receipt or proof or purchase is required.
Fashion Nova includes conditions of returns in the store's Return Policy:

Mango also includes return conditions in the store's Return Policy. As well as advising of the condition the item must be in, the policy also states that items will be inspected before the customer is reimbursed:

Best Buy provides similar information under a clause called 'returns info:'

Who Pays For Return Shipping
There should be a clause in your Return and Refund Policy that makes it clear who is liable for paying the cost of shipping an item back for a return: You or the customer.
Fashion Nova advises that the customer is responsible for return shipping costs in a simple yet clear sentence:

Best Buy differentiates between returns that are not the result of store error and returns that are the result of a store error, stating that the retailer will only pay the shipping costs of the latter:

How is a Refund Granted and How Long it Takes
This clause is to advise buyers of the methods of refund you offer, for example, cash or store credit. You also should tell customers at least roughly how long a refund will take for each method you offer.
Best Buy advises that the store will usually refund customers for items in the same way they were paid for. The store also advises that there is an exception to this rule whereby customers who paid over a certain amount in cash will be refunded by check.
Finally, the clause informs customers how long the reimbursement will take:

Target advises customers how refunds are granted and how long refunds can take:

Restocking Fees
Some stores charge a restocking fee for refunding customers for returned goods. If your store charges a restocking fee, it is essential that this information is included in your Return and Refund Policy.
Fashion Nova includes a short clause which simply states that restocking fee may apply to sale items:

Best Buy has a more detailed restocking fee clause which advises customers of the restocking fee for different items and informs customers that the fee will be subject to tax in select states.
The clause also details any exemptions stating that unopened products will not be assessed a restocking fee. There are also certain states which prohibit restocking fees and this information is included in the clause:

Any Special Conditions and Exceptions
If certain categories of items are exempt from your Return and Refund Policy, it is a good idea to create a dedicated clause which makes this clear to customers.
Zara advises that certain items must meet various conditions in order to be returned in its "Special conditions" clause:

Fran's Cakes and Candy states that edible or perishable products cannot be returned or exchanged for any reason (unless an incorrect item was sent by the store):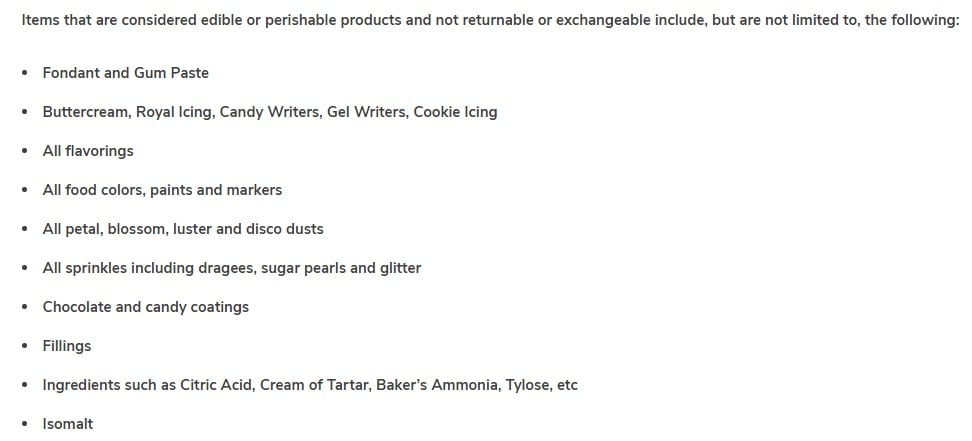 Anything that may be a surprise to a customer like special conditions or exceptions to the Policy should be noted.
Faulty Products
This clause explains returns and replacements specific to faulty items. This clause is particularly important if you have different criteria for the return of defective products.
For example, perhaps your business allows a longer or shorter return period if the item is defective, or maybe the defective item needs to be returned to a different business address. Maybe, as seen earlier, you normally make a customer pay for return shipping but if an item is faulty, you'll cover those charges for the customer.
Fashion Nova addresses damaged, defective and incorrect items in the store's Return Policy and makes it clear that the return window is shorter for these items.
The retailer states that these items must be reported within two business days of delivery and that an email should be sent to the store prior to returning the item. This differs from the retailer's standard return terms:

Walmart also includes a clause specific to damaged or defective items which advises customers how they can receive a refund or a replacement item:

The retailer does not specially change their terms, however the clause does advise that a replacement may not always be available.
Where to Display Your Return and Refund Policy

There is no actual required way to display your Return and Refund Policy. However, there are a few places where they're commonly displayed.
In Your Website's Footer
Many businesses choose to display legal policies, such as Return and Refund Policies, within the website's footer. This enables anyone looking at the website to access the policies at any time.
This is an ideal place to display you policies since customers are used to seeing policies in website's footers and are likely to check the footer first when searching for a Return and Refund Policy.
Here's how Fran's Cake and Candy does it: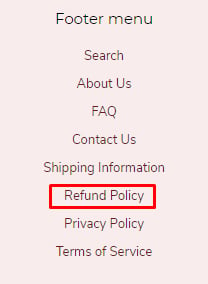 Retailer Anastasia Beverly Hills includes its 'Shipping and Returns' Policy in the website's footer in a way that attracts more attention. If you ship a lot of items and have a huge customer base, something like this can be a nice visual and helpful element to your site, but it's not necessary to make the link stand out so much with an icon and larger size:

On Your Checkout Screen
You may also wish to display your Return and Refund Policy on your website's checkout screen prior to a customer's sale being finalized.
This is an ideal place to display important policies as you can gain the customer's consent and they cannot claim not to have had the opportunity to view your Return and Refund Policy after placing the order.
Fashion Nova has a screen at checkout which states that by placing an order the customer agrees to the site's legal policies including the Return Policy, which is mentioned explicitly: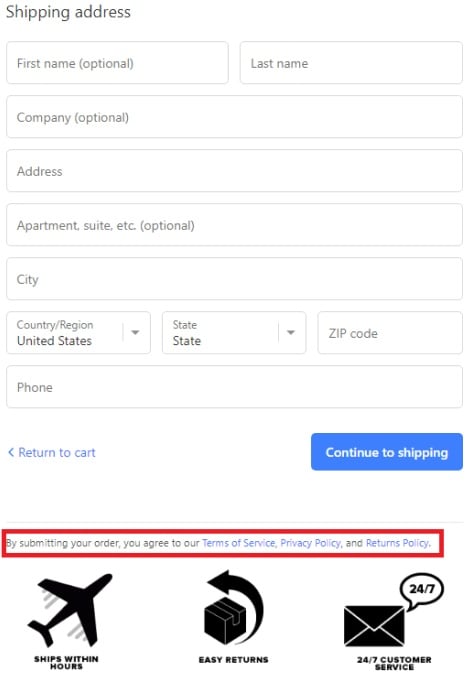 Within Your Terms and Conditions Agreement
Even if you have a separate Return and Refund Policy, you should consider including a section regarding your policies on returns and refunds in your Terms and Conditions agreement if you have one.
(If you don't have one, read about the benefits of having a Terms and Conditions agreement for your ecommerce store here. It might change your mind.)
A good tactic is to include a statement that you have a Return and Refund Policy, and direct readers to click a link to access the other policy.
Here's how Best Buy includes a link to its Returns and Exchanges Policy (and many other useful resources) in its Terms and Conditions agreement: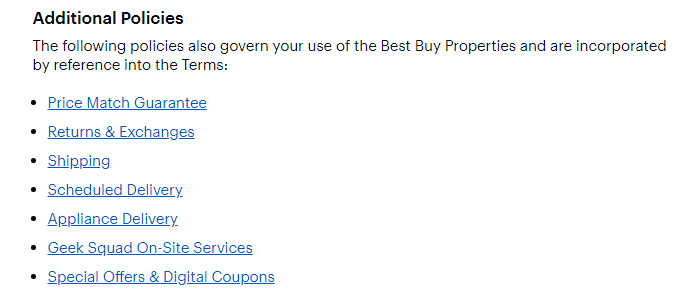 Fran's Cake and Candy includes a reference to its Return Policy in a few spots in its Terms and Conditions agreement. It's noted once in the Products and Services section, stating that some products and services that are available only online may be subject to limits according to the Return Policy:

The Return Policy is noted again at the end of the clause about billing and account information. This is likely because billing information will be a factor when it comes to issuing returns:

Summary
A Return and Refund Policy lets your customers know whether or not you accept returns and all the information associated with the process.
Even though it is not usually a legal requirement, customers will expect to see this policy on your website and may look for it prior to placing an order. You will likely lose customers if you don't have this policy and make it easy for your customers to find.
According to various state laws, if you are intending to refuse refunds you must clearly display your Return and Refund Policy in order for your terms to be enforceable.
Your Return and Refund Policy should include information about:
How long customers have to return items
How customers can return items
Any required conditions of returns
Who pays for return shipping
How a refund is granted
How long a refund takes
Any restocking fees charged
Any exemptions or special conditions
Display your Return and Refund Policy in your website's footer and on your checkout screen. You can also mention it and link to it in your Terms and Conditions agreement if you have one.