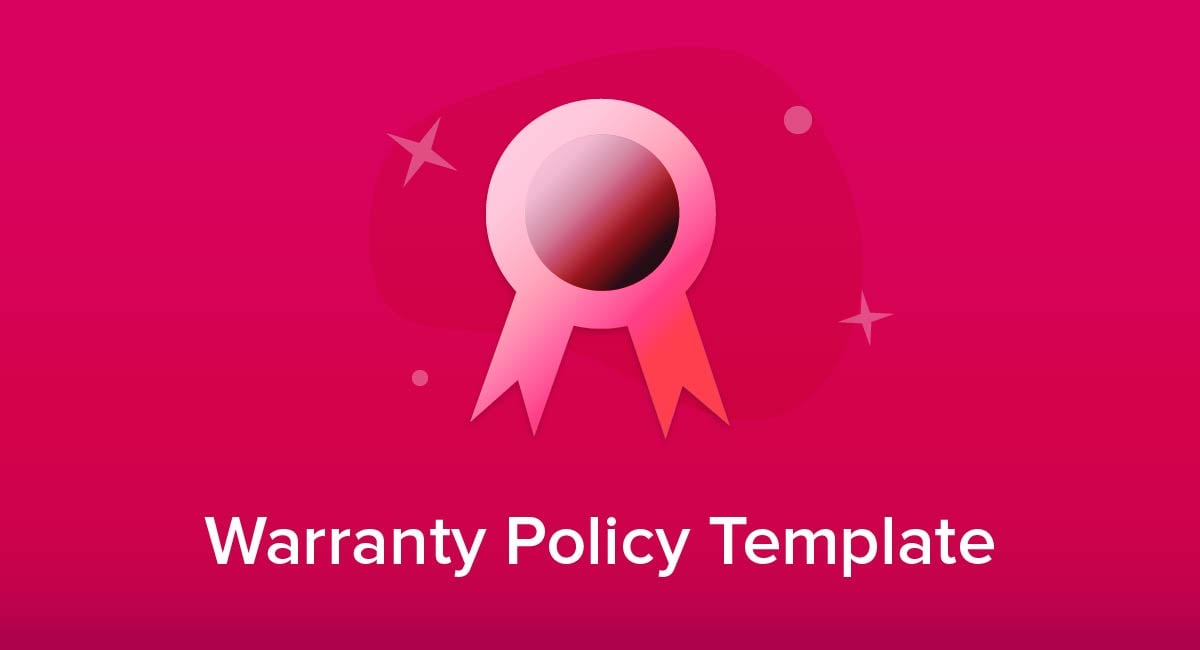 When you sell goods, you may make specific promises that you will fix certain faults or problems within a certain period. Your Warranty Policy is where you will set out the details of how your warranty process will work.
You need to think carefully about a Warranty Policy's content to avoid ambiguity or overpromising. Here's what you need to know about this important policy and what one should include.
Use FreePrivacyPolicy.com to generate the necessary legal agreements for your website/app:
You check our Free Cookie Consent to start making your business legally compliant with the Cookies Directive in the EU.
What is a Warranty Policy?
A Warranty Policy is effectively a legal document that outlines what warranties you offer, what warranties you disclaim, and what a customer must do to take advantage of your warranty such as how to start a claim.
With sales to consumers, a warranty most commonly involves making promises that give the buyer rights where either:
The buyer wouldn't have the rights by default (ie without the warranty)
The buyer's rights could be disputed or uncertain without the warranty
A Warranty Policy is considered an express warranty, meaning it covers rights that you explicitly grant to the buyer. That's in contrast to an implied warranty, which means rights and expectations that they can automatically assume exist under the law.
As an example of the difference, somebody buying a dishwasher will almost always be able to rely on an implied warranty that the dishwasher will work when they first use it. An express warranty could promise that the dishwasher will continue to work for a certain number of years.
What to Include in a Warranty Policy

Here are some key points to consider when deciding what to address in your Warranty Policy.
What Exactly is Covered by the Warranty
This section can be very straightforward as you simply need to clarify:
What items the Warranty Policy covers
What you are promising
Some key points to consider and clarify include:
Does the warranty only cover the core product or also cover accessories? (For example, does a warranty on a power tool also cover drill bits and/or the rechargeable battery.)
Are you promising only that the product will remain fault-free and operational, or that it will continue to perform a specific task or serve a specific purpose?
What happens with any software or firmware on a product?
HID specifies what it promises its software and hardware will do during the warranty period: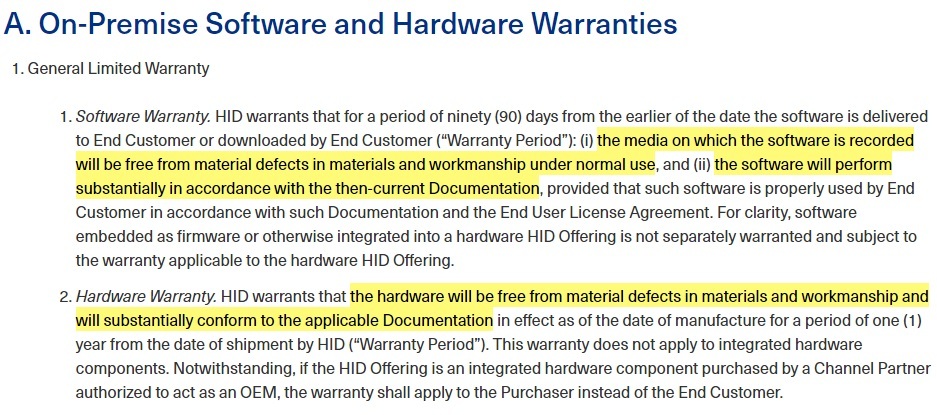 Time Limits for Warranty Coverage
Again, in principle this section is straightforward as you detail how long the warranty period runs. Points to consider and clarify include:
Are there any variations in the time limit, eg for accessories vs core product
Does the time limit start when the customer makes the purchase or when they first receive it
Does the customer need to return the item before the time limit expires or do they simply need to report a problem before the deadline
Moxa clearly explains when the warranty period begins: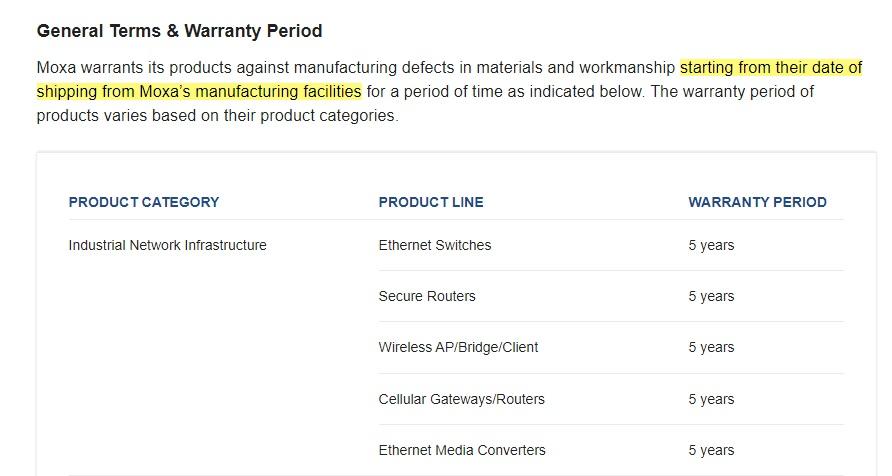 What You Will Do Under the Warranty Policy
This is where you explain what you will do to put things right if there's a problem. Options could include:
Repairing the product
Replacing the product
Issuing a refund
Points you may need to clarify include:
How many attempts you will make to repair a product before issuing a replacement
What you will do if no replacement is available. (For example, you could promise to provide the closest similar model, or give the customer a choice about accepting it.)
Whether a refund will cover the full purchase price or you will reduce it to take account of the use the customer has already had from the product
Intel makes clear that it has the right to choose the option for fixing a problem and that refund amounts could vary:

How to Exercise Warranty Rights
This will often be the most detailed section and can be a balancing act as you need to make sure:
The customer follows instructions and makes it easy for you to process any warranty claim
The Warranty Policy makes the customer confident they can make a claim without unnecessary hassle or obstacles
Key points to address include:
How the customer can initiate a claim, for example how they must contact you and what details they must provide
Where the customer can return the faulty product, for example by mail, to a local store, or to the original purchase place
Whether the customer must use the original packaging and/or make sure the product isn't damaged in transit
What, if any, paperwork the customer must supply
Who pays the costs of returning the goods
The logistics of any returns, for example who arranges a collection and delivery service, or whether the delivery service must include tracking
Fitbit details what the customer must do to get warranty service: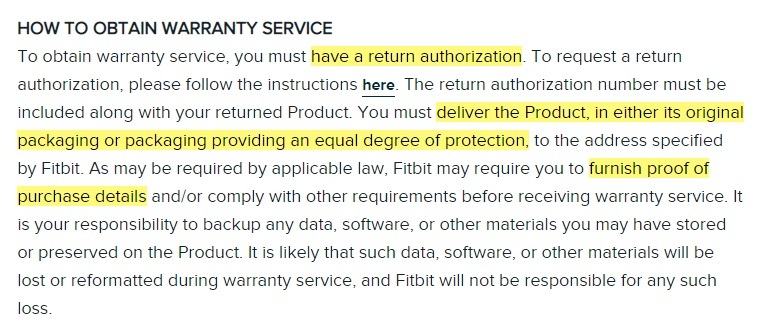 Exclusions to the Warranty Policy
Clearly explain anything that is not covered by the warranty, including any circumstances in which it doesn't apply.
You'll need to find the right balance here. Too many exclusions could deter potential buyers and make it look like your products aren't reliable. Too few exclusions could mean you spend a lot of money dealing with warranty claims.
Some exclusions to consider are:
Normal wear and tear. (How this works in practice may depend on how long the customer has the product before making a warranty claim.)
Goods that have been damaged by accident or user negligence
Goods used for something other than the intended purpose
Goods the user has modified without your authorization
Damage from fire, flooding or other natural disasters
Water damage to electrical products
Infortrend details some specific exclusions:

Legal Disclaimer
Laws in your jurisdiction may affect your Warranty Policy. For example, some state laws in the U.S. say that:
Customers have some rights to return goods regardless of your Warranty Policy
Some exclusions in Warranty Policies may be invalid
Include a disclaimer in your Warranty Policy that covers the following points:
Laws in the customer's state or jurisdiction may vary
Nothing in the Warranty Policy is intended to override a customer's legal rights
If any part of the Warranty Policy is invalid because of local laws, the rest of the policy remains valid
Western Digital takes an extremely brief approach to this disclaimer:

TAG Heuer goes into a little more detail on the same general point. It also gives some specific variations for different jurisdictions: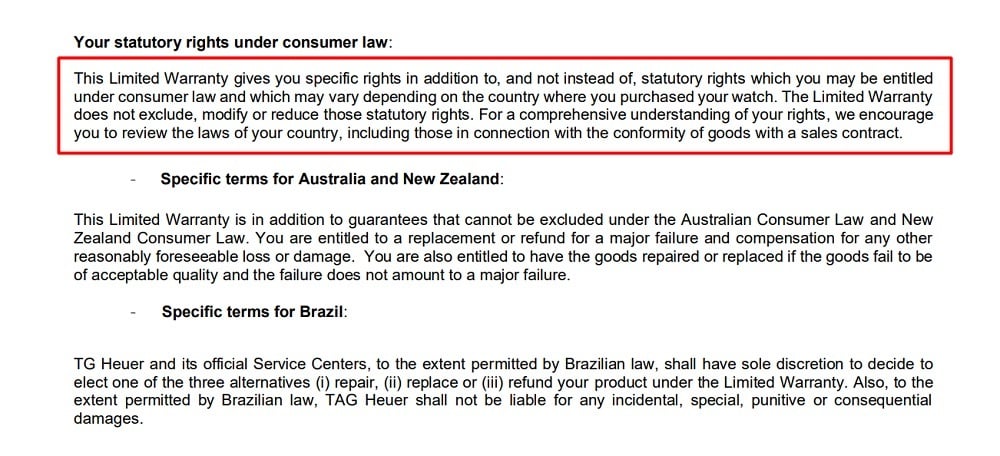 Your Warranty Policy may need more or less information depending on the nature of your business, what industry you're in, and what promises you wish to offer.
Other Types of Warranty Documents

Warranty policies can be confused with two other warranty documents. While they are separate concepts, you may want to think about them when deciding what to put in your Warranty Policy.
Extended Warranty
This is also commonly called a "service contract" in the United States. It's an optional service, with a fee, that you offer to customers. It gives additional warranty protection beyond any standard warranty you offer.
For example, you might have a Warranty Policy that runs for two years after purchase and then offer an extended warranty/service contract after that for an annual fee.
Extended warranties and service contracts are often subject to tighter laws and regulations than standard warranty policies so always check the rules that apply in your jurisdiction.
Warranty Disclaimer
A Warranty Disclaimer is a clause that appears in documents such as a specific contract or a Terms and Conditions agreement.
A Warranty Disclaimer is effectively the opposite of a Warranty Policy:
A Warranty Policy details additional promises that you offer beyond any legally required minimums.
A Warranty Disclaimer makes clear that you are not making specific promises. Usually these are implied promises that the buyer can normally assume apply unless you say otherwise.
Normally you wouldn't have both a Warranty Policy and a Warranty Disclaimer. However, Razer builds a form of Warranty Disclaimer into its main Warranty Policy:

After you've created a Warranty Policy, it's time to display it so your customers and potential customers can see it at any time.
Where to Display a Warranty Policy

Your Warranty Policy should be displayed along with other important legal policies, such as your Privacy Policy or Cookies Policy.
The most common place to do this is in your website's footer.
Here's how Apple includes a link to its Hardware Warranties Policy in its website footer, along with its Software License Agreement, compliance information and other legal links: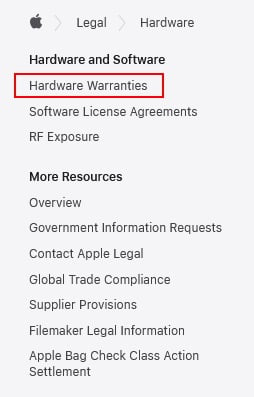 Summary
Let's recap what you need to know about Warranty Policies.
A Warranty Policy sets out promises (warranties) you make about products. Most commonly these are that the products will work for a set time and you will fix any problems.
Usually a Warranty Policy gives customers rights that they wouldn't (or might not) have otherwise.
Your Warranty Policy should set out what the warranty covers and details on:
Timescales
How you will fix any problems
How customers can exercise their rights
Exclusions
You can also include a legal disclaimer, for example noting that customers may have legal rights in their state that go beyond what you offer in your Warranty Policy.
Don't confuse a Warranty Policy with:
An extended warranty (service contract), which grants extra rights or a longer coverage period for an extra fee.
A Warranty Disclaimer, which reduced ambiguity by saying that implied warranties do not apply.