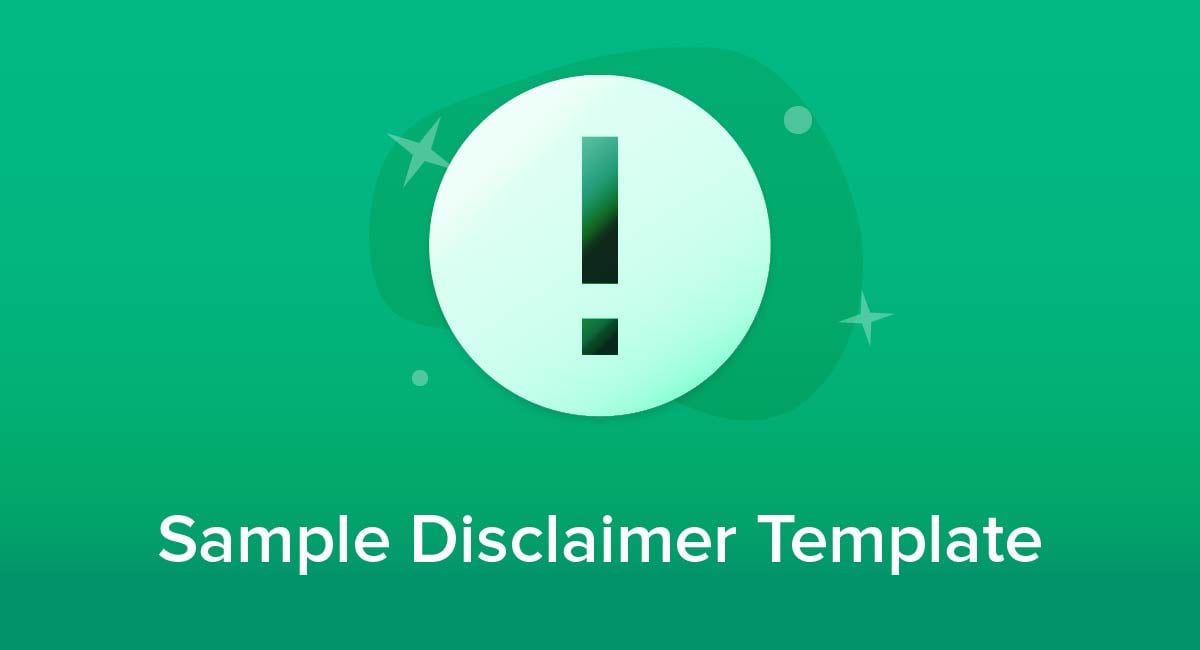 Disclaimers are clauses which aim to limit a business's liability for any negative outcomes experienced by a consumer as a result of using their website. Disclaimers protect website, app and blog owners, as well as customers/users.
But which ones should you use? And how should you construct your disclaimers?
Let's take a look.
Our Free Disclaimer Generator is designed to help you comply with the requirements of various affiliate programs, such as Amazon Associates. It also includes various disclaimers like medical disclaimer, fitness disclaimer, website disclaimer and so on.
Just follow these few simple steps and generate a Free Disclaimer for your site or your app:
Start by choosing the "Free Disclaimer Generator" on our site.

Then select where your Disclaimer will be used on:

Follow with adding your website/app information:

Enter the country and click on the "Next Step" button:

Continue with building your Disclaimer and answer on questions about your business from our wizard:

Now just enter your email address where you'd like your Disclaimer sent and click on the "Generate" button.

You're done! You can copy and paste your Disclaimer code into your website/app, or link to your hosted Disclaimer page.
What Disclaimers Should I Include on my Website?
We'll consider the main types of disclaimers, how to write them and when you should use them.
Copyright Disclaimer

A copyright disclaimer shows that a website's content belongs to the owner.
Include a copyright disclaimer when you want to make it clear that only you have the ability to display, distribute, publish, copy, modify or adapt the content on your website.
The disclaimer should include a copyright symbol alongside your company name. It may also include the year the content was made and a notice that says 'all rights reserved.'
This type of disclaimer is commonly displayed on website homepages.
For example, Spotify displays a copyright disclaimer at the bottom of their website's homepage. It includes a copyright symbol, the year the copyright goes up to and the company's name:

Copyright disclaimers are quick to create, commonly used and offer a fair amount of legal protection for any content you create and want to protect.
Fair Use Disclaimer

You should include this disclaimer if you use or borrow any content that is not your own - whether or not it was copyrighted by the owner. However be aware that this disclaimer will not protect you if you fall foul of copyright law.
U.S. copyright law enables people to use copyrighted material to create their own work for limited purposes, including to comment or critique another person's work. Fair use is essential to the function of certain websites, for example, sites that review, critique or parody other people's work.
This disclaimer should inform users that you are aware you have used copyrighted material and that you're borrowing materials in accordance with the fair use doctrine. You should also reference the law and provide a link to it.
Choices Natural Market includes a fair use notice on its website. The notice clearly states that the content provided is for educational and informational purposes:

The notice also states that the website believes its use of photos that haven't been taken by the company continue as a 'fair use of the materials. The clause then sites the relevant copyright law.
Advertising Disclaimers

Advertisements are a popular source of income for blogs and websites. However, you must ensure adverts are accompanied by appropriate disclaimers.
If your website contains advertisements, you should use an advertising disclaimer.
To create an advertising disclaimer you should tell users that adverts are featured on your site and that you do not necessarily endorse the advertised product or service.
The American Speech-Language-Hearing Association (ASHA) advises readers that paid adverts appear in its publications and that ASHA does not endorse the products, services or companies advertised:

This can help limit your liability in the event that something is advertised on your website that turns out to have issues, cause damage or even offend your audience.
Affiliate Disclaimers

An affiliate disclaimer informs users about affiliate programs and links. You should use this disclaimer if your website includes affiliate links.
To comply with the Federal Trade Commission (FTC) your disclaimer must inform users that you're taking part in an affiliate marketing program. It must also make it clear that you profit from this participation.
In terms of placement, make sure the disclaimer is clearly visible to readers. Ideally, it should be displayed in a few places. For example, your website's homepage, your Privacy Policy and on the same page as any affiliate links. You could also add a separate affiliate disclaimer page.
Smart Mom Blogger advises that the blog may affiliate with other individuals or businesses from time to time and may received financial compensation for doing so: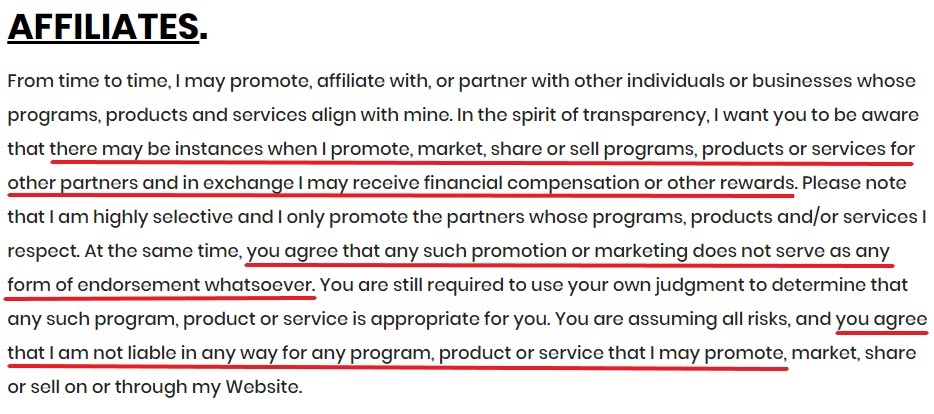 A common affiliate disclaimer is one which advises of a business connection to Amazon's affiliates program. You should include this if you are a member of the program. In fact, Amazon requires it.
Skylaster advises that some of its links are Amazon affiliate links: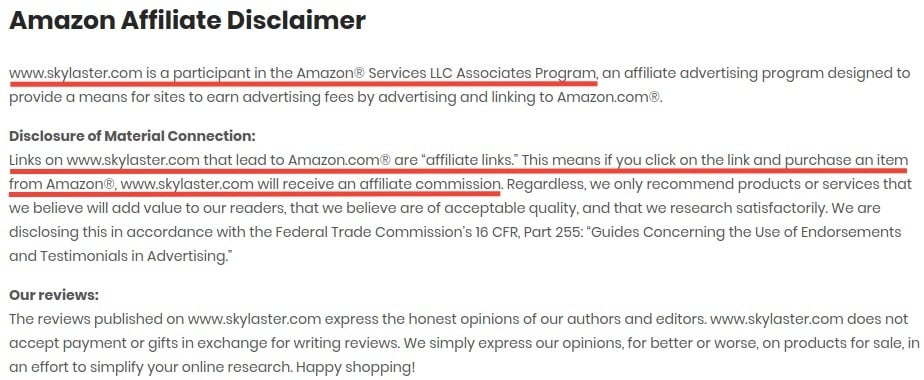 Without an affiliate disclaimer, you'll be violating FTC rules and Terms of Use of affiliate programs. You'll also be deceiving your audience.
Testimonials Disclaimer

This disclaimer informs users that their experience or results may differ from those of a person who has left a testimonial or review.
If your website includes testimonials, reviews or endorsements, you should include a testimonial disclaimer.
It's a legal requirement of the FTC to include this disclaimer if there is a relationship between your company and the reviewer. For example, you are legally required to post a disclaimer if you have paid someone to write a testimonial or given them a free product in exchange for a review.
Advise readers of any relationship that exists between you and any reviewer. Make it clear that one user's experiences may vary.
Your disclaimer must be clear and conspicuous and must be located as near as possible to the testimonials on your website.
Release Technique includes a disclaimer which advises users that 'individual results may vary' and states that the testimonials are 'not intended to represent or guarantee that anyone will achieve the same or similar results':

This type of clause is very important when it comes to keeping your users informed, operating compliantly and even limiting your liability.
Disclaimer of Liability

Sometimes referred to as a 'no responsibility disclaimer,' the aim of this disclaimer is to limit your company's liability for any loss or damage caused by your products, services or website.
You should include this disclaimer no matter what size business you have and no matter what the nature of your business is.
The main thing to include in this disclaimer is a clear statement that informs users that your company is not responsible for anything that happens to an individual as a result of accessing your website.
Non-profit organization Health for Animals includes the following limitation of liability statement:

Note that limiting your company's liability will not protect your company from warranty claims relating to your products or services. For this reason, you should include a warranty disclaimer.
Warranty Disclaimer

A warranty disclaimer serves to exclude warranties which may otherwise apply - whether express or implied.
Include this disclaimer if your website sells any products or services.
Inform the consumer that you deny warranties of any kind - both express and implied, and that nothing in your website should be taken as a guarantee or a warranty of any kind.
Your Terms and Conditions agreement is an ideal place to include a warranty disclaimer.
Weight Watchers use a disclaimer of warranties to inform users that the content and materials on the company's website are provided without warranties of any kind. The company advises that it 'disclaim all warranties, express or implied:'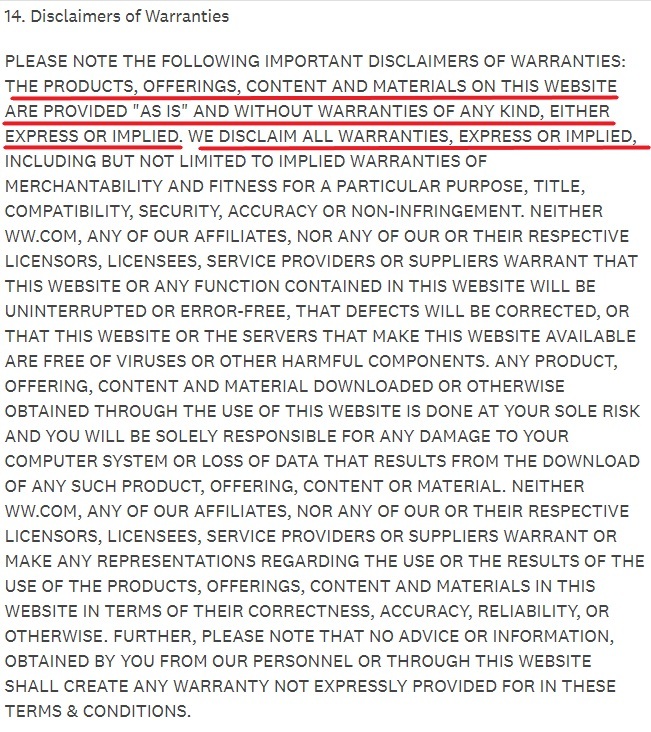 Morgan Stanley use one succinct clause within its Terms and Conditions to display the company's disclaimer of liability and warranty disclaimer: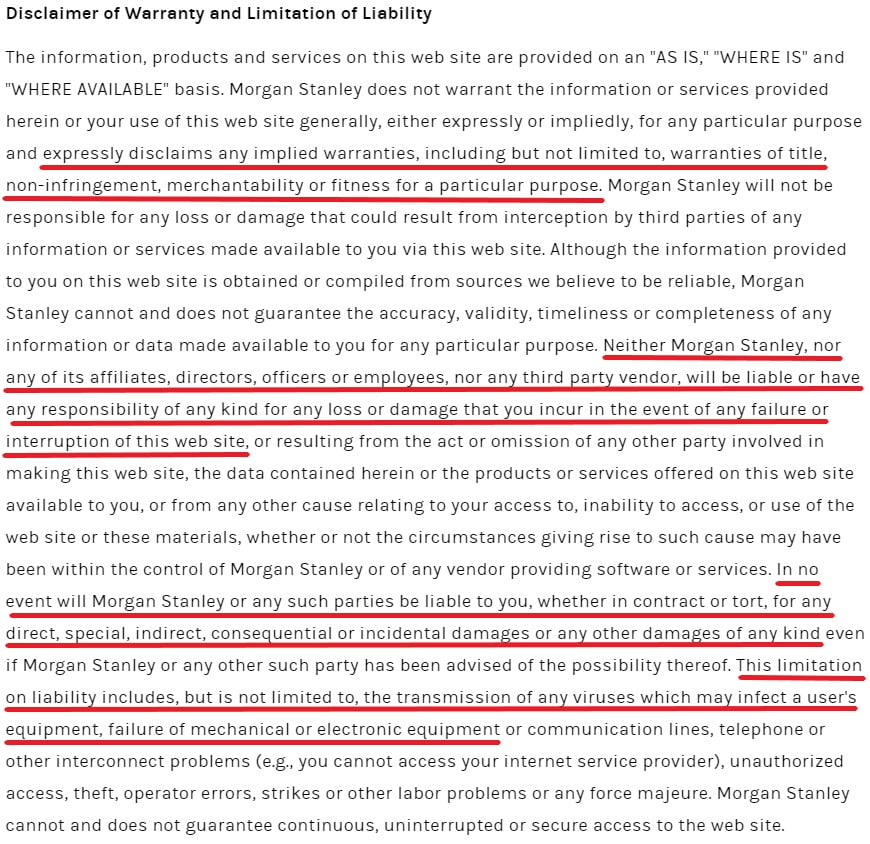 You've likely noticed that these clauses tend to be very boilerplate and written in very similar language. That's very ok, and you can mirror your disclaimer after the standards that you see.
Views Expressed Disclaimer

This disclaimer tells users that any views or opinions expressed on the website are those of the author and don't represent the company as a whole.
For example, a news site may include a personal opinion piece which includes a 'views expressed disclaimer' to avoid readers thinking that one writer's views represents the entire company.
You should include this disclaimer if you run a blog or post articles and opinion pieces. You can simply state that any views or opinions on your website do not represent the company as a whole.
Brewin Dolphin includes a disclaimer which states that opinions on the website are not necessarily held throughout the company as a whole:

Many employed professionals who write articles, reviews, critiques and blog posts on their area of expertises include this disclaimer to ensure that people do not assume their employer shares their views.
Offensive Content Disclaimer

This disclaimer alerts users to the possibility that they may encounter offensive content on your website. This includes material that is rude, obscene or causes offense to someone based on their own particular beliefs or opinions.
You should include this disclaimer if you allow user-generated content, such as posts, comments and photos. A user could potentially upload something that is offensive to other users.
Additionally, this disclaimer is important if your site contains any adult themes, nudity or profanity.
You should warn the user they could be subjected to offensive material and tell the user that you are not liable for any damage caused by their viewing of the content.
If you allow user content, state that you don't condone offensive content submitted by users. You may wish to add that you will try to remove user-generated offensive content, but make it clear that you're not responsible if it isn't removed. You could also give users the option of reporting offensive content and tell them how to do this.
There are limits to this disclaimer. It will not protect you if your content is illegal. For example, this disclaimer will not protect you if your website contains hate speech.
The Forum Fitness Center is a forum where users can submit their own posts and talk to other users. The site sensibly include an offensive content disclaimer which states that the user 'bears all risks associated with using that content':

Bepress also includes an offensive content disclaimer which states that by using the service the user understands that they 'may be exposed to content that is offensive, indecent or objectionable:'

The disclaimer also states that under no circumstance will Bepress be liable for any loss or damage incurred as a result of the use of any content posted.
Past Performance Disclaimer

This disclaimer tells people that past performance does not guarantee future performance i.e. a previous good result doesn't guarantee a future good result.
Displaying impressive outcomes from clients is a great way to attract new clients. However, you need to make sure that every new client does not expect to get the same impressive results.
You should use this disclaimer if your business offers advice or consultations to clients, particularly in the areas of finance, banking, trading, wealth management or investments as there is an element of risk.
This disclaimer is incredibly simple to write - a simple statement of 'past performance does not guarantee future performance' will suffice.
Brewin Dolphin includes a past performance disclaimer which simply states that past performance is not a guide to future performance:

Investment advisory firm Miracle Mile Advisors includes a past performance disclaimer on its website. The clause states that "it should not be assumed that past investment performance is an indication of future results."

This is enough to constitute a past performance disclaimer, however the company also adds that nothing on its website should be interpreted to state or imply that past results are an indication of future performance.
Errors and Omissions Disclaimer

The purpose of this disclaimer is to inform users that you are not liable for damage caused by any errors or omissions on your website. This protects your business in the event that information is out of date, incomplete, missing or inaccurate.
Whilst this disclaimer could be included on any website or app, it is particularly important to include it if your website displays data that's subject to change. For example, financial and health data.
This disclaimer is also important if your website provides instructions, how-to guides or outlines ways to use your products of services. You may wish to add a disclaimer that informs people the information may be incomplete or inaccurate and may not work for them.
Investing community Seeking Alpha provides the following error and omissions disclaimer:

You need to state that you do not guarantee information on your website is complete, accurate and upto date. Also state that you will not be liable for any loss or damage caused by an error or omission on your website.
Professional Advice Disclaimers

If your website offers any form of professional advice you should include a professional advice disclaimer that's specific to your business's area of expertise and your website's content.
This could include legal disclaimers, medical disclaimers, fitness/diet disclaimers and psychology disclaimers.
For example, if you run a fitness blog you should provide a disclaimer in relation to any fitness, diet or health advice you provide.
Inform users that your content is for informational purposes only and you are not liable for any damages caused by reliance on your content. If you're not an expert in the area in question, you may wish to tell users that your advice is not a substitute for professional advice.
Here are a couple of examples of professional disclaimers:
Medical Disclaimer
If your website includes any medical or healthcare content, you should include this disclaimer.
Tell users that your content is for information and educational purposes only and that users should see a healthcare professional for any specific concerns or personal problems.
Choices Natural Market includes a professional advice disclaimer which states that information relating to specific medical conditions, health care, preventive care and healthy lifestyles is for general information purposes only. The company makes it clear that the information it provides is not intended as a substitute to for the advice of a healthcare provider:

Legal Disclaimer
If you share any legal knowledge on your website you should include a legal disclaimer.
Advise readers that the content is for educational and information purposes only and does not form any sort of attorney-client relationship.
Citizens Advice is a public advice service in the UK and its website includes information about the law. The service include a disclaimer which advises users that content is for 'general guidance' to contact a lawyer if they need legal advice:

Once you have your disclaimers all written and ready to use on your website, how should you go about displaying them? Let's find out.
How to Display your Disclaimer

You should ideally use a couple of different methods to ensure reader's find your disclaimers. Wherever you choose, you must ensure disclaimers are clearly visible to your audience.
Here a few to consider.
Footer Links
Many websites include a hyperlink at the bottom of the website (in the footer) that takes the reader to a disclaimer page.
It's a good idea to include a disclaimer page here since consumers will often look at the bottom of a website to find important legal information such as disclaimers, Terms and Conditions and Privacy Policies.
Seeking Alpha include links to the website's disclaimer and legal policies at the bottom of the site:

Within your Terms and Conditions Agreement
You could also include your disclaimers within your Terms and Conditions agreement.
If you require users to agree to your Terms, add your disclaimers to ensure they have consented to them and they are enforceable.
A few of the examples shown in the previous chapter of this article are taken from Terms and Conditions agreements.
On Webpages
You can (and sometimes should) include disclaimers right on the page itself where you're offering advice, using affiliate links or selling products. This ensures the user will see the disclaimer within the content itself without needing to look in the footer or check out your Terms and Conditions agreement, which they just may not do (and likely won't).
You see this often with blog posts where there's a disclaimer either at the beginning or end of the post.
For example, on a Tony Robbins Store product listing page, you'll find a disclaimer at the bottom of every page for every product:

Via Email
As well as including disclaimers on your website, you may want to display disclaimers in your emails.
You could do this at the bottom of an email or include a disclaimer as part of the main text in certain circumstances. For example, if you were emailing a potential client with a cost estimate, you might include a short disclaimer stating that the cost is just an estimate and actual costs may be higher.
Emails are also an ideal place for a 'confidentiality disclaimer' whereby you inform the reader that the content of the email is only intended to be seen by the person it is addressed to. These are ideal for emails about sensitive topics, such as law or health.
Summary
Disclaimers are important as they help to protect your business by limiting your liability and avoiding misunderstandings with users.
You should carefully select which disclaimers to include on your website, based on the nature of it.
For example, if you offer any guidance or advice you could include a 'professional advice' disclaimer, whereas if you run a public forum that allows anyone to submit content, you may want to include an 'offensive content' disclaimer.
With regard to placement, disclaimers should be clearly visible to users and ideally in multiple locations. Additionally, if you advertise on your website or use affiliate links, you should display a disclaimer close by.