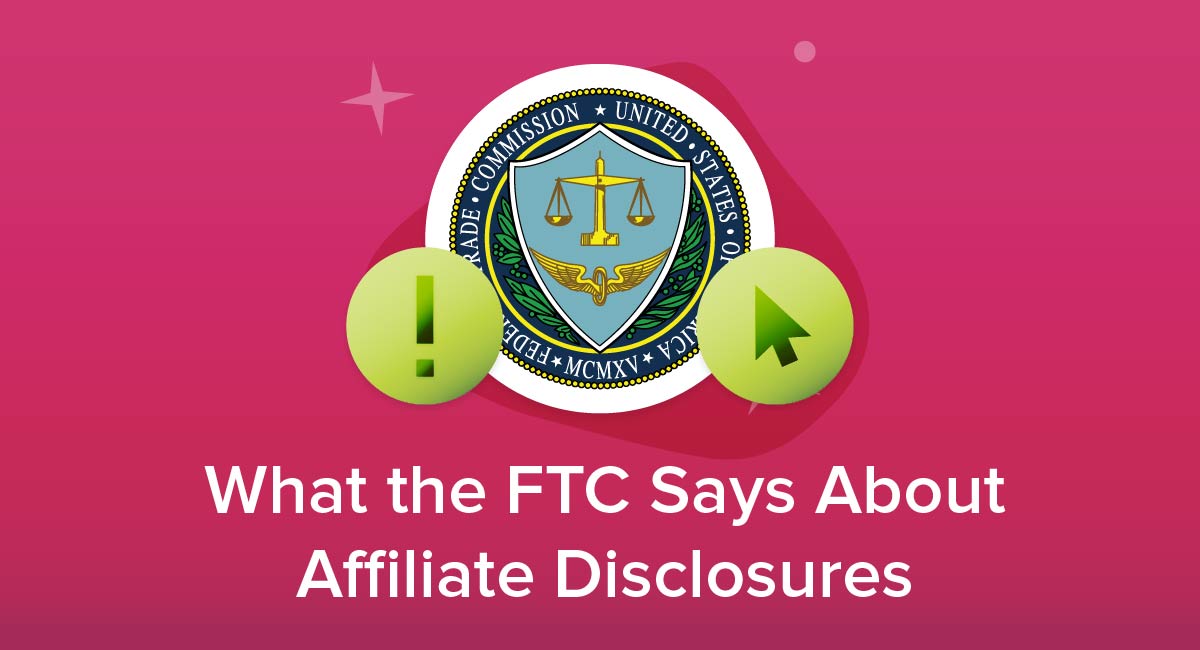 The Federal Trade Commission (FTC) requires affiliate marketers to disclose that they are getting paid to promote the product. This is to keep transparency and honesty in advertising, and to keep consumers informed.
This article explains what FTC affiliate disclosures are and how affiliate marketers can write disclosures that meet FTC rules and guidelines.
Why Must Affiliate Marketers Have a Disclosure?
The FTC has made it mandatory to disclose whenever there's an affiliate arrangement. The reason for this is because people should know whether an affiliate marketer genuinely likes a product or if they are just promoting products for monetary compensation.
Affiliate marketers get paid by companies for promoting their brands and products online. An example of this is celebrities and online influencers who talk about and promote different brands for payment. However, anyone can be an affiliate marketer regardless of your celebrity status.
If you are getting paid by a person or a company for promoting their brand then the FTC affiliate disclosure applies to you.
Our Free Disclaimer Generator is designed to help you comply with the requirements of various affiliate programs, such as Amazon Associates. It also includes various disclaimers like medical disclaimer, fitness disclaimer, website disclaimer and so on.
Just follow these few simple steps and generate a Free Disclaimer for your site or your app:
Start by choosing the "Free Disclaimer Generator" on our site.

Then select where your Disclaimer will be used on:

Follow with adding your website/app information:

Enter the country and click on the "Next Step" button:

Continue with building your Disclaimer and answer on questions about your business from our wizard:

Now just enter your email address where you'd like your Disclaimer sent and click on the "Generate" button.

You're done! You can copy and paste your Disclaimer code into your website/app, or link to your hosted Disclaimer page.
The FTC disclosure doesn't just apply to commissions from direct marketing. It also applies to compensation of other sorts including:
Free products and services
Discounts
Payments in cash
Store credit
Free meals or dinners
Any sort of favors
Here are some of the requirements for affiliate disclosures as set forth by the FTC:
Understandable Language

The disclosures you make must be clear and conspicuous to a reasonable consumer.
Regarding understandable language, the FTC says that advertisers should use clear language and syntax. Avoid using complicated terms, irrelevant material, and technical jargon that a reasonable consumer can't easily comprehend.
Artful Parent is a good example of using understandable language to give disclosure. Here, a clear and simple statement tells the consumer that the blog post has been sponsored: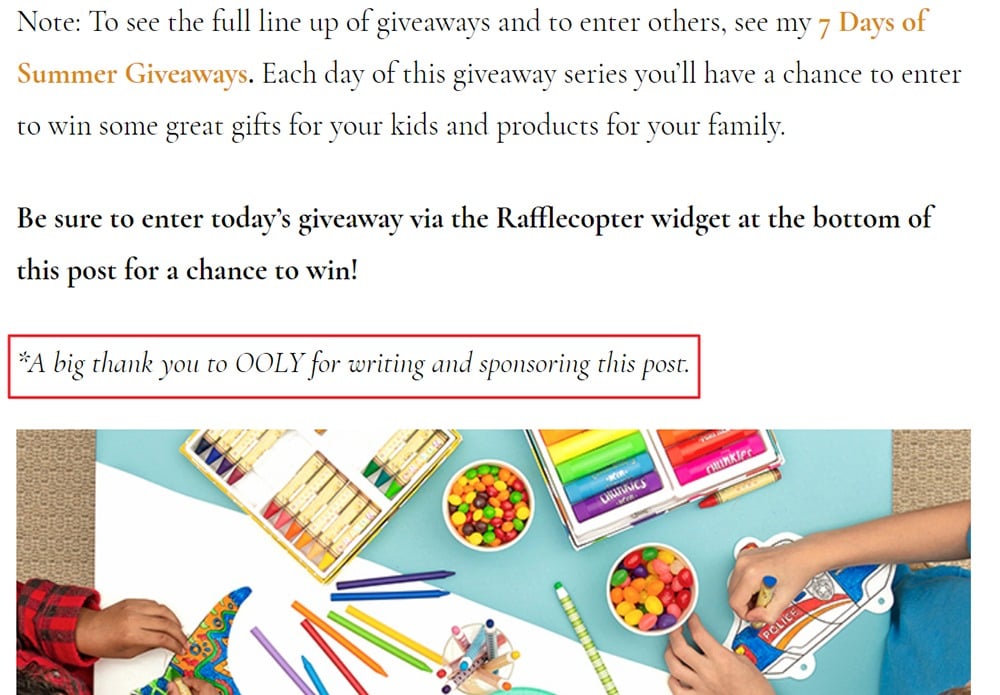 People will be able to understand that the article and giveaway are both from a company and that the company will likely benefit from the post.
Proximity and Placement

Proximity and placement affect whether a consumer will notice your disclosure.
The FTC directs affiliate marketers to do the following:
Evaluate Proximity. A disclosure should be placed in close proximity to the claim made or the advertisement posted. This increases the chances of the disclosure being noticed and comprehended by the consumers.
Hyperlink to a Disclosure. Hyperlinks can be used to give a link to another page that is dedicated to giving disclosures. The hyperlink should be clearly noticeable by the consumer.
Use High Tech Methods for Proximity and Placement. Disclosures can be made using frames that remain constant during scrolling, by using a window that pops up, or by using interstitial pages.
Display Disclosures Prior to Purchase. Disclosures must be made before the consumer has made a purchase or has incurred a financial obligation.
Evaluate Proximity in Space-Constrained Ads. In case the space in banner ads or tweets is not enough for the disclosure information, the required information must be disclosed using hyperlinks or short-form disclosures (like putting the word Ad or Sponsored within a social media post).
Making Sense of Cents is a good example of a blog using an affiliate disclosure. The author has provided a link to the website's disclosure page directly under the headline of the article. This makes it likely to be noticed by readers before they even start reading the article.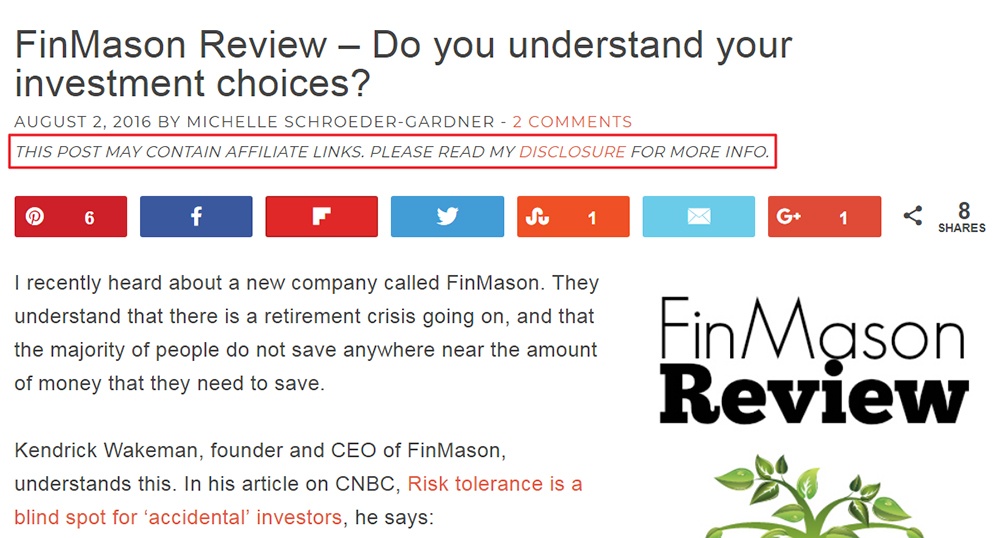 When readers click on the hyperlink, they're taken to a full and informative affiliate disclaimer page: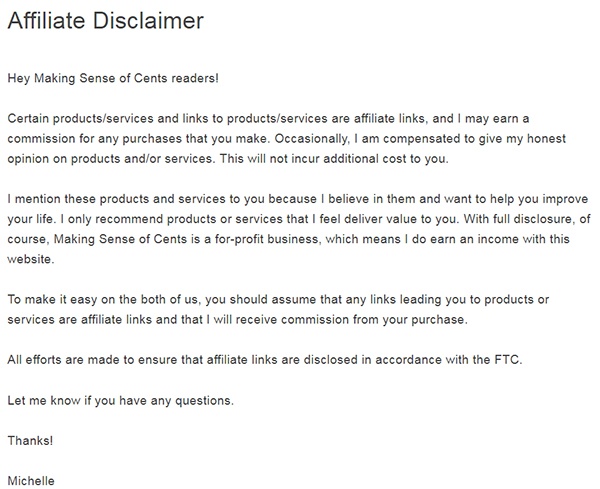 Prominence

The disclosure has to be made prominent enough to draw a consumer's attention to it.
Regarding the prominence of the disclosure, the FTC says here's what matters:
Good Contrast. Disclosures should be made in colors that contrast with the background to make the text more noticeable.
Size of a Disclosure. The text of the disclosures should be at least as large as the claim being made in the advertisement.
A Relaxed Girl uses the same text size for the disclosure as used in the rest of the post, but the disclosure text is italicized to increase the noticeability of the disclosure.
It's also placed in an ideal spot where readers will be sure to notice it almost as soon as they start reading the article and before any products are recommended.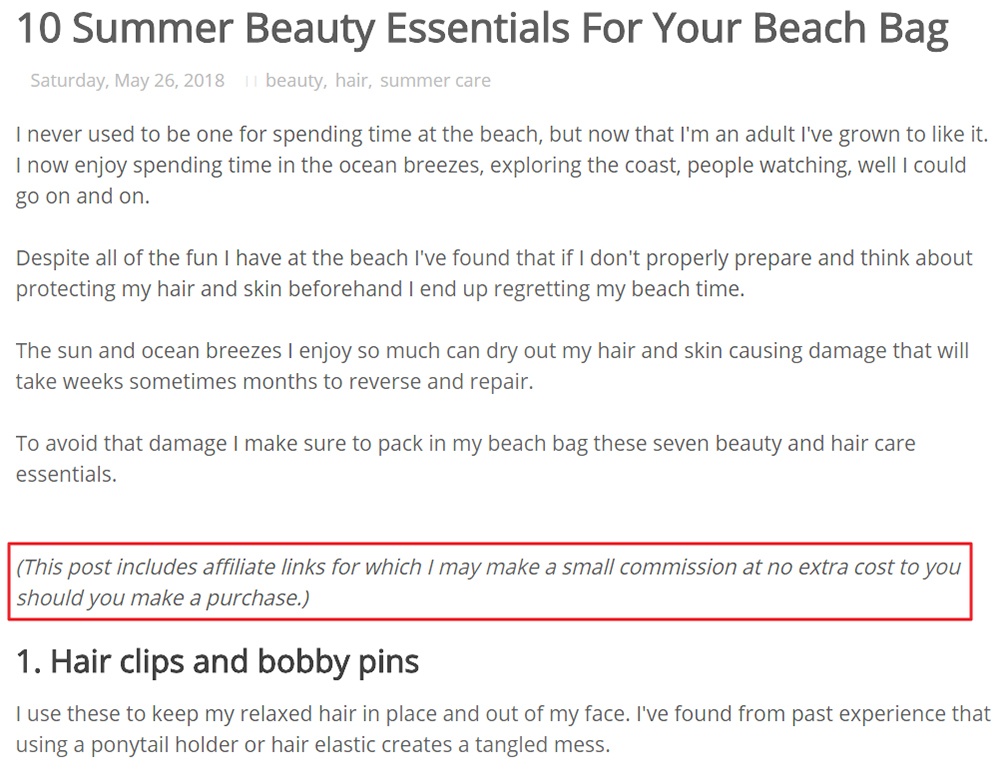 Anything you can do to make your disclosure stand out or at least not get hidden is a good move.
Avoiding Distracting Factors

When creating your disclosure, avoid using page elements that may distract the consumers.
The FTC says to avoid using graphics which reduce the noticeability of the disclosure text. For videos, disclosure statements should be made within the video where the claim is being made.
Buttons and links that reduce the noticeability of disclosures should not be used.
Keep things clean, simple and clear for maximum effectiveness.
Repetition

To increase the noticeability of a disclosure, it should be repeatedly displayed on a website.
Regarding the repetition of disclosures, the FTC says that advertisers should repeat disclosures on websites that are lengthy to increase the chances of consumers noticing them. Whenever the claims are repeated, the disclosures should be repeated as well.
Danya Banya is a very good example of repetition of disclosures. The blogger displays the disclosure twice in the article. Once, in the middle of the post using a graphic and once again at the end of the post.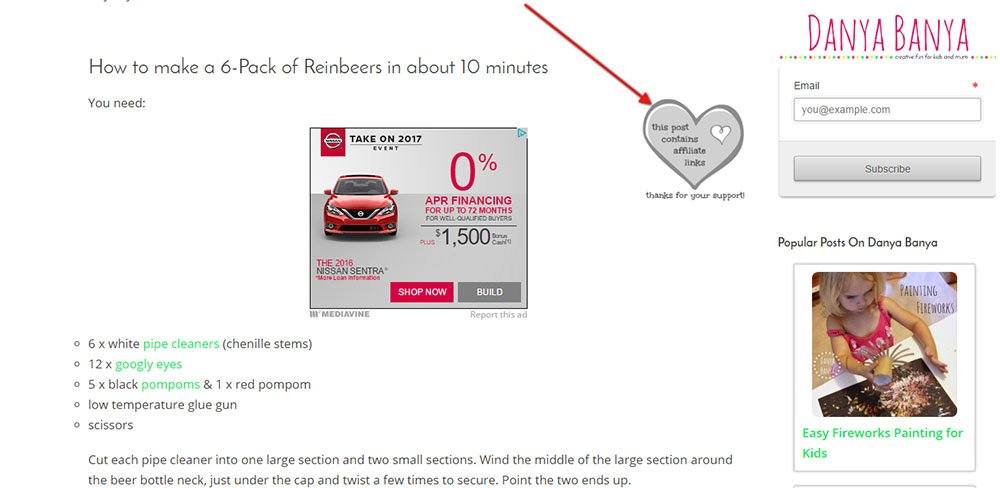 By repeating the disclosure, it's far more likely that readers will notice at least one of them and be informed.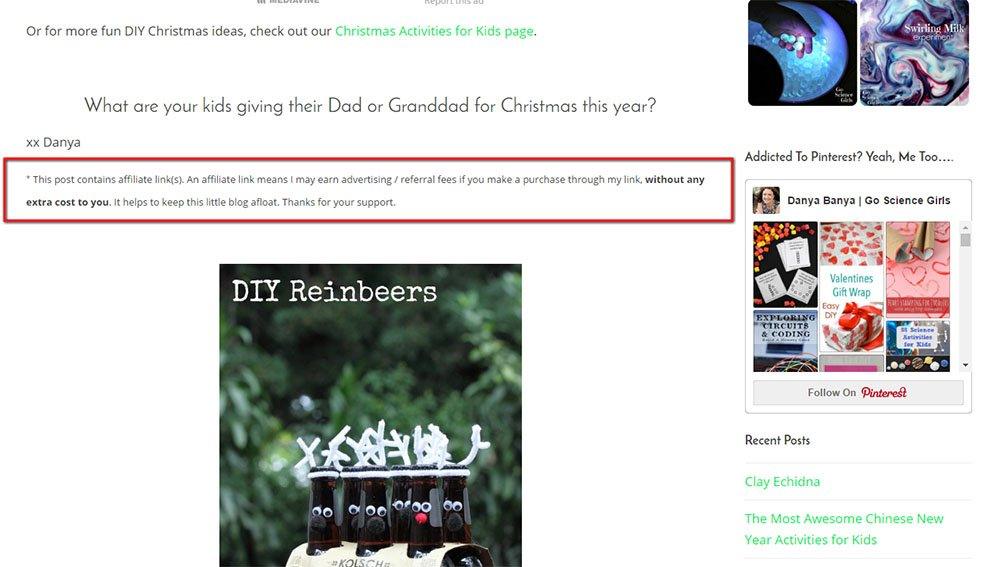 It's better to post too many disclosures versus not enough when it comes to being transparent and compliant with the FTC.
Multimedia Messages and Campaigns

Different media types can be used to make the online content, ads, and disclosures - including audio, text, video, etc.
For multimedia messages and campaigns, the FTC says that the volume of audio claims and disclosures should be easily audible to the consumers. Any claim should be accompanied by written text where possible. The video disclosures should be long enough to be comprehended by the consumers.
Conclusion
If you engage in affiliate marketing, you are responsible for having affiliate disclosures in place. These disclosures must be clear and conspicuous to a reasonable consumer, as well as easily noticeable.
Disclosures should be placed in close proximity of the claims being made.
Disclosures should be prominently displayed to draw consumer's attention to them.
To increase the noticeability of disclosures, distracting elements in ads should be avoided.
Repetition of disclosures increases their noticeability.
Different media types should be properly utilized to increase the noticeability of disclosures.