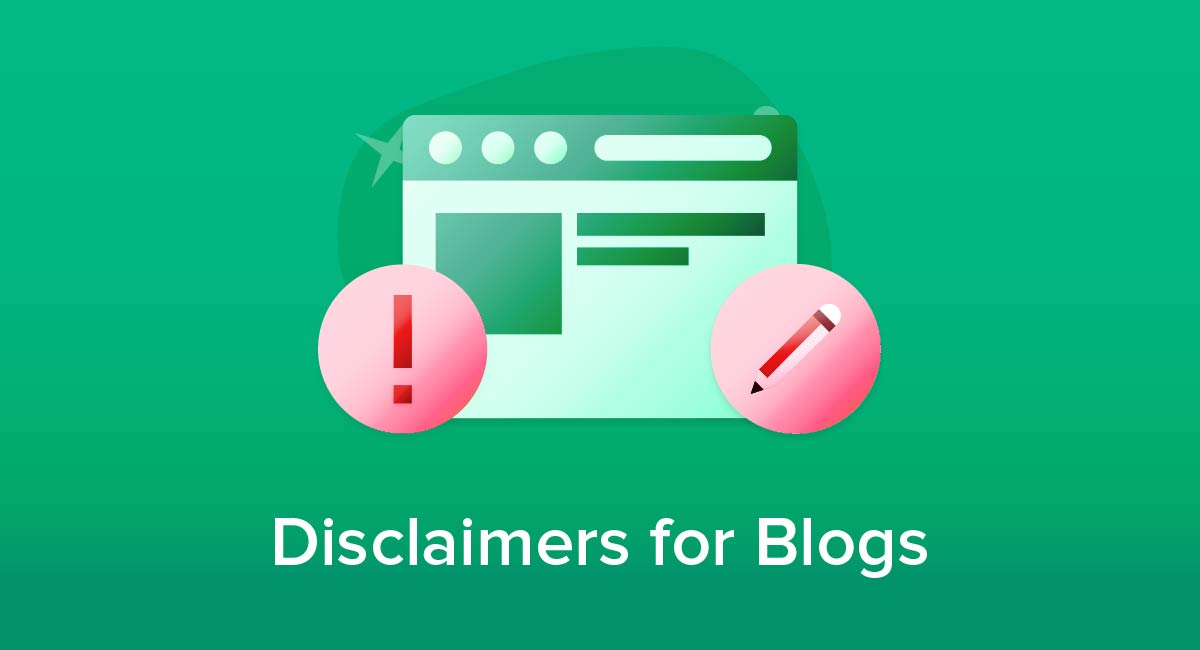 Blogging is a cutthroat industry where content is king. You don't just need content - you need good content. After all, 43% of people will just skim your posts unless you give them a reason to fully engage.
If you're not cutting through the noise, then you'll struggle to monetize your site and get loyal followers.
No blog is complete with a few essential disclaimers. Whether it's a copyright, views expressed, or professional advice disclaimer, these short legal statements help you focus less on the legal bits and more on what deserves your attention: your content.
We'll take you through each of the most relevant disclaimers for personal and general blogs as well as informational and affiliate blogs so your blog can get the benefits of having these disclaimers.
Our Free Disclaimer Generator is designed to help you comply with the requirements of various affiliate programs, such as Amazon Associates. It also includes various disclaimers like medical disclaimer, fitness disclaimer, website disclaimer and so on.
Just follow these few simple steps and generate a Free Disclaimer for your site or your app:
Start by choosing the "Free Disclaimer Generator" on our site.

Then select where your Disclaimer will be used on:

Follow with adding your website/app information:

Enter the country and click on the "Next Step" button:

Continue with building your Disclaimer and answer on questions about your business from our wizard:

Now just enter your email address where you'd like your Disclaimer sent and click on the "Generate" button.

You're done! You can copy and paste your Disclaimer code into your website/app, or link to your hosted Disclaimer page.
Personal and General Blogs

If you run a lifestyle, fashion, or a general blog, then you're exempt from many of the legal requirements associated with running a complex business in a regulated industry.
That is, until you start working with sponsors, participating in affiliate programs, or selling your own merchandise. Then, the Federal Trade Commission has a few rules you need to follow.
There are also several disclaimers that not only help keep your content compliant but also show your readers (and potential business partners) that you're a thoughtful professional who deserves their trust.
These disclaimers include:
Views expressed
Copyright
Fair use
Advertising
Views Expressed
A views expressed disclaimer states that the statements made on a post or your blog generally aren't a reflection of your own views or beliefs or that of your wider company.
If you're the sole curator of your content, a views expressed disclaimer is unnecessary. However, if you're going the guest post route, it's good to include one.
The disclaimer dissociates your blog from the opinions of someone else. Uses for this disclaimer don't just extend to controversial topics or opinions. Applying it equally to every outside statement helps your site remain impartial even when you are aligned with the thoughts expressed.
A more balanced approach to content allows you to remain neutral and build trust with clients.
You can use these disclaimers two ways as a blogger:
To explain that your views are your own and you're not influenced by a sponsor
To explain a guest poster's views are their own and don't necessarily reflect your views
These both show that the views - whatever they are - belong solely to the author of the content.
Here's an example of views expressed disclaimer from a report published by Internews (on page 1 of the linked PDF):

Copyright
Do you write your own blog posts, take and edit your own photos or publish other creative content? If so, you should include a copyright disclaimer.
Although it won't stop the unscrupulous people that populate the internet from "borrowing" your intellectual property, it does warn them away from it. More importantly, it gives you precedent when you ask them to take it down.
A copyright disclaimer typically has four parts:
Your name/business name
The date when your content was created
Copyright symbol
A statement of what rights you're reserving
Rights reserved refers to how you want to share your content. "All rights reserved" is the most common use, but it has very little meaning within the legal context. It essentially means that anyone wishing to use your content needs to ask you for permission before doing so.
If you don't include a rights reserved section (such as in the example below), you'll be assumed to be reserving all of your rights by default.
Here's an example of a copyright disclaimer from Cupcakes and Cashmere:

It doesn't say all rights reserved, but that's not required. Cupcakes and Cashmere can still ask for attribution when someone else uses its content or request they take it down and still be within its rights.
A Beautiful Mess includes the rights reserved but doesn't include the date. This essentially will copyright everything on the site.

Fair Use Disclaimer
A fair use disclaimer is required whenever you use content - or even ideas - that aren't your own.
Whether you've re-purposed a quote from a book or article or you're sharing a video, you need a fair use disclaimer.
These disclaimers inform the viewer of two essential elements:
You're using content that you didn't create (i.e. copyrighted materials)
Your use of the content falls within Fair Use standards
What is fair use?
Fair use is included within U.S. Copyright law. The standards themselves are fairly opaque. At its core, it allows anyone to take copyrighted material and use it without the expressed permission of the owner if they are:
Criticizing
Commenting
Reporting
Researching
Parodying
Teaching
You're not allowed to:
Pass the material off as your own
Make money or add value to your content by over-using someone else's work
The basic premise can be summed up with the word "transformative." You can transform someone else's work and use it, but you can't just copy and paste it.
Fair use disclaimers are some of the longest and most legally complex disclaimers used by websites.
You need three elements:
Statement of borrowed material
Statement of belief of fair use
Mention of Section 107 of US Copyright Law
Here's an example from That's What She Said SF:

Advertising & Sponsorship Disclaimers
If you've been blogging for a few years, you likely remember the days when you didn't need to explicitly state that you were engaging in an advertising promotion.
These days, if you're working with, for, or parallel to a brand and your content counts as advertising, you need to let the reader know and you need to let them know on every content platform, including and especially social media. An advertising or sponsorship disclaimer does just that.
You might think, "Do I really need to tell readers that I'm engaging in advertising?"
The answer isn't just "yes," but why wouldn't you want to?
A sponsorship disclaimer offers value in at least two ways:
It builds trust with your audience because they know you've been paid and are expressing your own opinion
It positions you as a potential partner for other companies looking to team up with bloggers
More importantly, those two value propositions reinforce each other. Bloggers with an engaged audience who trust them land more partners and business contracts (and make more money).
Your disclaimer needs to be two things: clear and conspicuous. It shouldn't be hidden away and it needs to unequivocally state that you're participating in a brand building promotion.
Here's an example of such a disclaimer from ASHA: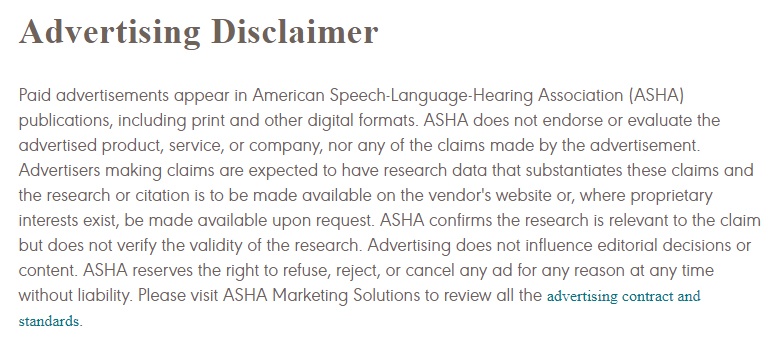 Note how it states that advertising doesn't influence decisions or content, and that ASHA reserves the right to refuse, reject or cancel any ad for any reason and at any time. This shows that it's very in charge of what ads it shows, and yet still maintains a separation between the advertisements and its own content.
Informational Blogs

Is your blog part of a more complex business? Perhaps it deals with heavy-regulated subject content or you sell products associated with your posts? If so, here are some clauses that your blog would benefit from.
Professional Advice
Do you provide advice in any capacity? If so, you should have a professional advice disclaimer.
A professional advice disclaimer prevents confusion about your duties to your readers and helps limit liability in the even your readers follow what they believe is your 'advice.' It doesn't even matter if you're a true, accredited expert in your field. Unless you're working with a reader in a contractual relationship, you remain liable for how they try to use your content unless you have a disclaimer.
These disclaimers aren't just for small fish. Even big industry players use them. Here's one from JP Morgan and Chase, who know a thing or two about taxes and accounting, saying that you shouldn't use their informational material as 'advice' about taxes or accounting:

We particularly recommend these disclaimers if you produce content in one of these niches:
Health and fitness
Finance
Legal
Psychology
How-to guides
Make sure your professional advice disclaimer is personal and pointed. Making it crystal clear doesn't damage your credibility as an expert. Rather, it enhances it by protecting readers from using your content without first seeking professional advice relevant to their circumstances.
Investment Disclaimers
Investment disclaimers relate to finance or market news blogs and serve two main purposes:
They reiterate that investment is risk to the reader
They limit your liability
Investment disclaimers need to be clear and easy to understand by people who aren't industry experts. They also need to inform potential investors that they may not just someday potentially have some kind of loss - it needs to warn them to be prepared to lose everything when they invest.
Here's one from Braveheart Investment Group:

Braveheart Investment Group follows all the rules by:
Using succinct, jargon-free sentences
Informing customers that "past performances doesn't indicate future performance"
Informing customers that they could lose anything
Reminding customers that not all investments are suitable for all investors
Reminding readers to ask a qualified advisor for advice before purchasing
Errors and Omissions Disclaimer
The errors and omissions disclaimer is similar to the professional advice disclaimer because it asks readers to take content as it is.
In other words, don't expect content to be complete and error-free. If there are any errors or incomplete content, then the owner of the site isn't liable for damages caused by those errors and omissions.
We recommend using an errors and omissions disclaimer whenever you're working with any type of data, particularly in niches where the ground is unstable like finance, tech, or health. However, they can be useful in any scenario.
It doesn't matter if /you're targeting your hyperlocal market or trying to grow your reach globally. These disclaimers are a good idea regardless.
Here's an example of a catch-all disclaimer from Don Scott McMurray Law Offices that includes a statement that says, "While we strive for accuracy, it is possible that the information on our site may contain errors and omissions. We disclaim any liability for any such errors and omissions.":

Here's another errors and omissions disclaimer from Thorn Lighting:

It goes one step further by asking customers to report any errors and omissions. This is always a good idea because it protects you while also demonstrating a commitment to providing the best information possible.
Affiliate Disclaimers
Affiliate disclaimers are part and parcel with participation in affiliate programs. If you're not using one, then you're potentially going to land your blog in trouble.
Both the FTC and many reputable affiliate programs require an affiliate disclaimer where you disclose your participation in the program.
Fortunately, fulfilling your obligations is simple. Here's an example from Launch Grow Joy that goes as far as linking to the FTC's Guide that requires the disclosure:

Conclusion
Want to take your blog or website to the next level? Part of stepping up your game also means protecting yourself as you go through the use of legal disclaimers. Unfortunately, growing your business also means taking on larger risk since you never know who's reading your blog and what will result because of that.
These disclaimers limit your liability while demonstrating professionalism to your growing readership. It's unlikely you'll need all of them, but don't wait until you're waist deep in a new venture to add them. It's better to have a disclaimer and not need it then not have one at all.