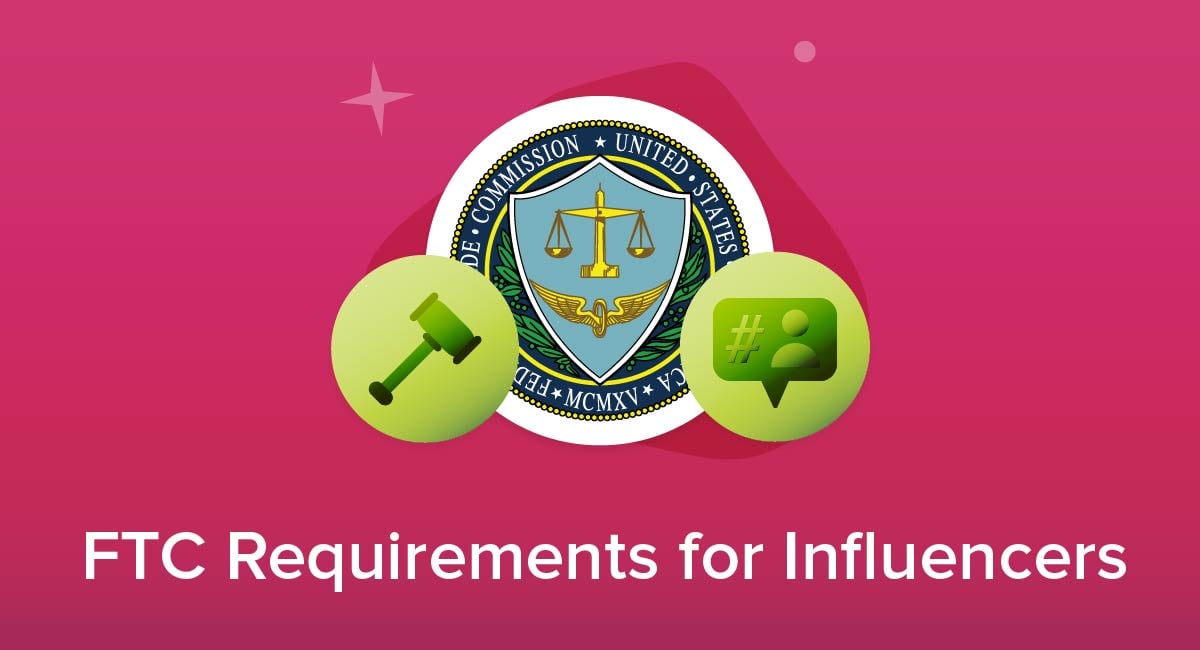 The Federal Trade Commission's (FTC) rules regarding influencers and endorsers are a wakeup call to social media stars and brands all over the world.
The FTC's mission is to create transparency between consumers and companies by putting an end to misleading or deceptive ads. With the commission's guidelines, influencers and public relations divisions of companies are going to have to pay even closer attention to how they disclose brand relationships on social media.
FTC Disclosures 101
In November 2019, the FTC released the Disclosures 101 for Social Media Influencers. The Disclosures are a simple and to-the-point instruction of how social media influencers are going to have disclose to their viewers when they are endorsing a product or brand.
The Disclosures are a shortened version of the FTC's Endorsement Guide and are specifically targeted at influencers. With the growing incorporation of influencers into marketing campaigns for brands, the FTC sought to lay out tighter controls on protecting consumers from deceptive ads.
Our Free Disclaimer Generator is designed to help you comply with the requirements of various affiliate programs, such as Amazon Associates. It also includes various disclaimers like medical disclaimer, fitness disclaimer, website disclaimer and so on.
Just follow these few simple steps and generate a Free Disclaimer for your site or your app:
Start by choosing the "Free Disclaimer Generator" on our site.

Then select where your Disclaimer will be used on:

Follow with adding your website/app information:

Enter the country and click on the "Next Step" button:

Continue with building your Disclaimer and answer on questions about your business from our wizard:

Now just enter your email address where you'd like your Disclaimer sent and click on the "Generate" button.

You're done! You can copy and paste your Disclaimer code into your website/app, or link to your hosted Disclaimer page.
Before we look at what influencers are required to disclose, let's take a look at who is considered an influencer under the FTC.
Who are Influencers

Under the FTC, the term influencers is extremely broad. The FTC is concerned with individuals who are promoting a product, service, or destination on behalf of a sponsored partner.
The regulations cover advertisements that would induce a consumer to believe the influencer's opinions or beliefs on the brand and then buy the product (at Section 255.0 (b)):

The FTC's Frequently Asked Questions on Endorsements states who may all be covered under its influencer definition, no matter whether there is a financial partnership or not:

Types of influencers or endorsers can be, but are not limited to:
Social media stars
Bloggers
Celebrities
YouTubers
Experts
Endorsements can even include food reviewers, ambassadors, and individuals making donations to a charity when they receive likes on a video.
What all this means is that the FTC is creating a very large umbrella to cover as many influencers and endorsers as possible to make sure readers/viewers are informed about possible connections.
When You Must Disclose Your Influencer Status
The Disclosures state that you must disclose when there is a "material connection" with a brand. A "material connection" is defined as a "financial, employment, personal, or family relationship with a brand."
An example of a "material connection" that is a "financial relationship" would be model Rowan Row and Peroni. Row partnered with Peroni to feature its product on his Instagram page, and created a financial partnership for both parties: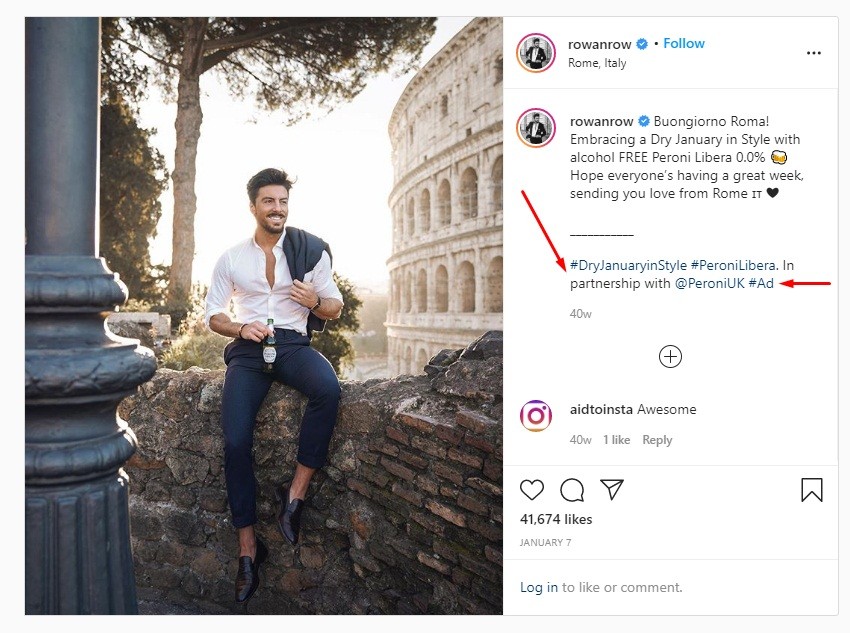 However, "material connections" don't just include financial relationships. The FTC requires disclosure if the influencer receives anything of "value" from the company. This also covers when you receive free or discounted items from a brand.
Instagram beauty influencer gracefulfacecreates frequently posts beauty products that have been "gifted" to her by the brands. She notes in her posts the products that were gifted by adding a "*" to denote the free item: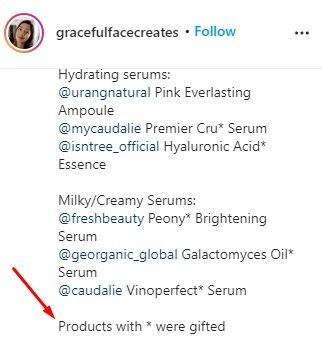 Viewers look to influencers to know their opinions, even if the influencer is being paid for their opinion. The FTC still requires you to disclose the partnership no matter whether you are paid or not.
Influencers who post about a family member's new restaurant or if they currently work for the restaurant also must disclose this type of relationship.
The FTC doesn't only apply to these relationships, but also to when influencers "tag, like, or pin" a product or brand to show they like it. This is considered an endorsement and must be disclosed. This can be as simple as geotagging a restaurant or liking a boutique store that has just opened.
While the FTC's laws are applicable to U.S. influencers, that doesn't mean influencers outside of the U.S. are immune. If an influencer is from another country creates a post that endorses a brand and it is "reasonably foreseeable" that U.S. customers will be affected, then the FTC's rules apply.
Chris Hemsworth is a famous actor and an Australian citizen. Even though he lives in Australia, he works in the U.S. and has influence all over the world. His endorsement of Boss on Twitter would be "reasonably foreseeable" to affect consumers in the U.S. and requires disclosure: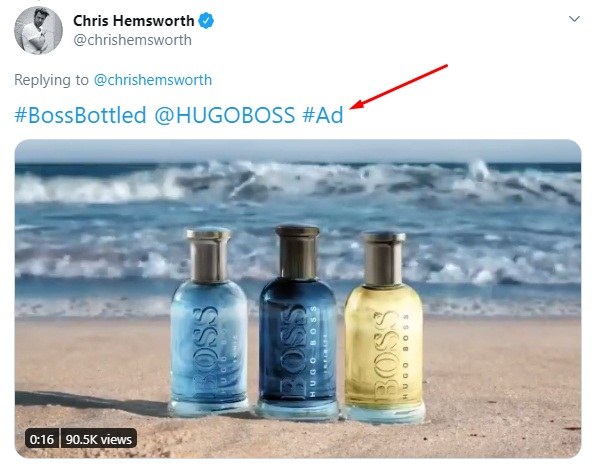 There is an exception to the rule. If you are endorsing a product that you personally purchased and you don't have any type of "material connection" to the brand, then you do not have to disclose that you don't have a relationship.
How to Disclose Your Influencer Status

There are two main considerations to remember as an influencer when disclosing a partnership:
The disclosure must be hard to miss, and
It must be in simple and clear language
Let's take a look at these in more detail.
Must be Hard to Miss
First things first, your disclosure must be placed on your social media post so a consumer would not find it hard to miss. The FTC requires the disclosure to be with the endorsement itself. You can't have #ad or #sponsored on a completely separate page, such as a profile or an About Me page.
Disclosures should be included right away when seeing the post. When there is a point where you have to click for "More," particularly when viewing on a phone, then the disclosure should be before the "More."
Lil Jon does for his partnership with Don Julio Tequila. Lil Jon uses the Paid Partnership feature on Instagram along with the #ad at the beginning of the post: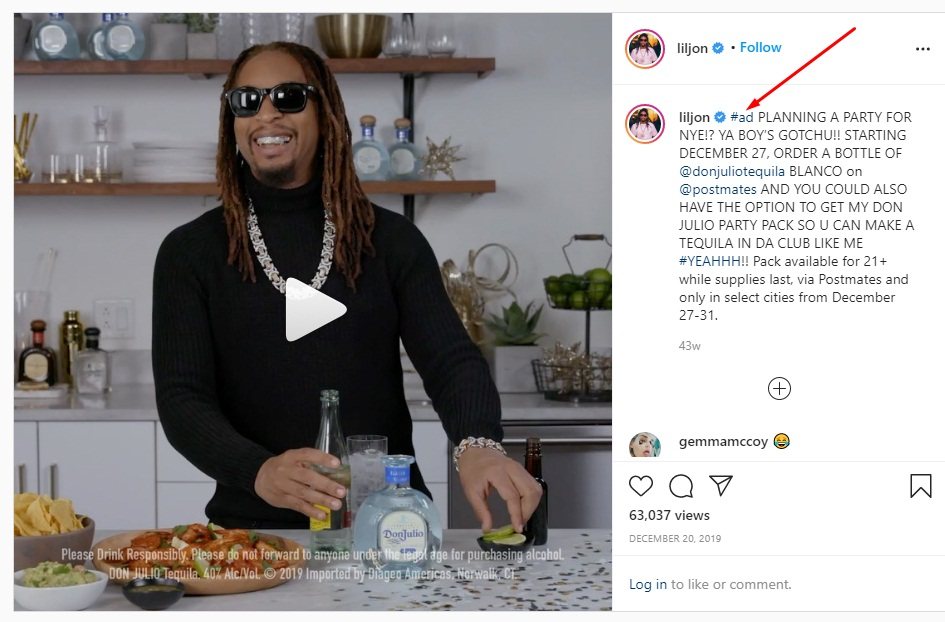 The Disclosures give some specific examples for social media platforms that are different than traditional posts. Here's a look at two of them.
Instagram or Snapchat Stories
For ads that are included on Instagram or Snapchat stories that have a short life, you still must disclose on those stories of the relationship. The FTC requires you to "superimpose" on the picture the disclosure which can be done by including a hashtag. You also must give the viewer enough time to view the story to see that there is a paid partnership.
YouTube Videos
When endorsing a product in a video, you are still required to disclose it. You must not only include a disclosure in the About section below the video but also in the video itself.
Why? Not everyone watches videos with sound and the FTC believes consumers will notice the disclosure when it is something they can read and hear.
Vlogger FunForLouis endorses products through his YouTube channel. Louis includes in his vlog that he is partnering with Fairmont Hotels during his stay in both his video and in the section directly below: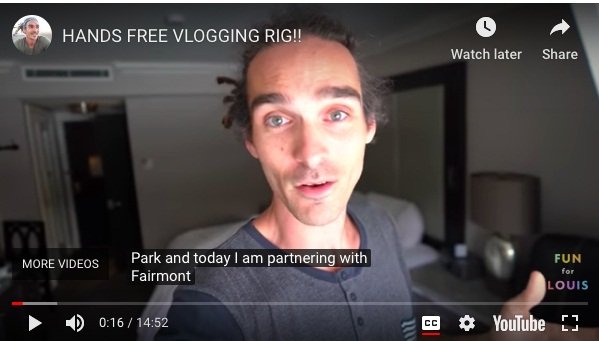 Must be in Simple and Clear Language
The language used in the disclosure must be simple, clear, and easy to understand. The language used in the disclosure and in the endorsement should be the same. Confusing words are not allowed, such as "sp" or "collab."
Words such as "thanks" or "influencer" by themselves somewhere in the post are not enough to disclose, and there must be a connection between the disclosure and the endorsement.
Simple verbiage such as "Thanks to Apple for the free product" or "In this post we're partnering with" are deemed enough to notify a consumer of the connection.
Adam Friberg disclosed his partnership with HyperX for a giveaway using the plain language "Together with my new friends from @HyperX" in his tweet in addition to including a hashtag: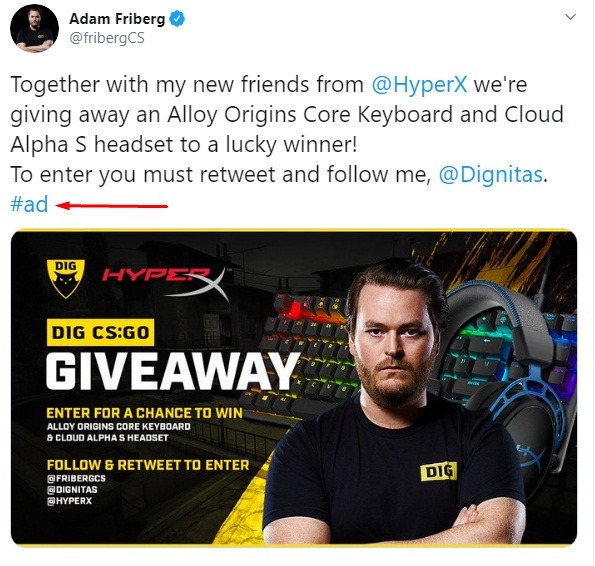 While using these longer statements is best when disclosing a "material connection," you can also make a proper disclosure by using hashtags. The popular hashtags #ad or #sponsored are one of the easiest ways to disclose to consumers, especially on Twitter.
Deion Sanders partnered with Lays and used the hashtag #ad in his tweet and bolding to make the viewer aware: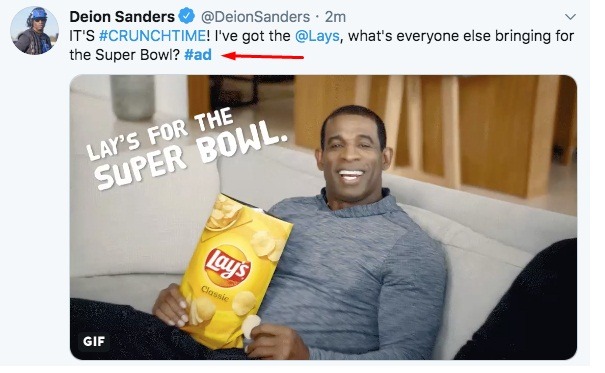 A note to remember when using #ad or #sponsored on social media posts: You can't hide the disclosure in a long list of hashtags. Including one in a line of 3-4 hashtags will probably be alright. If you try to include one in a long list of 20 hashtags, then you are failing to properly disclose.
Are there tools to help you disclose? Yes, but don't solely rely on them.
With the growth of influencers, social media platforms have created disclosure tools influencers may use to comply with the FTC's rules. Instagram created a "Paid Partnership" tool that allows influencers to include a disclosure right under their handle name. However, this tool is not for every Instagram user. Only accounts that have "high activity" would be able to access this tool.
The FTC states using this tool shouldn't be the only thing you rely on when disclosing. You should also use language in your post about partnering with the brand and/or including a hashtag.
Three Key Things to Know

Besides knowing to disclose when you have a "material connection" with a brand or product, what else should an influencer be aware of? There are three things the FTC wants to make clear to influencers about endorsements.
First, you can't endorse a product if you've never used it. One of the big no-nos for the FTC is when influencers endorse products that they have never used or know nothing about. The point of the FTC is to create a transparent relationship between consumers and products (and influencers).
Second, don't make a promise to a consumer that the brand would need evidence to prove. If you are endorsing a beauty product, you can't say the product will improve health or can cure an illness. This misleading statement would then require scientific proof for the statement.
Third, if you didn't like the product, you can't say that you did. This may seem obvious enough, but there are have been countless influencers who have been caught endorsing a product even though they didn't like it. The FTC requires that if you are reviewing the product, you must give your honest opinion of it.
Sharing Responsibility With Brands and Companies

Making proper disclosures to the FTC isn't only the responsibility of the influencer or endorser, but also the brand or company that is partnering with them.
The FTC requires brands to make a "reasonable effort" to monitor what influencers are saying in their social media endorsements regarding their brands through partnership programs. Not every industry's program will be the same, travel brands may have different requirements than a fashion line when endorsing a product.
Even though programs may be different from brand-to-brand, they should all include the following:
What can be said in the endorsement (no overpromises or misleading statements)
Instructions to influencers on how to disclose
Setting up check-ups on the influencers
A process to communicate with the influencer when an issue arises
It's important to include these terms because ultimately it's the brand's responsibility to oversee what influencers are saying about their products. If the brand fails to monitor what is being disclosed, it could greatly affect the brand because of its association with the influencer.
Summary
Here's a quick review of the FTC's requirements for influencers:
Influencers are any individual that promotes a product or service they are partners with.
Disclosures by influencers must be made when there is a "material connection" between the influencer and the brand. These types of relationships can be:
Financial
Familial
Employment-related
Sharing of free gifts
Tagging or pinning of brands
The disclosures must not be easy to miss and should be in clear and simple language. The disclosures can be simple phrases or hashtags, but they must be with the endorsement even if its a video.
If you are promoting a product, you must have actually used it. If you didn't like the product, don't hide that. Endorsements must be honest and true to the influencer's opinions.
Brands and companies should monitor influencers they partner with to ensure what is being said about their product through the creation of partner programs.