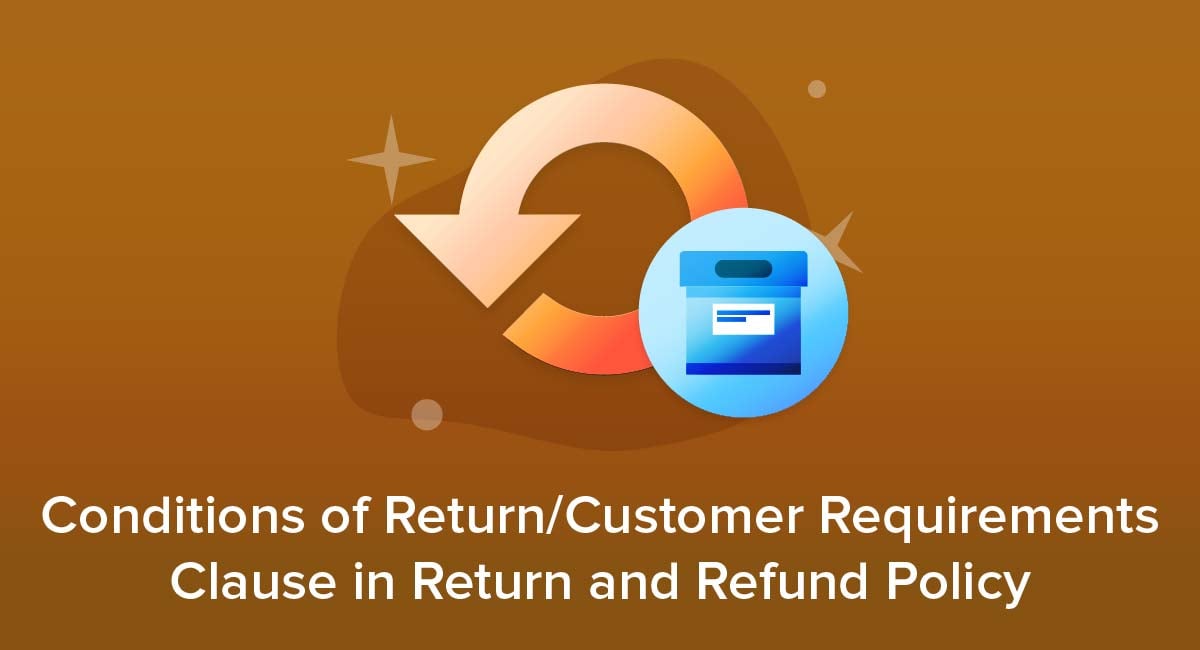 If you sell products, particularly online for delivery by post, your customers may want to return them for a refund or replacement. A Return and Refund Policy needs clauses that make clear how and when they can do this, reducing the chances of legal dispute or confusion.
This article will address what you should consider putting in such clauses, and how to best display them to provide the most benefit to your business.
Use FreePrivacyPolicy.com to generate the necessary legal agreements for your website/app:
You check our Free Cookie Consent to start making your business legally compliant with the Cookies Directive in the EU.
Do I Need a Return and Refund Policy?
In most jurisdictions it's not a legal requirement to have a Return and Refund Policy.
However, it's still very useful to have a Return and Refund Policy for several reasons:
It builds confidence and trust with customers
It can reduce the chances of people trying to return goods in a way that's outside of either their statutory rights or your Return and Refund Policy
It makes clear the circumstances in which you won't accept returns, reducing confusion and disagreement
It's important to understand that your returns clause may give customers additional rights beyond their statutory rights (those created and enforced by applicable laws). The returns clause will directly or indirectly form part of your contractual agreement with customers. This means you should not make any promises in your returns clause that you aren't prepared to abide by in full.
Remember also that you can't usually include any terms that remove or reduce the customer's statutory rights. Even if the customer agrees to such terms, they will usually be unenforceable.
What Does a Conditions of Return/Customer Requirements Clause Cover?

In this context we are talking about customers returning goods by choice, for example if they have changed their mind after making a purchase or receiving goods in the post.
A "conditions of return" or "customer requirements" clause doesn't normally refer to cases where the customer is returning goods that are faulty, not fit for purpose, or not as advertised. Most jurisdictions have laws that specifically set out when and how you must accept returns in these cases.
Similarly, these clauses don't normally cover cases where customers have a statutory right to return goods within a set period when they receive them by mail. For example, most European countries have some form of distance selling regulations that cover phone, mail and online orders where customers can't physically inspect goods before purchasing them.
Instead, these clauses are largely about any additional rights you offer consumers, along with the logistics of carrying out returns. For this reason, businesses often stress that nothing in the returns clause is intended to restrict or override statutory rights.
In the United States, returns and refunds for non-faulty goods are usually covered by individual state laws. Check your position carefully as some states offer customers greater rights by default when you don't post an appropriate Return and Refund Policy.
What Should My Conditions of Return/Customer Requirements Clause Include?

The purpose of this clause is to let customers know what they must do in order to start a return and obtain a refund. Some key points to address are:
What goods can (and can't be) returned
The circumstances in which customers can return goods
The process of returning goods
Who pays for the costs of returning goods
How you refund customers for returned goods
Let's look at each point of information individually and in further detail.
What Goods Can Be Returned?
In cases where you are voluntarily accepting returns (as opposed to it being a legal requirement), it's usually up to you to decide what you will and won't accept. To reduce disputes and hassle, you should make clear which goods are allowed to be returned, and which ones are not.
To improve customer relations, you can explain why some goods are excluded from your normal returns policy.
A common approach is to accept returns on goods which you can resell without excessive costs or trouble. This means you might exclude perishable goods such as food.
For some products it may depend on the condition. For example, you might accept returns of outerwear clothes that are still clean and undamaged, but refuse returns of underwear unless it is still in a sealed package.
Uniqlo clearly explains both its overall policy and specific exceptions:

Some businesses also exclude returns on goods where the policy might be open to abuse. For example, you could exclude returns on software or compact discs where users might make an illegal copy before returning.
Remember that your Return and Refund Policy doesn't override any statutory rights to return goods that are faulty or covered by distance selling regulations.
When You Allow Returns
Your conditions of return/customer requirements clause needs to make it clear when you allow customers to return goods (beyond any legal rights such as when goods are faulty).
Making this clear will reduce the chances of any disputes. It will also cut down on hassle for both you and the customer by reducing the number of cases where they attempt to return something that is not eligible for a refund.
You should detail the acceptable return situations in a way that balances being specific and not going into overwhelming detail. Possible options include:
Customers can return goods without reason within a set period
Customers can return goods if they give a reason. (This can help you learn more about why people aren't satisfied with particular products.)
Customers can return goods only for specific reasons
Tesco has a clear "for any reason within a time limit" policy that covers most but not all products. It also notes a time frame extension during a holiday: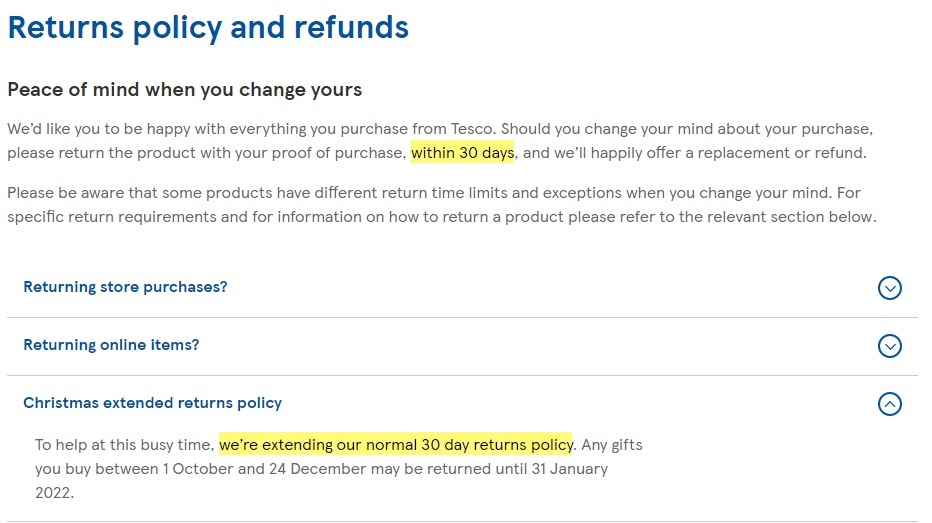 Just Kendall requires customers to say why they are returning goods. This could save the company time figuring out if clothing is resellable. For example, is it being returned because it has a hole or missed stitching, or because the size is not right for the customer:

The Process of Returning Goods
To make sure things run smoothly, you'll need to set out how people can return goods. This means addressing key questions such as:
How long customers have after making a purchase to return goods. (Remember that this can't be less than any period set out for statutory returns under distance selling laws.)
What customers must do to make a return, for example logging into an account to open a ticket or get a reference number
Where customers must send the goods (or whether they can arrange a collection)
Whether they must include any documentation such as a receipt, proof of purchase or returns label
Whether they must include any original packaging or must package the goods in a particular way to protect them in transit
What happens (and who is legally responsible) if the returned goods are lost or delayed in transit
While it may seem obvious, you should set out whether customers who have bought goods in a retail store are allowed to return them by initiating the process online and then posting them to you, or if they must return them to a store. In the latter case, set out if it must be the store where they made the purchase or if they can do so at any store.
Some businesses have a policy of not requiring a return before issuing a refund in some cases, for example where goods are so faulty or broken that there's no prospect of you repairing and reselling them. If you have such a policy, you could mention it in the returns clause and explain how you will let the customer know if it applies to their case.
Zazzle gives clear details on exactly what customers must do to initiate a return: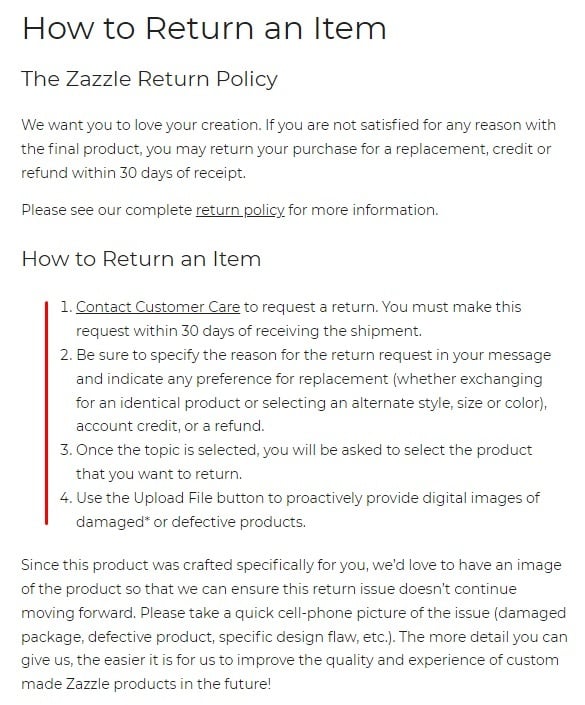 Who Pays For the Costs of Returning Goods
Your conditions of return/customer requirements clause should cover who pays for the cost of returning goods. Common options include:
The customer posts the goods and pays the costs
The customer posts the goods and you cover the cost as part of a refund
You supply a pre-paid envelope or box
You arrange and pay for a courier service
Pretty Little Thing explains how the returns costs varies depending on the customer location: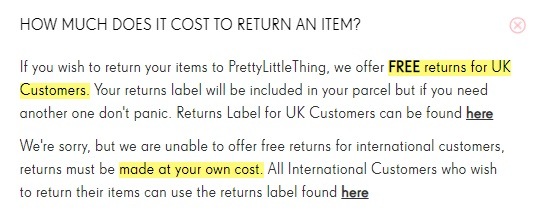 How You Refund Customers For Returned Goods
Your clause should make clear what you will do after customers return goods.
Some possible options include:
You will give customers an identical replacement for the goods. This is usually only appropriate where the goods are faulty or damaged. (You could offer a different size with clothing.)
You will let customers exchange goods for something of the same value or less.
You will refund the customer through a credit balance or voucher that they must spend with you. You should be clear if there's any time limit on using this credit.
You will refund the customer's payment. Make clear if this will be in the form of a check, refund to a payment card, a bank transfer, or another method.
You will offer the customer a choice between these methods.
Victoria's Secret details how the refund method varies in different circumstances: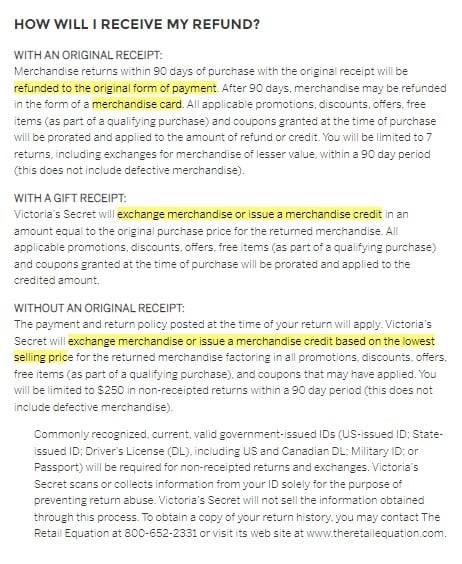 You should also note how long it will take to make the payment, for example whether you do so immediately, upon receiving the returned goods, or within a certain time after receiving the goods.
You should mention if you don't refund purchase costs in full and instead deduct an amount known as a restocking fee. If so, you should explain:
When this will apply (bearing in mind that it may only be legal in some cases)
How the fee is calculated (for example flat rate, percentage or sliding scale)
Whether it's subject to any taxes
You also need to explain whether you refund the purchase cost in full or whether you exclude the original shipping costs.
Best Buy details the variety of restocking fees and methods it applies, including who doesn't' have to pay the fee:

Cancelled Orders
Sometimes customers may want to get a refund by cancelling an order, before they receive the goods in the first place. Applicable consumer laws in your jurisdiction may set out whether or not you must allow it. You could also voluntarily allow it even when not required to do so.
If you have such a policy, your Return and Refund Policy should make clear:
How customers can cancel an order
What deadlines apply for cancelling. (This could be a set period after placing an order, or at any time until the goods are dispatched.)
You should also make clear if any exceptions apply and, if not obvious, why this is the case. For example, you might refuse to allow cancelled orders for customized products or those which involve perishable materials or ingredients.
Microsoft gives clear details on when and how customers can cancel orders: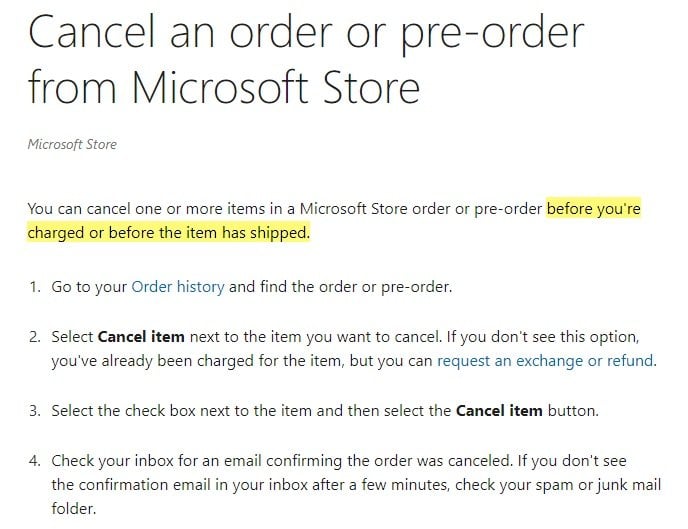 Now that you know what content your conditions of return/customer requirements clause should include, let's look at the best way to display your Return and Refund Policy so your customers will be able to view it easily.
How to Display Your Return and Refund Policy

You have several options when it comes to displaying this policy, thus highlighting your conditions of return/customer requirements clause. The key is that if you need to rely on anything the policy contains in a legal dispute, you must be able to prove the customer had a reasonable opportunity to see it.
At the absolute minimum you should include the information in your standard Terms and Conditions, in a clause that either summarizes your entire Return and Refund Policy, or links to it at a separate page.
Here's how Target does this, with a short clause in its Terms and Conditions agreement that links to its Return Policy:

If you do have a separate Return and Refund Policy, you should link it to your website footer so it can easily be found from any and every page of your site.
Summary
Let's recap what you need to know about conditions of return/customer requirements clauses in a Return and Refund Policy:
A Return and Refund Policy isn't usually a legal requirement, but can build trust and reduce the chance of legal dispute or confusion.
Always remember that clauses in your Return and Refund Policy cannot override or remove any requirements in applicable consumer law.
Clauses such as "conditions of return" or "customer requirements" should be part of a complete Return and Refund Policy that addresses when and how customers can return goods and get a refund.
Detail what goods you do and do not allow customers to return. Explaining the logic behind any exceptions can boost customer relations.
Detail the circumstances in which customers can return goods, including whether you limit it to specific reasons.
Tell customers exactly what they must do when returning goods, including how to start the process, and how they must package and return them.
Explain who is responsible for the costs of returning goods and how any payments work.
Explain how and when you will refund customers for returned goods, including how any deductions such as restocking fees work.
Make clear if, how, and when customers can cancel orders before they receive them in the first place, including any exceptions.
Display your Return and Refund Policy clauses clearly and make sure you can prove customers had a reasonable opportunity to read them before placing an order.