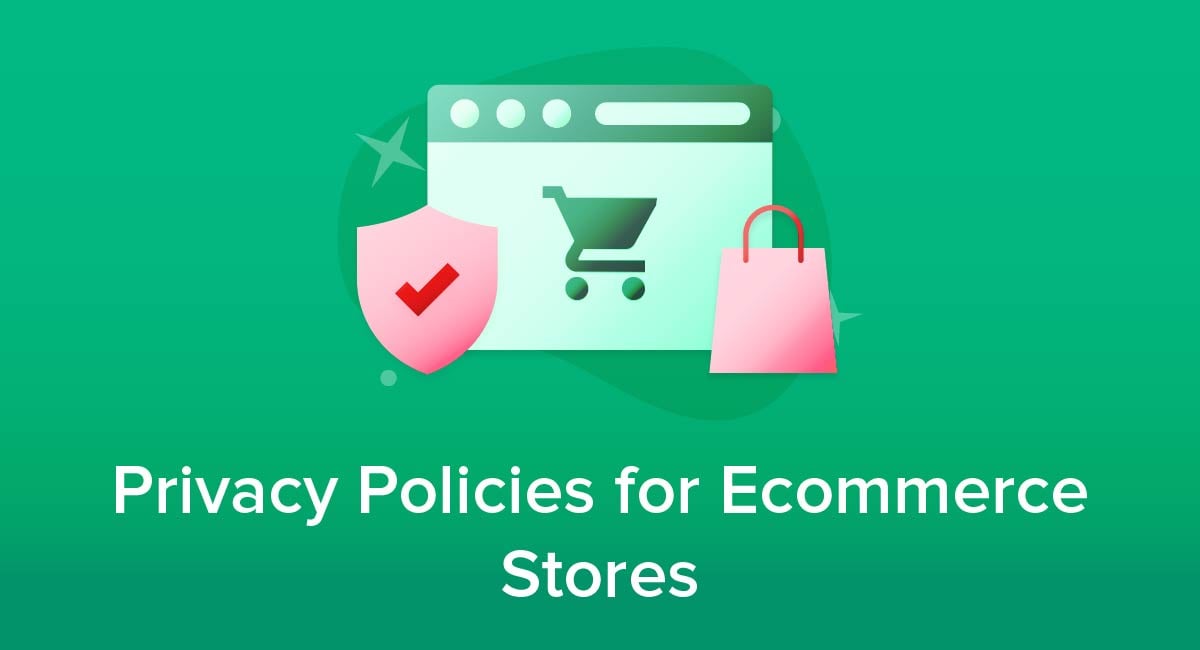 If you own or operate an ecommerce website or store, you must comply with privacy laws where your online shoppers live, and most privacy laws require a Privacy Policy.
This article will go into detail about Privacy Policies, the rules and regulations requiring them, and how you can ensure your ecommerce store's Privacy Policy is compliant.
Our Free Privacy Policy Generator helps you create a custom Privacy Policy for your website and mobile app. Just follow these few simple steps and your Privacy Policy will be ready to display in minutes.
Click on the "Free Privacy Policy Generator" button, located at the top of the website.
Select where your Privacy Policy will be used:

Answer a few questions about your business:

Enter the country and click on the "Next Step" button:

Continue with building your Privacy Policy while answering on questions from our wizard:

Almost done. Now enter your email address where you'd like your new Privacy Policy sent and click on the "Generate" button and you're done.

That's it. Now you can copy and paste your Privacy Policy code into your website, or link to your hosted Privacy Policy.
What is a Privacy Policy?

A Privacy Policy is a legal agreement that details the personal information a website collects from visitors, and the ways in which that information is collected and managed. It is legally required by laws in California, the European Union, Canada and other jurisdictions around the world.
Protection of personal consumer information is the goal of privacy laws. Because more and more websites are collecting personal information to perform or improve online services, laws have been enacted to control and protect that information.
Your ecommerce store likely collects names and email addresses for customer registration, and address and payment details for transactions. But this is only the beginning.
Your store almost certainly interacts with third-party technologies such as Google Analytics, AdSense or a blog platform or live chat tool. Third party services such as these collect additional information from your online shoppers, such as IP addresses, locations, browsing activities and more.
All of this information is protected by privacy laws.
An effective Privacy Policy clearly spells out the types of data collected through your store, how it is collected, why it is collected, and how it's recorded, stored and deleted.
It also should provide contact information for the departments and individuals responsible for upholding your privacy procedures, as well as instructions for customers to access, modify or transfer their personal data.
Furthermore, it should give consumers a chance to change, edit or delete their own personal data, as well as the choice to opt out of sharing their data with you.
Why are Privacy Policies Required?

Whether you're running a B2B (business-to-business) or B2C (business-to-consumer) business, you cannot operate an ecommerce store without collecting customer data. As such, you are required to have a Privacy Policy to explain your privacy procedures and your customers' rights to control their data.
A well-written Privacy Policy protects you from unnecessary risks or legal issues that could arise from conflicts with customers over the management of their personal data. It also protects you from legal issues with regulators and third parties requiring you to have a Privacy Policy.
Know the Privacy Laws Affecting Your Ecommerce Store

The state of California enacted one of the strictest privacy laws anywhere in the world. The California Online Privacy Protection Act of 2003 (CalOPPA) applies to any commercial website (like your ecommerce store) that collects personal information from California residents.
This means that regardless of whether your ecommerce store is based in California or not, you must comply with CalOPPA if California residents visit your online store.
CalOPPA and Your Ecommerce Store

According to CalOPPA, your Privacy Policy must disclose several things, including:
The types of personal information that is collected by your store.
Whether you share personal information with third parties and why.
How website visitors can request to edit, transfer or erase their personal information.
A description of how you will contact users regarding any changes to your Privacy Policy, and how the changes will affect those users.
The effective date of your Privacy Policy.
How your site intends to respond to Do Not Track requests.
Information regarding your complaints/disputes procedures.
Here is an overview of CalOPPA's requirements for your Privacy Policy.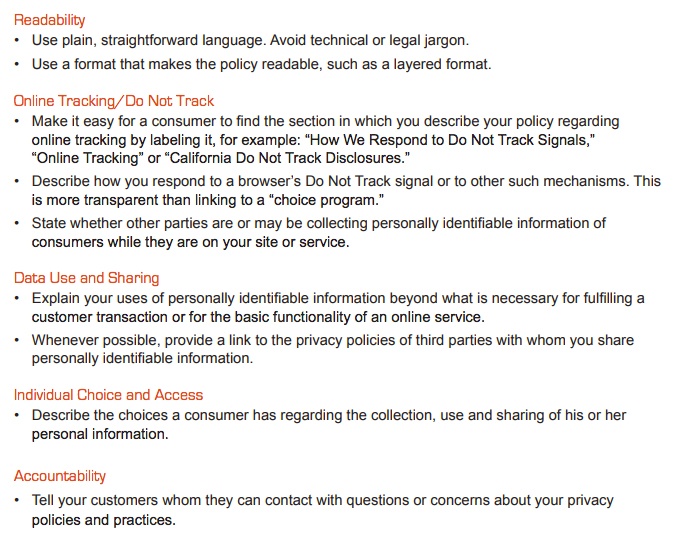 Grocery retailer ALDI provides a separate clause addressing California residents and a link to this clause from its home page footer. Here's a look at the footer link:

The Privacy Policy has a Notice to California Residents clause:

The GDPR and Your Ecommerce Store

The GDPR was enacted to provide higher levels of privacy protection and rights to EU consumers. It aims to do this by introducing stricter rules and tougher penalties for any business found to be in violation of the law.
The benefits of this are twofold:
With stricter rules, consumers can feel more assured that their personal data won't be used for any unscrupulous activity and they will have higher levels of control over their data.
Increased penalties act as an incentive for businesses to ensure they're compliant with the GDPR.
Though the GDPR was created and implemented by the EU, it very likely applies to your online store even if you're based outside of the EU.
If your store controls and/or processes data provided by consumers living in the EU, you are required to comply with the GDPR.
The best way to determine whether the GDPR applies to your ecommerce store is by asking yourself if your company is operating in the EU market.
Don't make the mistake of thinking that just because you have no significant presence within the EU, you aren't reaching its citizens. If you offer goods and services to the EU, or if your site has collected data on EU citizens, you must comply with the GDPR.
To comply with the GDPR, it's important that you update your ecommerce store Privacy Policy to include several important details:
It must be easy to read and understand by an average reader, without including any overly technical or legal jargon.
It should contain contact information for the Data Controller or Data Protection Officer (if applicable) who's responsible for overseeing your compliance with the law.
It should disclose whether the collected data will be used for automated decisions made on behalf of your company.
It should let your users know about the rights they're entitled to under the GDPR, like the right to view and edit their personal data.
It should disclose whether users are obligated to provide personal data (such as an email address) in order to properly use your services.
It should explain whether collected data will be shared with third-party services or affiliated organizations, and why.
The GDPR includes strict and broad requirements for educating EU residents about how you use their personal data and what rights your EU users have in regard to this.
Third Party Requirements Affecting Your Ecommerce Store

In addition to laws requiring you to have a Privacy Policy on your site, most third parties also require it as part of their efforts to comply with privacy laws. For example, mobile app platforms may require you to disclose and explain your relationship with them in a Privacy Policy. Failure to do so could result in your app being removed from the store.
Google Play and Apple's App Store require you to have a linked Privacy Policy within your app when it's sent in for approval. Failure to comply will result in the rejection of your app.
Furthermore, if you do have an approved app that is available on the market, you must make sure users can easily find your Privacy Policy. If they can't, for whatever reason, your app can be suspended or terminated.
Other third parties such as social platforms, analytics services and advertising services also require you to have a compliant Privacy Policy for their protection.
What Should Your Privacy Policy Contain?

Your Privacy Policy must at a minimum disclose what types of data you collect, why and how you collect it, and how you use it. Some examples of the data commonly collected are:
Browser history. Most online stores collect user browser history to enhance the browsing experience such as with personalized advertisements or remembering user activities.
Website logins. When a user registers for an account with your store, your site is able to collect and store that login information. If cookies are enabled by the user, the login and account information are automatically remembered for the shopper's convenience the next time the user visits your store.
User location. Most ecommerce stores have the ability to collect IP addresses from the computers or mobile devices that access them and IP addresses are considered to be personal information.
Other Personal information. Personal information pertains to anything that could potentially identify someone, such as an individual's name, address, gender, birthdate, place of birth, contact information, ID number, credit records, financial information, medical history and even marital status.
Here's an example taken from Indigo Fair's online store, with information about the types of data it collects.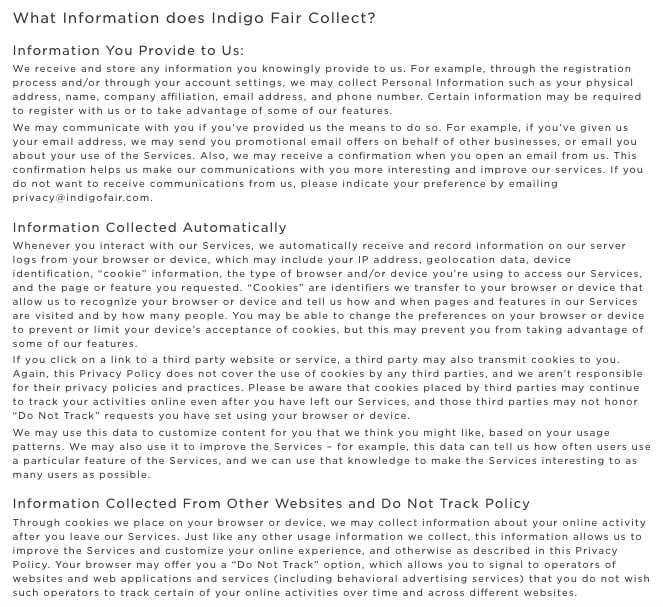 The section is rather detailed, distinguishing the types of information collected by the methods used to collect it. These methods include information shoppers voluntarily give to the company, information collected automatically and information collected from other websites.
Privacy laws require you to disclose all of the types of personal information you collect from your online shoppers and how you collect it. They also require you to disclose why you collect personal data.
Why is the Data Collected?
Let people know exactly why you collect the data that you collect. What do you use it for?
Data tracking and management is important to every ecommerce store, particularly for marketing and transaction purposes.
The more data you have about your customers, the more knowledge you have about them, and the more you can tailor your product advertising to better suit them.
Knowing what products your shoppers view, which ones they purchase, their preferred payment methods and sites they visit when they leave your store gives you powerful information to entice them to return.
This type of data allows you to remarket to your shoppers with ads tailored to their browsing behaviors and preferences, and make future purchases fast and convenient for them.
However, privacy laws require you to let users know how their data is used.
MOO's Privacy Policy includes a clause for How We Use Your Personal Data. In this clause, the policy spells out how the data may be used.

Data Collection for Online Purchases
Let users know that you collect personal information such as payment information for business purposes.
MOO also includes a clause for Payment Information, which is a good idea for all ecommerce stores. Because risks to consumers of identity theft or financial account hacking is of such a concern, letting your customers know how you handle their payment information is good for customer relations.

Data Collection for Marketing
If you use remarketing services through a third party like Google AdWords, Adsense, Perfect Audience, AppNexus, Facebook or even Twitter, you're required to disclose this in your Privacy Policy as part of your agreement with those services and to comply with privacy laws.
Data also can be collected for a purpose known as 'remarketing' or 'retargeting' campaigns. This is a clever and increasingly popular way for businesses to reconnect with shoppers who have visited an ecommerce store, whether or not they made a purchase.
Remarketing services use cookies to track shoppers who visit your site. The data stored about a shopper's activities on your site allows these services to present your tailored ads to those shoppers after they leave your store.
Remarketing is a great way to promote brand awareness, increase conversions and boost traffic back to your store. However, these types of activities must be disclosed in your Privacy Policy.
ClickSeed meets those requirements by incorporating necessary third-party remarketing disclosures in its Privacy Policy.

Summary
Regardless of where your ecommerce business is located, you need to have a legally compliant Privacy Policy clearly posted and easily accessible from your site.
If you sell products or services to residents of California or any of the EU member nations, your Privacy Policy will need to specifically address certain key requirements of privacy laws in those jurisdictions.
Your Privacy Policy must identify all of the different types of data you and your third party partners collect, store, share and manage.
It must explain why that data is needed.
It must be easy to find, and accessible from a clearly visible link.
It must be written in plain and simple language so the average reader can understand it.
You must let users know they can opt out of sharing their personal data with you and revoke consent.
It must include the most recent effective date of the policy.
If you target EU residents, you may need a separate Cookies Policy, as well as a separate link to your Cookies Policy.
If you target California residents, you need to disclose your procedures for handling Do Not Track requests.
By familiarizing yourself with the privacy laws governing your ecommerce store and following these guidelines, you will be positioned to protect yourself from legal liabilities.