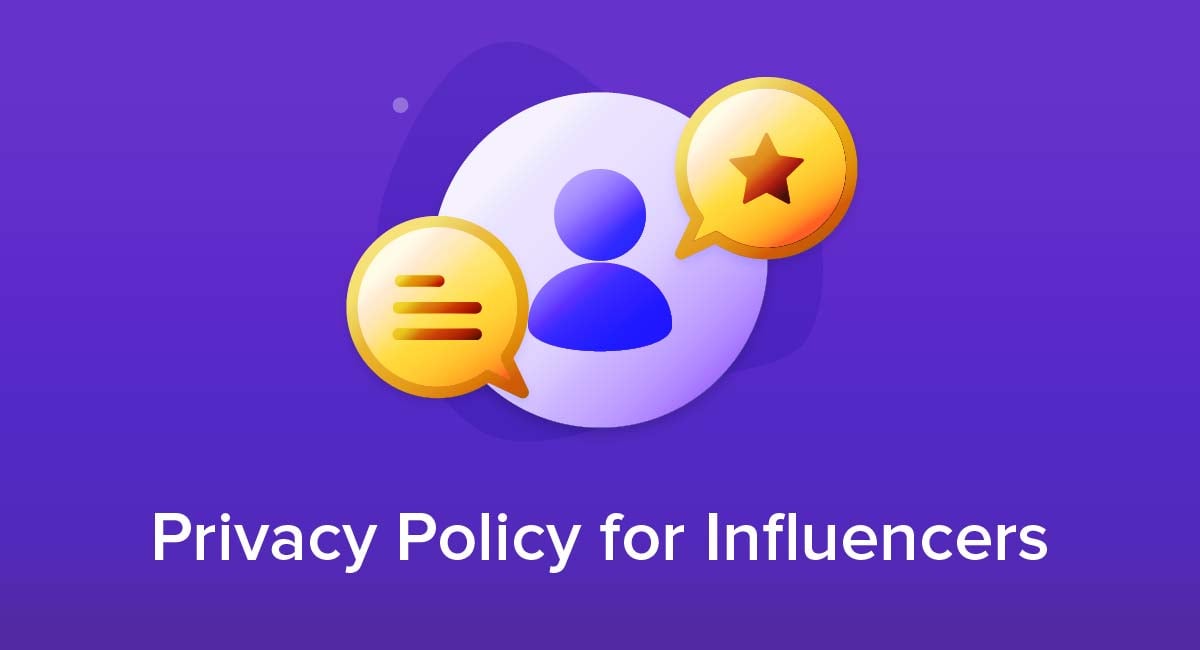 Online influencers worldwide are required by many different regulations and laws to have an easily accessible Privacy Policy on their website, social media platform, or app. Showing concern for user privacy also helps assure your site users and customers that you are a professional who can be trusted to manage their personal data responsibly and legally.
This article will discuss what a Privacy Policy is, reasons you need one, and what yours should include. You'll find references to specific privacy laws that apply to influencers, commercial enterprises, and online businesses, with excerpts from and notes on the Privacy Policies of some popular social media influencers. We also give you some helpful tips to remember when you are creating your ideal Privacy Policy.
Our Free Privacy Policy Generator helps you create a custom Privacy Policy for your website and mobile app. Just follow these few simple steps and your Privacy Policy will be ready to display in minutes.
Click on the "Free Privacy Policy Generator" button, located at the top of the website.
Select where your Privacy Policy will be used:

Answer a few questions about your business:

Enter the country and click on the "Next Step" button:

Continue with building your Privacy Policy while answering on questions from our wizard:

Almost done. Now enter your email address where you'd like your new Privacy Policy sent and click on the "Generate" button and you're done.

That's it. Now you can copy and paste your Privacy Policy code into your website, or link to your hosted Privacy Policy.
What is a Privacy Policy?
A Privacy Policy is a legal notice that informs your customers and website visitors of how you collect, use, and store their personal data. This data includes anything that identifies a specific person, including her/his name, email address, IP address, and credit card or banking information.
It is important to remember that more indirect identifiers, such as details about a person that you have blended in with other data, are still legally considered to be personal information.
When you change how you manage personal information on your website, app, or social media platform, you should update your Privacy Policy and include the changes as well as the date the policy was edited.
Why You Need a Privacy Policy

The main reason you need a Privacy Policy is because privacy laws require one. In addition, popular third party platforms often require one. Having a Privacy Policy also helps with transparency and overall trust the public has in your website or online presence.
Compliance With Legal Requirements
Even if you are only collecting email addresses for say a membership list, that is still personal data that legally requires you to have a Privacy Policy. Remember, as an online influencer, you must consider site visitors from all countries to ensure that you apply all applicable privacy laws.
For example, Canada's Office of the Privacy Commissioner (OPC) requires non-Canadian companies and websites that reach Canadians to create a Privacy Policy that complies with its Personal Information Protection and Electronic Documents Act (PIPEDA).
Compliance With Third-Party Requirements
The Federal Trade Commission (FTC) of the United States instructs that if your website or mobile app uses a third-party advertising tool that maintains visitor information, including cookies, you must disclose the details of this in a transparent Privacy Policy. In addition, you should make the policy easily accessible such as in a footer link or on an "About" page.
Most third-party app companies require a Privacy Policy that discloses your use of the app and how you use the app to collect personal information in abiding by company privacy policies.
Google Analytics, for instance, specifies app users must disclose in their Privacy Policy their use of the product and consent that they follow Google's policies as well as applicable laws in that use: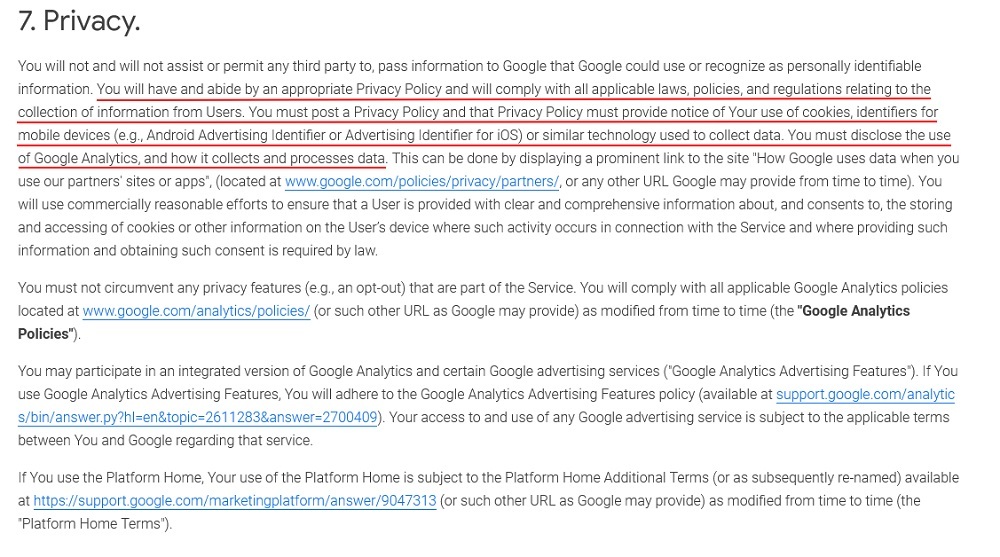 Showing Professionalism to Customers
When you comply with all applicable laws, including Privacy Policy regulations, you present the hallmarks of professionalism and trustworthiness to your site users and customers. It sets you apart as a professional influencer from the amateurs who are not showing concern for online privacy laws.
Kylie Jenner's opening line in her Privacy Policy for Kylie Cosmetics puts consumers at ease right away by communicating how vital customer privacy is to the company:

Professional and appealing language is perfect for influencers to engage customers better.
Setting Standards for Staff
Those who freelance for, partner with, or assist influencers must be familiar with the entire website content and the influencer's products and affiliations. Having a legally required and transparent Privacy Policy shows your team that yours is a law-abiding and professional enterprise worth their time and support.
As European CEO points out, creating an ethically aware company culture starts with "clearly communicated ethical standards." A Privacy Policy sets out how the company must treat personal data leaving less room for confusion for employees, partners, affiliates, or contractors.
A Lower Risk of Privacy Disputes
Having a clear, understandable Privacy Policy not only means adherence by everyone but a much lower risk of disputes if privacy breaches occur. You and your team are less likely to go against privacy laws when there is a clear company policy to follow. If a privacy dispute does arise, the fact that you have a Privacy Policy in place that staff follows will support your case.
What Should Your Influencer Privacy Policy Include?

While you will need to write a Privacy Policy that conforms to the specific regulations of the countries your online visitors are from, here are the most common clauses required by most countries.
Your Identity and Contact Information
You should include your name and contact information in your Privacy Policy so people can reach you with questions about how you use their personal data or other privacy-related questions.
Here's how David Dobrik discloses his partnership with influencer merchandiser Fanjoy:

What Personal Data You Collect
Privacy laws require businesses to specify what personal information is collected. While personal information has a broad definition that includes physical appearance, names, and financial data, it also refers to anything that identifies a person directly or indirectly and covers everything from an IP address to information stored in user device cookies.
Your Privacy Policy should include what data you collect. For instance, Zach King's store clearly states the type of data it collects from site users:

How You Collect and Use Consumer Data
The methods you use to collect data and how you use that collected data must be stated in your influencer Privacy Policy. Some examples include:
Cookies users accept that you use to analyze visitor site activity
Forms for customer service requests
Network software that secures consumer accounts on your website
Software that tracks site visitor comments on forums and message boards
Advertising tools that target ads to specific consumer demographics
User experience software to analyze and improve site visitor experiences
Here's how Zach King clarifies how data is collected:

What Rights Users Have in Their Data Collection
To comply with privacy laws, you must also include the specific rights that business website users have over their data.
Huda Kattan's website, HudaBeauty, does an excellent job of clarifying consumer rights over their personal information in the Privacy Policy:

How Long You Keep the Data and That You Secure it
It is advisable to add a general comment in your Privacy Policy about how long you plan to keep personal information and how you keep the data secure since both storage and security practices of online businesses are expected to be reasonable in most world consumer privacy regulations.
You should only collect and use personal data you need and retain it only for as long as needed, and always use the best computer security methods in personal information management.
PewDiePie's Represent Privacy Policy mentions both data retention and data storage details: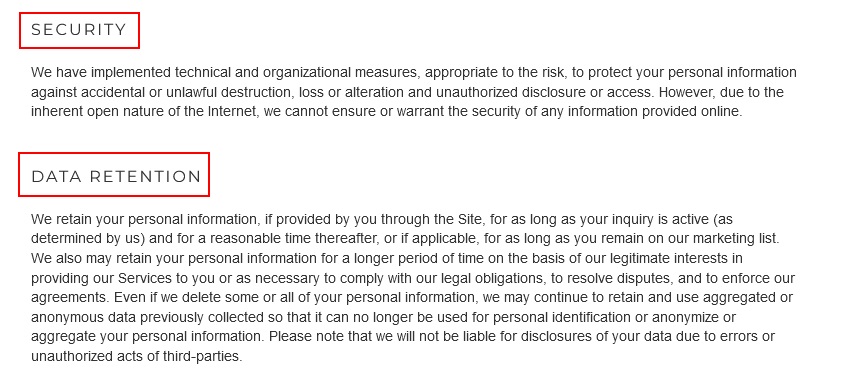 There are other clauses you should include as well, but this is a good starting point. Download our Privacy Policy template to get additional clauses you can customize for your own Privacy Policy.
Where to Display Your Privacy Policy and How to Get Agreement

Your Privacy Policy should be placed where your site users can easily view and consent to it.
Here are common locations for Privacy Policy notices:
Website footers
Navigational links on all or most site pages
Cookie consent boxes
In-app menus and app store listings
Sign-up pages
Check-out pages
In addition to making your Privacy Policy simple for your site users to find, the consent process should also be quick and easy. It's most recommended to have a checkbox that users can click on to show agreement to all of the terms in the Privacy Policy.
This 'click to consent' method is legally sound and conveniently trackable by influencers if legal issues do arise. You can add such a checkbox to any location on your site or mobile app where you request personal information.
Summary
A Privacy Policy is a legal notice of compliance with privacy laws. It should be easily accessible to your site users and explain clearly and in detail how you collect, use, and store their personal information legally.
The key ways in which having a legally compliant Privacy Policy on your site or platform helps you as a social media influencer are that it does the following:
Shows compliance with privacy laws
Shows professionalism in your commercial enterprise or business
Shows dedication to trustworthy customer privacy care
Provides concise and updatable guidelines for your marketing activities
Creates a lower risk of facing a privacy dispute
Lets you display user rights as required by law
Sets privacy compliance rules for staff, freelancers, and any employees
Remember that for each country you get visitors from on your site or app, you'll need to comply with the privacy laws of those places and note your compliance in your Privacy Policy. This applies to any data you collect from users, even just an IP address.
You can add clauses or make changes to your Privacy Policy at any time simply by adding the updates along with the date you made the changes.