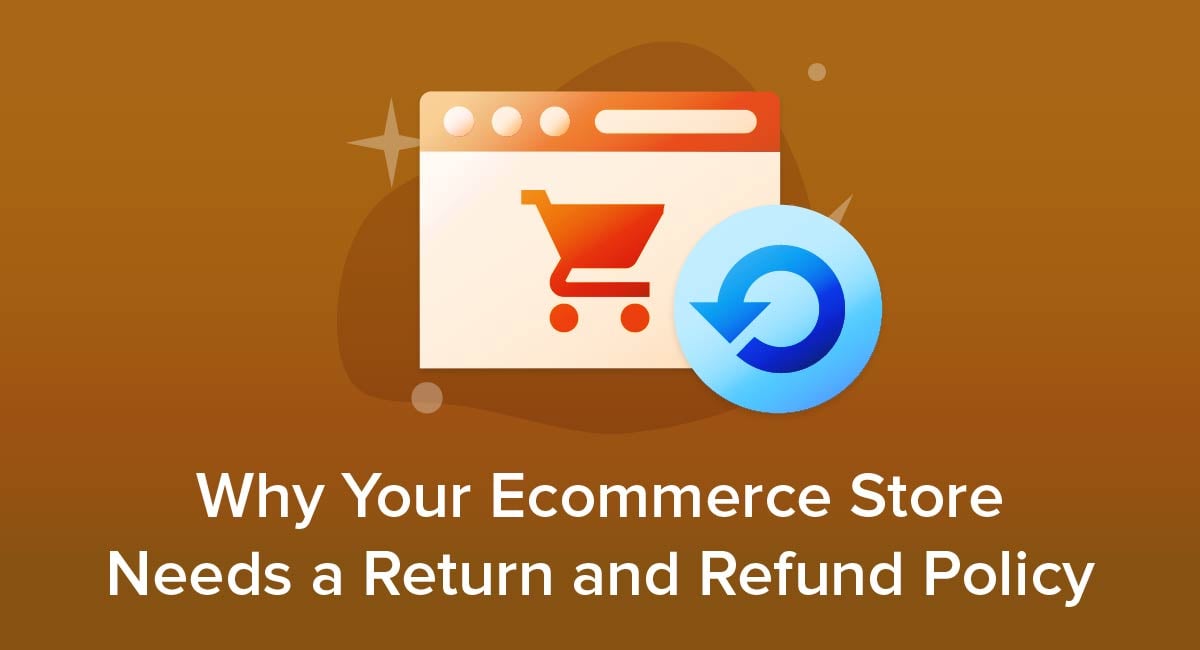 For those who are running an ecommerce store or are looking to start one, you know that products don't always work out when they get to the customer's home. Whether the shirt doesn't fit or an important piece of a shelf is missing, occasionally customers want to return an item.
To protect your ecommerce store and create trust with your customers, including a step-by-step process on how to return an item and refund a purchase is extremely important.
Let's take a closer look at why having and displaying a Return and Refund Policy can benefit your ecommerce store.
Use FreePrivacyPolicy.com to generate the necessary legal agreements for your website/app:
You check our Free Cookie Consent to start making your business legally compliant with the Cookies Directive in the EU.
What is a Return and Refund Policy?

A Return and Refund Policy is your ecommerce store's policy for how customers can return already purchased items or potentially get a refund on items. When customers purchase from your store, they agree to this policy and the rules that go with it.
This policy allows your store to clearly state what you require when returning an item and when items are not returnable. Also, if a customer is unsatisfied with the item they purchased, this is where you can state how they can go about getting a refund if they are able to.
If a Return and Refund Policy is so important, is it even required by law?
Are You Legally Required to Have a Return and Refund Policy?
Technically, no. No state requires a Return and Refund Policy. Unlike a Privacy Policy, which is legally required, a Return and Refund Policy is simply highly recommended for the benefits it offers not only for your business but for customers as well.
While it isn't required, there are times when you need to have it if you wish to accomplish certain goals.
For example, in California you don't have to post a Return and Refund Policy if you offer a full cash refund or an equal exchange within 7 days after the item is bought. However, California does require it if you don't offer full cash refunds, custom return timeframe, or a return/refund schedule.
Even if it's not required where you are, it's good for business. Here are just a few reasons why:
It builds customer trust since they will know that if they will know your store's policies before shopping with you
It's efficient, since it will limit customers emailing or calling you to ask what your policy is, since they can access it at any time
It protects your store if there is a dispute about returning an item or whether a refund is applicable since your policy will be public
What Your Return and Refund Policy Should Contain

Like with other policies on your website, a Return and Refund Policy should be drafted to fit your store. You will want to make sure your policy covers every product and situation that may arise, and be as informative as possible.
If you have a Return and Refund Policy that is too broad, a customer may not know which situation applies to them. If your policy is too narrow and long, purchasers may get lost in all of the terms.
Try to keep your language simple and clear so that customers can easily identify the steps they need to take. Provide for normal situations of returns and refunds, and give an option to call or email if the customer's situation doesn't fit into one of these.
Here are few examples of what you can include in your Return and Refund Policy:
How many days customers have to returna product
Where to return the items
What type of refund you will give a customer
Fees associated with returns (restocking fees)
Condition of item needed to return it (still with tags, etc.)
Customer Service contact information for further questions
Which items are not returnable/refundable
Let's take a look at these individually with examples of each.
How Many Days Customers Have to Return a Product
Probably the most important term for your store and to the customer is how many days a customer has to return or request a return or refund.
You can simply state how long customers have, for example 30 days from the date of delivery, to request/return an item. Or you can lay out exact situations and timetables for requesting a return and refund if it will differ by department or item purchased.
Take a look at how Anthropologie does it:

Where and How to Return the Items
The next step is where and how a customer can return an item. It needs to be clearly stated how an item can be returned to you, whether by sending it by mail or returning it to a brick-and-mortar store if you have one.
For refunds, you'll want to provide a step-by-step for how they can fill out a form or call a number to get a refund. Customers don't like to wait on long customer service lines or a week for a return email, so including a time frame for your response can be beneficial.
Here's how Target simplifies how it accepts returns via mail with all its information in one short paragraph: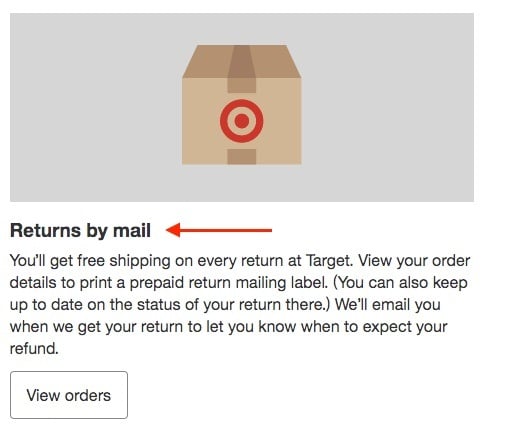 Not everyone saves their receipts when they buy an item. It's a good idea to also include a section for how customers can return or exchange their purchase if they have the original receipt, and what the options are if they do not still have it.
H&M provides a good example of how you can simply state this with easy-to-follow steps: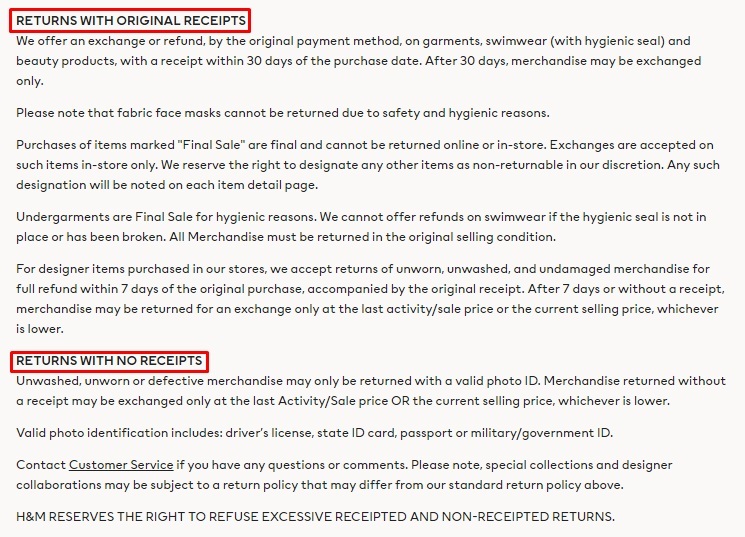 What Type of Refund You Will Provide
Not every refund may be a full refund. There are some instances where the timeframe has elapsed or the item is partially damaged. Include a section stating the instances of when a full refund is available, when a partial one is, or when you may not be able to give one.
Also, what type of refund will it be? Will it be a cash refund, store credit, or returning the charged amount to the credit card. This can entirely depend on how your store is run and whether you have a brick-and-mortar store along with your ecommerce store.
Nordstrom Rack states that returns will be in the same way payment was made, including gift cards:

Make sure to give some sort of timeframe customers can expect their return or refund.
Converse states a two business day process time in its Return Policy:

Fees Associated with Returns
This isn't as common as partial refunds, but you need to include this if you apply any fees to refunds or returns. Most stores, such as Amazon, don't charge you to return an item. You can simply print off the label they provide you and drop it off.
However, if you do charge a small fee or the customer is responsible for shipping charges, you need to clearly state that.
Check out Overstock's way of handling this: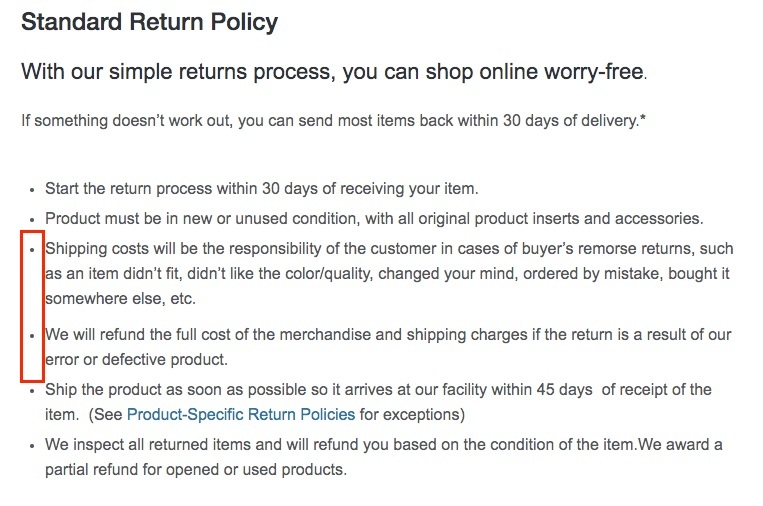 Condition of Item Needed to Return it
This section is very important for the protection of your store. If a customer is returning an item, you want to make sure that the item is being returned in or as close to the condition as it was purchased in. This allows you to resell the item if possible. It also puts customers on notice that if they have damaged the product then they will not be able to return it.
Having this section can limit the amount of damaged items customers try to return.
Walmart requires items to be in its original packaging with accessories.

If your store plans on selling different types of merchandise, such as clothes to shoes to workout equipment. You may want to have item specific condition requirements like Amazon does:

Customer Service Contact Information
While including a Return and Refund Policy can limit the number of emails and phone calls you get, you still should provide the contact information for your customer service.
There may be a situation that a customer has that doesn't fit into your covered scenarios. Offering a way to contact you directly to speak with someone in customer service is a good way to bolster your customer user experience.
This section of your Return and Refund Policy doesn't have to be wordy. It can be as simple as World Market's seen here:

Items that are Not Returnable
There are times where refunds or returns aren't possible. This can be when an item purchased was a final sale item, or if you purchased a certain piece of clothing, such as a swimsuit or undergarment.
Customers need to know when they won't be able to return something or get a refund. This is a way to notify users of those restrictions and acts as a protection for your store if there is a dispute to the return.
Overstock clearly states in its policy that items purchased through Marketplace Sellers do not apply to the Return Policy:

Now that you know what to include in your Return and Refund Policy, where should you display it once it's created?
Where to Display Your Return and Refund Policy

Wherever you display your Return and Refund Policy, it should be clear and easily accessible. Don't make a customer go hunting for it. This could lead them to believe you are trying to hide something and the products you are selling aren't what you say they are. Here are four options you can choose from.
Website Footer
The most common place you can include the link, and where most customers will be looking is in the footer of your website. Customers know that most websites keep links to their policies and most important pages in the footer, so having it there is a good option.
Anthropologie has an example of this: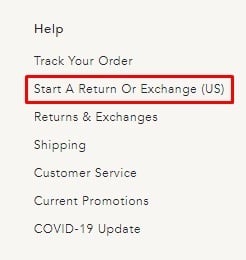 Within the Terms and Conditions Agreement
Another popular place is within your Terms and Conditions agreement. Since the Terms and Conditions states how users are allowed to interact and use your site, having your policy here feels natural.
You can include the whole Refund and Return Policy in the Terms and Conditions or you can include a link in the Terms and Conditions to a separate Return and Refund Policy page.
Target includes a short statement about its Return Policy and a link to a separate page:

You can also include a link in your Privacy Policy as H&M does: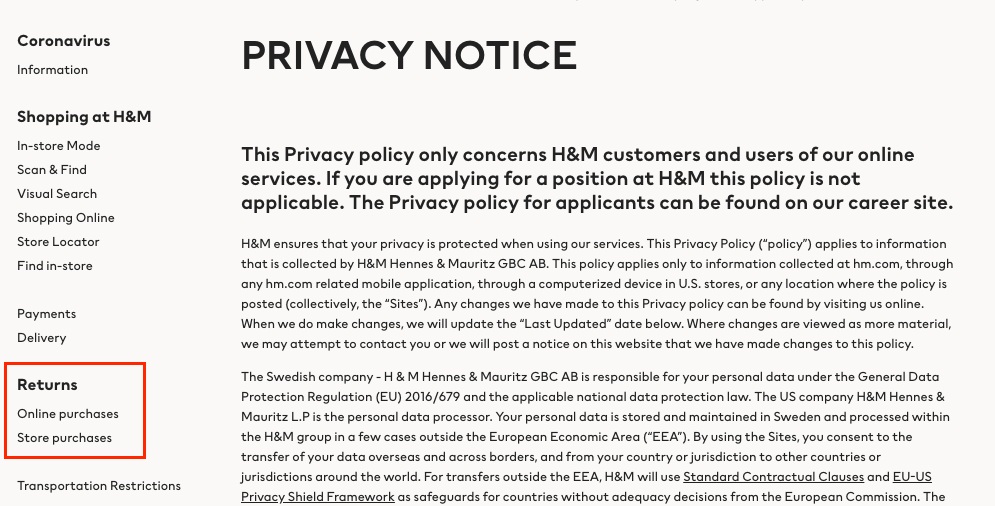 Individual Product Pages
Having links to your policies near your products is always a good option. This limits the amount of time customers have to go searching for it and cuts down on the confusion of whether a particular product falls within the policy.
Final Checkout Screen or Return Screens
Including a link on your final checkout screen is a good way to notify users for the last time before they make their purchase of your policies.
On the other hand, you can have a link to the Return and Refund Policy when someone wants to return an item and needs to fill out a form online.
Nordstrom Rack provides a link to its Shipping and Returns Policy on the form customers must fill out if they want to process their return: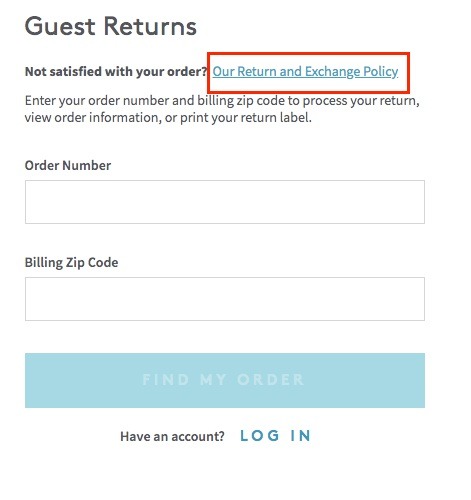 Summary
Remember, Return and Refund Policies aren't required, but having one is highly recommended to protect your store if any disputes arise.
You can tailor your Return and Refund Policy to your store, but a few clauses you may want to include are:
How long the customer has to make a return and how to start the process
What the conditions are for returning items
What items are not eligible for returns or refunds
If there are any fees involved with making a return
How to contact you with further questions
Provide a link to your Return and Refund Policy in places customers will normally look, such as the footer of your website and within your Terms and Conditions agreement.