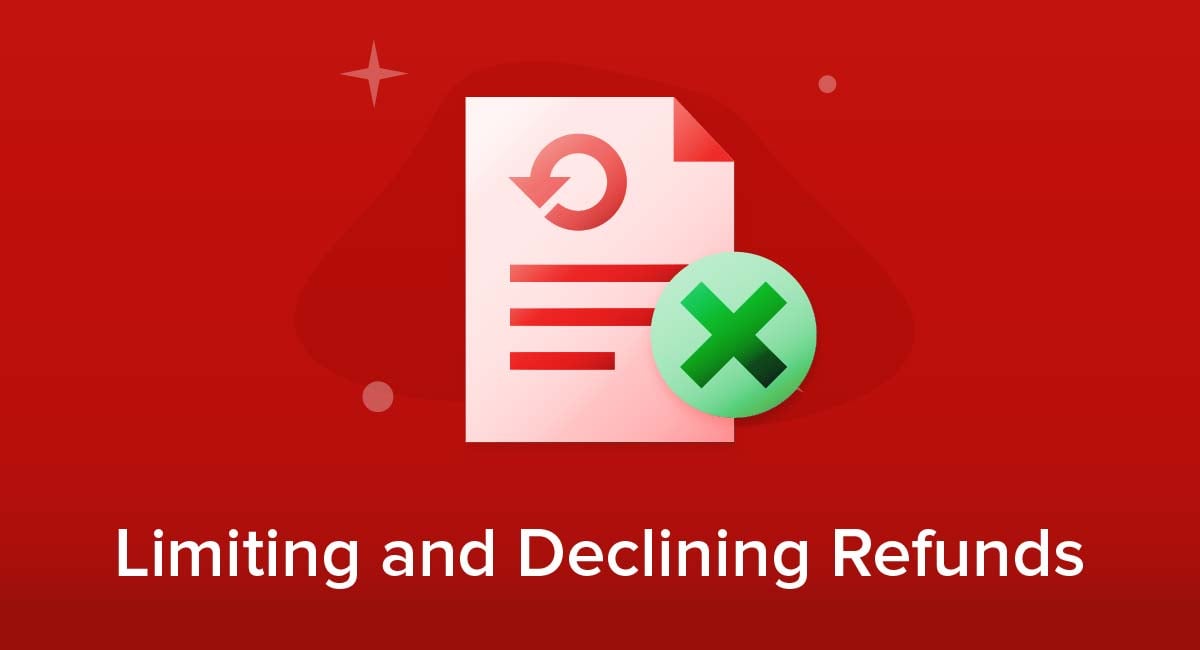 When you decline refunds, you'll want to follow any applicable laws, retain customer satisfaction, and try to reduce the number of refund requests you have incoming.
The best way to achieve all these goals is by having a clear Return and Refund Policy or by adhering to a strict "All Sales Final" policy.
This article will cover what you need to know about legally limiting and declining refunds in best practice ways.
Use FreePrivacyPolicy.com to generate the necessary legal agreements for your website/app:
You check our Free Cookie Consent to start making your business legally compliant with the Cookies Directive in the EU.
Can I Legally Limit or Decline Refunds?
While laws vary in different jurisdictions when it comes to refunds, a very broad rule of thumb is as follows:
Usually you must give refunds for goods that are faulty or not as advertised.
Whether you must give refunds in other circumstances depends on the local law. Most commonly, this involves customers having (or not having) a right to change their mind after a purchase.
United States: Federal Rules
U.S. federal law on refunds mainly only covers faulty goods. This involves the principle that goods have an "implied warranty of merchantability" - in other words, that they will work as advertised for a reasonable period. If this isn't the case, the buyer can argue you have not lived up to the contract and expect a refund.
Note that this isn't the same as an express warranty, which promises to repair or replace goods or issue a refund for a set period, usually longer than the implied warranty would cover.
Federal law does have a very limited requirement to issue refunds to buyers who change their minds. This "Cooling Off Rule" only covers purchases of more than $25 made away from a store (e.g. in a customer's home or at a trade event). It only covers refund requests within three days of the purchase.
United States: State Rules
Most states fall into one of two positions:
There's no legal requirement to issue refunds for non-faulty goods. However, if you do promise such refunds, you will usually have to live up to this promise.
You must issue refunds for a certain period after purchase for non-faulty goods unless you have a policy saying otherwise. The policy must be clearly and conspicuously displayed.
Three states have specific rules worth nothing:
California law says you must offer a minimum of a refund or exchange for at least seven days. If you don't you must then publish a full refund policy including all the relevant conditions and exceptions:

Hawaii law says that by default a customer who initially gets a credit refund is allowed to get cash instead if they aren't able to buy a suitable replacement product from you within 30 days. If you don't want this rule to apply, you must explicitly say so in a conspicuous sign:

Minnesota law goes beyond the "conspicuous sign" rule and specifies that any Refund Policy other than the default legal position must be displayed in store in bold typeface of at least 14 points:

European Union Laws
Most European countries follow European Union rules that give consumers a minimum level of rights to refunds.
The key rules are in the Consumer Rights Directive (2011/83/EU, updated by 2019/2161). All European Union member countries follow these rules, as do non-member countries Iceland, Liechtenstein, Norway and the United Kingdom.
The key minimum requirements are:
You must refund customers for faulty goods (those that don't work or look as advertised) for two years after purchase. In the first six months, the burden is on the seller to prove the goods are faulty. After that the burden is on the buyer.
You must refund customers who change their minds about a "distance selling" purchase during a cooling off period. This covers online, phone and mail order sales. The customer has 14 days after purchase to request a refund. They then have 14 days to return the goods. You then have 14 days to issue the refund.
You must inform customers about the cooling off period rights when they make a purchase. If you don't, the period is extended from 14 days to one year.
If a customer uses their cooling off period rights, you must tell them in advance if you want to charge them for the cost of returning the goods. This should be the actual cost, though you can give an estimate with bulky goods.
Always check the laws in the relevant location. Individual European countries may have rules that go further than the EU baseline, for example by offering a longer mandatory period for refunds for faulty goods or a longer cooling off period.
Having a Return and Refund Policy

The safest way to make sure you can refuse refund requests, other than when you are legally required to do so, is by using a Return and Refund Policy. This sets out when you do accept returns and how and when you issue refunds.
In turn, this makes it easier to reject a refund that is not covered by the policy. Indeed, the customer may be less likely to request the refund in the first place. This saves time, argument and uncertainty on both sides.
Sometimes businesses use the term "No Returns, No Refunds" to title or describe their policy. Strictly speaking this is simply another version of a Return and Refund Policy. It's simply one where you don't allow any returns or refunds except where you are legally required to do so.
You should cover the following points in your return and refunds policy to make sure you comply with the law and keep customers informed, while still retaining your right to refuse a refund request where appropriate.
Time Limits to Making Returns or Requesting Refunds
Set out clearly if you have any time limits on requesting a refund and returning goods. Make sure this complies with local laws. Clarify when any time period starts, for example from the date of purchase or from the date of receiving the goods.
WildBounds gives clear time limits for the customer:

Returns Requirements
Set out any conditions of return or other requirements for the returns process. As long as these requirements are lawful, you can refuse a refund until and unless the customer follows your rules.
These will often include:
How to initiate a refund request and return, including any information or documentation they need to provide. Check local laws. Commonly you can make stronger demands, such as providing a receipt, when you are voluntarily accepting a refund rather than it being a legal requirement.
Where and how to return the goods. This can include what delivery service to use, who arranges it and who pays for it. Some businesses require the customer to pay for the return but then refund these costs if the refund request proves valid.
How to package the goods (for example, in the original packaging or in suitable replacement packaging) and who is responsible for any damage in transit.
Hobbs explains how to package and return goods:

Wild Swans clearly sets out the requirement to include a returns form (or the relevant information):

How You Issue Refunds
Set out how quickly you will issue a refund after receiving and inspecting goods. Explain what method you will use, for example:
Refund to original payment card
Store credit
Gift card
Make sure you follow applicable laws. For example, with a legally-required refund for faulty goods, you'll often have to refund money rather than give the customer credit.
COS gives a clear explanation of how and when it makes the refund:

For more information about creating a robust Return and Refund Policy, check out our article: The Most Important Clauses For Your Return and Refund Policy.
And if you aren't convinced yet that you need one, check out these resources:
Having an All Sales are Final Policy

An All Sales are Final Policy is a version of a Return and Refund Policy that severely limits or removes the circumstances in which you offer a refund.
Some businesses use such a policy for specific types of goods only, such as those which can't be resold after a return. A business might also use this policy for clearance sales and similar situations.
In every case, the key purpose of "All Sales Are Final" is to establish and stress a simple principle: you do not give refunds unless you are legally required to do so. To make such a policy more effective and useful, cover the following points:
Explain what situations the policy covers
Explain any circumstances in which you do allow returns and detail the process
Make clear the policy does not override the customer's legal rights, for example to return faulty goods
Papichulo Style has a short but effective policy that makes clear it accepts returns on faulty goods or if the company ships an incorrect item, but that otherwise all sales are final: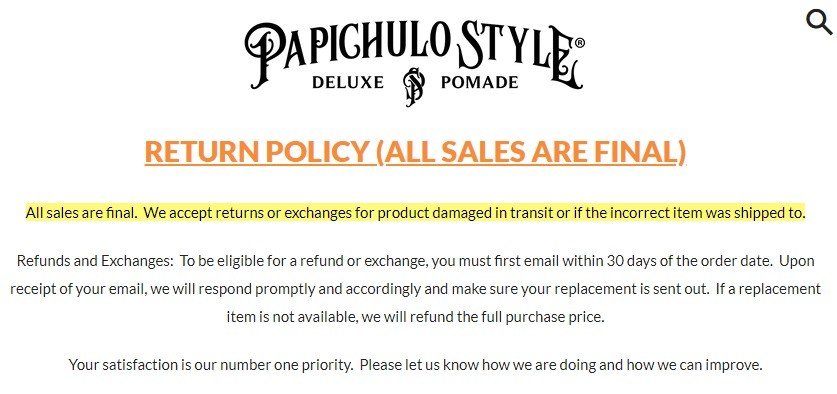 To boost trust and goodwill, you could explain why you have such a policy, for example where goods are personalized or can't be restocked because of hygiene issues.
How to Display Your Return and Refund Policy

As a general principle, the more clearly you display a Return and Refund Policy, the more confident you can be to legally rely on it. This is particularly true in situations where the law says you must issue refunds unless you have clearly told customers beforehand that you do not.
In Store
Display your Return and Refund Policy (including "All Sales Are Final" Policies) as close to the point of sale as possible, for example at a checkout or sales counter.
Check regional laws as you may need to meet specific rules on text size, wording or visibility to be able to refuse some refunds such as when customers change their minds shortly after a purchase.
Online
As with physical stores, display your Return and Refund Policy as close as possible to the virtual point of sale. This will normally be the page where an order can be placed from, or another relevant part of the checkout process.
You can display the Return and Refund Policy:
As text on the order page itself
In a drop-down section or pop-up window accessible from the order page
In your website footer
Amazon's checkout page includes a brief summary of its returns policy and a link to the full details: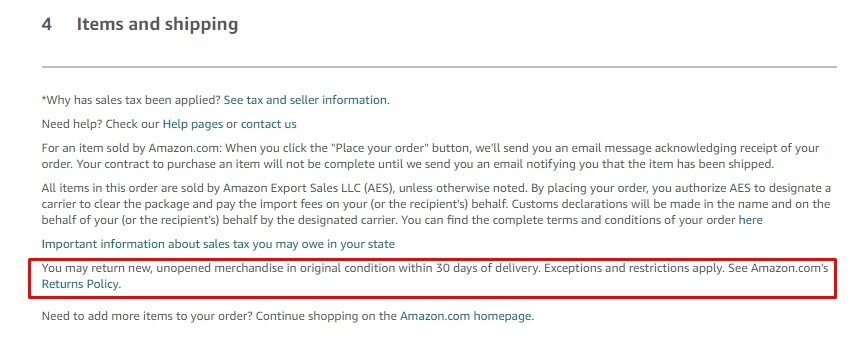 Papichulo Style links its Return Policy in its Quick LInks section of its site footer for easy access from any page of the site:
Display it as visibly as possible, and make sure shoppers will have no trouble spotting it and accessing it before placing an order.
How to Decline Refunds

When you tell a customer you are declining a refund, you have three main goals:
Comply with the law
Reduce the likelihood of a lengthy back-and-forth with the customer that eats into your time and resources
Leave the customer feeling you have treated them fairly even if they haven't got their desired outcome
For this reason, a firm but fair approach makes sense.
In a letter or email rejecting the refund you should:
Acknowledge the refund request, including any specific details
Explain why you cannot (or will not) give a refund
Point to a relevant section of your Return and Refund Policy
Consider explaining why you don't offer a refund in such circumstances. For example, offering refunds may not be financially viable for goods sold at a discount or which can't be easily resold.
Mention anything you are prepared to offer voluntarily as an alternative to a refund such as store credit, a discount code or an exchange
Here's an example of how a refund request can be declined via email in a polite, concise and informative way: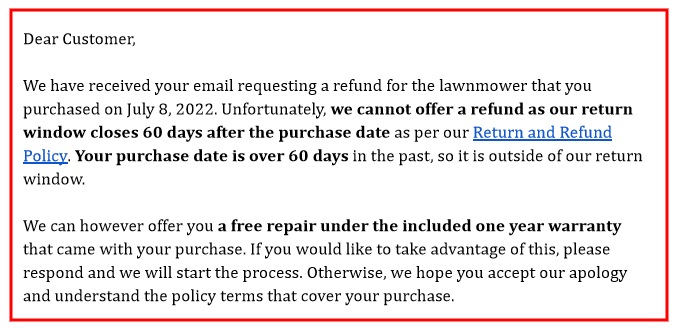 The email provides a link to the Return and Refund Policy, while also summarizing why the refund requisition was declined. It also reminds the shopper that the purchase is covered by a warranty if it needs to be repaired, which may go a long way to make the customer happy even though the refund request is denied.
If your shopping platform offers an automated return request system where customers can select past purchases and submit return requests from within their accounts, you can have an automated message that addresses items that are not eligible for return/refund.
Here's an example of what this message could look like:

Summary
Let's recap what you need to know about declining refunds:
Generally, you must offer refunds for faulty goods. Local laws may vary on other refunds.
A Return and Refund Policy sets out when and how you offer refunds. A No Returns, No Refunds Policy does the same thing but emphasizes that you rarely if ever offer refunds. In both cases, it makes it easier to reject a refund request that clearly is not covered by your policy.
A Return and Refund Policy should set out:
Any applicable time limits
How to initiate a refund request
How to return and package goods
Who pays for delivery
How you will issue a refund
If you have a physical store, display your Return and Refund Policy at the point of sale. Check state laws as they may have specific display requirements.
For online businesses, display your Return and Refund Policy on your website such as in the site footer.