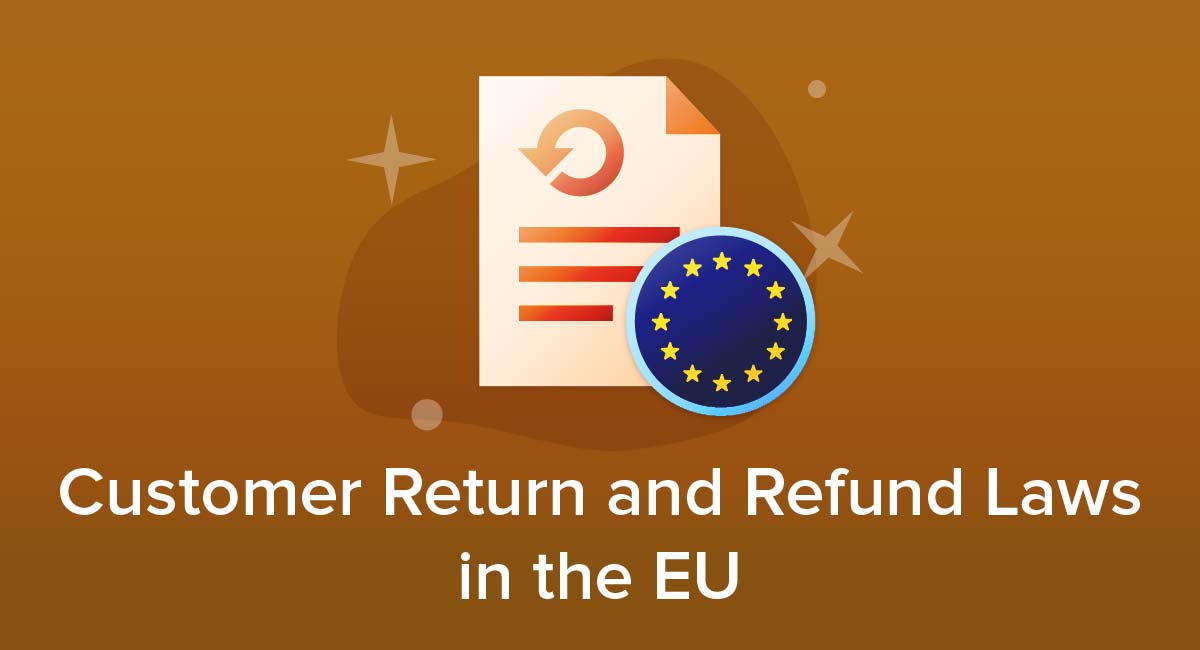 Customers in the European Union have strong rights when it comes to being able to return goods for a refund in particular circumstances.
Sellers need to understand these legally enforceable rights, why they need an informative Return and Refund Policy, and the consequences of offering more generous returns options.
This article will break down what these rights are, why you should have a Return and Refund Policy, and what your policy should include.
Use FreePrivacyPolicy.com to generate the necessary legal agreements for your website/app:
You check our Free Cookie Consent to start making your business legally compliant with the Cookies Directive in the EU.
How Customer Return and Refund Laws Work in the EU
Although the European Union has laws that address returns and refunds, it can be confusing to keep track of which laws apply in which particular countries. This is in part because the EU has two different types of laws:
A regulation, such as the General Data Protection Regulation (GDPR), is a law with immediate effect in all EU countries. Although there may be some minor variations in implementation and enforcement, the same rules apply everywhere.
Directives set out a series of aims and principles. Each country must then make its own national law that achieves these aims and principles. This allows more scope for variation, particularly with enforcement. It also leaves more room for individual countries to add tougher measures that go beyond the requirements of the main directive.
Returns and refunds are mainly covered by directive 2011/83/EU, commonly known as the Consumer Rights Directives, along with Directive (EU) 2019/2161, which amends and updates the rules. Some other rules apply, which we'll detail in this guide.
Each country in the EU has a national law that covers the points in these directives. This means that although you should always follow the broad principles of the directives (which we'll cover in this guide), you may need to check the relevant national laws in any country where you trade or serve customers. The directives only set out minimum levels of consumer rights, so some countries may have additional rights and restrictions.
Non-EU countries Iceland, Norway and Liechtenstein have agreed to follow the EU's rules on consumer protection, meaning the same principles for returns and refunds apply in these countries.
United Kingdom
The UK is no longer an EU country. When it left the EU, it chose to keep all existing laws that came from EU regulations and directives, the plan being to review, amend or replace these laws later on. The timeline means the UK did adopt the measures in the 2011 Consumer Right Directive, but did not have to do so with the 2019 directive.
At the time of writing, the UK has not changed its rules on returns and refunds since leaving the EU. These rules are covered by a national law, the Consumer Rights Act of 2015.
What Returns are Allowed Under EU Laws

Most returns in the EU fall into three categories:
The customer has a legal right to return goods because they are faulty.
The customer has a legal right to return non-faulty goods during a cooling-off period.
The seller's policies voluntarily allow returns that don't meet the criteria for the previous two legal rights.
Faulty Goods
The rules on faulty goods in the EU have been in place much longer than those on cooling-off periods. They are mainly covered by the "Directive on certain aspects of the sale of consumer goods and associated guarantees" which was introduced in 1999 and then replaced with a similar directive from the start of 2022.
The key points are that customer have a right to return goods if goods are:
Faulty
Do not look as advertised
Do not work as advertised
This right to refund must last for at least two years, though some countries have longer periods. In most cases, in the first six months the burden is on the seller to show the goods are not faulty. After six months, the burden is on the buyer to show the goods are faulty (rather than, for example, suffering normal wear and tear).
Where appropriate, the seller can initially attempt to repair the goods or replace them. If these do not remedy the problem, the seller must issue a refund.
In almost all cases, the remedy (repair, replacement or refund) must be made with no cost to the consumer. This means the seller must do one of the following:
Arrange and pay for the return
Have the customer ship the returned goods and then either repay them (when repairing or replacing goods) or add the cost to the refund payment
Have the customer ship the goods on the condition the seller will refund the costs if they examine the goods and agree they are faulty. (This is only appropriate if there is initial doubt about whether the goods were defective in the first place.)
Cooling Off Period
The EU rules also say customers have limited rights to return goods for a refund even when they work and are as advertised.
These rights are usually described as a "cooling-off period." Strictly speaking, a customer using these rights is canceling the original order.
For goods, the cooling off rules apply to anything you buy without seeing in person first, for example an online, phone or mail order purchase.
The EU rules give customers 14 days to exercise their rights, which is worked out as follows:
For goods, the 14 days start when the customer receives the goods. Once they tell the seller they want to exercise the right, the customer has another 14 days to return the goods. Once the seller receives the goods, they have 14 days to issue the refund.
For services and digital content, the 14 days starts when the customer signs a contract (or similar agreement.) The 14 days ends immediately if the customer downloads or streams any digital content.
Some purchases are exempt from the cooling off rules, including:
Personalized goods
Perishable goods
Some jewelry and clothing such as underwear and swimwear, if the packaging has been opened
Event tickets
Hotel bookings
As a general principle, when a customer exercises the cooling off rights:
The seller must refund the purchase price including any shipping costs
The customer is responsible for the cost of returning goods
Usually you can't insist on the customer using the original packaging to return the goods, but the customer must package the goods securely so that they aren't damaged in transit.
Guarantees
A guarantee, sometimes called a warranty, is when the seller offers additional rights beyond the legal rights that apply in the relevant country. Most commonly, this means offering a longer period during which the seller will remedy faulty goods, or a longer period during which the consumer can return non-faulty goods.
Unlike with legal rights, there's more scope for the seller to impose conditions such as:
The customer must pay for returns
The customer must register the purchase to benefit from the guarantee or warranty
The extra rights only apply if the customer paid full price for the goods rather than getting a discount or buying in a sale
Marks and Spencer takes advantage of this by offering a longer no-fault return policy, but only for goods sold at full price: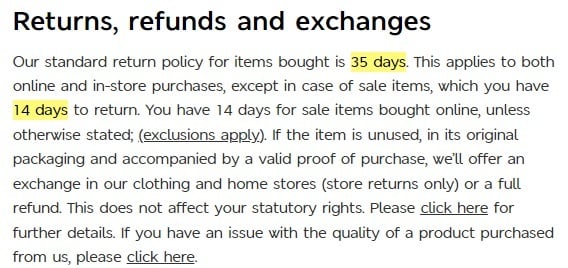 Remember that guarantees and warranties can only ever give extra rights. They can never remove, or impose extra conditions on, the customer's legal rights.
Cross-Border Sales
In simple terms, the Consumer Rights Directives apply across borders. Customers from another EU country have the same rights as local customers (that is, ones in the country where you sell goods).
This means that where you are required to cover the costs of returning goods (and/or arrange the shipping), you will need to do so even if it will be more expensive because the customer is in another country.
Similarly, if the customer has to pay for the return, they don't get special treatment because the costs are higher.
What to Include in a Return and Refund Policy

There are a number of points of information that your Return and Refund Policy must include. Let's look at some of them, and some examples of each.
Statutory Rights Disclaimer
Always make it clear that your Return and Refund Policy does not remove the customers' statutory (legal) rights to refunds or returns, or their ability to exercise these rights. This removes any possibility of a court or regulator arguing that you tried to mislead customers.
Schuh makes this point clearly:

Acceptable Time Limits and Reasons for Returns
Explain the reasons customers can return goods (faulty/not as advertised, cooling-off period, guarantee) and the time limits or deadlines for doing so.
Here's how Oh Hello gives a clear deadline and how it's calculated. It also notes that returns outside of the timeframe noted will not be accepted:

Exemptions/Final Sale Items
List any goods for which you either don't allow returns at all, or exclude from voluntary policies (such as an extended cooling-off period or a guarantee).
Misspap lists exemptions and gives clear reasons for in some cases, usually for hygiene purposes. Some other exemptions include items missing tags, shoes that have been worn outdoors, and anything that was received longer than 28 days prior:

The Returns Process: What a Customer Must Do
Explain how customers can initiate a return and send goods back.
Include the following information:
How to formally request a return
Where to send the goods
Any reference numbers to include with the return
Who arranges any delivery or collection and whether to use a specific service (Do you offer a printable return label? Is a customer responsible for all of that?)
B&Q gives deta how its returns process varies depending on purchase type: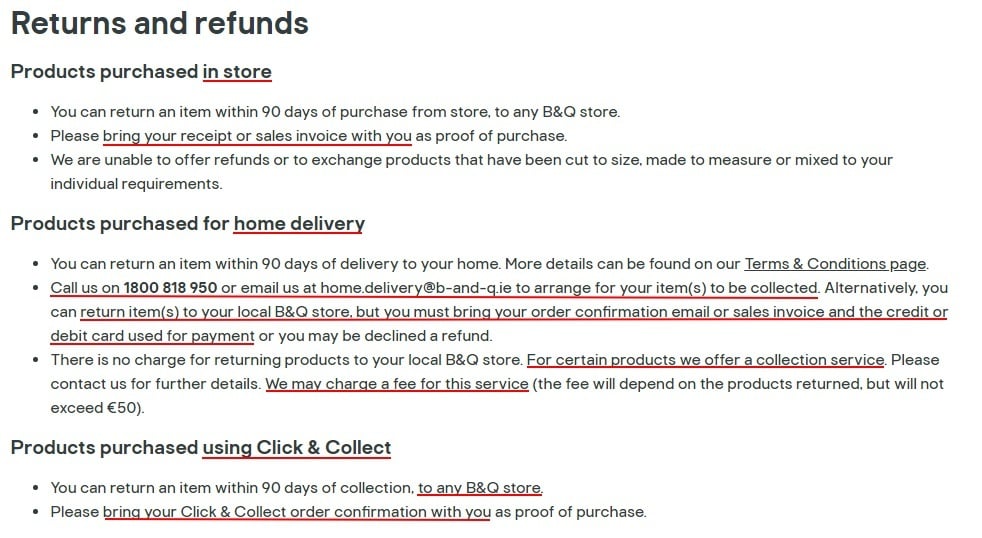 The Refunds Process: What You Will Do
Explain when you will issue a refund, how you will issue it (eg refund as original payment method, store credit, gift card) and whether you deduct any fees.
Remember that for legally-required refunds (such as for faulty goods or under cooling-off rules), you must refund money, usually by the same method by which the customer paid. You can only deduct fees for voluntary refunds such as when you offer an extended cooling-off period or guarantee.
Make clear if your policy is to initially attempt a repair or issue a replacement for faulty goods before moving on to a refund where necessary.
Maths No Problem explains how it calculates refund amounts for no-fault returns:

After your Return and Refund Policy is drafted and ready to go, it's time to display it for your customers or potential customers to see. Here's what you need to know about that.
Displaying Your Return and Refund Policy

You should display your Return and Refund Policy in a way that makes sure:
Customers have a reasonable chance to see it before they make a purchase so they can make an informed decision about purchasing from you
Customers can easily find it after a purchase if they decide to return goods
The best way to do this is usually to have the policy on a dedicated page on your site You should then link to this page to your main website in a conspicuous place, such as the website footer.
Here's how Sears displays a link to its Returns and Exchanges Policy within its Customer Service links section of its website footer: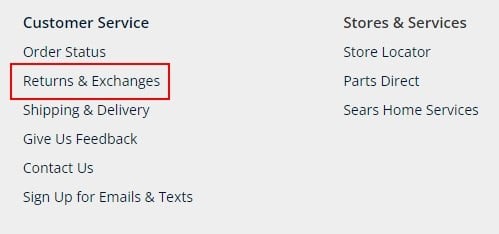 Arnotts has a very prominent link to its Refunds and Returns Policy. This link appears on every product page as well as the shopping cart/checkout pages: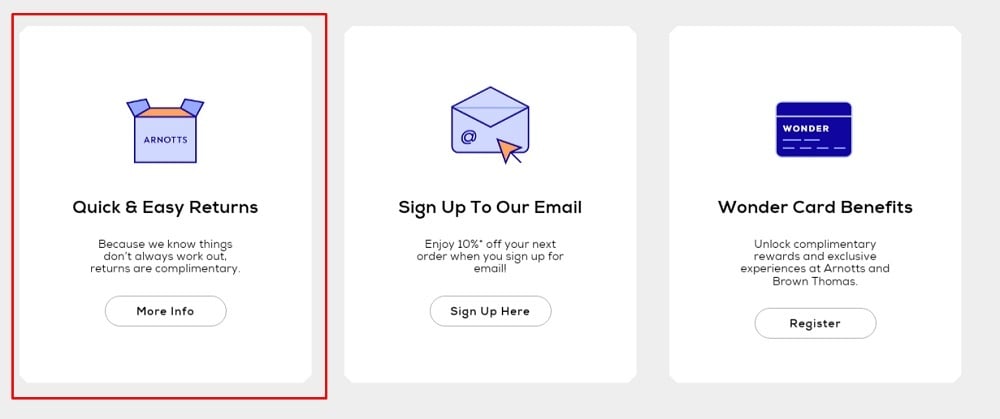 You could also make the Return and Refund Policy available as a pop-up window or on the purchase page itself. This should be in addition to, rather than in place of, the dedicated web page.
Customers should always be able to check your Return and Refund Policy both before they make an order, as well as after the purchase is complete.
Summary
Let's recap what you need to know about customer returns and refund laws in the European Union:
Most return and refund rules are covered by EU directives. These means minimum rights and common rules apply across the EU, but they are enforced through individual national laws.
Customers have the right to return goods that are faulty or don't look or work as advertised. Sellers can initially offer a repair or replacement but if this doesn't solve the problem, they must issue a refund and cover shipping and return costs.
Customers have the right to return goods without reason during a 14-day cooling off period after receiving them. Usually, the seller must refund the original shipping costs as well as the purchase price, but the customer must cover the cost of returning the goods.
Sellers can offer more generous returns such as extended cooling off-periods or guarantees and warranties. Unlike with the statutory (legal) rights, sellers can impose conditions or limitations. These measures can never replace the statutory rights.
The rights apply across borders, meaning returns may have to be shipped internationally. This does not change responsibility for costs.
Sellers must always give online, phone and mail order customers their business address, phone number and details of how to exercise their cooling-off rights.

A Return and Refund Policy adds extra details which helps avoid customer confusion and build trust. This Policy should include:

Acknowledgement that the policy doesn't override statutory rights
Reasons and time limits for returns
Exemptions
The process for returns
The process for refunds

You should display your Return and Refund Policy as a standalone web page or as part of a wider document. You can also link to it from order forms and pages. Make sure customers can always access the Return and Refund Policy both before and after making a purchase.