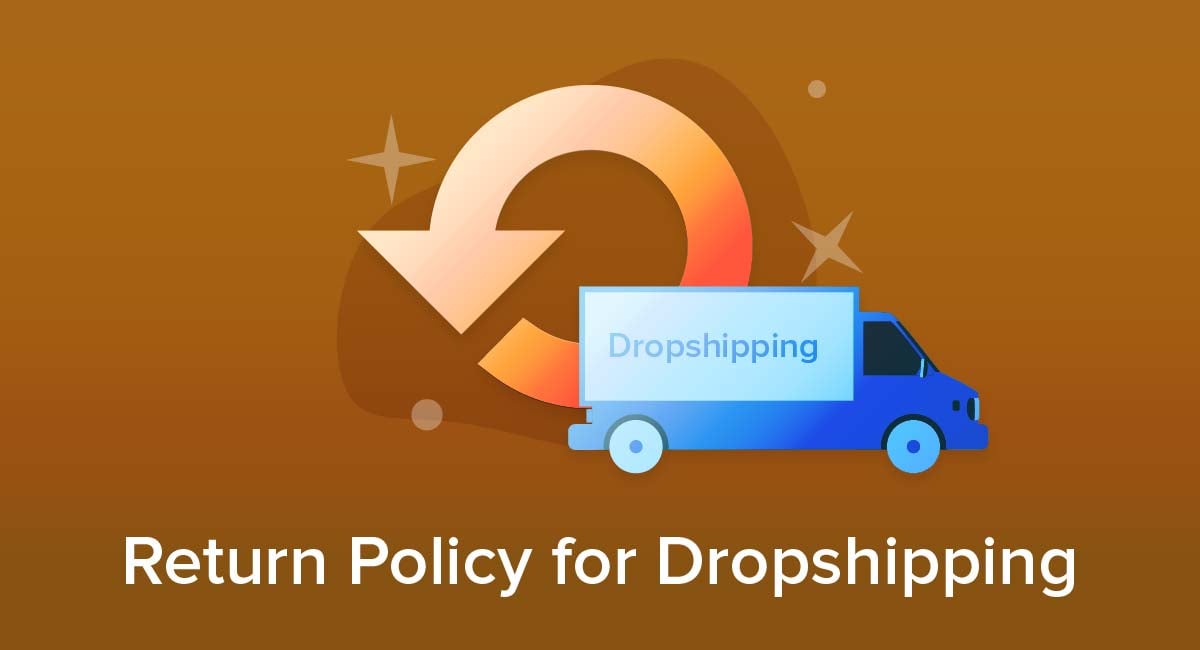 If you're a beginner entrepreneur looking to break into the dropshipping world, making sure you have the best legal policies for your website can be a good way to protect and grow your business.
One of the most important policies your dropshipping store should have is a Return Policy.
This article will break down what this policy is and help you create your own by providing examples of the key clauses your policy should have. We'll also show you how to best display your Return Policy for dropshipping to reach the most customers.
Use FreePrivacyPolicy.com to generate the necessary legal agreements for your website/app:
You check our Free Cookie Consent to start making your business legally compliant with the Cookies Directive in the EU.
What is a Return Policy?
A Return Policy is where you formally let your customers (and potential customers) know what your procedures are for returning items and potentially receiving a refund.
Return Policies are not legally required, but are highly recommended and potentially very beneficial for your ecommerce store. Even though the policy isn't required by any state or federal laws, you should be aware that there are states that do have laws concerning your policy if you have one.
For example, California requires a Return Policy to be displayed if certain terms are not provided in your Terms and Conditions or Privacy Privacy. These terms include time frame, what type of refunds are offered, etc. To comply with California's law, you must display your policy somewhere on your web page separate from your other legal policies.
Benefits of a Return Policy for Your Dropshipping Store

A Return Policy can be advantageous to both your business and your customers.
The Return Policy's primary function is to support and benefit your business. That doesn't mean its only purpose is to help a business. The policy can be as useful to customers as it is to companies.
A few of the reasons for why you should include one on your dropshipping site are as follows:
Helps bring in customers. If you offer your customers the opportunity to return items within a certain amount of time and for free or minimal charge, this can be a major selling point for shoppers and can keep them coming back. Having the option to return items is a major selling point for online shoppers, especially since they can't try on clothes or handle the items personally.
Builds trust with customers. Customers want to trust the places they shop from. Having a Return Policy assures your audience that if they are not satisfied with a product or the product is defective, they can return it. It also boosts their confidence in you since you are standing behind what you are selling.
Creates Transparency. Transparency between online stores and customers has become essential since the GDPR was enacted. Your legal policies need to be clear and understandable so as not to confuse users. This is key for dropshipping sites because customers may be unsure of who they are supposed to return the product to.
Protects your Site. In your policy, you can state how and when products may be returned. It gives your company the ability to direct this process and requires users to follow it. Not having the policy could leave your company open to those who would take advantage of your dropshipping store or your goodwill.
What to Include in Your Return Policy
Every website's Return Policy will be different. The policy will depend on what your products are, where you are located, what type of online store you are, and perhaps most importantly, what types of policies you want to have in place.
Here are few clauses that all ecommerce stores should consider, including dropshipping websites:
Time frame of when to return the item
Where to return the item
Type of refund provided
Fees for returns
Condition the item must be in to be returned
Customer support contact info
Time Frame
One of the most important clauses to include is the time frame for when returns may be made. Including one protects your site from customers that would take advantage and try to return items after a very long time when the item has depreciated naturally. It also informs customers of how long they have to return their purchase.
Keep your time frame reasonable. A week is too short with shipping and handling and 90 days is too long because the product's condition may be beyond the point of reselling it.
On average, most stores include a 30-day window for returns, as BeaBos does in its Return Policy:

Consider stating whether you start the time frame countdown from the date of ordering, the date of shipment or the date of delivery since this may have an impact for your customers.
Where to Return the Item
Clearly state where the product should be returned to. For dropshipping sites, this is a must to include. Since a dropshipping site gets its products from third-party stores, customers may be confused about who they should actually return the product to: your site or the third party's.
Born Pretty has all of its products returned to one location and includes a phone number as well for any potential issues: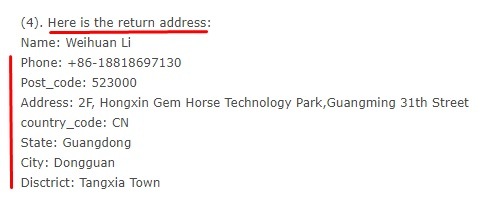 Best Choice Products states in its policy that products purchased through marketplace partners are subject to that third party's Return Policy, but items purchased directly through its store are eligible for a free returns:

Type of Refund Provided
You should always clearly state what type of refund you will provide. Will the customer receive a full refund when they return the item, get a discount on their next purchase, or receive in-store credit? This will matter to your customers.
Inspire Uplift's Return Policy makes it clear that store credit is offered for exchanges and for purchases that had a discount of 25% or more, while full-priced items will be refunded to the original payment method:

Fees for Returns
Not every store will have this, but if you do have a fee for returns, you should note this in your Return Policy.
This is a common clause for dropshippers because they have to restock the products. Since dropshippers aren't often large companies, including a restocking fee can keep your costs down and keep your company growing.
Here's how Best Buy notifies customers of its restocking fees: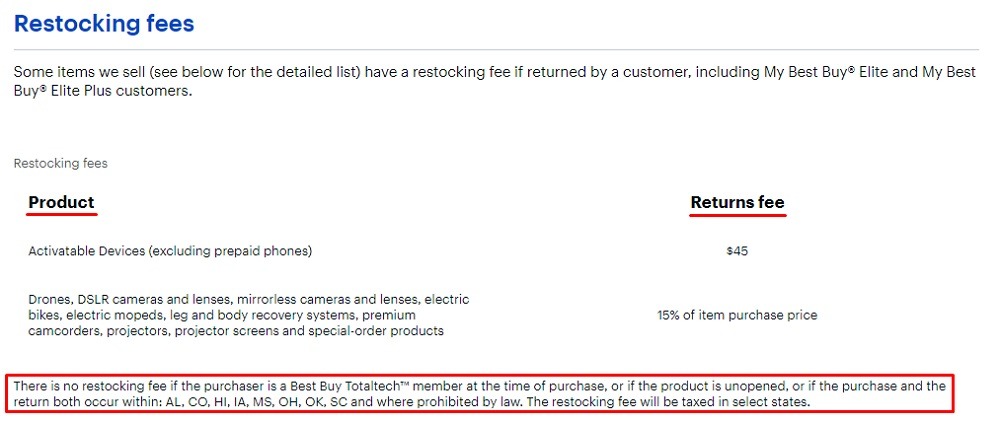 If you don't charge a restocking fee, it may be in your best interest to note this, as shoppers will look favorably upon it. Here's how Best Choice Products announces this:

Condition of Item
Protect your dropshipping store from potential abuses of your return policy by including what type of condition the item must be in for you to accept the return. Your goal is most likely to be able to resell the item, so you will want the products to be in the best condition possible.
For dropshipping sites, this may determine whether you are able to return the item back to the third party or resell it, potentially affecting your profit.
Sibling Gadget offers a way to restrict what is applicable under the warranty and what it does with damaged goods: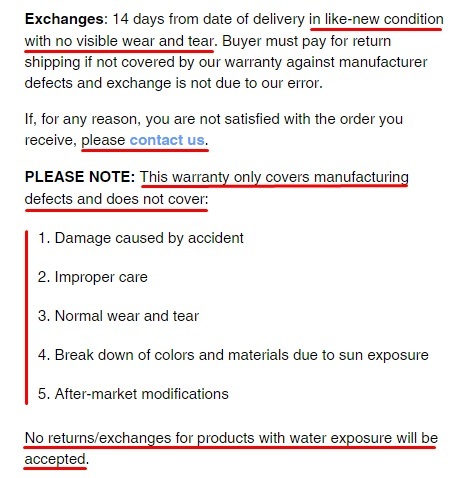 Customer Support Contact Information
To help streamline your customer service issues, include how customers may reach out if they have questions about the Return Policy. Email addresses or telephone numbers are an easy way to keep inquiries organized.
Or, you can direct customers to a separate request page or Contact Us page, as Sibling Gadget does:

After you have your Dropshipping Return Policy created and fine-tuned for your business, it's time to display it to your customers and potential customers. Let's look at some options for that.
Where to Display Your Dropshipping Return Policy

Where should you put your Return Policy? Simply, it should be somewhere that is easily accessible and easy for your customers to find.
The most common area where dropshipping and other websites display a Return Policy is in the footer of the website. Most customers know to go to the footer to find other legal policies, so including it there is a good place to start.
An example of this is in Born Pretty's website footer: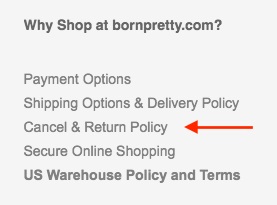 Another common place is in your Terms and Conditions agreement or Conditions of Use. The Return Policy states your rules and conditions for returns. This is why including it in your Terms and Conditions agreement, where the rest of your terms for your site are located, makes sense.
Here's how Best Buy includes other policy links within its Terms and Conditions agreement, including its Returns and Exchanges Policy: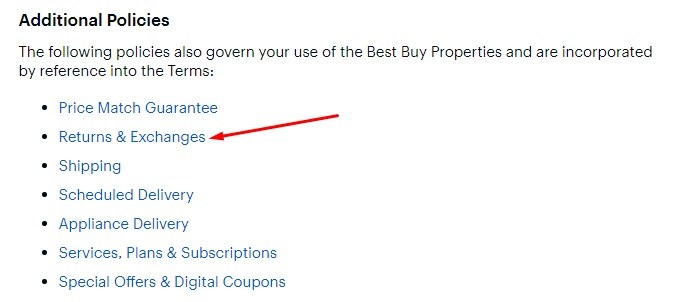 Some sites even include it in their Privacy Policies, but this is less common.
Individual product pages are another choice. This may be helpful if you have certain products that have different return requirements. Providing the link to the policy notifies users that there may be restrictions on how to return the specific item before they purchase.
You can also include a link on your check-out page so users have a chance to view the policy before confirming an order.
In essence, since each of these sections would be on pages that have a website footer, including the link in the footer really does cover all bases and is the best approach.
Summary
Return Policies are your dropshipping website's declaration to customers of how returns may be made and what they must do to return the item and potentially receive a refund. It's a policy that is helpful to both your dropshipping store and to your customers.
Include key clauses such as time frame for returns, where to return the item, and what refunds there may be. Offer clear steps for how returns may be made and be up front with customers when refunds won't be offered.
Remember, it may not be legally required, but can be extremely beneficial for the growth of your company and protect your site against potential legal issues.