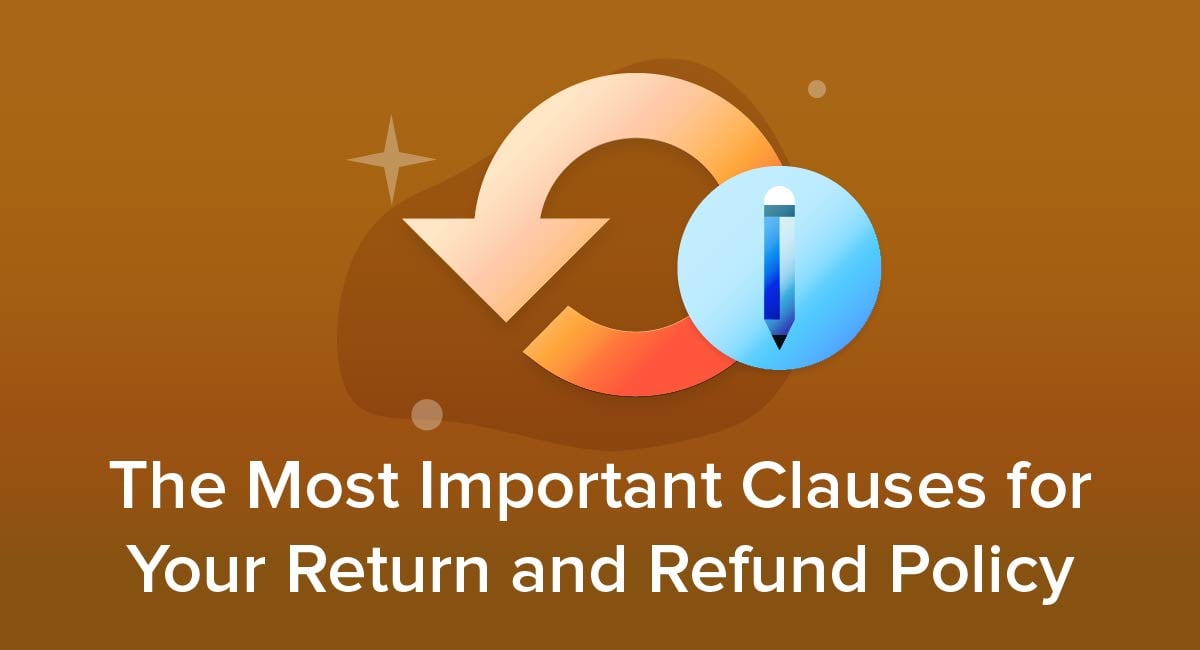 If you sell goods to consumers you should have a Return and Refund Policy.
While you'll inevitably be doing your best to avoid returns, it's an unavoidable fact of the retail industry that sometimes customers will need or want to return an item.
But why do you need a Return and Refund Policy and what exactly should you include? This article will answer these questions for you.
Use FreePrivacyPolicy.com to generate the necessary legal agreements for your website/app:
You check our Free Cookie Consent to start making your business legally compliant with the Cookies Directive in the EU.
Why Do You Need a Return and Refund Policy?
It's not usually a legal requirement to have a Return and Refund Policy, so why should you have one? There are a number of very important reasons to.
Put quite simply, because it will keep your customers happy and benefit your business.
First, your customers will expect to see a clear Return and Refund Policy. If they can't find one on your ecommerce site, they are likely to shop elsewhere where the store policies are more clear.
This is particularly true if you sell goods online. Your customers cannot view your products in person and are relying on your photographs and description. A new customer will not know if your products will meet their expectations and will want to be certain they can easily return the item if there's a problem.
In short, if a potential customer is unsure of your return policy, they're unlikely to buy from your store.
A clear and well-written Return and Refund Policy can attract new customers and build customer loyalty.
Having this Policy will also help to avoid disputes with customers as there will be a clear set of rules to follow. You'll also save time by negating the need to answer the same customer questions over and over again since customers will be able to find the answers they're looking for in your Return and Refund Policy.
A further business benefit is that your store will appear more professional and more customer-focused. You can actually use your Return and Refund Policy to show you care about your customers by offering easy returns and quick refunds.
Lastly, while this Policy isn't required by federal law, there are state laws to consider.
For example, some state laws assume that customers are able to make returns and set a specific return period if there is no policy to state otherwise.
In addition, if you sell internationally you will need to abide by the laws of the country you're selling to, some of which require a Return and Refund Policy.
Once you've decided to go ahead with creating a Return and Refund Policy, what should your Policy include?
Top Clauses For a Return and Refund Policy

There are several key clauses you should include in your Return and Refund Policy. Let's take a look at each one.
How to Return and Exchange Items
One of the most important clauses to include is how to return or exchange items.
This clause tells people what methods are available, for example, can they return items via post or do they need to return them to a physical store? Is there a home pick-up service or are there any drop-off points available?
WIthout this clause, customers will be uninformed about how to go about returning or exchanging items, which will be very frustrating for the customer and could cost you future business.
For example, Gap makes it clear in its Return and Exchange Policy that store-bought items cannot be returned online, whereas items purchased online can be returned to stores:

Best Buy gives customers options of in-store returns or online returns using a prepaid return label:

Argos includes a helpful table in the store's Returns and Refunds Policy which tells customers how they can return an item, depending on how they purchased it: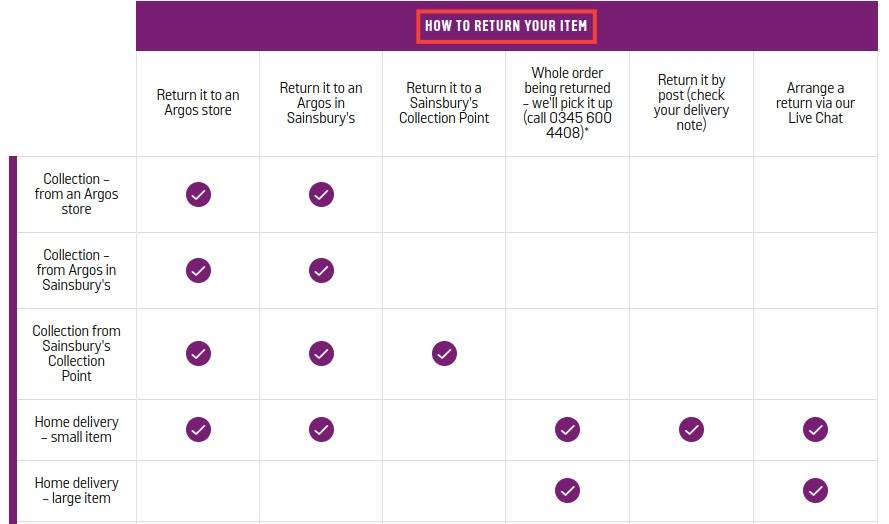 Topshop tells customers how to return items and highlights that items can be returned in 3 easy steps: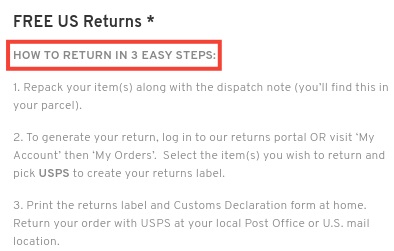 How Long Customers Have to Return Items
This clause tells customers how long they have to return items they've purchased. It's important to give a clear timeline to avoid confusion.
Be sure to include whether the clock starts ticking from the date the customer purchased the item, the date the item was shipped or the date it was delivered to the customer.
IKEA has a very generous Return and Refund Policy which enables customers to return items within 365 days of purchase:

Ashley Furniture advises customers that the retailer accepts returns within 30 days of the delivery date for online orders delivered via standard shipping options:

Clothing retailer Zara notes that purchases must be returned within 30 days from the shipping date:

If different types of items come with different return timeframes, make sure to include all of this information in a way that's easy to read and understand.
Who Pays for Return Shipping

The purpose of this clause is to clarify who covers the cost of return shipping. It's important to make it clear whether you pay for returns, the customer pays for returns or if it depends on the circumstances.
If you pay for return shipping tell the customer if there is a prepaid return label included with their order, or how they can request one.
Whatever your policy is on this, make it very, very clear.
Retailer Fashion Nova inform consumers that the customer is liable for the cost of return shipping and that the store does not provide prepaid return labels:

How Long Returns Take, and Method of Refund
It's important to give customers an idea of how quickly they can expect their money to be refunded. This will avoid the need for the customer to contact you to ask how long their refund will take.
You should also tell customers what methods of refund you offer. For example, will payments be refunded via the same method the original payment was made? Can the customer be given a cash refund at stores or do refunds have to go onto a credit or debit card? Are there some items which will only be refunded via store credit?
Best Buy tells customers that the store will usually give refunds via the same method the customer paid for the item. The retailer states that there's an exception to this rule: Customers who paid over a certain amount in cash will be refunded by check.
The clause also advises customers how long it will take to receive a refund in both types of cases:

Apple includes a section that lets customers know their refunds are processed depending on the original payment method. The store also notes what happens if the purchase was made with a store gift card:

Finally, the retailer tells customers how long it takes to process refunds:

Amazon informs consumers that they are able to choose their preferred refund method and informs them how to do this. Amazon also provides a helpful table which tells consumers how long their refund will take depending on the method used: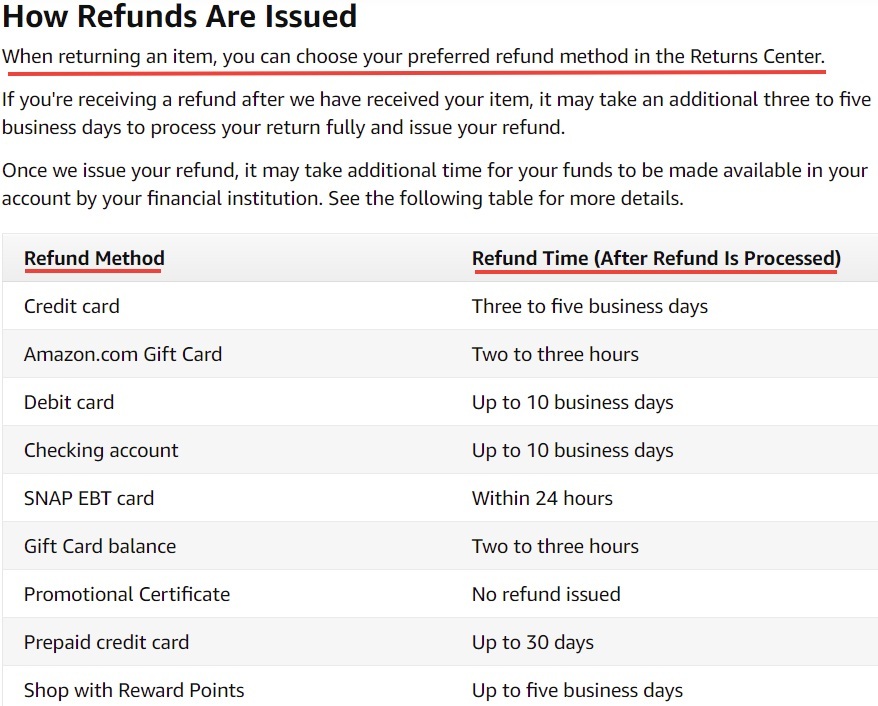 Your clause in this case likely won't be as detailed and long as Amazon's, but make sure it includes all of the relevant information to keep your customers informed.
Do You Charge Restocking Fees

Use this clause to tell customers whether or not you charge a restocking fee for returned products.
This clause is easy to write. Simply state whether or not you charge a restocking fee and how much the fee is.
If a restocking fee applies to some items but not others you should make this clear. You should also make it clear whether the restocking fee is subject to tax.
Nordstrom has an incredibly simple clause in the store's policy that tells customers there are no restocking fees:

Best Buy has a more detailed clause which advises customers that there are restocking fees and that the restocking fee changes depending on the item returned. Customers are also informed that the fee will be subject to tax in select states.
Additionally, the clause details a few exemptions. For example, there is no restocking fee for unopened products and there are certain states which prohibit restocking fees. These states are noted in the clause:

Dell notes that the retailer may charge a restocking fee of up to 15% of the purchase price, plus any applicable sales tax:

Your Return Conditions
This clause tells your customers what the return conditions are. In other words, what conditions must be met for a return to be accepted.
This is important as it avoids disputes with customers about what is accepted and what isn't.
Make sure this clause includes all return conditions to avoid misunderstandings.
For example, you could inform consumers that returned items must be unused, clean and in their original packaging. You could state that returns will only be accepted if the customer has a valid receipt or proof of purchase. You can also note things like "final sale" items not being eligible for return.
Clothing retailer Mango advises customers that returned items must be returned in the same condition in which they were received, i.e. unwashed, unworn and with the label attached. The clause also states that the store will inspect returned items to ensure they comply with the conditions prior to reimbursing the customer: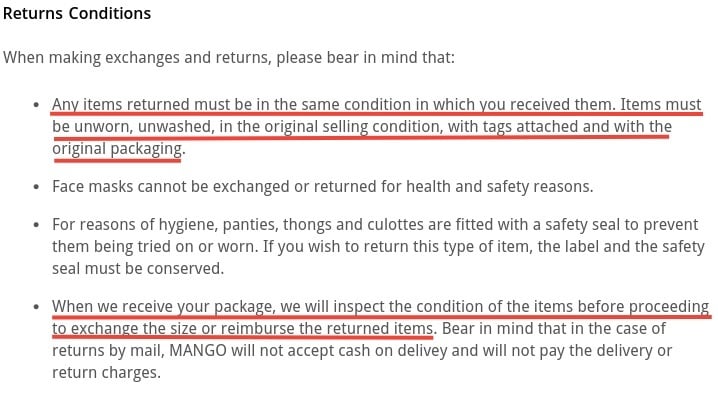 Similarly, clothing retailer Good For Nothing states that the company only accepts products returned in their original condition and asks customers to fold the items neatly in the correct bags before returning:

Retailer SHEIN also includes a Return Conditions clause in the store's Return Policy:

Retailer ZARA includes a clause that sets forth all the special conditions the company requires for returns across multiple different departments of goods: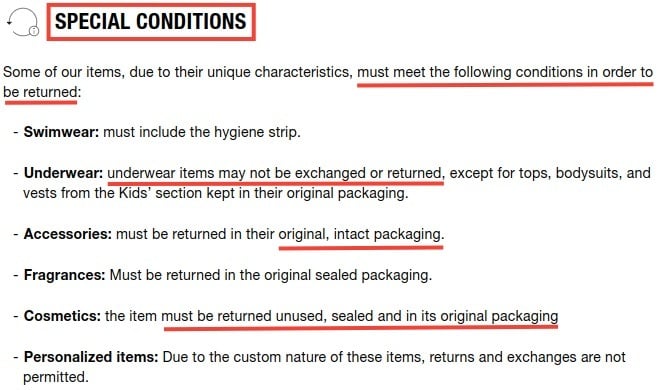 You have a lot of freedom and flexibility when it comes to your return conditions. Just make sure you make them clear in your Return and Refund Policy to be able to uphold the conditions, and so your customers know exactly what they must do.
What Items Cannot Be Returned

Department store Debenhams explains what items are not included in the shop's Return Policy. For example, it won't accept returns for altered items, cosmetics, bedding, earrings and other items unless they're faulty or were incorrectly described by the company: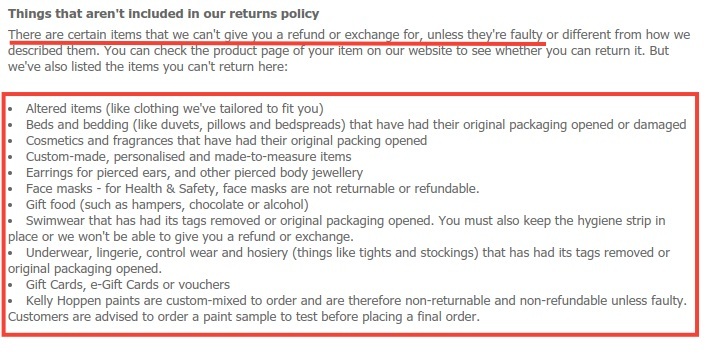 Dell informs customers about the exceptions to the store's 30-day return period, noting software as not being returned at any time as well as other products and brands:

How You Handle Faulty or Defective Items
This clause lets customers know how you will handle the return of items that are faulty or defective, and not being returned because a customer simply changed his mind.
Let the customer know how quickly they must inform you that they've received a faulty product, how to initiate a return/refund and what information they will need to provide, such as documentation of the defect.
You should also inform the customer who pays for the cost of return shipping for faulty products. Some stores pay the cost of return shipping for faulty products even if the customer normally pays for return shipping since the defect is no fault of the customer.
Boohoo includes a faulty goods clause in the store's Return Policy. The retailer starts by apologising to the customer and reassuring them that the store will fix this for them.
The clause then provides a link to the Contact section and lists out everything the customer will need to provide, including a name and order number and a picture and description of the fault: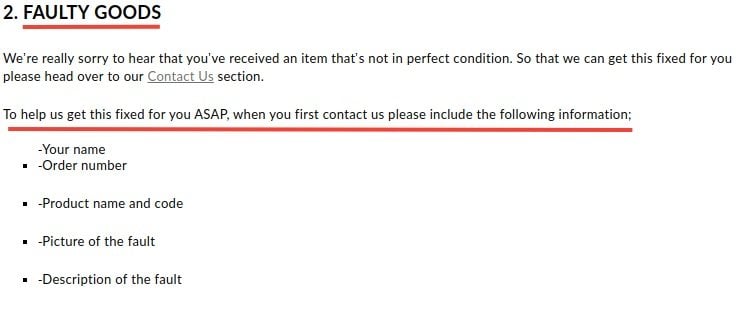 Retailer Next differentiates between items that were faulty when the customer received them and items that became faulty with use:

Summary
It's a good idea to have a Return and Refund Policy if you sell goods to consumers, even if it isn't legally required.
This Policy will help to avoid disputes with customers as there are a clear set of guidelines in place dealing specifically with returns and refunds.
When consumers are unable to locate a Return and Refund Policy they may decide to shop elsewhere for fear of being stuck with a product they don't want, or even worse being stuck with a faulty product.
Conversely, having a clear and easy-to-locate Return and Refund Policy will put consumers at ease and encourage them to buy from your store.
Show how customer-focused your store is by highlighting the benefits of your Return and Refund Policy. For example, tell customers about your generous return period or your easy returns process. This will help you to attract and retain customers.
There are several important clauses to include and all of them should be tailored to your store.
Make sure you include:
How customers can return items
Who pays for return shipping
How long customers have to return items
How long returns take to process
The methods you use to refund customers
Conditions of return
If there are any restocking fees
Any exemptions to your Policy
What happens if an item is faulty
Once you've written your Return and Refund Policy, be sure to display it in a prominent position so that customers, and potential customers, can easily find it.