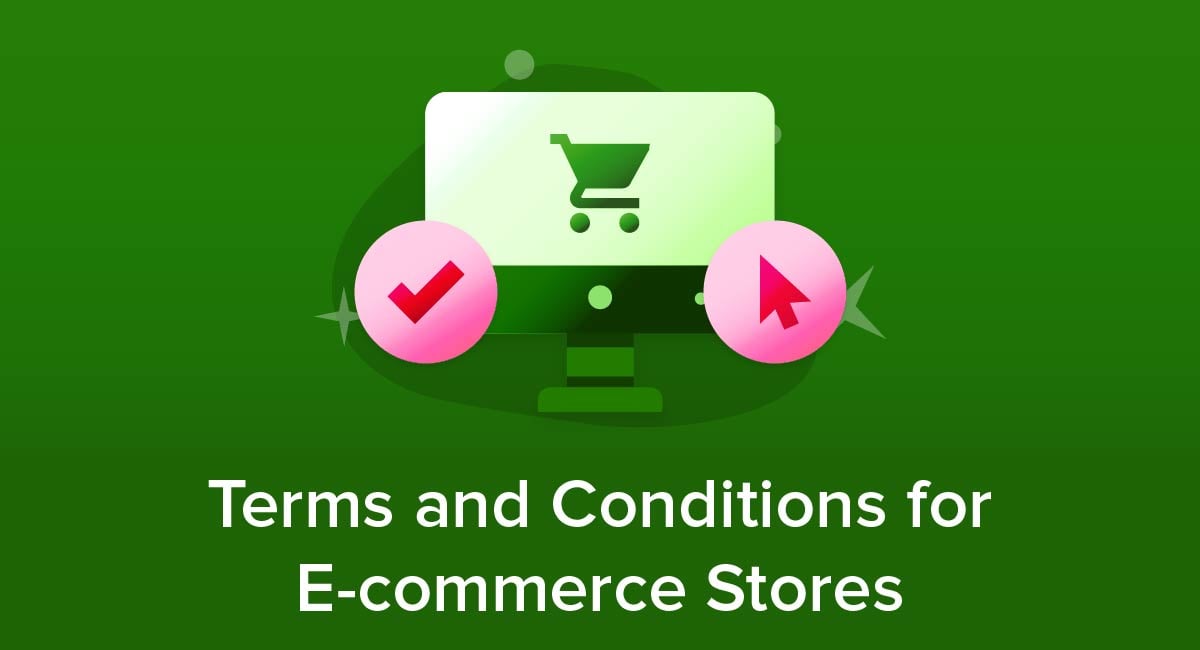 If you run an ecommerce store, your store will greatly benefit from having a
Terms and Conditions agreement.
This article will focus on why it's so important to have Terms and Conditions for your e-commerce site, the clauses you should include in your own, and how you can both display and receive user agreement for them.
Our Free Terms and Conditions Generator is created to help you generate a professionally drafted agreement that can include various terms and conditions for your site and/or app.
Start the Free Terms and Conditions Generator from our website.
Select platforms where your Terms and Conditions will be used (website, app or both):

Answer a few questions about your website or app information:

Select the country:

Answer a few questions about your business practices:

Enter your email address where you'd like to receive the new Free Terms and Conditions and click "Generate":

Once generated, you can copy and paste your Free Terms and Conditions agreement on your website or app or link to your hosted Free Terms and Conditions page.
What's a Terms and Conditions Agreement and Do I Need to Have One?
Terms and Conditions (also sometimes referred to as Terms of Service, Terms of Use or Conditions of Use) is an agreement set out from business to customer, which the customer must agree to if they want to use the business' services.
Unlike a Privacy Policy, Terms and Conditions are not legally required, and you can run an e-commerce (or any!) website without them.
However, it's not good business practice to forgot a Terms and Conditions.
Blogs and other similar sites can often get away with not having Terms and Conditions. But if you're running an e-commerce store, even if you just sell a few products, Terms and Conditions will keep you and your business well-protected.
Even though Terms and Conditions aren't legally required, they're vital aspects of an e-commerce store.
What Do Terms and Conditions Do?
Terms and Conditions can:
Prevent abuse and misuse of your products, services and website
Allow you to own your content
Give you the ability to terminate and/or suspend user accounts
Limit your liability and risk of litigation
Set the jurisdiction and governing law that your Terms and Conditions are held under
They protect your business from conflict and reduce the fall-out that can occur from legal action (like if a situation arises whereby your product has been purchased but has failed to meet its purpose).
They also create better trust between yourself and your customers, encouraging them to make purchases, and come back for more. They'll believe their transactions will be safe, and it's important to promote that feeling of consumer safety.
And, if issues still come up, your Terms and Conditions will safeguard you by specifying how any disputes will be handled. Whether it's something like a liability issue, payment issue, the refund process or shipping and handling, having Terms and Conditions will dictate how it will be resolved.
Terms and Conditions streamline the process, leaving no room for doubt or misunderstanding.
What Clauses Should You Include In Your T&C?

For an e-commerce store, here are the essential clauses you need to have in your Terms and Conditions:
Disclaimer For Limitation of Liability
The Disclaimer for Limitation of Liability (also referred to as the Limitation of Liability) clause limits your exposure to potential lawsuits and subsequent damages. Because you're selling products, your chances of being held liable for something increases dramatically in comparison to just running a blog or something similar.
If you find yourself being sued by a client or customer, for whatever reason, having a Limitation of Liability clause in your Terms and Conditions means the amount of damages you're required to pay will be capped.
For example, if you're sued for a decent amount of money and you don't have a Limitation of Liability in place you will be open to paying fines to the full amount, whereas with this clause in your Terms and Conditions, you would be paying much less.
Here's an example taken from Law Insider's Terms of Service. As you can see, the company very clearly states it will not be liable for "any indirect, incidental, special, exemplary, or consequential damages."

Further, it states that any legal claims made by customers and paid by Law Insider will not exceed $500, or the amount paid by the customer for the previous 12 months of using their service.
Clauses like these can help ensure that you likely won't be hit with a big lawsuit that can cripple your company.
Intellectual Property
The Intellectual Property clause relates to the intellectual property of your business. This includes things like your business name, logo and other unique marks. These items can be secured through trademarking, but there are often other pieces of intellectual property that can be harder to safeguard. For example, trade secrets, patent plans and other confidential pieces of information.
Upwork's Intellectual Property clause dictates what Upwork owns, which covers "all elements, components and executables." This is a good approach to ensure you're securing all aspects of your business: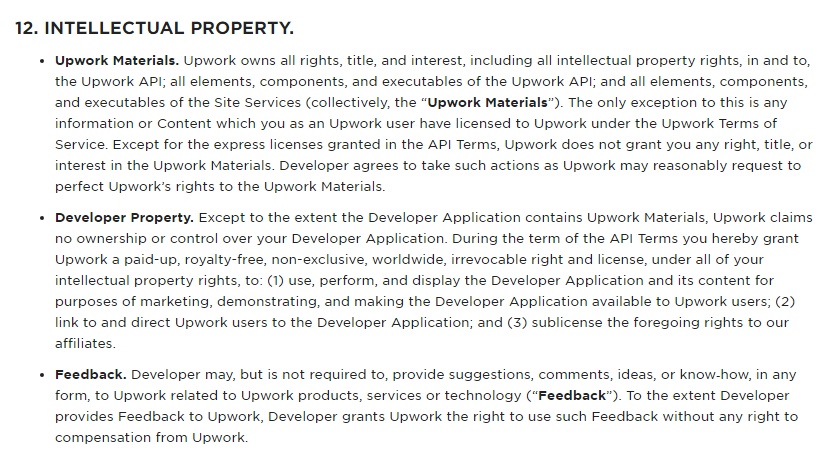 Copyright Policies
Off the back of the Intellectual Property clause is the Copyright clause. This clause protects the content on your e-commerce site, and generally states that your website does not condone the infringing of copyright material.
Workona includes this clause in its Terms of Service and informs users of the company's right to remove any copyrighted material "without prior notice and at any time."

Right to Terminate Accounts
The Right to Terminate Accounts clause protects both you and those who buy your products. It means your users aren't locked into using your services or buying your products longer than they need or want to. It also gives you the right to terminate user accounts for various reasons. In the case of an e-commerce site, this can be useful if particular users have signed up and behave fraudulently, illegally, or shop with stolen credit card details.
In Twitter's Terms of Service, the Ending These Terms clause informs users how they can terminate their own accounts as well as what reasons and behaviors will be cause for Twitter terminating the accounts: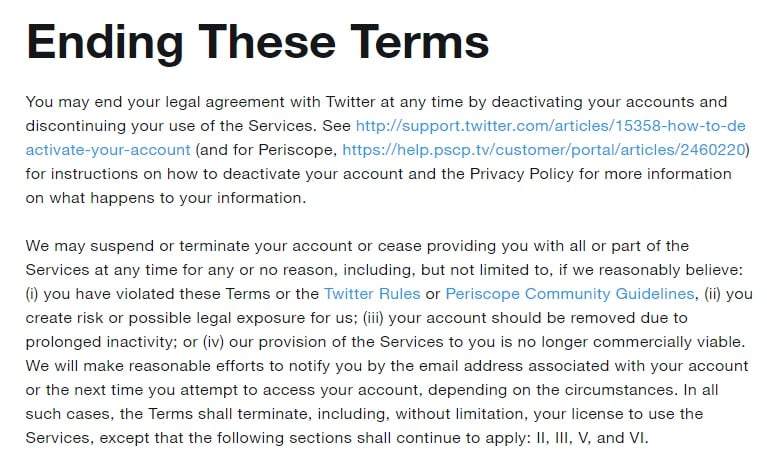 This clause can be shorter than Twitter's and simply state that you reserve the right to suspend or terminate any account at any time for any reason, or it can be longer and more detailed as you see above.
Prohibited Uses
The Prohibited Uses clause tells your customers what they can and cannot do through your website or mobile app.
Prohibited behavior typically includes things like:
Harassing or stalking other users
Hacking or interfering with the website (or app)
Publishing graphic or inappropriate content
Violating Copyright and Intellectual Property Rights
Conducting scams or any other illegal activity
As the owner of your e-commerce store, you are usually allowed to set your own guidelines around prohibited uses - as long as they're within reason.
Clothing site ASOS approaches this clause using a bit of light-hearted humor, which is fine to do as long as you still include all that's required to make this a legitimate clause: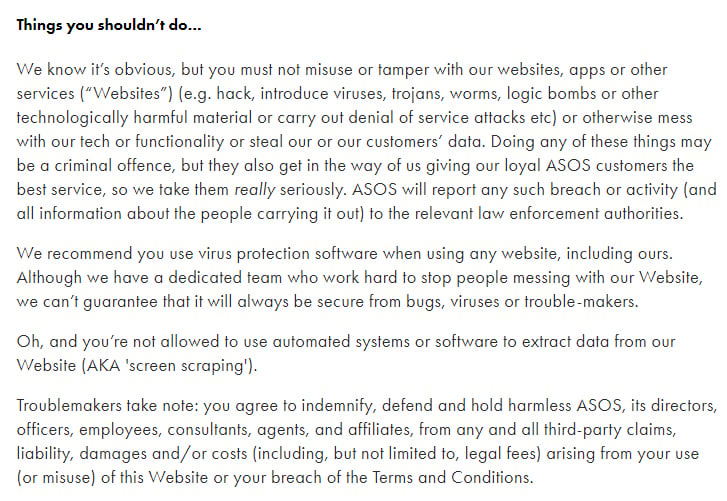 Evernote has an extensive set of User Guidelines that dictate a wide range of prohibited uses. Below is a screenshot of some of the things the company considers to be undesirable behavior: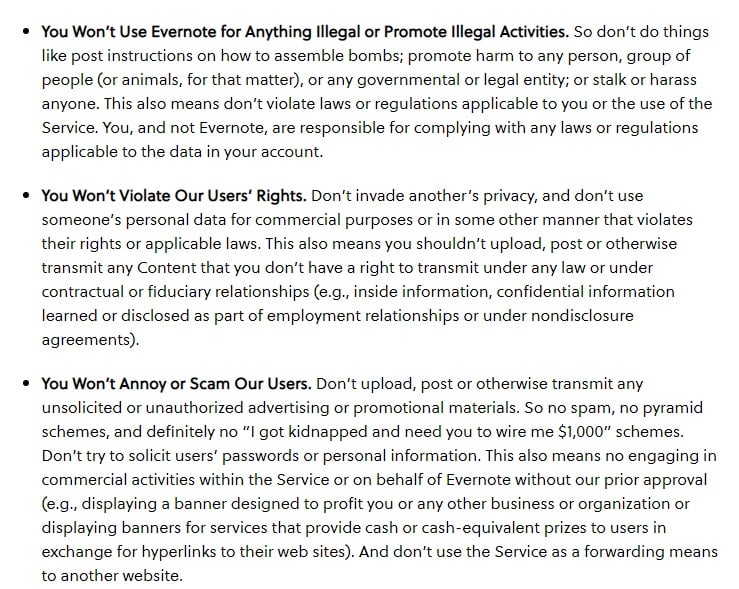 A lot of the prohibited uses you'll see in most Terms and Conditions tend to be the same across websites such as a ban on illegal activities, reverse engineering the website, harassing other users, etc.
Payment Terms
This clause protects both your business and your customers by setting boundaries and providing information about things like:
Methods of payment you'll accept (like credit cards, bank transfers etc)
Results of missed or unmade payments
Accepted currency
How you handle refunds
Failure to include this clause can make receiving payments difficult, as there will be nothing outlining when customer accounts need to be settled.
E-commerce clothing giant Missguided lists its accepted payment methods in its Terms of Sale as well as the currencies the company accepts:

It also addresses things like credit reference searches and the fact that all ordered items remain the company's property until they're paid for in full.
Delivery/Shipping Terms
This clause simply needs to detail when, where and how delivery will be made. It can also include things like international shipping guidelines, additional freight costs and available methods of tracking.
It's essential for an e-commerce site, because you'll be delivering products potentially all over the globe. It can indemnify you in case of undelivered or unaccepted goods, or products that are lost along the way.
Innovation Affairs has a few detailed clauses that address different aspects of delivery: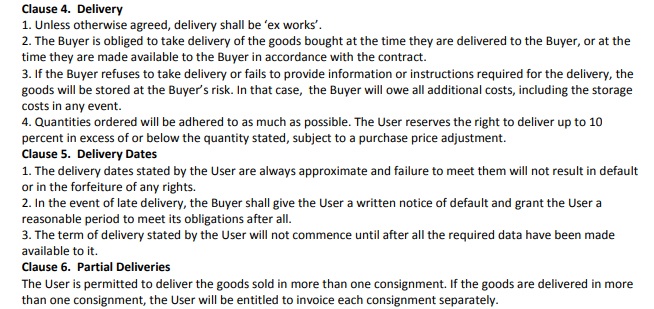 These clauses work to specify the buyer's obligations, namely their obligation to accept delivery, and the parameters around the cost of an unaccepted delivery. They also work to manage buyer expectations when it comes to delivery dates.
Refunds and Returns
The Refunds and Returns clause relates to the process around how your company intends to respond to refund/return requests. There are different ways you can handle these matters, but however you do it, you should put it in your Terms and Conditions.
For example, Dropbox does not offer refunds and this is stated plainly in its Terms of Service in a Paid Accounts section that covers other aspects of payment, such as billing and changes:

You can combine many points of information into one clause like Dropbox has if this suits your e-commerce store. Or, you can use a few separate clauses.
Right to Cancel
The Right to Cancel clause dictates when a customer can and cannot cancel an order.
Myer Australia has a great example of a Right to Cancel clause in its Online Shopping Terms and Conditions. It's referred to as an Order Cancellations and Returns clause. In it, a range of reasons why customers can potentially cancel orders, legitimate reasons for refunds, and circumstances they won't accept (like if a customer changes their mind) are specified: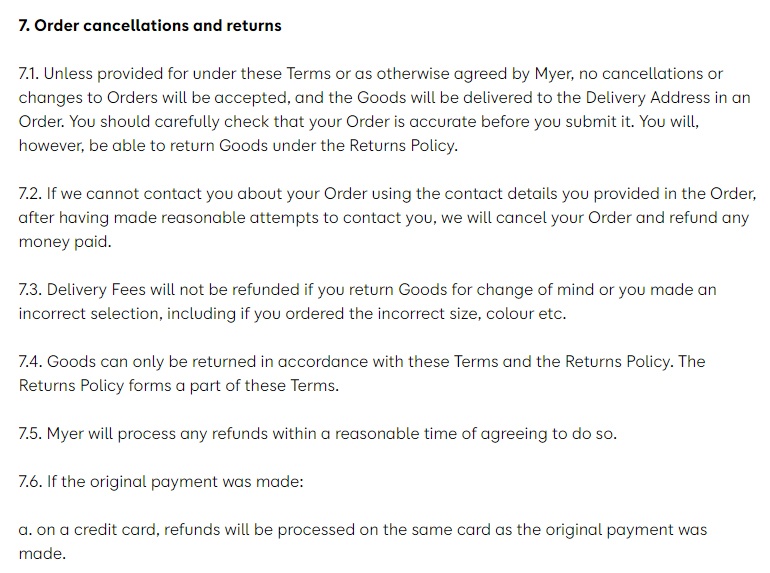 Governing Law and Jurisdiction
E-commerce sites potentially service customers from any country. This means potential legal issues can arise in any country. Without a Governing Law and Jurisdiction Clause, you're liable to receive the full effects of the law from the country where the claim is held.
But this clause means you're able to dictate which country your governing law is, which means you won't face the uncertainty and inconvenience that can come with overseas legal issues.
Wish has a Choice of Law & Jurisdiction Clause that holds its Terms and Conditions in accordance to the law of the State of California:

So, any issues that might occur between the company and its customers will be sorted accordingly with California law regardless of where the customer is located.
How to Display Your Terms and Conditions

Once you have a Terms and Conditions agreement for your e-commerce store, the next step is knowing how to display it properly. Remember, your Terms and Conditions are there to protect you and your customers. So it's in both your best interests to place your agreement somewhere noticeable. For most websites, this means a hyperlink in the site's footer, alongside links to your Privacy Policy and other important webpages.
However, for an e-commerce site, that's just not enough.
It's good practice to include a link to your T&C more often, including at your online shopping cart page and check-out pages.
By giving your customers every chance to see your Terms and Conditions, you're covering yourself from the potential risk of a customer saying they "just didn't see them" and taking legal action if something goes wrong.
Amazon includes links to its Privacy Notice and Conditions of Use on its check-out page, right beneath the "Place An Order" button.

This is an effective display of the Terms and Conditions (though they call it "Conditions of Use") being in a high-traffic space, leaving little doubt that the customer is able to see it.
When you're choosing places to display links to your Terms and Conditions, think like a customer. Go through the motions, from browsing products all the way through to check-out, and consider where would be most effective to display them.
If your e-commerce site also has a mobile app, place your Terms and Conditions in an About/Legal page solely dedicated to those legal-specific documents: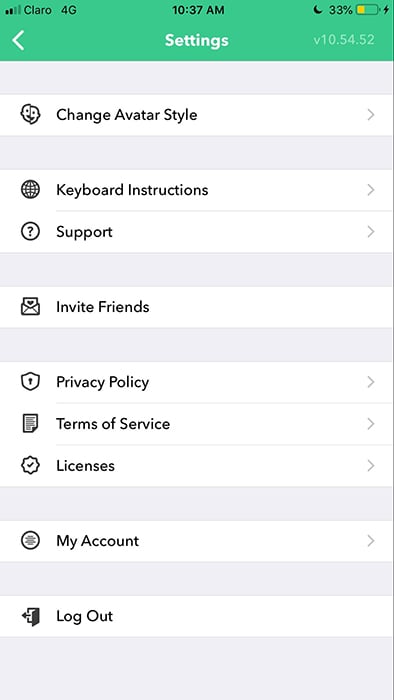 Just make sure your customers are able to find your Terms agreement easily, intuitively and at any time.
How to Get Agreement to Your Terms and Conditions

Terms and Conditions aren't enforceable without explicit customer agreement, which means if anything does go wrong and legal action is taken, it leaves you wide open to potential damages. The best way to get this active agreement is through the clickwrap method.
This is a digital prompt that allows customers and site visitors to either accept or decline your policies, and it can be used for both Terms and Conditions and Privacy Policies.
There are various ways you can display and word your clickwrap agreement. Obvious wording such as "By checking this box" or "By clicking 'I accept'" or even "I agree to the Terms of Service" is generally a great approach.
For example, e-commerce site Wish has wording to a similar effect on its site when you sign up for an account: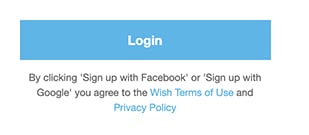 While signing up to Microsoft for an account, users are advised that "Choosing Next means that you agree to the Microsoft Services Agreement and privacy and cookies statement."

For your e-commerce store, this approach can be used when customers check out with their products. For example, you could have "Clicking 'Checkout' means that you agree to our Terms and Conditions" with a hyperlink to the agreement page.
Summary
In conclusion, your e-commerce store isn't legally required to have Terms and Conditions, but it's within yours and your customers best interests to have this agreement.
You can write your own Terms and Conditions fairly easily. Just make sure you include the several important clauses discussed in this article, display it adequately on your site, and get explicit, active consumer agreement through click-wrap methods.
This is the easiest way to protect your e-commerce site. Once you have it done, you can focus on other things, like sales and profits.