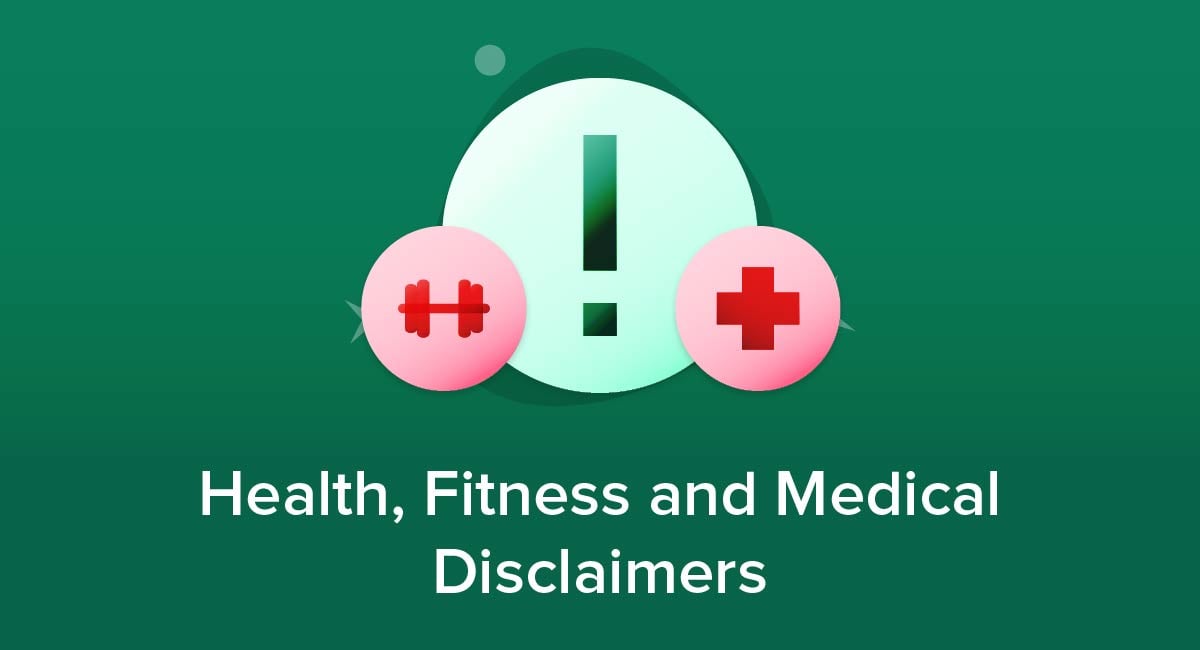 The health and fitness industry is booming, and people are now more often than ever seeking medical or fitness advice from blogs or websites. While this can be a major boost for your company if you are a health, medical, or fitness website, you may be opening yourself up to potential legal issues if you don't protect your site with disclaimers.
Including a medical disclaimer on your website is a simple and effective way to limit liability if a user decides to pursue legal action against you because of the information on your website.
We'll help you determine whether you need one of these disclaimers, why they're important, and how to create and display one.
Our Free Disclaimer Generator is designed to help you comply with the requirements of various affiliate programs, such as Amazon Associates. It also includes various disclaimers like medical disclaimer, fitness disclaimer, website disclaimer and so on.
Just follow these few simple steps and generate a Free Disclaimer for your site or your app:
Start by choosing the "Free Disclaimer Generator" on our site.

Then select where your Disclaimer will be used on:

Follow with adding your website/app information:

Enter the country and click on the "Next Step" button:

Continue with building your Disclaimer and answer on questions about your business from our wizard:

Now just enter your email address where you'd like your Disclaimer sent and click on the "Generate" button.

You're done! You can copy and paste your Disclaimer code into your website/app, or link to your hosted Disclaimer page.
What is a Medical Disclaimer?
A medical disclaimer is a statement by your site or company that notifies users that information on your website is not professional medical or fitness advice and should not be perceived that way. A medical disclaimer may also be referred to as a health or fitness disclaimer, depending on the services your website offers.
Like many other disclaimers, they allow your company to disclaim any liability if a user obtains damages or injuries from following the information on your site. The disclaimer informs users that the tips or meal plans on your site are for "informational purposes" only.
For example, a disclaimer may help safeguard you against legal action when a user was injured doing your fitness plan but they did not seek medical advice before doing so. However, if you didn't include a disclaimer you could be liable for the injuries sustained.
It is not legally required to have a health disclaimer, but not including one could put your website at great risk.
Who Should Use a Medical Disclaimer?

If you feature health, medical, or fitness tips, advice or products on your website or blog, it is highly recommended that you include a disclaimer. This can include fitness blogs, healthy living websites, food blogs, medical websites, and even organizations and hospitals.
If your website isn't primarily a fitness website or medical blog, but you still offer many tips on medicine or health, it might be a good idea to include a simple medical disclaimer with your other disclaimers as well.
How to Create a Medical Disclaimer

A medical or health disclaimer doesn't have to be long or difficult. But, it should be written in a simple and easy way so that users are clear about how they should view your website to avoid misunderstandings.
Make sure to draft your disclaimer so it fits your website. If your blog features healthy meal plans, you may want to include how these meal plans are for informational purposes and users should speak with a dietician before following them. Tailor the disclaimer so it covers all of the information on your site.
We mentioned it doesn't have to be long-winded. A simple disclaimer notifying users that the information on the site is "as is" and for informational purposes can be very effective.
See how the American Cancer Society does it here with a basic disclaimer that the information is for general information only and provided "as is:"

When drafting your disclaimer, one of the first things you should do is state what the website is and what services it provides. This can range from health information to medical tips to weight loss plans.
Along with this, most disclaimers include a statement that the information is for educational, informational, or entertainment purposes. This notifies users the information is not for medical purposes, but for general informational reasons.
Peloton's disclaimer is a good example of how you can do this:

Peloton also states users should "not delay" in seeking out medical advice because they relied upon information on the site. This statement is very important as it further reminds users what they read on the site is not for professional purposes, only informational.
Tone it Up is another example of how to do this. It states that it is not a medical organization and that any information on the site is for "general knowledge only" in this Health Disclaimer clause:

Your disclaimer should remind users that relying upon or following the information on the website is not a replacement for seeking actual medical advice and they should always speak to a doctor before.
Not everyone is physically capable of doing fitness routines or following certain meal plans. Having this clause in your disclaimer can help limit your liability if a user suffers an injury because of this.
NordicTrack includes this clause at the beginning of its notice so users won't misunderstand:

You'll find some disclaimers include the statement "results may vary." Not every site will need to include this, but they are commonly found on fitness or weight loss websites. It's a good way to remind users the information on the site is for general purposes and that results from other users that are on the site are not guaranteed.
Nerd Fitness includes this small disclaimer on every page in the footer of its website:

If your site includes images or graphics, you may want to include a clause about these in the disclaimer as well. People don't only rely upon text for information, but graphics and photos as well.
Amita Health is a good example of how to do this:

For websites or blogs that feature tips on weight loss or offer weight loss plans, having a specific statement in your disclaimer that lets users know they should seek medical advice before following the weight loss plan is highly recommended.
Take a look at how Weight Watchers does it in its Health Notices: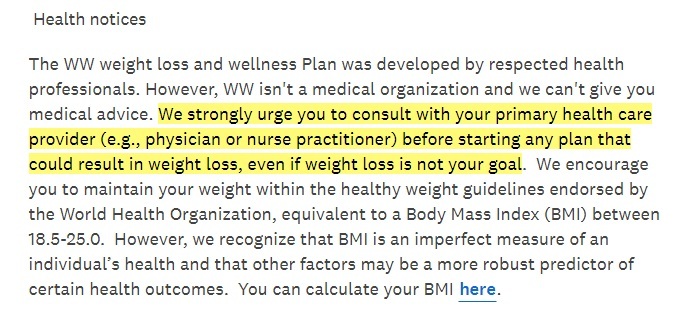 Medical or health disclaimers don't just have to be about weight loss or fitness tips. They can be a way to notify users of what is used in products, such as nuts or gluten, and whether users should avoid using the products if they are allergic.
Daily Harvest states in its health disclaimer if users are deathly allergic to nuts they should not use the service. It also reminds users that the company is not a health company, but simply a prepared meal plan company:

Hospitals or clinics are not immune to this either. You'll find many hospitals including a disclaimer on their website. Some of these go a step further by stating information on the website doesn't create a doctor-patient relationship and users should still seek actual medical advice, as the Cleveland Clinic does here:

Remember, the point of your disclaimer is to inform your users while limiting your own liability. So, make sure it's informative enough to let your users know they should rely on more than just your website when it comes to health, fitness and medical endeavors.
Once you have your disclaimer ready, it's time to put it to use and display it on your website or blog.
Where to Display Health, Fitness and Medical Disclaimers

Health disclaimers can be displayed on multiple locations on your website. Since it is not legally required to have a disclaimer, where you place them is entirely up to you. However, wherever you end up displaying them, they need to be clear and easily accessible if you wish for them to be effective.
The most common place you'll find a health or medical disclaimer will be in a website's Terms and Conditions agreement. This agreement also states how users may use and interact with a website, so it's a good place to include this disclaimer.
Weight Watchers even includes a link directly to its Health Notices so users can easily jump to the specific clause in the Terms and Conditions: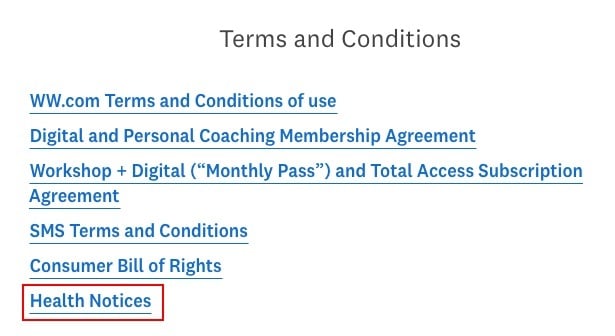 In fact, almost all of the examples in the previous chapter of this article were taken from Terms and Conditions agreements.
You can also include a simple disclaimer at the bottom of every webpage on your site.
WebMD has a single-sentence disclaimer included in the footer of every page of its website, with a link to a bigger disclaimer page:

Disclaimers can have their own page as well, likeWebMD does here. When you click on the Additional Information link you'll be taken to a page with a robust disclaimer on it: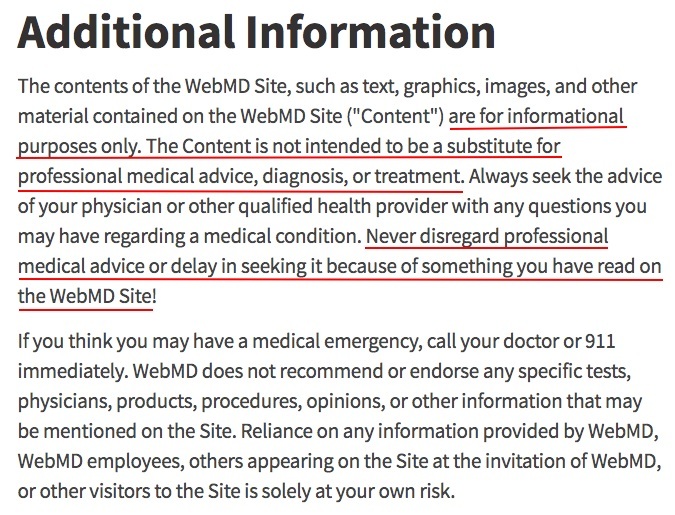 You can also link your disclaimer page in the footer or menu bar of your website without the short summary text that WebMD uses:

It's a good idea, and recommended, that you have disclaimers in multiple areas. Even if you include a general disclaimer in the Terms and Conditions, you can have another one at the bottom of your main page or near your content.
This ensures that people on your website are far more likely to see your disclaimer than if it was only in one location.
Summary
In summary, if your website or blog features tips or information on health plans, fitness routines, or medical treatments, it's highly recommended that you include a disclaimer.
These disclaimers don't have to be long or confusing. However, you do need to make it clear that the information on your site should not be perceived as professional or medical advice.
Remind users that they should speak with a doctor or talk to a professional before following any information they may find on your website. Also make sure to disclaim any promises or guarantees about results.
If you don't include a disclaimer that notifies users of this, you could potentially be leaving your website open to legal actions.
Add your disclaimer to at least one of the following places to display it:
In your Terms and Conditions agreement
Website footer
On a separate web page that you link to strategic areas of your website