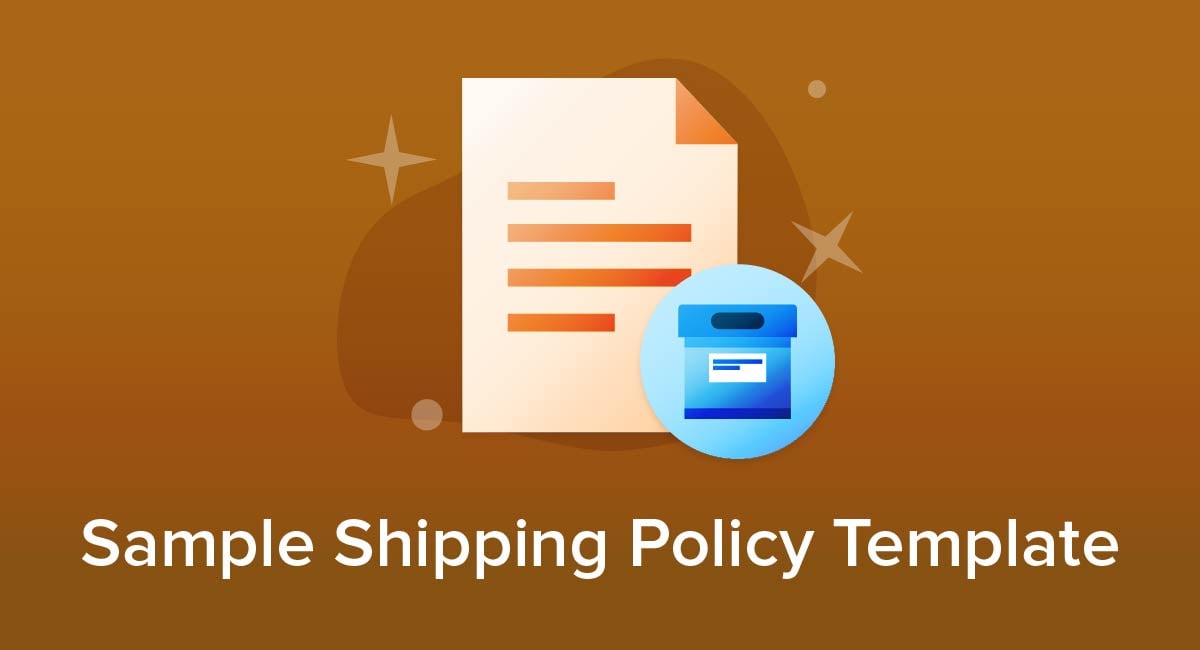 A Shipping Policy is a document that details your company's procedure for shipping out consumer goods. Any business or company that sells goods or products that are shipped to customers after purchase should have a Shipping Policy.
This policy provides vital information to consumers concerning how long before their package ships, how long shipping will take, what it will cost, what methods are available for shipping, and more.
Let's look more at these important policies, why you want one, and how you can create your own.
Use FreePrivacyPolicy.com to generate the necessary legal agreements for your website/app:
You check our Free Cookie Consent to start making your business legally compliant with the Cookies Directive in the EU.
Why You Need A Shipping Policy
Having a Shipping Policy in place will give your customers an idea of what to expect when they purchase a product from you that will be shipped to them after purchase.
This includes:
What a customer can expect to pay for shipping
How long a shipment may take to arrive
What shipping options and pricing you have available for customers to choose from
What shipping carriers your company uses
While a Shipping Policy is not a legal requirement, unlike some other business policies, it is a good idea to have one in place. Having a Shipping Policy offers your customers valuable information that could help them make an informed decision about purchasing from your company.
Without a Shipping Policy, it may take your customers too long to figure out shipping costs, carriers you use, or how long a shipment will take to reach them. If this is the case, many customers will decide not to go through with a purchase and may go to a competitor who has a clear Shipping Policy in place, thus losing business and revenue for your company.
What Your Shipping Policy Should Include

Here are a few important sections and pieces of information to include in your Shipping Policy.
Shipping Prices: An overview of the different price options for varying levels of shipping services. (Standard shipping, overnight, expedited, etc.)
Carriers: A list of the carriers your company uses to ship products to customers. (USPS, UPS, DHL, FedEx, etc.)
Options for Payment: The different types of payment your company accepts for shipping costs and how those payment methods are processed.
Restrictions and Guidelines: This should include the types of residences you will or won't ship to, whether or not you can ship to a P.O box, and other relevant information.
International Shipping Options: Your company's policy for shipping outside of your country, to different territories, across continents, etc. (International pricing, customs and tax guidelines, extra costs, etc.)
Let's look at these and a few others, more in-depth and with examples from actual shipping policies.
Shipping Methods and Prices
Pricing for different shipping methods is the number-one piece of information a customer will search for in your company's Shipping Policy. Customers want to know how they can have their purchases shipped, and what each method will cost them.
Michaels' Shipping Policy offers a great example of a method and pricing section with a detailed table that shows different product prices, the shipping methods the company offers, and how much each shipping method will cost depending on the total paid for the product purchased.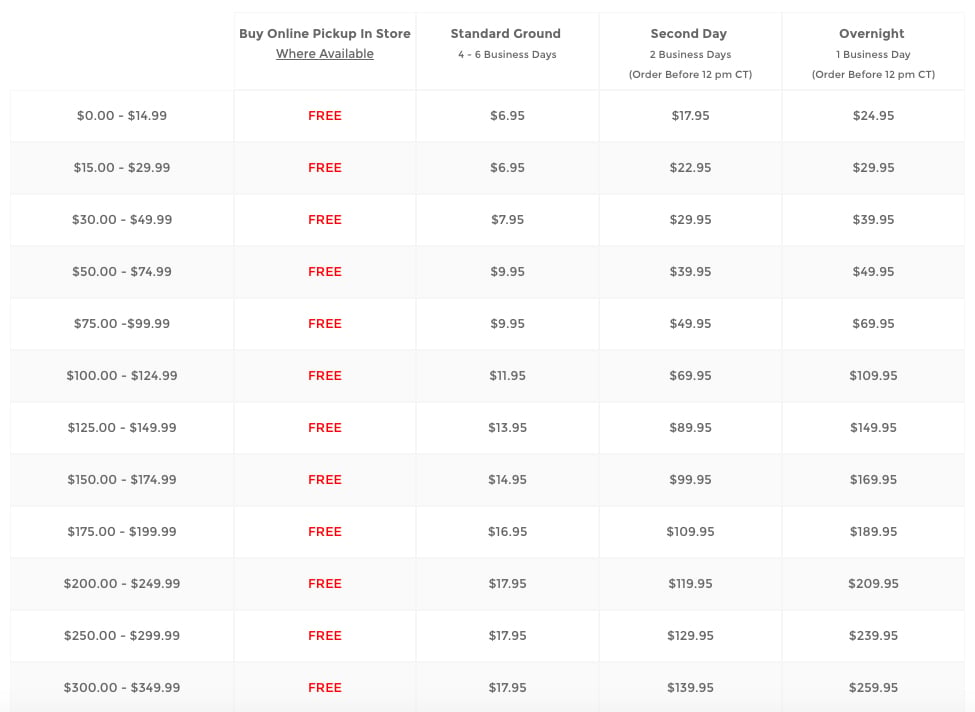 Michaels also breaks down details of each type of shipping it offers, from Standard Ground to Next Day delivery.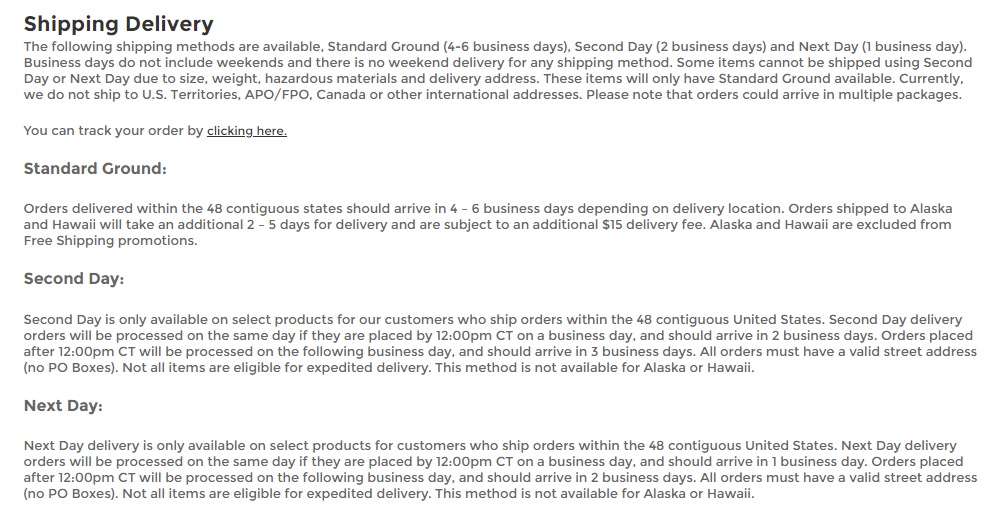 Payment Methods
Let your customers know what payment methods your company accepts, as well as any other payment guidelines or restrictions that may exist.
Walmart has a detailed and informative section on its website that tells its customers very clearly what payment methods it does and does not accept.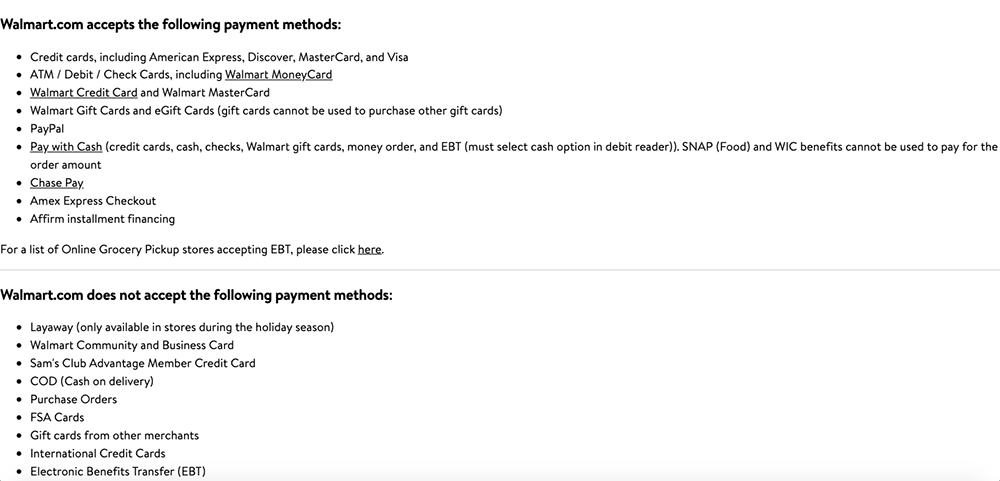 You can include a list of any payment methods you accept and a list of any you don't accept in your Shipping Policy.
Locations Your Company Ships To
This section is where your company tells customers where it does and doesn't ship to. This section should include:
Whether or not your company ships internationally
If your company ships to both commercial and domestic addresses
Whether or not customers can have products shipped to a P.O. Box
Bloomingdales' Shipping Policy includes information on shipping orders in multiple shipments, to multiple residential addresses, and that they are able to ship to P.O. Boxes, APO, and FPO addresses using USPS.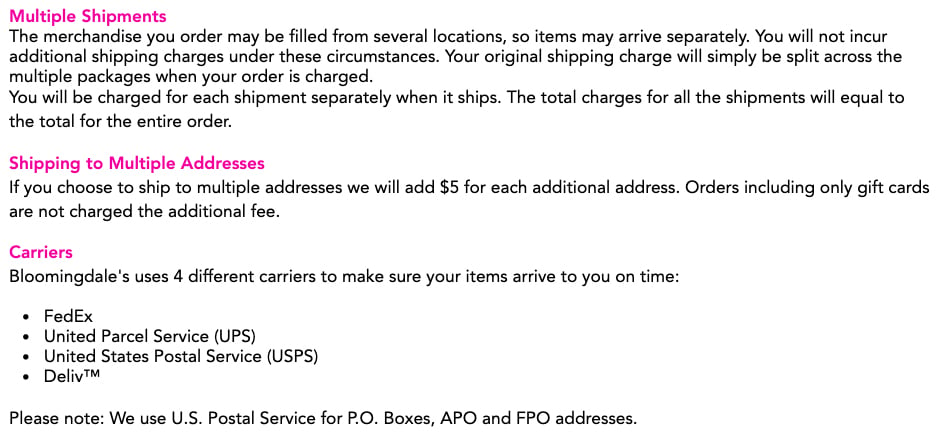 It's a good idea to include any different options your company offers, as shown above, as well as anywhere or any addresses your company can't ship to. The more information a customer has available to them, the better informed they will be on their decision to purchase from your company.
International Shipping, Customs and Duties
The internet and ecommerce have opened up a whole world of opportunities for companies, and that means that companies with an online store may get customers from all over the world.
It's important that your company's Shipping Policy includes information for customers in different countries. Let your customers know whether or not you ship internationally, how much international shipping will cost them, and what they need to know about customs and other important factors.
The Global Healing Center Shipping Policy has a comprehensive section on international shipping from their acceptance of international shipping and selecting a carrier to customs, duties and permissions.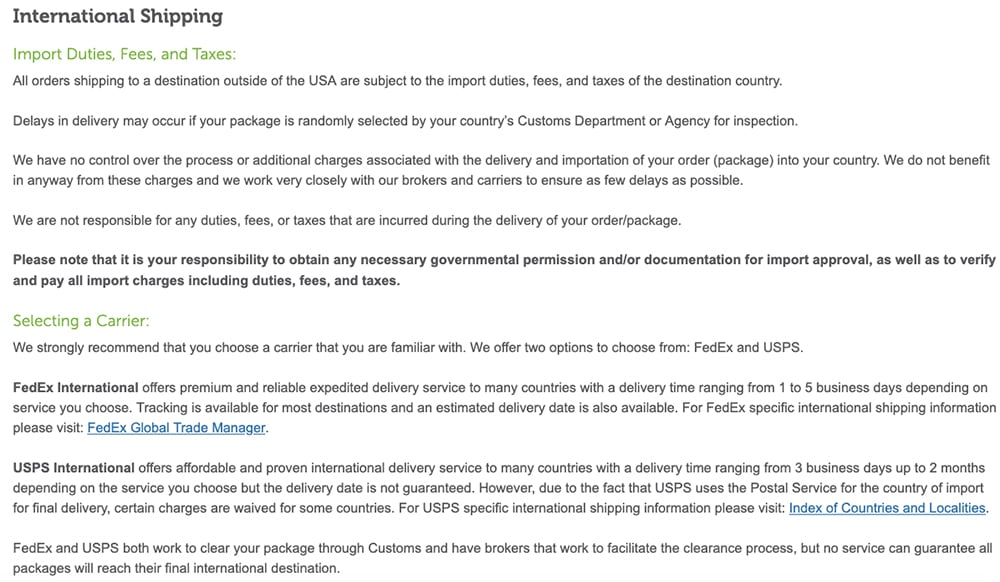 Expected Shipping Timeframes
Consumers want to know how long a product will take to get to them. Your Shipping Policy should include shipping estimates for each shipping option or carrier.
Bloomingdales includes simple tables that show expected shipping and delivery times based on type of shipping and when an order was placed. This offers a lot of good information to the consumer about when to expect their package.
Handling Time
Handling time refers to the time between a consumer purchasing a product and the company shipping the product. The above example from Bloomingdales includes an estimation of handling time by showing when items will ship out in relation to when they are purchased.
While many companies don't have a dedicated section to handling time, they're still sure to include the information within their Shipping Policy.
Other companies, however, such as Planet of the Vapes, have a section dedicated to their Handling Time policies, as can be seen below.

Handling time should not be confused with shipping time. Shipping time refers to the time it will take for a customer's order to get to them once it has been shipped and is in transit with the carrier. Handling time refers to the time between a customer completing an order and the item being shipped out.
Where to Display Your Shipping Policy

There are a few key places you should have a link to your Shipping Policy that will help customers as they browse your website, look at products, and purchase products.
Displaying a link to your Shipping Policy in various places throughout your company's website will ensure that consumers always have access to shipping information when they need it.
In Your Privacy Policy
Your company's Privacy Policy is one place customers will go to view the company's policies, legal restrictions, and more. Because this page is one consumers often go to for information, it's a good idea to have a link to your Shipping Policy here.
Michaels is a good example of having links to other important policies accessible from the Privacy Policy page. As you can see in the image below, a customer can access the Shipping Policy, return policy and more from the convenient menu on the left side of the screen.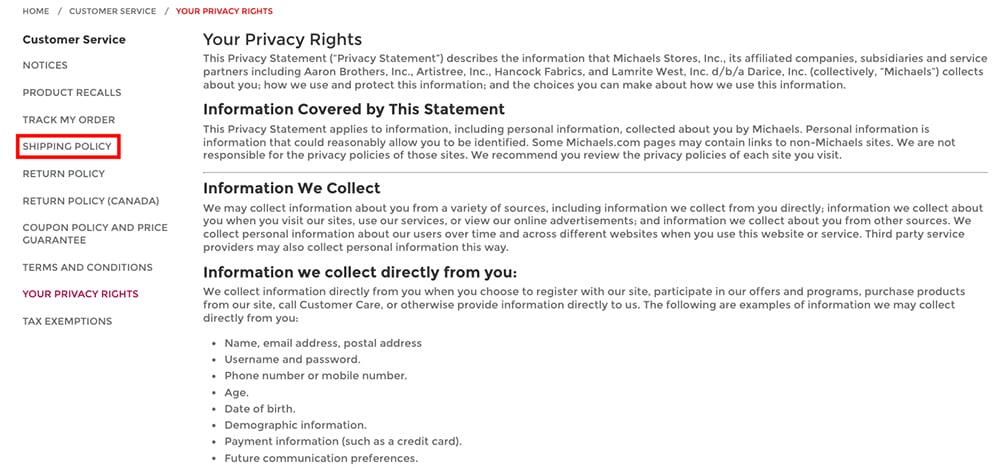 In Your Website Footer
The footer on a website generally is present throughout the site, regardless of the page the person is viewing at the time. For this reason, many websites include links to the most important information in their footers such as the Privacy Policy, Shipping Policy and more.
Your company's website should have a link to your Shipping Policy within the footer to make it easily accessible.
Torrid has a link to its Shipping Information in its footer under the Customer Support column. This allows their customers to easily locate their Shipping Policy.

At Checkout or During a Purchase
Within many ecommerce platforms you have the option to include a link to different policies at checkout or when a customer adds an item to their cart or bag. Though it isn't necessary, it is another way to ensure your Shipping Policy is easily accessible to customers.
Torrid includes an information icon at its checkout page and when a customer hovers over it, they're presented with detailed shipping information.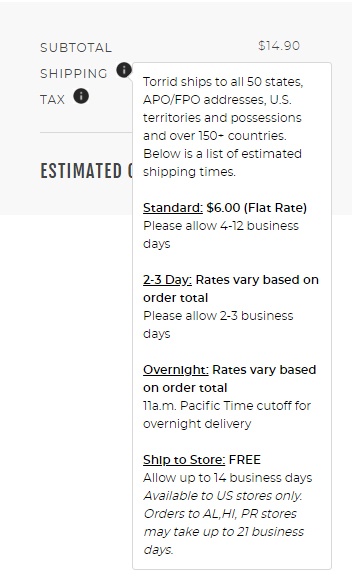 In a Help or Customer Care Section
Another way to display your company's Shipping Policy and other important policies and information is by including a Help or Customer Care section on your website. This section would include all of the different important policies and information, such as a Shipping Policy, and would allow the customer to easily go from one policy to another.
In the below image from Torrid we can see their "How Can We Help?" section. This page is Torrid's Shipping Policy, and the sidebar includes the links to all of the other policies and help pages available.

Having a Shipping Policy is important for any company selling products online. Having a clear and easy-to-read Shipping Policy linked in multiple places on your company's website will help your customers make informed decisions about purchasing and shipping products, and it will help your company keep your customers happy.