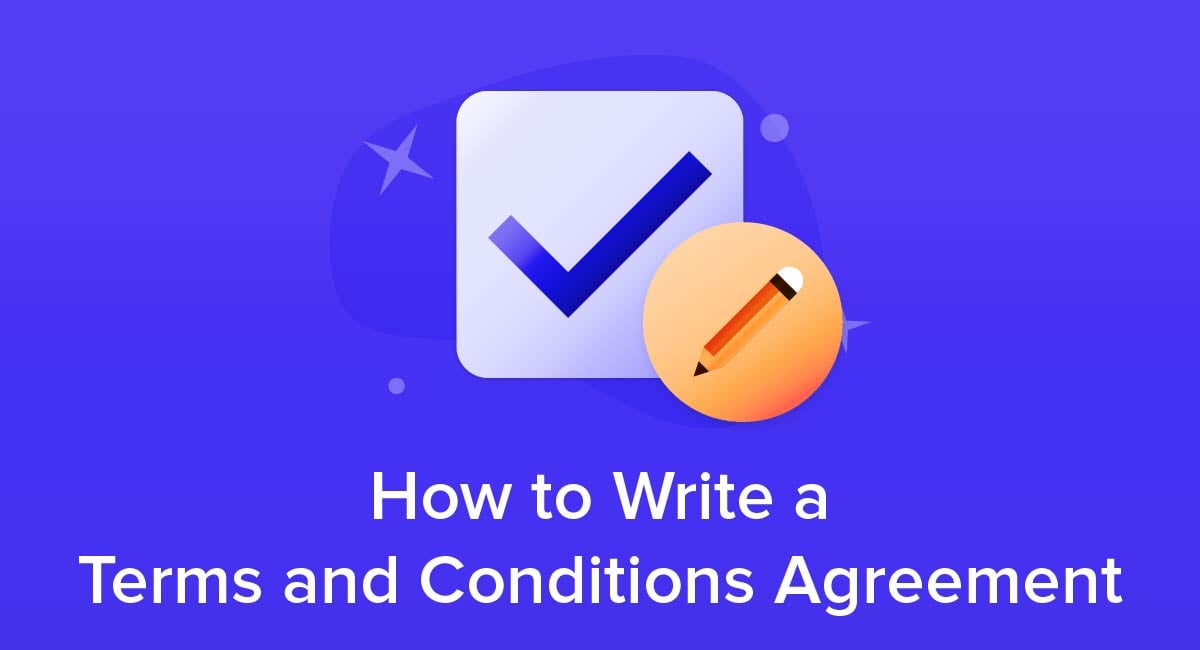 A Terms and Conditions agreement (T&C) helps to protect your business by creating a set of rules that anyone using your website or app must agree to. It essentially creates a contract between the end user and your business.
We'll show you what information you should include in your T&C, where to display it and the best way to get your users to agree to it once it's in place.
Why Should I Have a Terms and Conditions Agreement?
While there's no legal requirement to have a Terms and Conditions agreement, there are a lot of benefits to having one.
One of the main benefits of the agreement is the ability to define the responsibilities and duties of your business and your customers. You can also create clear payment terms, inform people what is classed as acceptable and unacceptable use of your website and tell people what happens if they fail to abide by the terms of the agreement.
In addition, you can use the agreement to protect your intellectual property, limit your business's liability and include any legally required disclosures.
Clauses you Should Include in your Terms and Conditions Agreement
You should always tailor your Terms and Conditions agreement to meet your business needs, however here are some clauses that you will probably want to include no matter what industry you're operating in.
Scope of Services
A great way to start your Terms and Conditions agreement is to explain what products or services you provide.
Facebook uses the first clause in the company's agreement to tell customers about the service it provides and what its mission is: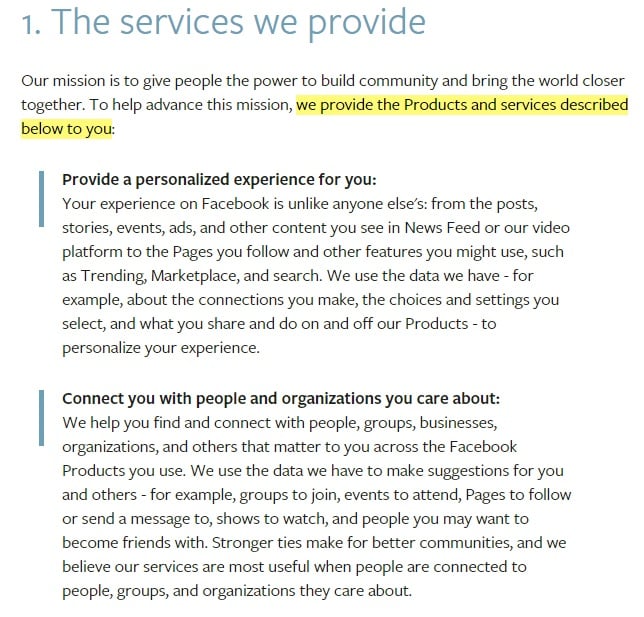 Changes to the Agreement
Whenever you make a change within your business, or if there's a change in the law, you will want to update your T&C to reflect it. Your agreement should contain a clause that reserves this right to update it, and let users how they will be notified of any updates.
Spotify UK informs users that the company may make changes to the terms and tells them why this might happen. The clause also states how users will be informed about material changes to the agreement, for example, via email or a notice on the website:

Similarly, Airbnb states that the company can modify the Terms at any time. The clause also advises users how they will be notified of any updates and how much notice they will be given:

Prices and Payment Clause
This is a really important clause to include as is allows you to tell users:
Where to find your prices
Whether your prices include VAT
What currency your prices are in
When payment is due
What payment methods are accepted
What happens if a payment is not received
This clause will help to avoid payment disputes and misunderstandings.
HelloFresh makes it clear that the company can adjust its prices at any time and that the prices are in U.S. dollars.
The company also advises which methods of payment the website accepts and what happens if the payment fails. Since HelloFresh runs a subscription service, part of the clause advises customers what happens if their price plan changes: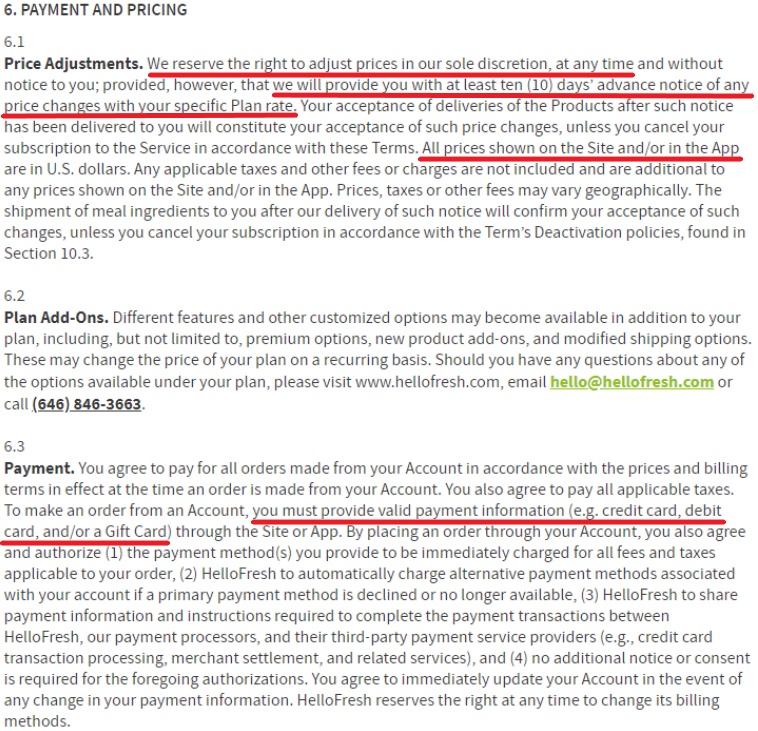 Retailer IKEA uses a payment clause to tell customers what payment methods are accepted and when payment will be taken:

Limitation of Liability Clause
This clause is important regardless of the size of your business as you can use it to limit the amount of damages your business is liable for.
You can also use this clause to tell consumers that your company is not responsible for inaccurate information on your website or app.
Amazon UK states that the retailer will not be liable for any damages arising from the use of any of the company's services: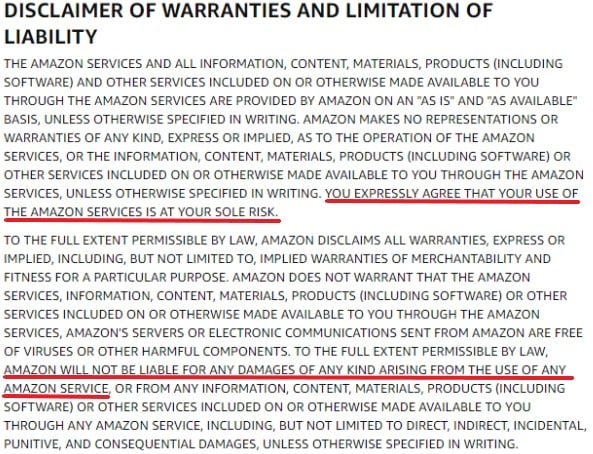 King Games includes a limitation of liability clause which states that the company isn't liable for damages resulting from the use or malfunction of its games or services.
Additionally, the clause says that the company's liability will never exceed the price paid by the customer for any part of the games or services: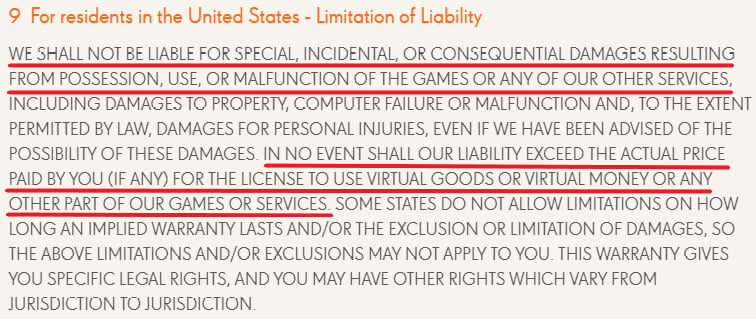 Governing Law Clause
This short clause simply states where your company is based and tells the user which country's laws govern the agreement.
UK retailer Cult Beauty advises that the site's Terms and Conditions are governed by English law and that any dispute will be subject to the jurisdiction of English Courts:

Similarly, U.S. retailer Tarte Cosmetics advises that the site's Terms are governed by the laws of New York:

Acceptable Use Clause
The purpose of this clause is to encourage consumers to use your app or website appropriately. To make sure users understand what conduct is unacceptable, this clause should define what behavior is considered abusive or inappropriate.
It should also tell the user what happens if they violate the terms of this clause.
TikTok uses a bullet point list to detail unacceptable use of its service.
The list includes the following unacceptable behaviors:
"making copies of content, using the platform to advertise services, interfering with the functioning of the service, using automated scripts to collect information, using another person's account without their permission, using TikTok to upload or transmit viruses, uploading defamatory or discriminatory materials, threatening people, inciting criminal offences, bullying, trolling and provoking people."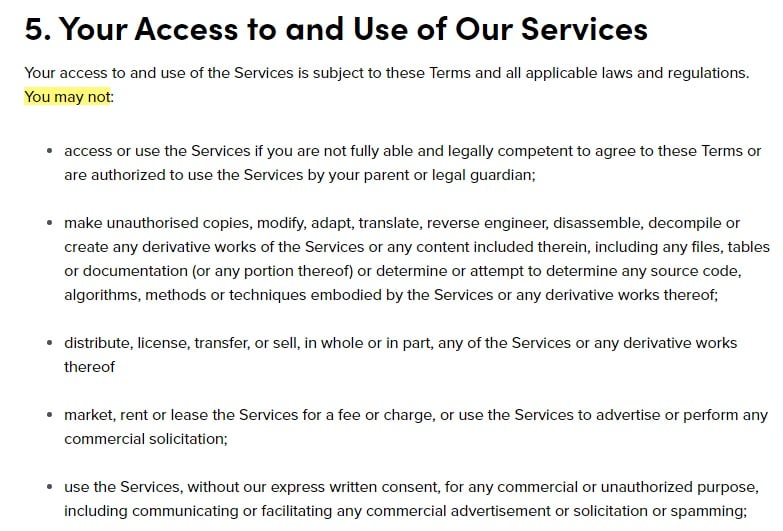 Depending on the nature of your business, the activities you'll want to prohibit may vary, but the ones in the list above are fairly general and applicable to almost all businesses.
User-Generated Content
If your website or app accepts user-generated content (such as blog posts, photographs or tweets), you should include a clause regarding this in your Terms and Conditions agreement.
This is important because allowing user-generated content has the potential to expose your business to copyright infringement and inappropriate content.
To protect your business, you should include a clause stating what user-generated content is acceptable and what is not acceptable. For example, you may wish to clarify that content the user uploads must belong to the user and must not contain abusive or derogatory language.
TikTok advises of the type of user-generated content that may be uploaded e.g. text, videos, sound recordings and photographs.
The Terms agreement makes it clear that all user-generated content must comply with the company's content guidelines as well as the rules set out in the agreement's acceptable use clause.
It also states that any views expressed in user-generated content are the views of the users alone i.e. they are not the views of TikTok and do not represent the company's values.
The clause also states that the user must own what they are uploading or have the owner's permission to upload it.
In addition, TikTok's Terms state that if a user breaches these terms, and the breach results in damage to the company, the user will be liable for this: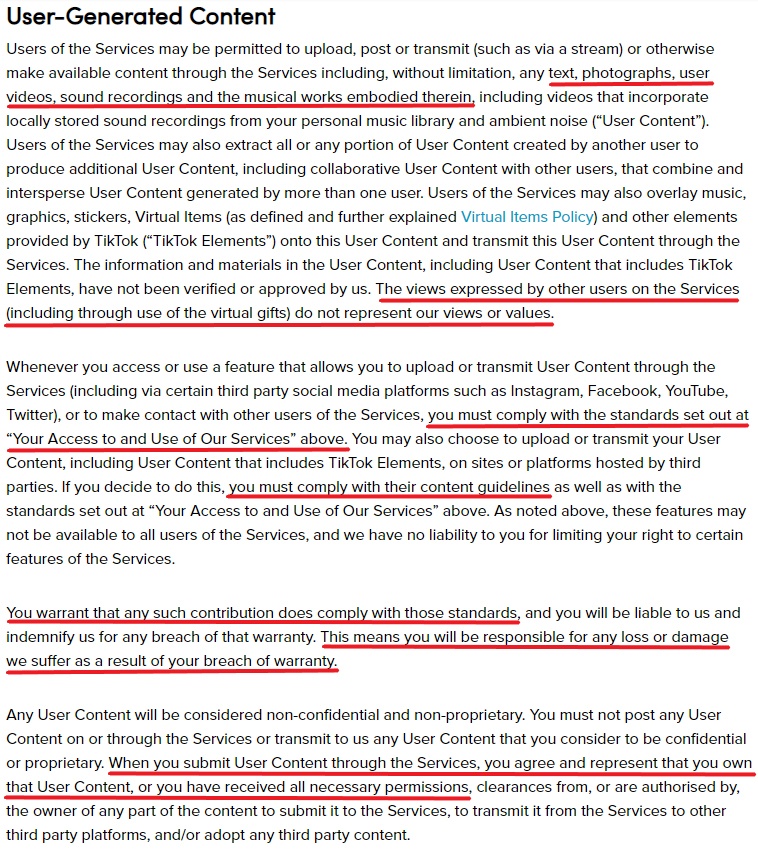 The clause goes on to clarify that TikTok accepts no liability for any user-generated content and provides consumers with a way to complain about any content uploaded by other users:

Spotify UK also has a user-generated content clause. The clause gives examples of what counts as user-generated content.
It also states that the person posting the content:
Must own the content or must have the right to post it and
Must not violate any of the Terms, guidelines or the law
The company also tells the user that the service has the right to remove access to user content for any reason and at its sole discretion.
Finally, the clause confirms that the user is solely responsible for the content they post and states that the user agrees to indemnify Spotify against all damages arising from a claim relating to user content they have posted:

Intellectual Property Clause
Your Terms and Conditions agreement is a great place to let users know what intellectual property you own and what they can and cannot do with. This helps to avoid misunderstandings and accidental breaches.
Remember to include all intellectual property. This may include your logo, photographs, videos, scripts and other graphics and visual media.
Walmart makes it clear that all materials on the Walmart website belong to the retailer. The company also tells users what use is permitted, for example, accessing, viewing and downloading materials for personal, non-commercial use.
The clause clearly states what cannot be done with the materials, for example, users are not allowed to publish or modify the website's materials. Lastly, the retailer identifies its trademarks:
Tarte Cosmetics advises that all website content belongs to the retailer and states that all trademarks and logos are the registered and unregistered marks of the company.
The retailer tells users that they are not entitled to use, reproduce or modify any of the website's content without written content. Finally, the clause states how users can contact the company for consent:

Termination Clause
This clause gives you the right to terminate customer accounts, ban users from your website or app and to place restrictions on users. You may wish to do this if a customer used your website inappropriately, for example, if they were writing abusive messages on your website's forum.
The clause should inform users that your business can terminate their accounts without giving a reason or notice and that it will not be liable for any resulting loss.
Spotify UK includes the following clause which tells users that the company can terminate their service at any time. The company adds that they accept no liability for this and will not refund any money that has already been paid.
In addition, the company informs the customers of their right to terminate the agreement at any time:

Costco makes it clear that the retailer reserves the right to terminate accounts without notice and at its sole discretion:

Contact Clause
This clause simply tells consumers how they can contact your company. If possible, you should include a postal address, email address and phone number.
Spotify UK provides a postal address for users to contact the company:

Costco advises that customer services are available via phone and online chat. The retailer also provides a written address:

Those are many of the main clauses you should include in your Terms and Conditions agreement. Again, while every business will have different needs and practices when it comes to the specific content of each clause, you should use these as a starting point to create your own T&C agreement.
Our Free Terms and Conditions Generator is created to help you generate a professionally drafted agreement that can include various terms and conditions for your site and/or app.
Start the Free Terms and Conditions Generator from our website.
Select platforms where your Terms and Conditions will be used (website, app or both):

Answer a few questions about your website or app information:

Select the country:

Answer a few questions about your business practices:

Enter your email address where you'd like to receive the new Free Terms and Conditions and click "Generate":

Once generated, you can copy and paste your Free Terms and Conditions agreement on your website or app or link to your hosted Free Terms and Conditions page.
Where to Display your Terms and Conditions Agreement

There are a few ways to display your Terms and Conditions agreement. It's particularly important to display your T&C whenever you need the consumer to agree to it prior to proceeding with your website, business or service.
For example, you may need the user to agree to your Terms prior to registering an account or making a purchase through your website or app.
Below are a few examples of how and where to display your Terms and Conditions agreement.
Website Footer
Nearly every business displays its Terms and Conditions agreement in the website's footer and there's a good reason for this. It's good business practice since users tend to check the footer for important links.
Displaying your agreement in the footer enables anyone using the website to read the Terms whenever they want to.
Here's how Costco displays its Terms and Conditions agreement in its website's footer:

However, it's important to realize that users do not have the ability to actively consent to your Terms and Conditions when it's placed solely in a website's footer. For this reason, your T&C should also be included in a more prominent location.
Sign-Up Forms
You should include your Terms and Conditions agreement on your sign-up page if your website or app requires users to register an account. You can (and should) also include this on email newsletter sign-up forms.
Here's an example from Spotify: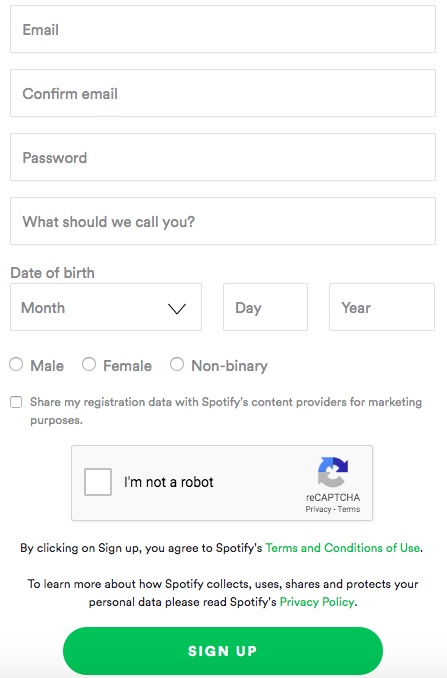 And here's another from Fossil: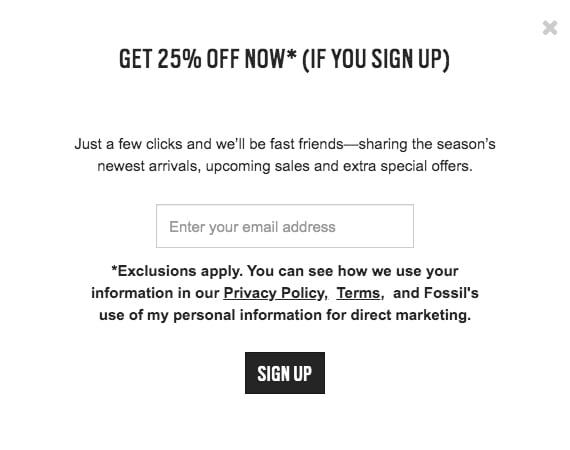 You can see how linking it to areas where you're about to enter into a relationship with a user is smart. This helps the user have access to the Terms that will dictate that relationship, seen in all the clauses discussed above.
At Checkout
If your website or app has a checkout page you should display your Terms and Conditions agreement on it. This ensures that all of your customers have seen your Terms and it is also a great place to get customers to consent to your terms.
Retailer elf Cosmetics displays its Terms of Use at the point of checkout. The retailer states that by placing an order you agree to the Terms: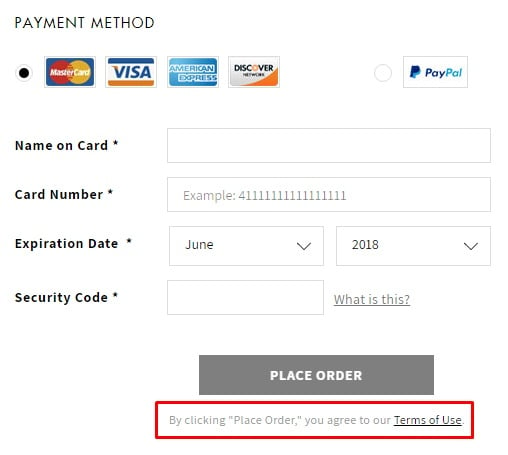 Retailer Debenhams displays its Terms and Conditions agreement at checkout and states that by placing an order, the customer is agreeing to the Terms: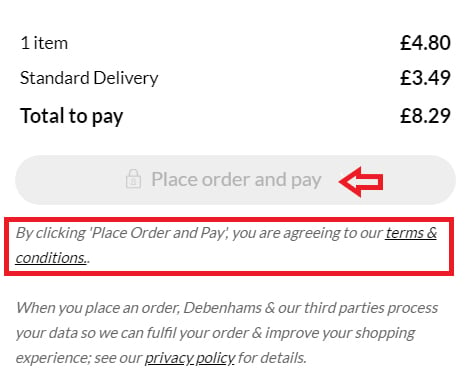 Overall, it's best to use multiple methods of displaying your Terms and Conditions agreement so that your users have consistent access to it, and are also reminded about it at times when it may be more relevant to them.
How to Get Agreement to your Terms and Conditions
You must get users to agree to your Terms in order for it to be legally enforceable. The best way to do this is to use clickwrap. Clickwrap requires the user to take some form of action to consent to your Terms, the most common being checking a box or clicking on a button that states 'I agree.'
If you don't use clickwrap, your Terms may not be enforceable.

HelloFresh includes the Terms and Conditions agreement at the point of sign-up and requires the customer to tick a box confirming they consent to the Terms: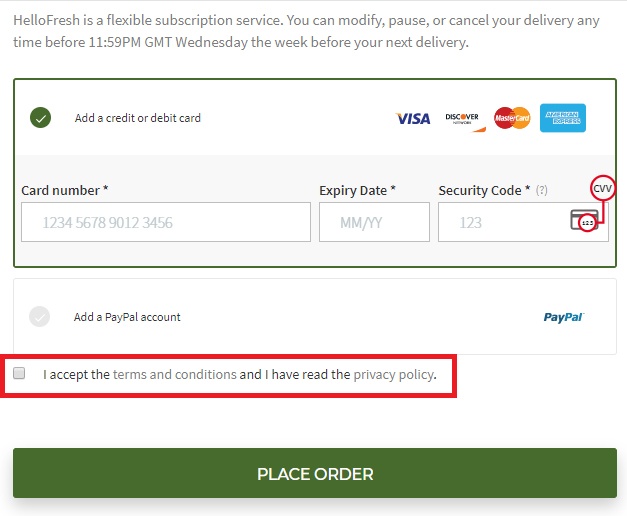 Amazon Web Services also uses clickwrap to get agreement to its Terms at the point of registration. The company includes a box which the user must tick to confirm that they agree to the customer agreement: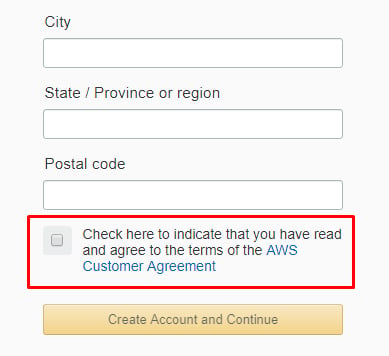 Subscription service FabFitFun uses a labeled button to get agreement instead of a checkbox. displays the Terms agreement on the company's checkout page.
At the point the customer sign-ups for the subscription service, they are required to click a button labelled 'order the box.' The website states that by clicking this button the user has signed up for the service and agreed to the Terms: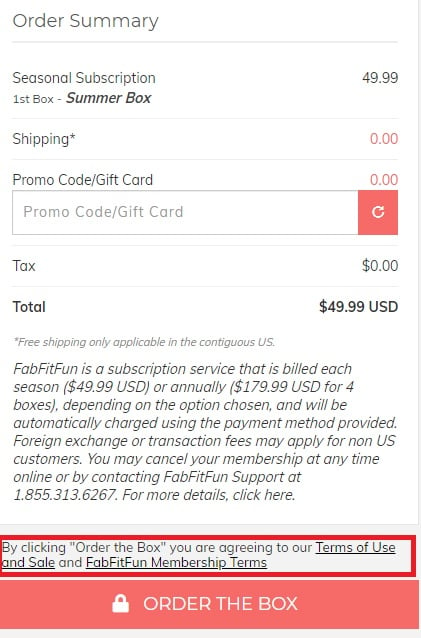 Summary
A Terms and Conditions agreement let's users know what is expected from them and what they can expect from your business. It creates a contract between your company and the end user.
Ideally, the agreement should include clauses relating to the scope of your company's services, acceptable use, payment terms, intellectual property, limitation of liability, user content, account termination and contacting your company.
It's best to display your Terms and Conditions agreement in multiple locations to ensure that users are able to access them. For example, you may wish to display your agreement in your website's footer, at checkout and during account sign-up (if applicable).
To ensure that your T&C is legally binding you should use clickwrap to get agreement from the user. Remember that clickwrap requires users to be proactive in consenting to your Terms.
A good way to gain the user's consent is to include a link to your Terms and Conditions, coupled with a check box which the user must click to confirm that they agree to the Terms.
Having a solid Terms and Conditions agreement in place and getting equally solid agreement from your users will allow you to enforce your rules and guidelines whenever needed.
And displaying your T&C appropriately so it's easy to access and find will help your users or potential users find out more about your guidelines, making the interaction better for both parties.