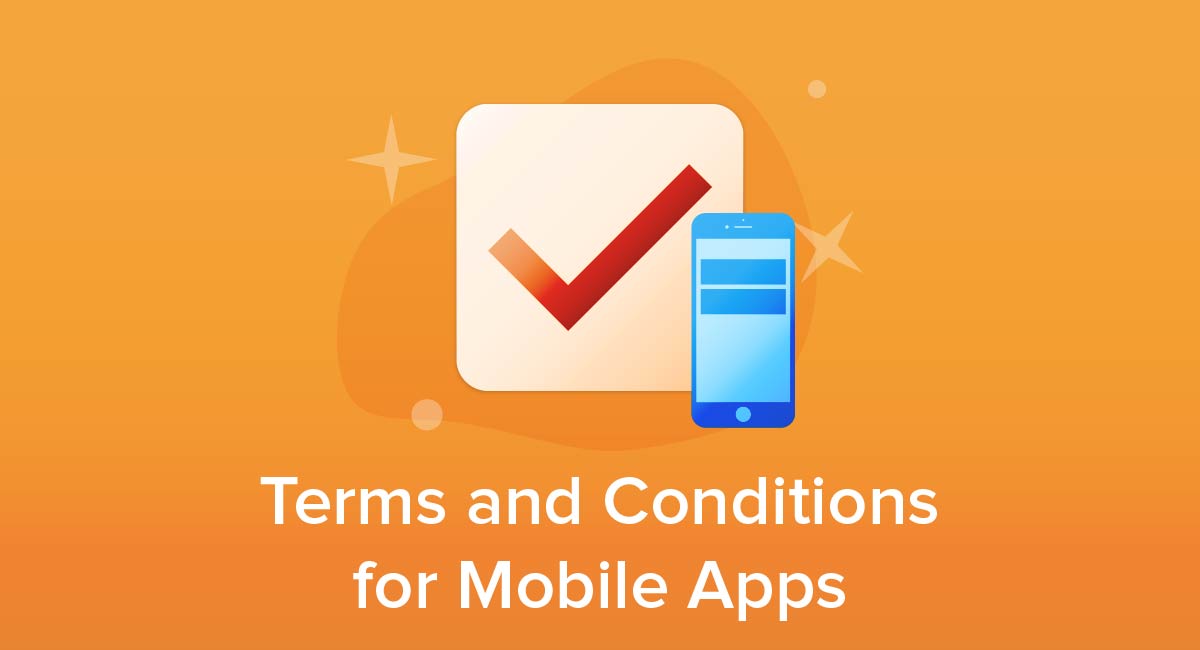 A Terms and Conditions (T&C) agreement for your mobile app will help you maintain control over your app while limiting your legal liability.
These agreements are also referred to as Terms of Use or Terms of Service agreements, but they all function in the same way.
This article will detail what Terms and Conditions are, what benefits they provide for developers of mobile apps, what you should include in your own T&C, how to get your users to agree to your T&C and how to display your T&C within your mobile app.
Our Free Terms and Conditions Generator is created to help you generate a professionally drafted agreement that can include various terms and conditions for your site and/or app.
Start the Free Terms and Conditions Generator from our website.
Select platforms where your Terms and Conditions will be used (website, app or both):

Answer a few questions about your website or app information:

Select the country:

Answer a few questions about your business practices:

Enter your email address where you'd like to receive the new Free Terms and Conditions and click "Generate":

Once generated, you can copy and paste your Free Terms and Conditions agreement on your website or app or link to your hosted Free Terms and Conditions page.
What are Terms and Conditions?
Put simply, a Terms and Conditions agreement is an agreement that's set out between a business and a customer that dictates how each party should behave. It dictates how your users can use your app by setting out rules that you intend for them to follow.
There are numerous benefits to having concrete Terms and Conditions as a business, whether it's for your mobile app or website.
It can improve trust between your business and your customers, protect your app from abuses, and help you limit your liability and risk.
As an app developer, it's in your best interest to have Terms and Conditions set out in your app.
Terms and Conditions aren't legally required by law, and you don't necessarily need one to launch a mobile app in an app store. But from both a legal and business perspective, it should be considered an essential step.
What Clauses Should Your T&C Have?

There are several very important clauses you should include in your Terms and Conditions.
Prohibited Uses
The Prohibited Uses clause aims to inform your users of the activities and behaviors that are strictly banned on your mobile app. These include things like collecting information from other users without their consent, attempting to disassemble or reverse-engineer the software of the mobile app, encouraging app users to use other competitive mobile apps and organizations, and engaging in any activity that stops other users from enjoying the mobile app.
LogMeIn's Terms of Service includes a Limitations on Use clause that covers all the behaviors they won't allow.

Intellectual Property
This clause makes intellectual property ownership clear to your users. Generally, intellectual property includes things like designs, logos, symbols, artistic creations and images that relate directly to your business.
Here's how LogMeIn lets its users know that they cannot use any trademarks, business names, logos and other proprietary intellectual property:

User-Generated Content
This clause should touch on who owns the user-generated content (usually the users themselves), but include the business owners' right to remove inappropriate or illegal user-generated content.
If you have a mobile app that acts as a content-sharing platform for users (such as Instagram), you should include a User-Generated Content clause.
Here's an example from Reddit's Terms and Conditions regarding user content: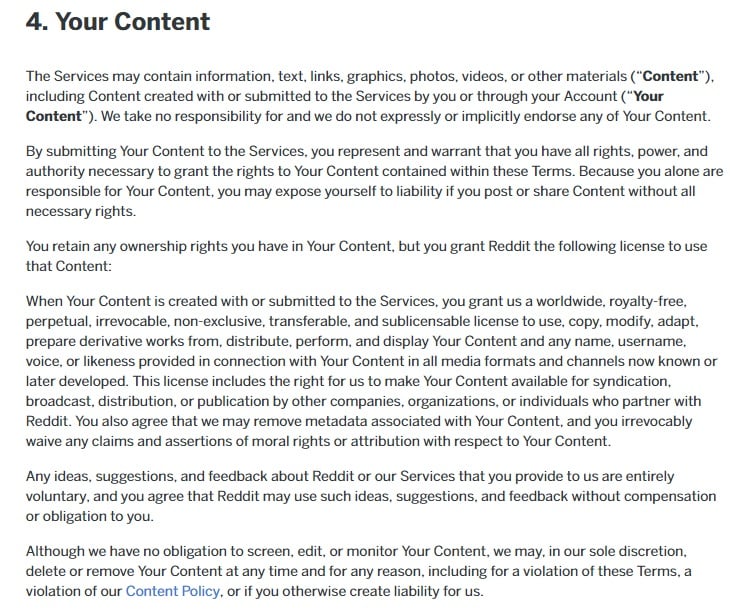 Note how the clause makes it clear that users retain ownership rights in their content, but that Reddit is granted licenses to use the content in specific ways. It also states that user content can be deleted or removed "at any time and for any reason."
Copyright Infringement
You should include information about how people can report copyright violations that occur within your app, and the way you deal with such violations (like removing the reported media).
Canva includes a DMCA Notice clause that lets users know step-by-step what to do if they experience copyright infringement: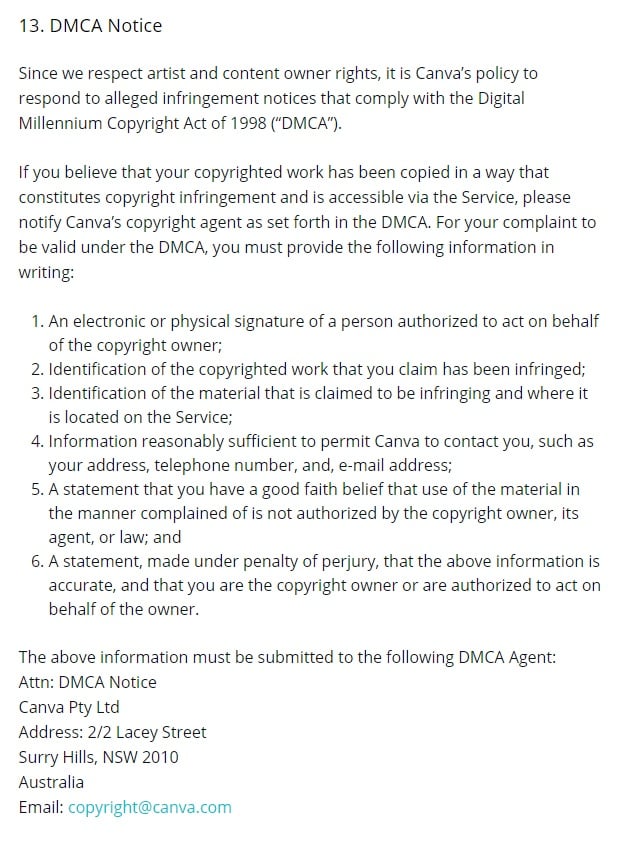 Payment Clauses
If your app accepts payments for anything, whether it's for a subscription, in-app upgrades or an ecommerce component, include a clause that addresses things like what payment methods you accept, any fees you may charge, when payment is expected and other relevant things.
LogMeIn's Terms of Service has a robust "Orders, Fees and Payment" clause. Here's an excerpt that covers fees and payments:

Other sections of the clause address things like sales, promotional offers, taxes and delinquent accounts.

Limitation of Liability and Warranties
The Limitation of Liability and Warranties Clause (also known simply as a Liability Clause) applies to the damages that one party (like your business or your users) would be required to provide if other Terms and Conditions were breached.
So, for example, if your mobile app acts as a cloud service for other companies, and you had a technical glitch that stopped your mobile app from acting correctly which caused app users to suffer company loses, the Limitation of Liability Clause would have stipulations set to help your company avoid blame or litigation.
Zoho has an effective Limitation of Liability clause within its Terms of Service that specifies that users will not hold them accountable for any issues, losses or damages that may occur during use. Further, it's detailed that, under no circumstances will Zoho be accountable for any fees that exceed what is already paid by the users to utilize their service:

These clauses are almost always the same and always in all capital letters making them easily noticeable and consistent from company to company.
Right to Terminate Accounts
The Right to Terminate Accounts clause is a great one for mobile app developers. It gives the mobile app the authority to terminate or suspend accounts of users under particular circumstances that are addressed in the Terms and Conditions.
While this clause is suitable for just about any mobile app, it's especially useful for apps that allow user-generated content. The Termination clause lets you detail which actions and behaviors you won't allow, and how you intend to deal with any users that do cross those lines.
Tech giant Apple includes a Termination and Suspension of Services clause that dictates the circumstances under which user services will be terminated: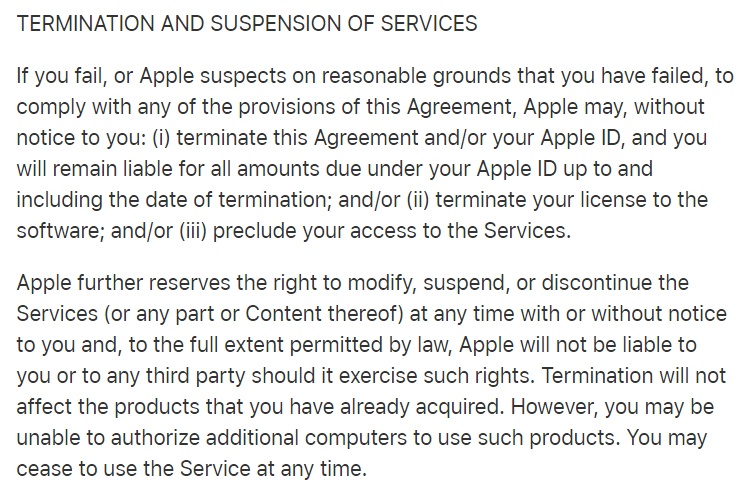 It's common to include here that accounts will be terminated if the Terms and Conditions agreement is violated in any way.
Governing Law and Jurisdiction
This clause sets out what laws and jurisdiction will be applied if there are ever any legal issues arising because of your Terms and Conditions. By specifying which area's laws your Terms and Conditions are held under, you're able to achieve certainty around how your terms can be interpreted.
Given the potentially global scale your mobile app could reach, the Governing Law and Jurisdiction clause will be very important. Law varies throughout the world, and each country may approach and interpret your Terms and Conditions differently.
Accounting software company Saasu has a very basic Governing Law clause in its Terms of Service, which shows how simple yet effective you can be when writing your own Governing Law clause.

How to Get Users to Agree to Your T&C

Getting your users to agree to your T&C is crucially important. Without agreement, your Terms will be unenforceable.
It's recommended to get clear, definite agreement by requiring every user to actively click a button or check a box to show they agree to your Terms.
Quora's mobile app does this by informing users that by signing up for the app, they're agreeing with the Terms of Service.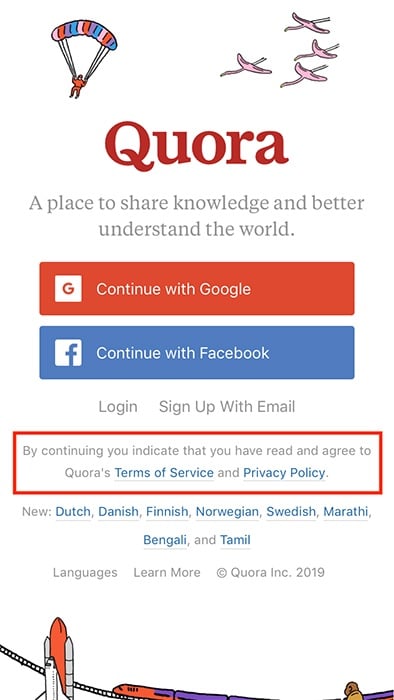 Pinterest has a similar approach for its mobile app.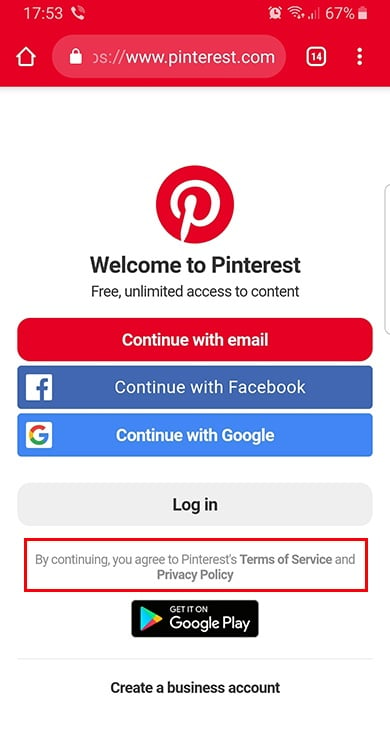 However, to make this approach even better, consider adding the word "Agree" to a button that users have to tap. A user may say they didn't see the small text highlighted in the images above. But it will be difficult to claim they didn't see the word "Agree" on the button they actively tapped.
Here's how WhatsApp Business does this: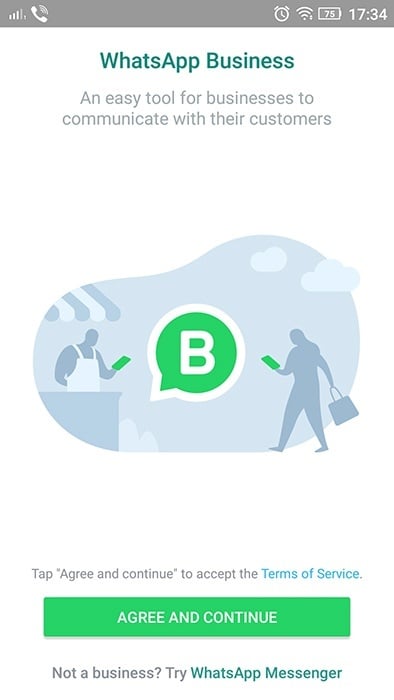 You can also use a pop-up box like Facebook does.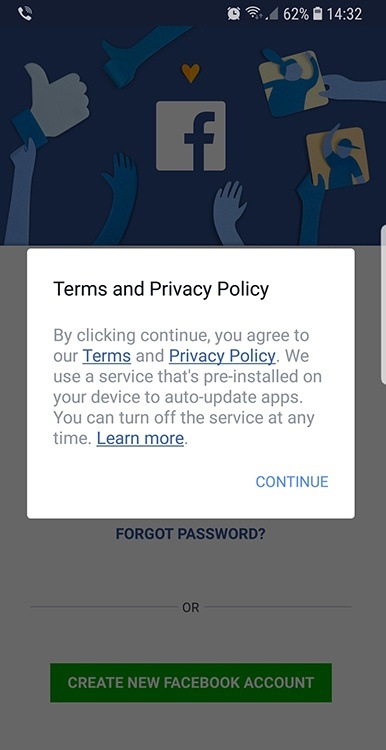 Toggle buttons and checkmark boxes are other great ways to get clear user agreement. Here's how BlackCab has users toggle a button and also click continue before using the app: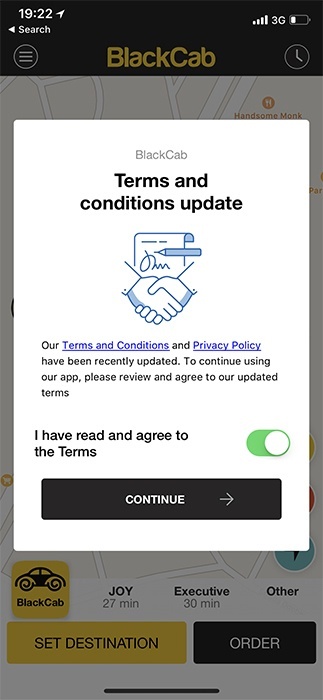 When getting users to agree to your Terms and Conditions, make sure you:
Give users a chance to agree to your T&C before they sign up or log in for the first time
Provide a link to the T&C where you ask for agreement
State that user agreeance with the terms will create a legally-binding contract
Make it clear that by signing up, they're providing their explicit consent and agreement to those terms
Further, make sure you provide a static link to your T&C within the app, in an easily accessible area.
Here's how Medium shares a link to its Terms of Service in the Settings area of their mobile app: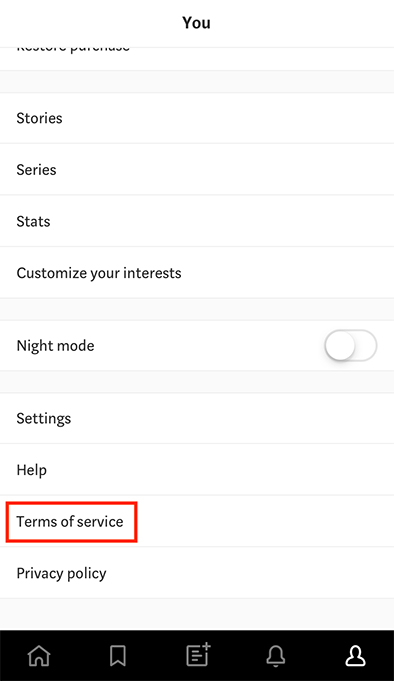 Evernote includes its Terms of Service in an area entirely dedicated to legal documents, which is a great way to narrow it down for anyone trying to find them.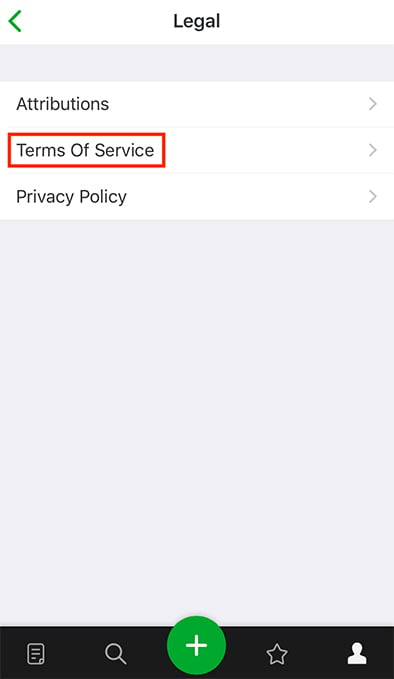 It isn't legally necessary to provide Terms and Conditions for your mobile app and you won't be breaking the law if you don't. You'll still be able to sell your app through various app stores and users can still download it.
However, as a business it's in your best interest to avoid any potential lawsuits and litigation while making sure your app isn't abused, your content isn't stolen and you can terminate accounts if you need to. Writing up Terms and Conditions is the quickest, most effective way to avoid that.