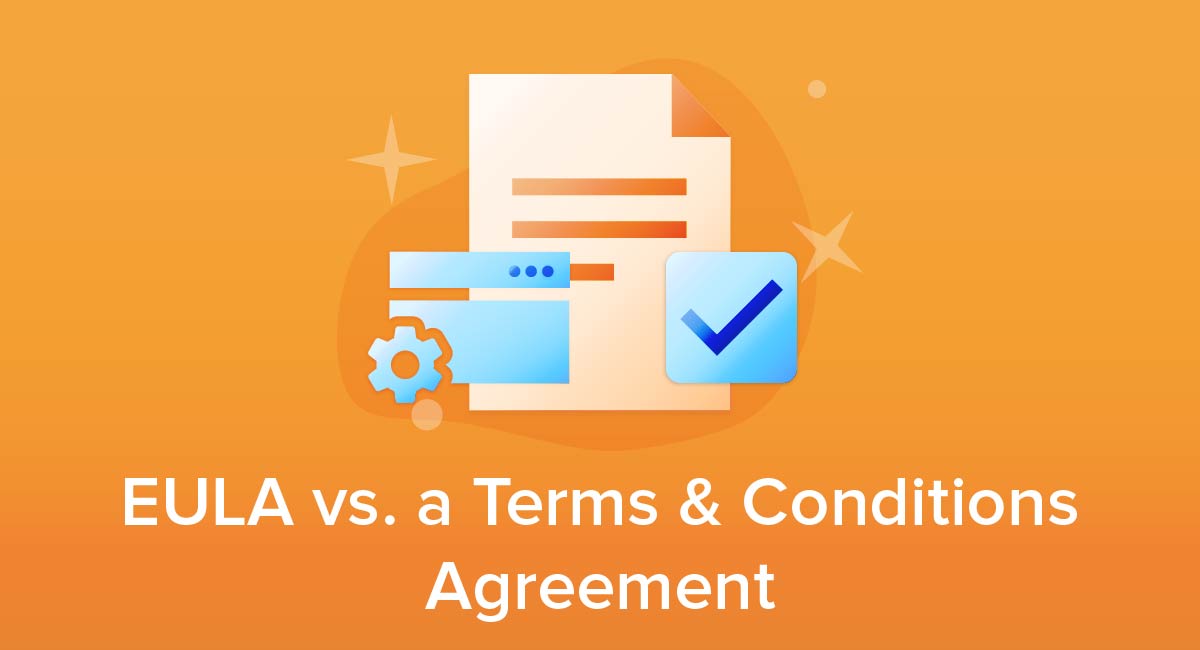 An End-User License Agreement (EULA) and a Terms and Conditions agreement (T&C) both protect your business by setting out an agreement with a customer or user. However, they have some key differences.
We'll break down those differences as well as explain some common features of these different but equally-important agreements.
Use of the Agreements
A Terms and Conditions agreement is most commonly used for a website. It's particularly suited to websites which have a member-only section or services (with or without a fee) but this doesn't have to be the case.
An End-User License Agreement is most commonly used for software. This could be something installed on a computer (through a download or physical media), a mobile device app, or a web-based application.
Purpose of the Agreements
A T&C is effectively a set of rules governing how people use a website. It's designed to protect the site operator's interest, particularly by establishing the operator's rights and placing restrictions on the user.
Our Free Terms and Conditions Generator is created to help you generate a professionally drafted agreement that can include various terms and conditions for your site and/or app.
Start the Free Terms and Conditions Generator from our website.
Select platforms where your Terms and Conditions will be used (website, app or both):

Answer a few questions about your website or app information:

Select the country:

Answer a few questions about your business practices:

Enter your email address where you'd like to receive the new Free Terms and Conditions and click "Generate":

Once generated, you can copy and paste your Free Terms and Conditions agreement on your website or app or link to your hosted Free Terms and Conditions page.
An EULA is primarily designed to protect the copyright in the software by only allowing the customer to use the software under license (even if they have paid a one-off fee for it). An EULA will often establish further rights and responsibilities, but this isn't the fundamental purpose.
Our Free EULA Generator is built to help you create a professional drafted End-User License Agreement. Just follow these steps:
On our website click on the "Generate Free EULA" button.
Start with the basics, select the type of app and click "Next step":

Add your app information and enter the country:

Customize your EULA and answer a few questions about your app:

Now just add your email address to receive your EULA and click on the "Generate" button:

You're done! You'll be able to instantly access and download your new EULA.
Access to the Agreements
On a well-designed website, the user should be able to review the Terms and Conditions at any point from the website interface. They should also be able to read the T&C before registering for or subscribing to a member-only section. If they don't agree with the terms they can simply leave the site or choose not to sign up.
Often a user can't read an EULA until after purchasing or subscribing to software. They'll then be able to read it either before installing the software, or after installation but before using the software. In many jurisdictions, this means some EULA conditions can't take effect until the user has actively agreed to them and begun using the software.
Terminology Used
Both types of agreement often have other names.
An EULA can be called a software license agreement or simply a license agreement. Some people call it an End-Use License Agreement rather than End-User.
A Terms and Conditions agreement can also be called Terms of Service or Terms of Use.
In both cases, the name itself doesn't have any legal significance. What matters is the content of the agreement itself.
Clauses of the Agreements

While there's some crossover of clauses that appear in both EULAs and Terms and Conditions agreements, the content and importance of the clauses varies between the two.
Let's break them down.
Licenses
This is the key clause in an EULA, but doesn't normally appear in a Terms and Conditions agreement. It's all about establishing the conditions under which somebody is allowed to use the copyrighted software.
Key points include the following:
Whether there's a time limit on using it, such as with an annual license or a subscription model
How many devices the user can install the software on, either simultaneously or in sequence (for example, if they get a new PC)
Whether the license covers business use
Whether the user can sell physical media such as an installation DVD and whether the license is transferable.
The EULA of Natural HR covers key points about the license, including that it is non-transferable and limited to one account per company:

Limiting Liability
Both an EULA and a Terms and Conditions agreement will usually aim to limit the legal liability of the website operator or developer. Liability clauses can often be written in a legalistic manner, but they cover some key points:
Limiting your liability as much as possible
Giving some examples of liability you don't accept, while making clear this isn't meant as a complete (exhaustive) list
Acknowledging and agreeing that each relevant jurisdiction's laws may prevent businesses from disclaiming or limiting certain types of liability
This EULA from miGenie clarifies that the types of liability detailed are only examples rather than a complete list: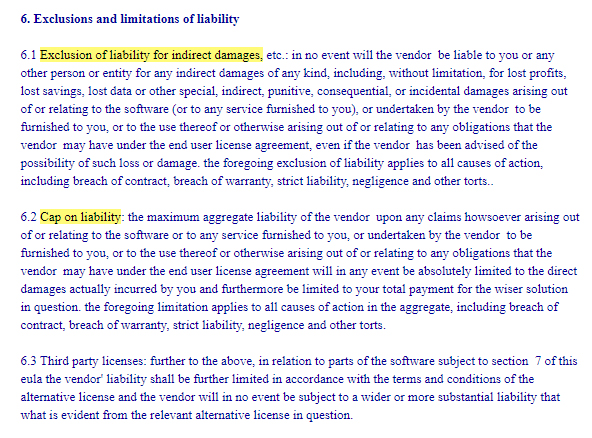 Some of the key points where you may want to limit liability include:
Any damage caused to the user's computer or other devices
The user's costs dealing with any problems caused by the software or site
The user's losses if the software or site restrict their ability to work
Harm to third-parties caused by the user's actions with the software
Any inaccurate information
Actions the user takes as a result of reading your site or using your software, particularly with medical or financial content. (Always make clear if you are or are not offering professional advice).
SEQ Legal's terms include a specific disclaimer for legal information:

Warranty and Warranty Disclaimers
This clause is common in EULAs but usually only appears in a Terms and Conditions agreement for paid services such as a subscription-based website. That's because a warranty sets out what you promise the customer in return for their money and, just as importantly, what you don't promise.
Consumer law in your jurisdiction will often limit what you can include in a warranty disclaimer.
For example, even if a customer agrees to an EULA or Terms and Conditions agreement, that usually won't override basic principles such as that a product has to be fit for the advertised purpose and live up to any description in marketing.
Instead, a warranty disclaimer will often set out restrictions such as that you only promise the software will work and be supported for a particular time. It could also make clear that you aren't promising it will meet all of the user's specific needs.
Sometimes the warranty disclaimer covers very specific situations as with this example from Nordic ID: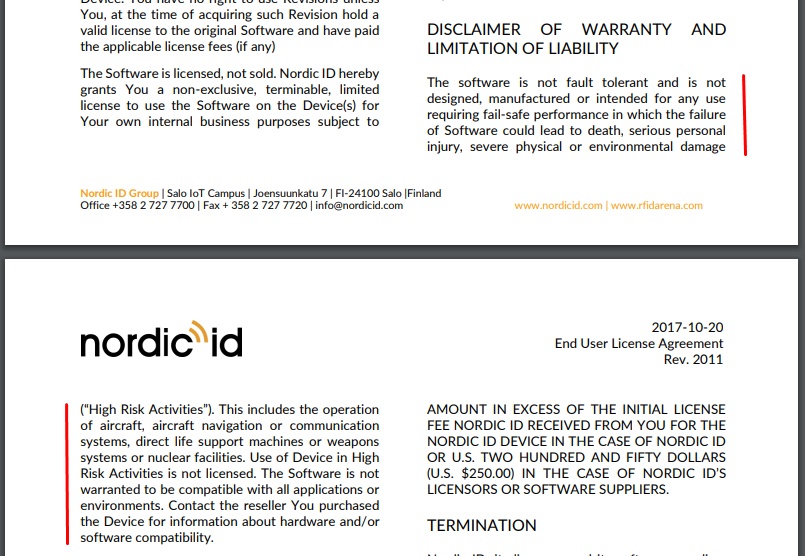 Updates
This clause is more relevant to EULAs. It covers the question of whether and how you will update the software during the time the customer uses it. The clause could say updates are possible but not guarantee them.
The clause also needs to cover the update process itself. It could explain how updates are delivered, what action, if any, the user must take (for example, maintaining an internet connection for automatic updates) and whether agreeing to the EULA constitutes consent to receive these updates.
You could also cover what happens if the user refuses to receive updates or fails to take necessary action such as maintaining an internet connection. For example, you could restrict the terms of any warranty or your liability if the product doesn't work properly or creates a security risk unless kept up to date.
Sony's EULA goes into detail on the potential effects and consequences of updates:

When it comes to Terms and Conditions, these agreements tend to have clauses addressing an updates or changes to the agreement itself, like this clause from Spotify UK:

Intellectual Property
This clause is more relevant to Terms and Conditions agreements for websites, particularly those with user-generated content. It's a two-sided subject.
Firstly, you should establish that you hold all relevant intellectual property rights (copyright, patents, trade marks, service marks) to any material you publish on your site. You must then detail if and how users are able to use this material, for example printing it or saving a copy to their computer.
Secondly, you must set out the legal position for any material users add to the site themselves, for example on a message board or similar feature. This could involve you claiming the intellectual property rights as a condition of the user accessing the sites.
Alternatively the user could retain the rights but give you permission to publish and use the material.
Star RV gives specific instructions relating to its intellectual property:

Termination
Both EULAs and Terms and Condition Agreements will usually have some form of termination clause.
The EULA clause will address which ways the license could end. Possible options include:
After a set period
After a set period unless the user renews the license
If the user breaches any conditions of the EULA
If and when the user decides to terminate the account
At the publisher's discretion, without needing a reason
For each option you should make clear whether the user will get any money refunded and what action the user must take. This could include immediately ceasing to use the software, uninstalling it, or destroying or returning physical media.
ForNAV covers both the business and the customer terminating the license:

With a Terms and Conditions agreement, the termination clause will cover similar points, though this will cover access to particular services or member-only areas on a website.
The termination clause may also be part of a wider clause on membership that sets specific rules for how they behave while using the site. You could also detail the process, for example whether they'll get an initial warning or multiple "strikes" before you terminate the user's access, and whether there's any appeals process.
Arsenal Football Club gives several possible reasons it could terminate membership of its digital service: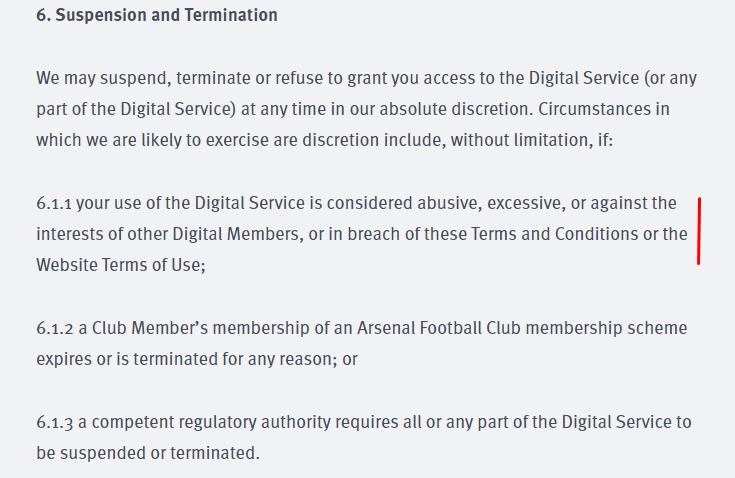 Commercial Terms
With a Terms and Conditions website, the commercial terms clause sets out how and how much the user pays you and what they get in return. You'll need to detail whether the price includes taxes and payment processing fees.
You should also detail what rights you have to alter the price of a subscription service, what notice you will give, and whether the user can cancel if they don't agree to the new price.
You could also set out whether or not the user has any rights to a partial or full refund if your site or service is unavailable, for example through technical problems or because you no longer maintain it.
World IP Review's Terms and Conditions covers many of these points: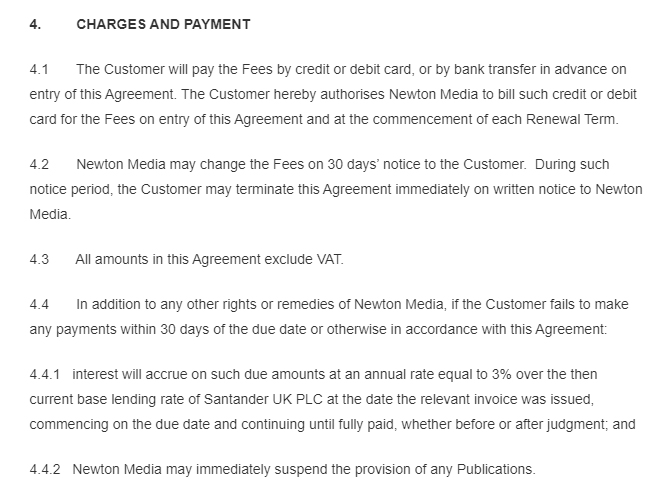 With an EULA, most of the commercial terms have already been addressed when the user purchased the software. However, the EULA should say whether and how the user can seek a refund if they buy the software, read the EULA, and decide they don't agree to it and wish to cancel the purchase.
The Foundry sets out this right to cancel including a time limit:

Jurisdiction & Dispute Resolution
This clause usually appears in both EULAs and Terms and Conditions agreements, serving the same function in each. It sets out three key points:
Which country or region's law governs the agreement (which will often be the one where the website operator or software creator is based).
Which court system will handle any dispute.
Whether the user agrees to a particular dispute resolution method. This could include using a particular arbitration service or independent review either before, or in place of, moving to court action.
With Andersen EV's EULA, everything is covered with a simple paragraph:

Next Studios has a more detailed clause covering dispute resolution:

Placement of the Agreements

When and how a user sees an agreement can vary between an EULA and Terms and Conditions agreements.
EULA Placement
Historically, it wasn't practical for the user to see an EULA before purchasing physical software. That's different today with online sales, particularly for downloaded software. You can include links to the EULA from your general website or from the ordering pages.
However, it's still legally safer to make certain the user sees the EULA before first using the software. You should design the software so that the user has to check a box or click a button to confirm they've read and accept the EULA, either before they can install the software, or before they can run it for the first time.
Depending on the length of the EULA, you could have it appear on the installation or start-up screen, or include a link to a webpage.
The Opera browser installation screen includes a link to the EULA and a button confirming the user agrees to it: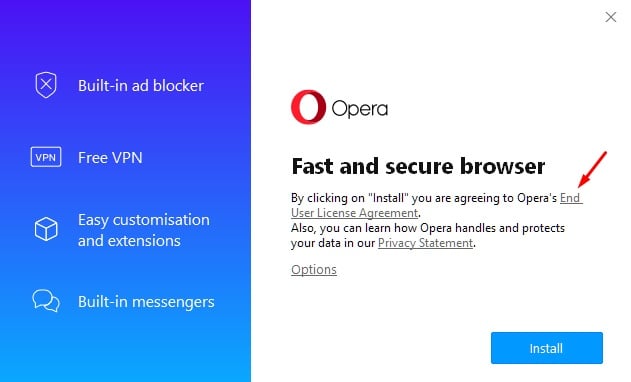 Terms and Conditions Placement
At a minimum, you should include your site's Terms and Conditions agreement as either a standalone page or part of a wider privacy/data protection page. Include a prominent link to this page in your website footer.
The New York Times includes a link in its footer, alongside other legal information:

For added reassurance, you can require the user to actively confirm they've read and accepted the Terms and Conditions agreement. A good point to do this is when the user is about to interact with the site beyond simply reading it. This could be when they sign up for a user account or a membership plan.
Use a clearly-labeled button, toggle or checkbox for the user to confirm their consent. A particularly effective system is to have an unticked checkbox or toggle and a separate confirmation button. This reduces the risk of the user blindly clicking a confirmation button without thinking.
Reddit requires users to confirm they agree to the Terms and Conditions at account sign-up. It refers to its T&C as a User Agreement and links to it along with other policies: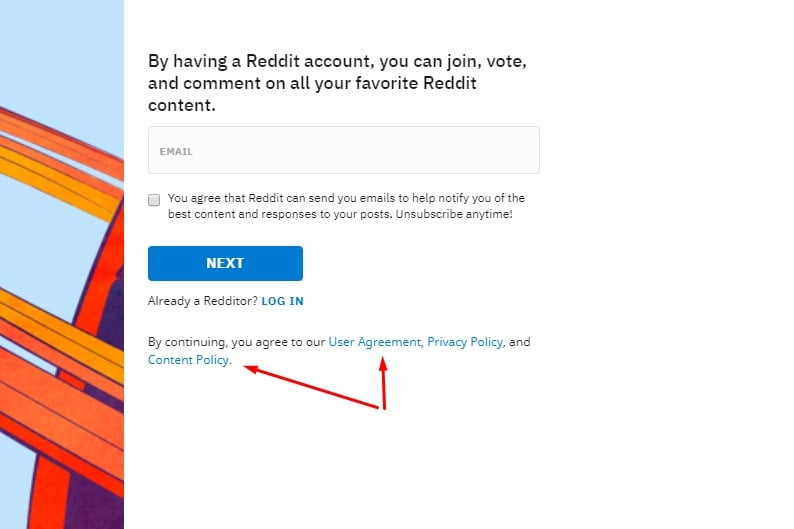 Summary
Let's recap the key points and differences with EULAs and Terms and Conditions Agreements.
A Terms and Conditions agreement sets out the rules of using a website, particularly for membership or subscription services.
An EULA protects the copyright of software by licensing its use under specified conditions.
Users can read a Terms and Conditions agreement almost immediately after arriving at a website and before signing up for any services. Customers normally only see an EULA after purchasing software, but before using it.
Both agreements have a range of alternative names. This doesn't affect their legal standing.

Common clauses which can appear in either or both agreements include:

Licensing conditions (EULA only)
Liability limitations
Warranty/Warranty disclaimer
Update process (usually EULA only)
Intellectual property
Termination (of software license or website membership/access rights)
Commercial terms
Jurisdiction and dispute resolution

Make sure users can review an EULA before installing or using software. For added legal certainty, make them actively confirm agreement/consent.
Publish and clearly signpost the Terms and Conditions agreement on your site. Make users actively confirm agreement to it when signing up or registering on your site.