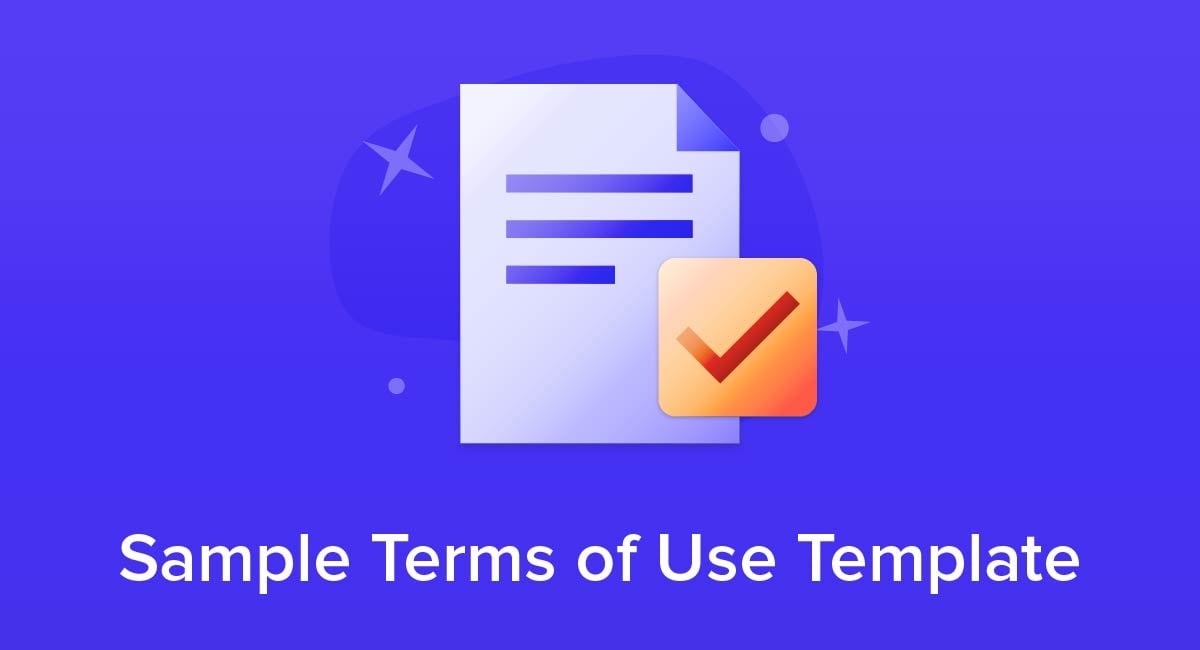 A Terms of Use agreement is one of the best ways to protect your company from potential legal issues, as it's where you set out the rules and restrictions for using your website or service.
We'll break down why you need this agreement, what you should include in yours and how to best display it on your website and within your mobile app.
Before we dive into what you should include in your Terms, let's take a look at exactly what a Terms of Use agreement is.
What's a Terms of Use Agreement
A Terms of Use agreement is a legally binding agreement between a user and a website/app that dictates how a user may use your platform.
This means when a user agrees to the terms, they are legally bound to follow the rules and regulations in the terms.
Unlike a Privacy Policy, which is legally required by multiple laws (and some operating systems, i.e., iOS), a Terms of Use Agreement is not a legal requirement.
While you aren't legally required to have a Terms of Use agreement, you should treat it as a must. Here are a few reasons why:
If a user misuses the service or violates the terms, your company is legally able to delete or suspend the user's account.
It states your company's rules and regulations that a user must follow if they want to continue to use your service.
It lets you define what users can upload or add to your app. This is especially important for apps that are based on user contributions such as Twitter and Reddit.
You are able to determine what laws will govern the agreement and how any potential issues between a user and your company will be resolved.
It allows you to protect your intellectual property rights. It helps protect your company from those attempting to misuse or steal your copyright, trademark, logo, or brand name.
A note to remember is that a Terms of Use is also referred to as Terms of Service or Terms & Conditions and can be used interchangeably.
Our Free Terms and Conditions Generator is created to help you generate a professionally drafted agreement that can include various terms and conditions for your site and/or app.
Start the Free Terms and Conditions Generator from our website.
Select platforms where your Terms and Conditions will be used (website, app or both):

Answer a few questions about your website or app information:

Select the country:

Answer a few questions about your business practices:

Enter your email address where you'd like to receive the new Free Terms and Conditions and click "Generate":

Once generated, you can copy and paste your Free Terms and Conditions agreement on your website or app or link to your hosted Free Terms and Conditions page.
What to Include in Your Terms of Use

There is no one specific template for your Terms of Use. It is recommended that when drafting your terms, you should keep in mind what your website or app is and tailor the clauses to fit.
That being said, there are some essential clauses that every Terms of Use will have and that you should include. Let's take a look at a number of them, why they're important and what details they should include.
Acceptance of Terms
A key clause to include in your Terms of Use should be an Acceptance of Terms section. You should notify users that by agreeing to your Terms, they are legally bound to the rules and any breach of the agreement could result in legal action.
This clause is often the first or second section of a Terms of Use and should be clear and unambiguous so a user won't be confused.
Popsugar's Acceptance of Terms clause is at the beginning of its Terms of Service. Popsugar states acceptance of its terms means the user is bound to them and if they do not wish to agree to the terms then they not must stop using the services:

Apple takes a slightly different approach by stating that in addition to actively agreeing to the terms, simply using Apple's site constitutes agreement to the terms. Apple's terms also state the continued use of its site after there are updates or changes to the terms means a user is accepting these changes to the terms:

Mention of Your Privacy Policy
A Terms of Use and Privacy Policy are intertwined and both are used to protect your website and app. It is not a requirement to include a link in your Terms of Use to your company's Privacy Policy. However, it is a helpful way to notify users of your policies and how they are related to one another.
BuzzFeed's User Agreement states that users should read the agreement along with the website Privacy Policy to fully understand Buzzfeed's policies and how users can use the service:

Hinge's Terms is a shorter version of this clause and simply states that the use of Hinge's services is also subject to the app's Privacy and Cookies Policy:

Whatever way you decide to provide a link to your Privacy Policy in your Terms, it should be easily accessible and clear.
User Generated Content

Not every company will need a user submission clause, but it is a must for websites and apps that rely upon content submitted by users to provide services and run their site. Content can include pictures, videos, audio, or forum posts.
In this clause, you must notify users of what their rights are to their uploaded content and how your site uses it. If your site copies or reproduces the content, this must be included as well.
Twitter states users retain rights to whatever they submit to the website including posts, audio, and video. When a user uploads content to Twitter, they have given Twitter the exclusive right to redistribute and copy the content.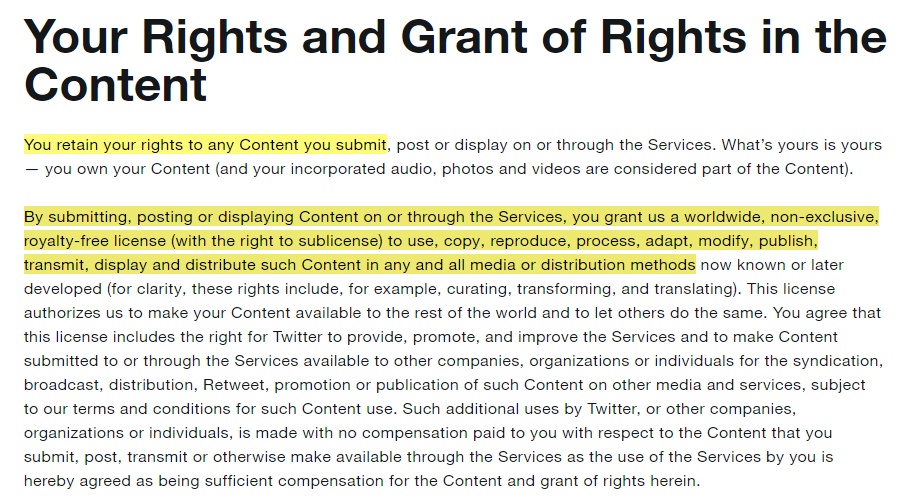 Quora provides examples of the content users can upload and users retain "ownership" of the rights to their content, including intellectual property rights: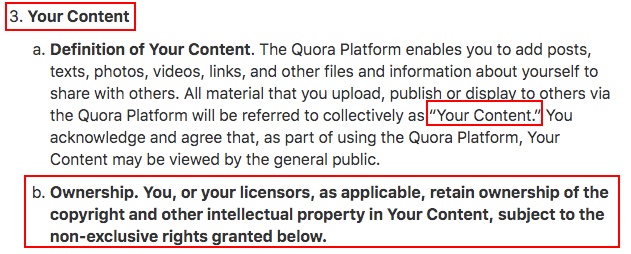 Billing and Payments
If your website or app processes payments or is a subscription-based app, you need to include a section dedicated to how payments work, along with:
What fees you charge
What the payment methods are
How uses can cancel payments or their subscription
Whether prices will change
Hulu is a subscription-based service that includes in its Terms of Use subscriptions and payments will be made on an automatic basis along with how users can make payments. Hulu reserves the right to change the price of subscriptions: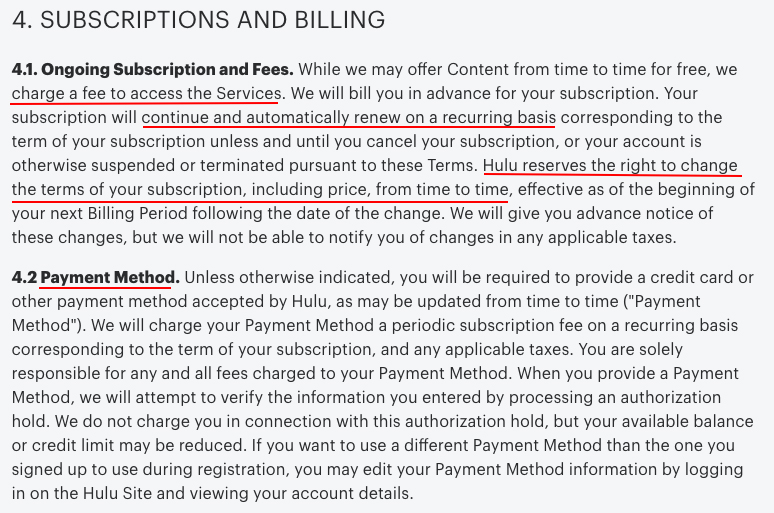 In Rakuten VIKI's terms, it states what is included in the paid services and how the site will handle incorrect prices or changes in credit card information: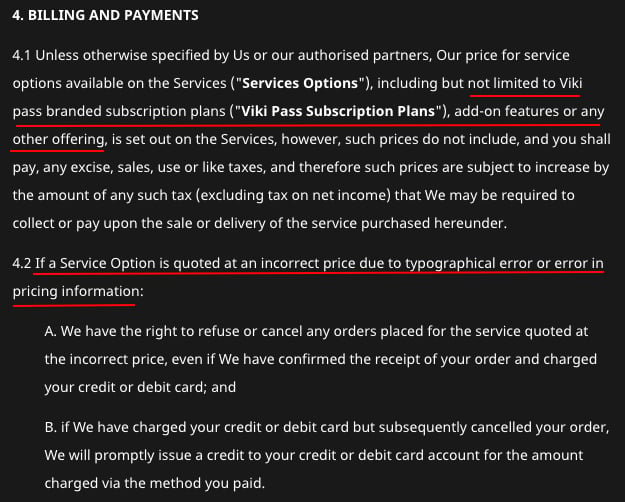 Disclaimers and Warranties
Issues and problems happen. It's important to include a disclaimer and warranties section that protects your company from potential issues.
This section helps protect your company from potential issues users may have due to:
Third-party links to your website
Misuse of site
Damages suffered from the use of the site
Here's how Nintendo states its limitation of liabilities for users if they suffer damages by using the site, misuse of the site, or inability to access the site:

Disclaimers of warranty and limitation of liability are often included in the same section. A disclaimer of warranty is a company's way to disclaim responsibility for certain issues and warranties.
LinkedIn disclaims its liability for any issues that a user may face for the quality and safety of the service: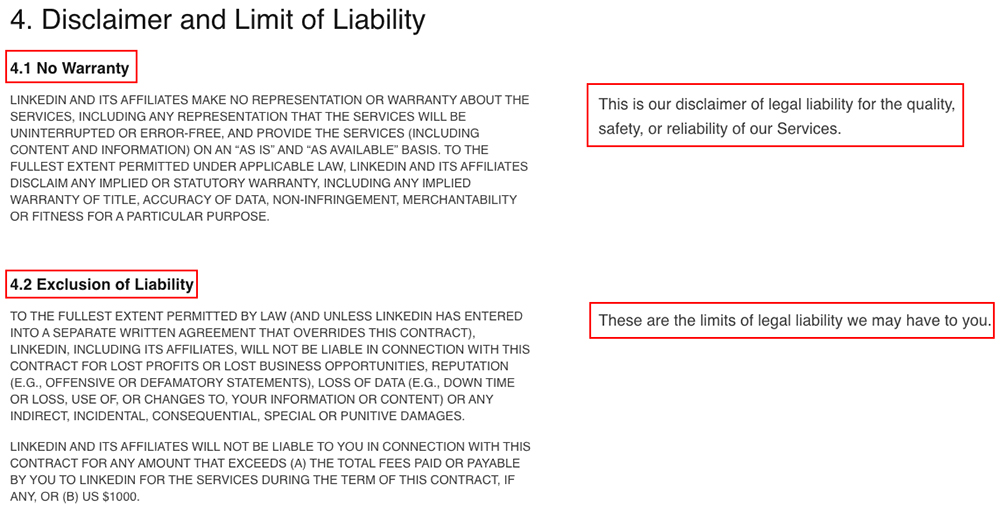 Arbitration
A Terms of Use agreement allows you to dictate what law will govern your agreement and how any potential legal issues will be resolved. This helps protect your company from major trials and legal expenses.
While it is up to your company to decide how disputes will be resolved, most companies include an arbitration clause since arbitrations tend to be shorter and cost less than trials and class actions.
Amazon's "Disputes" section advises that any issue will be resolved by arbitration instead of a court case and that Federal law will govern the arbitration. Amazon states what arbitration is and that by agreeing to the terms, a user and Amazon are waiving their right to a jury trial: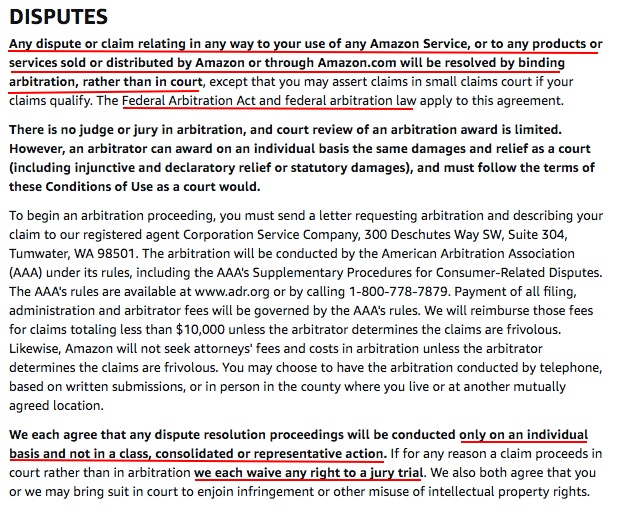 CARFAX's agreement states no matter what the dispute is, it will be resolved by an arbitrator and before a user can seek an arbitrator, they must provide certain documents to CARFAX: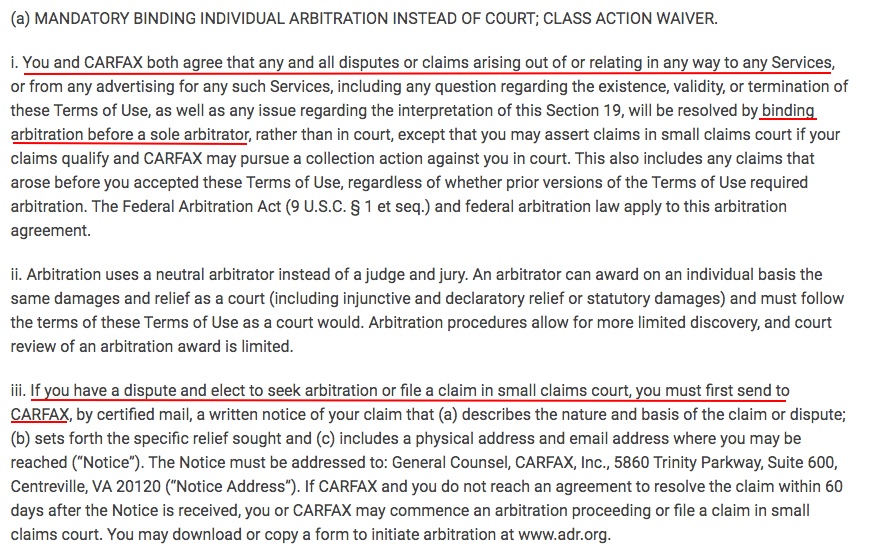 Including a clause addressing how legal issues will be handled is very important. Otherwise, you may be sued by unhappy customers all over the world in their local courts, and you can see how that would be a nightmare for any business to deal with.
Termination of Use

If your website or app involves subscriptions or sign-ups, you should include a clause that states you reserve the right to terminate a user's use of the service or their account.
While a Terms of Use gives a company this right, you must still notify users of this. You must explain what you are allowed to do if a user violates the terms. This is where you may also notify users of how they may delete or suspend their own accounts.
Reddit's Termination clause notes that users may delete their own accounts. Reddit further notifies users that the company may terminate a user's account for any reason, including violating the site's User Agreement or Content Policy:

YouTube provides a longer Suspension and Termination section that breaks down how an account can be terminated by users with instructions, the reasons YouTube may delete or suspend accounts, and how users will be notified of the termination: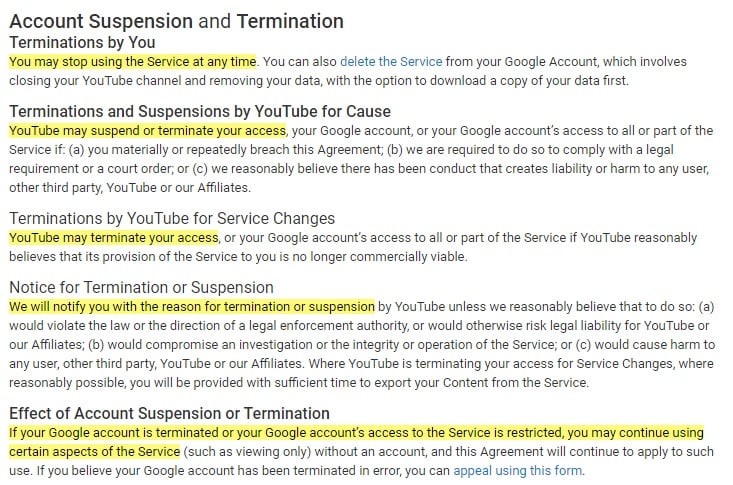 Changes to Terms
Like a Privacy Policy, a Terms of Use agreement will be updated due to laws or company changes. You must include a section on changes to the terms that includes:
Whether changes will occur
Why changes happen
How you will notify users of changes
Here's an example of how TikTok notifies users of changes to its Terms that include "commercially reasonable efforts" and a Last Updated notification users can access:

While you may need additional or different clauses in your Terms of Use agreement depending on your unique business practices, those are the clauses that you'll find (and should find) in Terms of Use agreements across the board.
After you have your Terms of Use created, it's time to display it to the public and put it into effect.
Displaying and Getting Agreement to Your Terms of Use

In order for your Terms of Use to be enforceable, you'll need to provide a link to your agreement and request that users consent to it. There are multiple places you can include a link on a website or app, and you can request consent at most of these places.
The most important thing to remember about your link is it must be clear and easily accessible to limit user confusion. And consent must be obviously requested and obtained.
On Your Website
For websites, there are few key places you can include a link to your terms. The most common places are:
Sidebar
Footer
Sign-up form
Checkout page
For sites that are streaming websites or have long homepages without a footer, you can include a link to your terms on a sidebar or dropdown menu.
Instagram links to it's Terms on a small sidebar since the site functions off of a continuous updating homepage:
Footers are the most common place to include a link to your terms as this is the place most users will look first.
Best Buy's Terms & Conditions link is included in its footer along with other links to the company's policies:

It's also a good idea to include a link to your Terms on the sign-up page for your website so users are aware of the regulations to use your site before they officially sign up.
At account sign-up, H&M includes a link to the site's Terms of Use and reminds new users that by clicking "Become a Member," they are accepting these terms: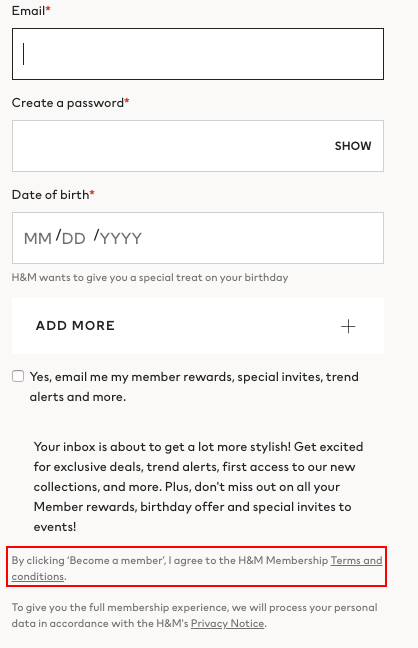 You can also include a link on a checkout page.
Etsy's checkout page has a link to the site's Terms of Use and that by clicking the button, users are consenting to the terms about payment processing that is included in the Terms:

In Your Mobile App
If you have a mobile app, you should also provide a link to your Terms of Use somewhere in the app. Most apps include a link in the app's general Settings menu, but you can include it in multiple locations.
Lyft links to its Terms in the Privacy section of the app's Settings, along with how users can control access to contacts and notifications: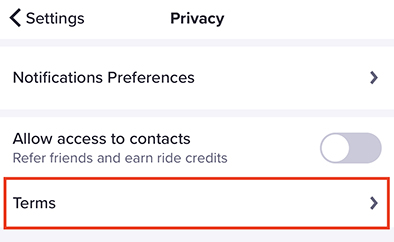 Bitmoji's Terms link is included in the Settings section of the app next to the app's Privacy Policy: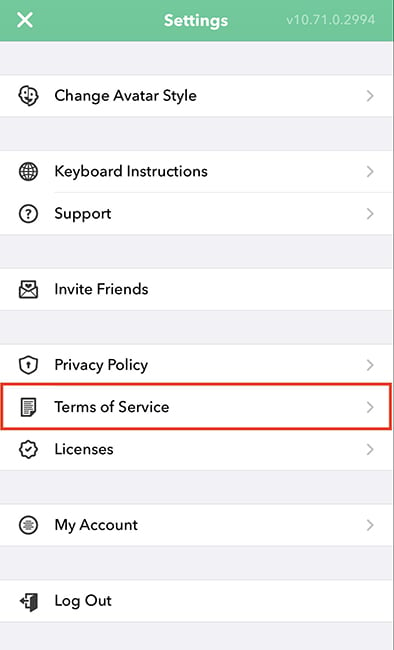 Just like a website, including a link on the sign-up page for an app is an ideal place to notify users of the app's user rules.
Here's how Hinge includes a link to its Terms of Service on the bottom of the sign-up page: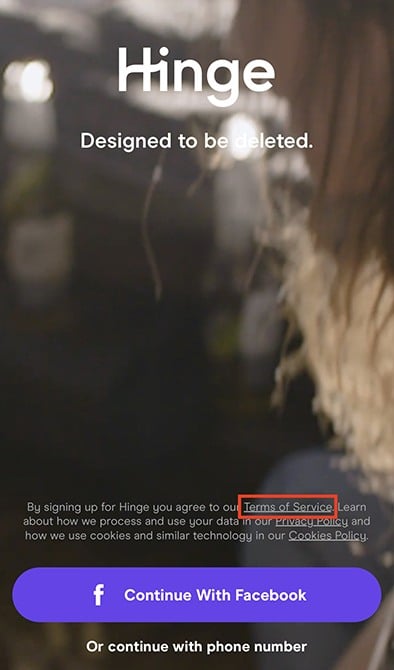 Note how users are told that by signing up, they're agreeing to the Terms linked.
You can place a link on your sign-in page as well. Skype is part of Microsoft and when a user signs into Skype, there is a link at the bottom to Microsoft's Terms of Use:

Summary
A Terms of Use agreement is not required by law but it is important to include to protect your company from potential legal issues.
The goals of your Terms of Use are:
Advise users of your site's rules and regulations
Limit potential liability
Notify users of your company's own rights
Not every Terms of Use is the same, but at a minimum, you should include the following clauses:
Acceptance of terms
Termination of use
Disclaimers and limited liability
Changes to terms
There are multiple places to include a link to your terms. The most important point to remember is that the link needs to be clear and unambiguous and in places a user will expect to find it.