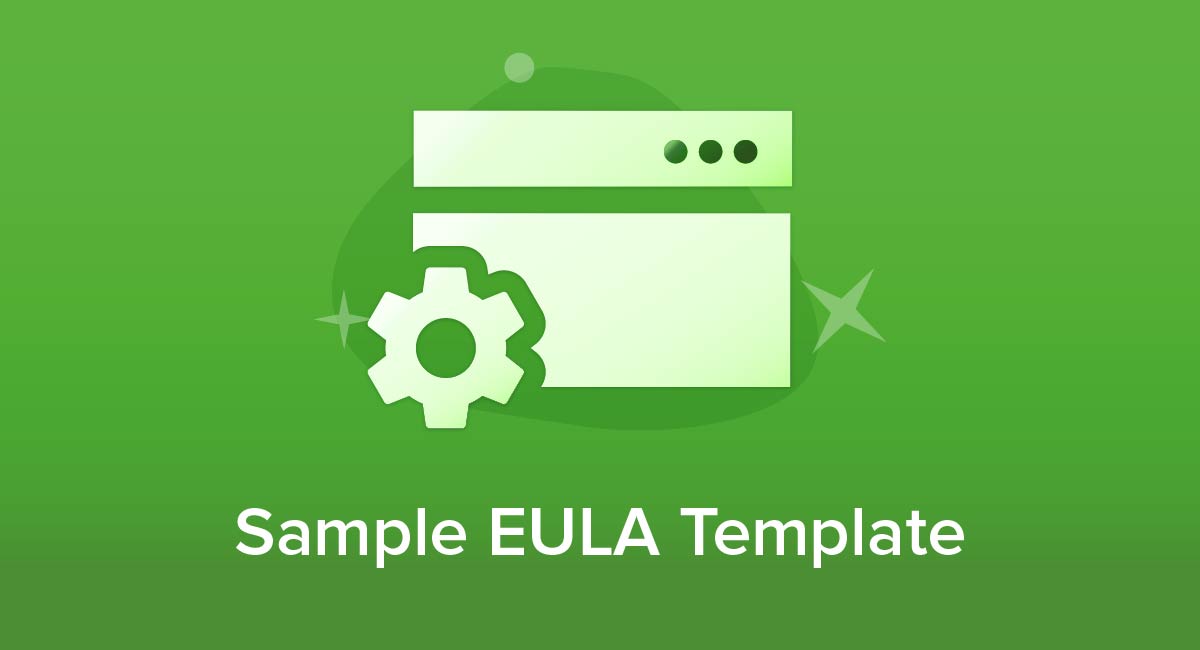 An End-User License Agreement (EULA) details the terms of using your license and lets you control the software's use.
We'll describe the benefits of having an EULA, show you what clauses and content your EULA should include and break down the best way to present your EULA to your users.
Our Free EULA Generator is built to help you create a professional drafted End-User License Agreement. Just follow these steps:
On our website click on the "Generate Free EULA" button.
Start with the basics, select the type of app and click "Next step":

Add your app information and enter the country:

Customize your EULA and answer a few questions about your app:

Now just add your email address to receive your EULA and click on the "Generate" button:

You're done! You'll be able to instantly access and download your new EULA.
What is an End User License Agreement?
An end-user license agreement is a contract between a software developer or retailer and the person who will use the software. It's usually narrower in scope than other agreements such as a Terms and Conditions agreement.
The key difference is that the EULA normally only covers the actual use of the software and any resulting consequences. It doesn't cover wider issues such as the purchase of the software or what the developer or retailer does with any personal data gathered through the sale.
Another difference is that users often have the opportunity to review a Terms and Conditions agreement or a purchase contract before buying a product or service. Often they won't see an EULA until after making a purchase, but before installing or using the software for the first time.
The Rationale for Having an EULA
EULAs exist because software is a special case when it comes to commerce. It's not primarily about buying a physical good or a service, as software disc or downloaded file has little to no inherent value. Instead, the value lies in copyrighted material and the buyer is granted a right to use the software under defined conditions.
Technically an EULA is a license to do something (install and use the software) rather than a purchase agreement. This is the case whether the user paid a one-off fee or a subscription, or indeed if the software is provided without charge. The EULA is an opportunity for the software developer or retailer to lay down conditions for using the software.
Benefits of Having an EULA

Having an EULA brings several benefits to you as a software developer or retailer.
Most importantly, it lets you assert and protect your copyright. This is vital as without copyright, your software has little or no commercial value.
Depending on your jurisdiction, asserting copyright may be vital to avoid a default position of users being able to copy and distribute your software to others. An EULA helps make sure users are both aware of, and agree to, your copyright.
Other benefits include:
Controlling how your software is used
Limiting your legal liabilities relating to the software
Defining or restricting the way any legal consequences of your software being used will play out
Make Your EULA Legally-Binding
Depending on your jurisdiction, an EULA may only be valid if the user has the opportunity to review and agree to it before installing or using the software.
In some cases you may need a Return and Refund Policy that allows a user who buys software and then reads the EULA to ask for a refund rather than continue to use the software.
This policy should set out:
How the user can apply for the refund
Whether the user needs to prove they have not installed and used the software (or if you need to prove they have)
Whether there's a time limit after purchase to review the EULA and apply for a refund
Key Clauses for an EULA

While any EULA must cover your specific circumstances, you'll likely need to include several key clauses to address specific, universal points.
Here are some of the clauses that every EULA should contain.
Granting of License
The license clause sets out how the user can use the software.
Important questions to answer in this clause include:
For what purposes can they use it?
Is it restricted to personal use only or can they use it for commercial activity?
Are they limited to installing it on a certain number of devices? Does this limit allow installation on multiple devices simultaneously?
How long does the license apply? Is it permanent, a set period, or for as long as the user keeps up regular payments?
CCleaner explicitly says agreeing to the full EULA is necessary for the user to benefit from the license:

Take-Two Games has a clause that covers many of these points in just one sentence. Although the clause continues with additional important information related to the nature of the license:

Restrictions of Use
A restrictions clause sets out specific things the user can't do with the software.
Common things to include in a restrictions clause include making it clear the user cannot reproduce, distribute or sell the software. You could also ban people from using the software to carry out illegal activity.
Other points to list will depend on the software. For example, an EULA for software to operate an electronic list could ban the user from using the software to send spam.
An EULA will often ban reverse engineering, which means accessing the source code of the software, for example to uncover or copy some of its functions. In some jurisdictions, fair use copyright principles may give people a legal right to carry out some reverse engineering. If this is the case, you may want to include a clause saying something like reverse engineering is only allowed where "expressly permitted by applicable law."
UBI goes into detail about the banned ways people could use its software: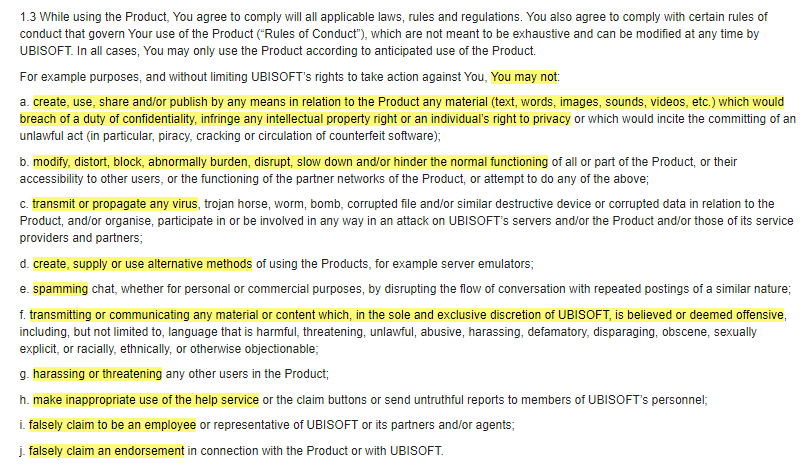 Malwarebytes addresses use of its software in a way that could harm third parties:

A lot of the language in these types of clauses tend to be somewhat standard. For example, you'll usually see restrictions on using the software unlawfully, and a ban on modifying the software.
But a lot of this clause has room for customization. For example, in the UBI image above, there's a ban on making inappropriate use of the help service. While you likely have a help service with your software, you may not for some reason. In this case, you can see how this part of the clause would be business-specific.
Limitation of Liability
This clause is about disclaiming any legal responsibility for damage caused to the user and their property from using the software. You can give specific examples of liability you are disclaiming such as the following:
Damage to the user's equipment
The user's time and money dealing with any problems
The user's lost profits or revenue if a software failure means they can't do any work
You should also make clear if you aren't accepting any responsibility for damages caused to somebody other than the user. For example, you may want to disclaim liability for damage caused if the user commits copyright infringement using your software.
Outfit7 details how it doesn't accept liability for content the user generates with the software:
You'll need to clarify a couple of points to increase the likelihood your disclaimer has the intended legal force.
Firstly, you should make clear if you are disclaiming all liability rather than just the specific cases you mention. Secondly, you should acknowledge that you are only limiting liability to the maximum extent allowed by the law in your jurisdiction.
Apple's standard EULA for apps balances these two points:

Termination
This clause covers if and how you can terminate the license. You should cover the following points here:
Whether the license expires on a set date
Whether you can terminate the license because the user has breached a condition of using it
Whether you have the right to terminate the license without any reason
How you'll notify the user that you've terminated the license
What the user must do when you terminate the license, such as stop using it, uninstall it, or destroy or return any hardcopy discs
Sophos covers the various ways the agreement could end: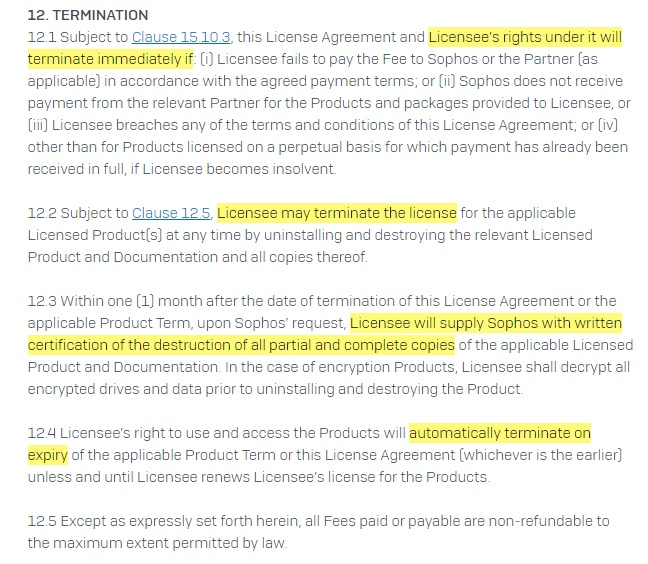 PulseSecure covers the need for users to destroy or return physical copies:

Disclaimer of Warranties
This clause makes clear that you aren't providing any warranty for the software. Note that you can't normally disclaim fundamental failings such as the software simply not working or not matching the description you have when you sold it.
Instead, a warranty disclaimer clause is normally about making clear that you aren't guaranteeing the software will meet the user's needs or be suitable for a particular task.
PaperCut directly addresses the user in making its warranty disclaimer:

SolarWinds doesn't have a warranty disclaimer but rather a clearly limited warranty:

Updates and Upgrades to the Software
Not every EULA needs this clause. It can cover topics such as the following:
If and how the user will get upgrades to new editions of the software
Whether you will provide updates such as new features or bug fixes
What the user needs to do to get the updates, for example if they depend on an internet connection
Whether the software will automatically update (and if so, that the user consents to these updates)
Unreal Engine explains that the license will cover future updates if they happen:

Corel addresses the issue of consent for updates in its clause:

Legal Disputes
This clause will normally cover three key points:
Governing law: Which country or region's legal system applies to the EULA. This may affect what you can and can't include in the EULA.
Your choice of jurisdiction, meaning the court system where any dispute between you and the user must be settled.
Whether you insist on a particular legal resolution route, for example binding or non-binding arbitration, either before or instead of court action.
Cisco covers all of these points in a single table:
The Learning Corp covers the key points as part of a "Miscellaneous" clause, but they would be more effective as a standalone section that was broken down to be easier to read:

Remember: While these are the main clauses that should be included in your EULA, most of them have room for customization in content depending on your actual business practices. Your EULA is your place to dictate the terms of your license, so take advantage of this opportunity to really set forth what you want.
Displaying and Getting Agreement to Your EULA

To reduce the risk of your EULA being ruled invalid, you should always get the user's express consent to it before they are able to use the software. The safest option is to require them to click a button or check a box during the installation process that is clearly marked as indicating they have read and consent to the EULA.
Different rulings and jurisdictions have divided over whether an EULA is valid if the user simply has an opportunity to read it before installing and using the software, or if they have actively confirmed their acceptance.
Some implementation options include the following:
Include a note saying they can read a printed copy of the EULA packaged with physical media
Include a link to the EULA on either a web page or pop-up window
Include the text of the EULA on screen and require the user to scroll through it before clicking to accept
Here's an example of how HP presents its EULA and gets users to consent to it at installation: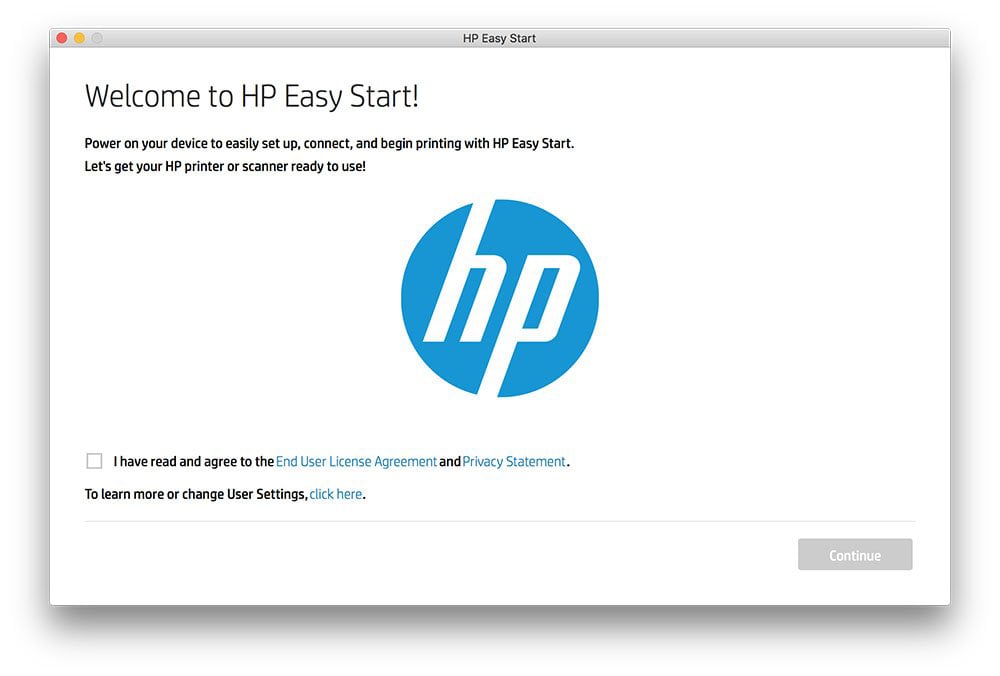 Blender embeds the full text of its EULA in its installation screen so users can easily scroll through it. It also uses a checkbox to get users to accept the terms within the EULA: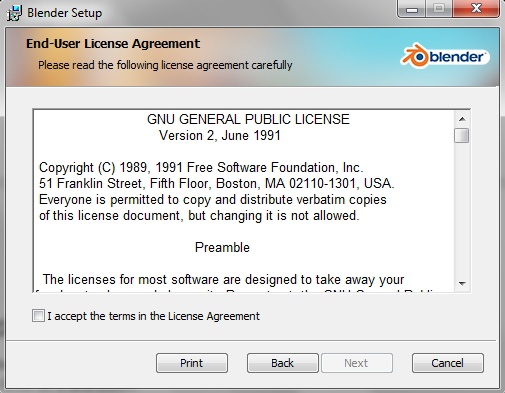 Summary
Let's recap what you need to know about End-User Licence Agreements:
An EULA is an agreement between a software developer or retailer and the user.
An EULA is primarily a license to use your copyrighted software, but is an opportunity to add other conditions.
Often a user won't see an EULA until after they've purchased the software but before they use it. This means you may need to offer the option of cancelling the purchase after reading the EULA.
An EULA protects your copyright, gives you control over how the software is used, and limits your legal risks.

Consider including the following key clauses:

The terms and limits of the licensing
Restrictions on what the user can do with the software
Limitations on your liability
Your rights to terminate the license
Disclaiming of any warranties (for example, the software's suitability for specific tasks)
How upgrades and updates work
How and where to settle legal disputes

To reduce legal uncertainty, set up your software so that the user can't install and use it without actively confirming that they've read and agree to the EULA.