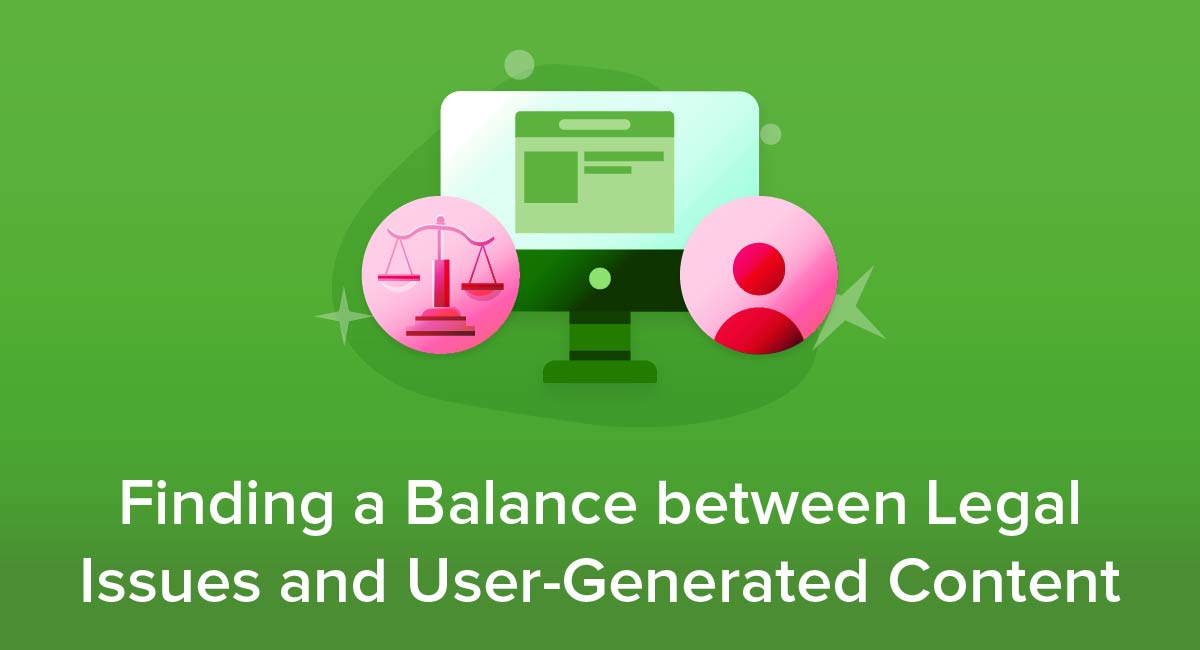 User-generated content (UGC) is any type of publicly-viewable text, image, social media post, comment, video, or audio produced by a user of a website/app rather than by the business behind that website/app.
If you've ever commented on an online forum, uploaded a photo to a photo-sharing website or uploaded a video to YouTube, you've created UGC.
For companies, UGC can generate a ton of free marketing and get customers really engaged.
However, the legal aspects of UGC cannot be ignored. Companies should be thinking about copyright implications, stolen material, and ownership. There are too many variables in play to deal with it "if something comes up."
Our Free Terms and Conditions Generator is created to help you generate a professionally drafted agreement that can include various terms and conditions for your site and/or app.
Start the Free Terms and Conditions Generator from our website.
Select platforms where your Terms and Conditions will be used (website, app or both):

Answer a few questions about your website or app information:

Select the country:

Answer a few questions about your business practices:

Enter your email address where you'd like to receive the new Free Terms and Conditions and click "Generate":

Once generated, you can copy and paste your Free Terms and Conditions agreement on your website or app or link to your hosted Free Terms and Conditions page.
In this article, we are going to examine several components of legal issues associated with user-generated content:
The relationships UGC forms and their implications
6 major legal considerations regarding UGC
A few tips to mitigate some issues that UGC creates
Relationships Affected by User-Generated Content

In order to understand how UGC creates problems, it's best to understand the stakeholders that it affects. Key players like employees, government entities, users, and website owners determine the direction in which most of the issues will turn.
Employers and Employees
Work is such a huge part of anyone's life. Therefore, it's safe to presume that the subject of work and fellow staff members will eventually emerge in the form of UGC. The lines between personal and professional are increasingly becoming blurred with the use of innovation, and more so from individuals working from home and conducting their personal life simultaneously.
In regard to the legal implications in the employment context, possible issues are:
Unfavorable publicity
Liability for discrimination or harassment lawsuits
Privacy and information security concerns
"Cyberslacking," or loss of productivity
Disclosure of proprietary information
In order to reduce the risk of these potentially legal ramifications, it is imperative to adopt standards and policies concerning the use of blogs and other UGC sites, such as social media. Reinforcing these policies through proper training and disciplinary consequences of breach in policy.
Copyright Holders vs. Website Owners
The primary problems that emerge between copyright holders and website owners are content liability. This is usually in the form of copyright violation or infringement.
While it's possible that operators might be responsible for content posted by their users, there are certain limitations offered to website owners who purposefully display unlawful UGC.
The only defense provided to owners is when they:
Do not understand that the content is unlawful
Are not knowledgeable about circumstances that would have been apparent to understand that the content was not lawful
If, upon being notified, they immediately take it down
There are a variety of concerns that emerge from this situation. If content is moderated before being published and unlawful material slips through the cracks, the the website owner will potentially be seen as a publisher of that content and could be held liable for it.
Website Owners vs. Users
The Terms and Conditions (T&C) of a site that allows UGC is an important document. We'll discuss this later in the article, but as it applies to this relationship, the T&C should address several areas.
First, a license should be required from the author of the content to be able to use the material. For instance, the license must give the website owner the capability to adapt the material to publish it on the website.
Second, clear standards about what is and is not acceptable material should be set. Users should be very clear about when the website owner will censor the UGC. Similarly, users should have the opportunity to notify the website owner about offending content and know what will be done about it.
6 Legal Issues that Apply to All Stakeholders

Even after sorting relationships, drawing lines, and dotting i's, there are still plenty of gray areas with UGC that are inherently dangerous from a legal point-of-view.
1. Ownership and Licensure Matters
The issue of whether a brand name violates copyright law by sharing user-generated content is a major consideration. The bottom line is that just because someone tags your company in an image, it doesn't mean that you have approval to use that image for marketing purposes.
2. Personal Privacy and Copyright
If a photographer posts an image under a Creative Commons, or "royalty-free," license, a company might be tempted to reasonably conclude that they have all verification and approval needed to use it for commercial purposes. While the photography can offer ownership rights to the actual image, he or she cannot offer the personal privacy rights of the individuals depicted in the photo.
3. Revenue Generation or "Monetization"
Even users who freely submit content may have doubts when a company uses that material to create a profit. For example, a user participating in a Twitter hashtag chat may not be very happy to discovery that their material is at the center of a major ad campaign.
4. Hate Speech and Harassment
Theoretically, communication's protections protect companies from being held accountable for UGC. Is a basic understanding that users might post offending UGC enough to negate exemption, or does it require a particular complaint and takedown demand?
5. Inaccurate Statements
Often, users publish inaccurate declarations about a company's rivals. For example, Subway filed a lawsuit against Quizno's over a UGC video contest called, "Subway vs. Quizno's." The matter was further complicated by the truth that while Quizno's didn't actually create the content itself, they did actively solicit and obtain it.
6. Campaign Hijacking
There's always the possibility that users will hijack a company's ad campaign, which damages the brand name rather than improve it. McDonald's wanted to acknowledge the farmers who grow the food they utilize in their meals. The end-result was a stream of posts about user experiences with the fast food chain that were uncomplimentary in nature.
As valuable as user-generated content is, the bottom line is that it needs to be contrasted against the associated risks, which can be significant. You have to produce digital policies addressing the potential issues before they happen.
Developing Digital Policies to Govern User-Generated Content

The legal risks of UGC is high, as we've established. There are also soft costs that team members spend discussing whether they need to share a particular piece of content or take down a user's comment.
Should you require explicit approval prior to sharing a piece of material, or can consent be presumed? How will you moderate the UGC posted to your site? What will your audit procedure be?
These are just a few of the concerns digital policies seek to address with regard to UGC. The best advice can only come from a licensed attorney that practices intellectual property or internet law. He or she will be able to comment on your specific situation.
In the areas associated with intellectual property, the legal terms that you'll need your visitors to agree to may have some distinctions when compared to basic contract language. We're going to cover what some of those unique provisions are with regard to your website or app that uses a lot of UCG.
Include the following clauses in your Terms and Conditions agreement to address issues surrounding UGC:
Copyright
When a business site uses UGC, the primary legal problem that comes to the forefront of anyone's mind is copyright.
When a person produces content that is distinct, such as a short story or building a map that other gamers can use, they instantly gain copyright status. While you can file for an official copyright, it exists by nature in any work that is created by somebody first.
In the U.S., the law of copyright can only attach to representations in a concrete medium. Copyright can be infringed upon by someone else replicating, modifying, or using the original work. If your website users a lot of UGC, it's very possible that this content will fall into the hands of someone using it for unlawful purposes.
Include a copyright clause in your T&C that lets users know what they can do if they believe copyright infringement is happening on your website.
It can be as simple as this clause from LogMeIn:

Or, you can have a more robust and detailed clause such as this one from OnLINE TECH: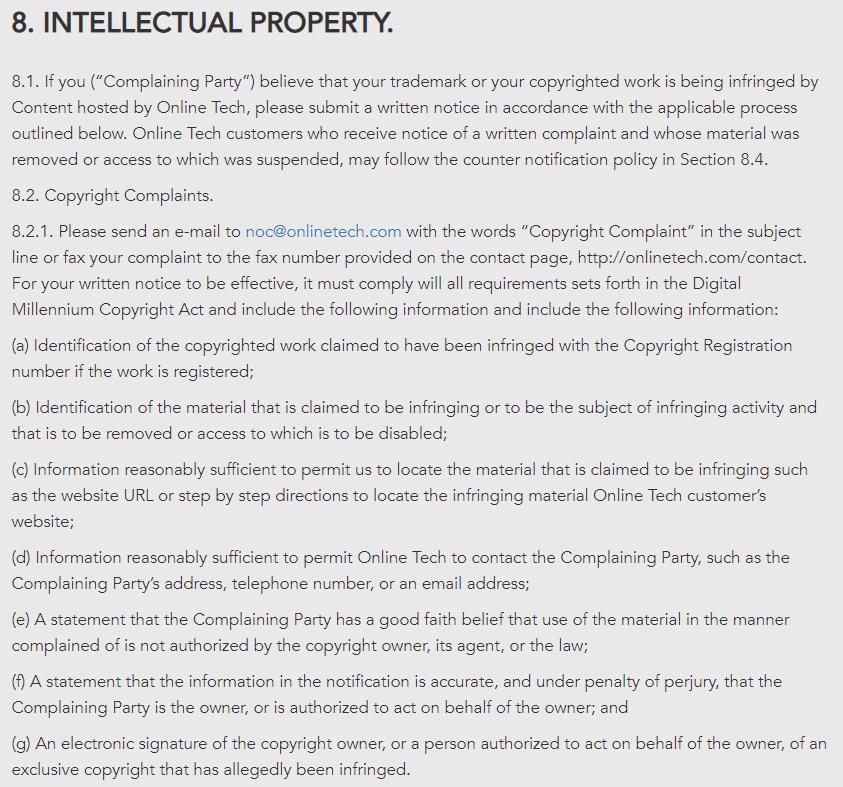 You should also note somewhere that copyright infringement is prohibited.
Here's how Spotify sets this out in its User Guidelines clause:

Liability
Another legal issue that users might encounter is someone inserting information that's already under copyright by someone else. If your website or application uses this information, then you definitely do not want to be held responsible for breaching the copyright agreement.
You should also make sure that you limit your liability to things within your locus of control. If your users are allowed to submit demographic information and photos to your site, they might be publishing prohibited details or images that breach the intellectual property right of a third-party, as mentioned above.
Most limitation of liability clauses are fairly standard. Here's an example from Simon's User Generated Content Terms of Use: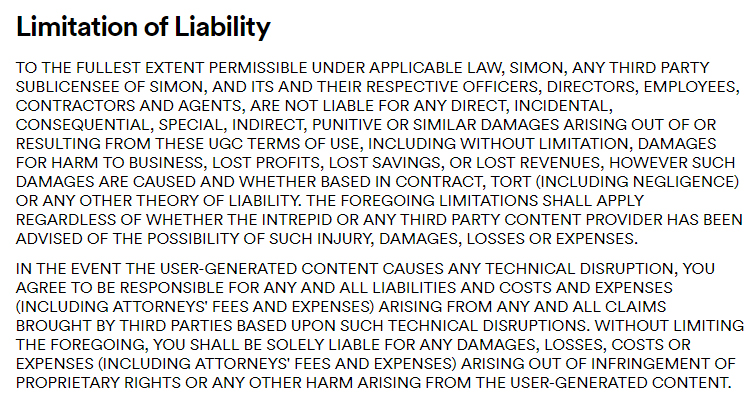 Acceptable Use
You'll need to consider the appropriate usages of your site and mobile application, and what happens if a user is utilizing your services in an abusive manner. The best way to deal with these issues is by leveraging your Terms and Conditions.
Websites and apps should have an acceptable use policy, which is a clause in the T&C that sets out exactly what type of usage is enabled and what is prohibited.
Here's how OnLINE TECH does this: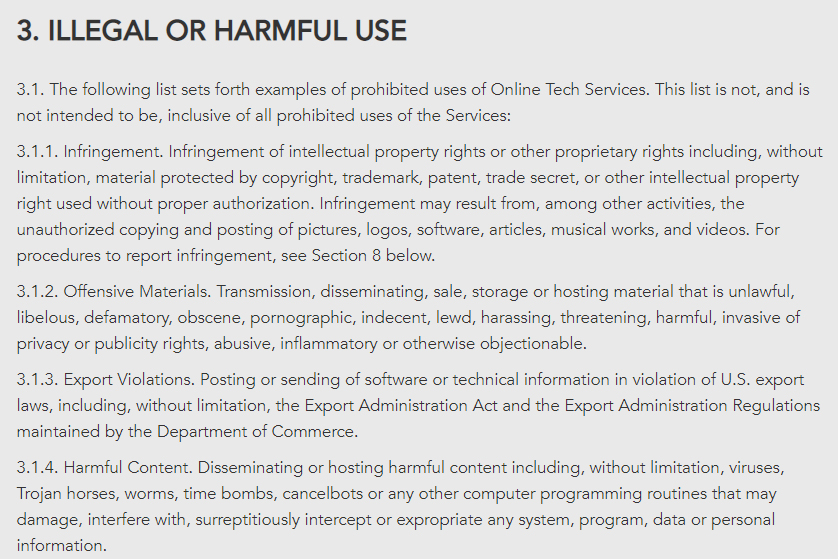 Note that you don't need a separate policy for this, but can rather just include a similar clause in your T&C.
It's a smart idea to include a clause or statement that allows you to terminate the account of, or discontinue services to a user at any point if they breach your terms or are interfering with other users.

Privacy
The next thing to think about is the promise that you'll keep material safe and collect it in such a way that's on par with local and international laws depending on where your users reside.
Many countries around the world have some personal privacy security for user information. If your users are submitting UGC, some private information may be connected to this as well, such as name and email address.
The primary actions to take are:
Tell your users that you're collecting their personal details
Add this to your Privacy Policy
Inform users why you are collecting this type of information
Inform users what you're going to do with their information and with whom it will be shared
Describe how they can amend or delete any information on file
Inform how they can contact you with any complaints
Tell them when the Privacy Policy was enacted
It's also highly likely that you are keeping UGC stored in the cloud. Make sure you utilize a respected cloud storage provider, and make sure that their storage protocols are in line with your information privacy laws.
Here's how T&T Creative Media includes a clause in its Privacy Policy that lets users know that their personal information may be collected when a user uploads or submits materials to the website:

Final Thoughts and Considerations
There are several advantages in creating and maintaining a website or app built on user-generated content, or one that allows it. When your users share the content they create, it allows you to grow your audience and strengthen your brand name at the same time. It's a win for your community as well as for you.
Including clauses in your T&C and Privacy Policy to cover important legal issues can help you stay legally protected and find a good balance between the issues and the benefits that come with UGC. This is especially true for larger web communities.
At a minimum, make sure that you have a solid Privacy Policy and T&C in place that covers the above-listed provisions.