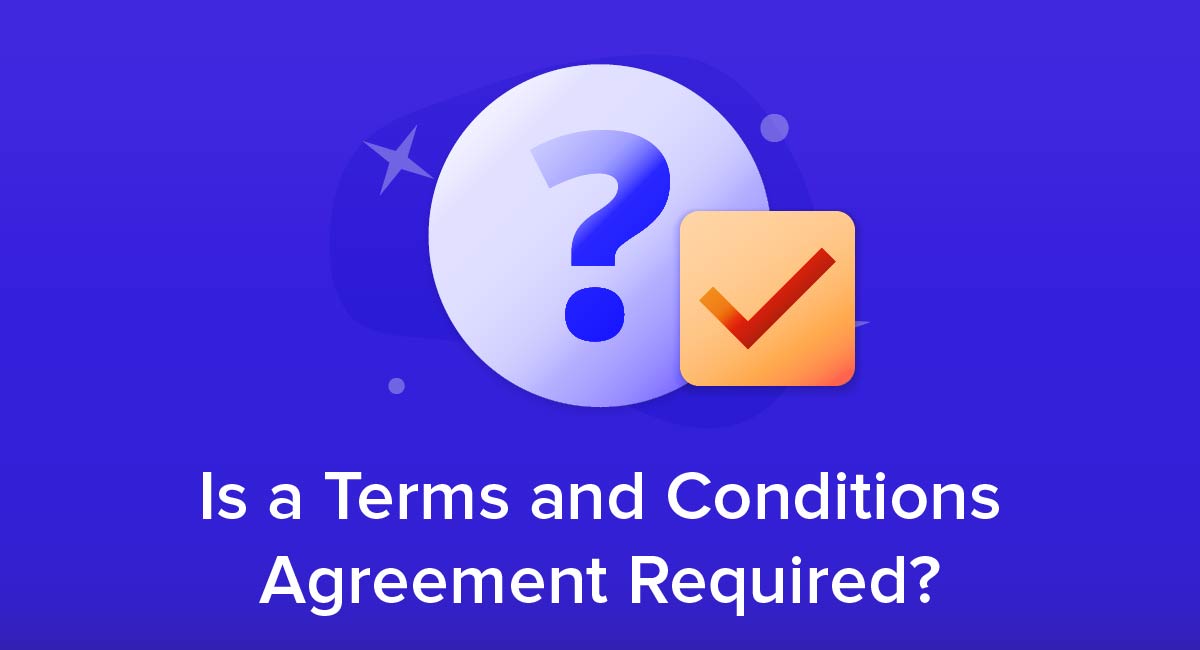 When you create a website, you establish a relationship with your users. A Terms and Conditions agreement sets out the rules governing that relationship and any associated disputes.
While not a legal necessity, publishing Terms and Conditions is definitely in your best interest.
We'll explain the benefits that come with having this agreement, and show you how to write your own.
A Terms and Conditions agreement is an agreement that explains how people can use your site, what promises you make, what obligations you and the user are under, and how to settle any disagreement.
You may sometimes see these agreements being called different things, such as "Terms of Use" or "Terms of Service." All of these names refer to the same agreement. In other words, while the names are different, the content of each will cover the same topics.
It's not a legal requirement to post Terms and Conditions agreement on your website. However, you're going to want to have one for a number of reasons.
Our Free Terms and Conditions Generator is created to help you generate a professionally drafted agreement that can include various terms and conditions for your site and/or app.
Start the Free Terms and Conditions Generator from our website.
Select platforms where your Terms and Conditions will be used (website, app or both):

Answer a few questions about your website or app information:

Select the country:

Answer a few questions about your business practices:

Enter your email address where you'd like to receive the new Free Terms and Conditions and click "Generate":

Once generated, you can copy and paste your Free Terms and Conditions agreement on your website or app or link to your hosted Free Terms and Conditions page.
Why Should You Have a Terms and Conditions Agreement?

When you run a website, you are providing a service to users. As with any service, that involves rights and responsibilities on both sides through an agreed set of rules. By writing a Terms and Conditions agreement, you get to set those rules and present them to your users.
You can then use those rules to enforce your rights and the users' responsibilities. On the flip side, you can use the rules to defend against unfair claims that you aren't living up to your responsibilities or letting the user enjoy their rights.
Sometimes having Terms and Conditions is about the impression it creates. It may give a more professional appearance that helps potential users feel more comfortable, particularly if you offer paid services or sell products. It can even help your case when applying for financing or bank loans for an online business, largely because it shows you've thought about legal issues and consequences.
As a general rule, the more formal and involved the relationship you have with your site users or customers, the more important it is to have Terms and Conditions.
For example:
If users can't do anything other than read pages on your site, detailed Terms and Conditions aren't always vital. (However, even here it's still a smart idea to limit your liability for errors and assert your intellectual property rights in a Terms and Conditions agreement.)
If users can add content to your site (such as through a message board) or communicate with other users, you should strongly consider having Terms and Conditions to cover this activity.
If you offer commercial services such as subscriber-only content or sell goods through the site, Terms and Conditions are vital to protect you in any contractual dispute.
Where to Place Your Terms and Conditions Agreement

You have several options for how to display your Terms and Conditions agreement on your website.
The simplest option is to either have a dedicated page or include the Terms and Conditions on the same page as other legal information such as a Privacy Policy and other data protection text.
You should have a clear link to this page in your navigation system, such as in your website footer so it's visible from every page of your site.
The New York Post includes a link to its Terms page as part of its fixed navigation footer:

You should also link to your Terms and Conditions at points where a user is about to interact with your site in a more personal way, for example by posting content, signing up for a user account or making a purchase.
For added legal protection for yourself, you can include a button or a checkbox that users must click on to show they agree to your Terms. Make clear to the reader that clicking the button or ticking the checkbox counts as agreeing to the Terms and Conditions.
Instagram includes a link to its Terms as part of the sign-up process which users must complete before accessing any content: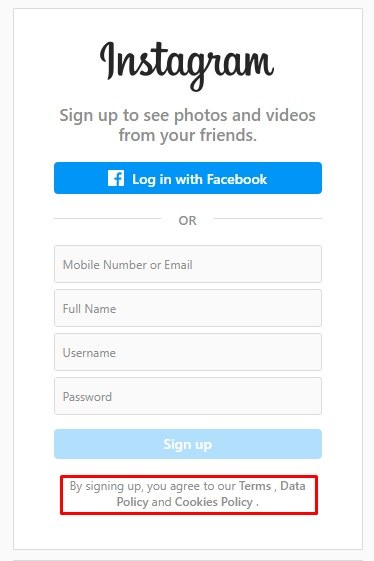 In sum, place a link to your Terms and Conditions agreement in your website footer, and at any point where users interact more intimately with your site or service, such as sign-up forms, content submitting sections and ecommerce checkout pages.
What Should Your Terms and Conditions Agreement Contain?

Here are some of the most common clauses to include in your Terms and Conditions agreement. Depending on the nature and practices of your website or business, you may need additional clauses to make sure you're covering all bases. However, these are the clauses to start with.
User Guidelines
One of the biggest perks to having a Terms and Conditions agreement is that you get to set out your rules for people using your website or service. This means you can restrict things like harassing other users, reverse-engineering your proprietary software and using your service for anything illegal.
Here's how Spotify presents its guidelines to users in a neat, easy to read bullet list: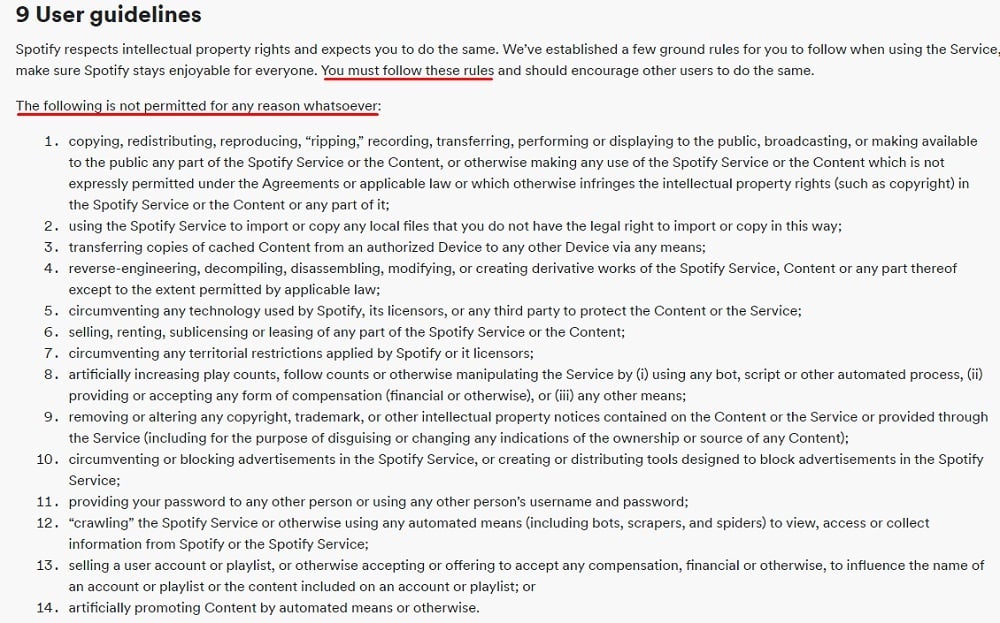 While it doesn't have to be the first clause in your Terms and Conditions agreement, it's good to get your rules and restrictions out in the open as soon as possible for your users to be aware of.
Limiting Your Liability
A limitation of liability clause aims to limit your legal responsibility as much as legally allowed.
Some of the potential limitations of liability that you may want to address in this clause include:
Any inaccuracies in the content of your site and any harm this causes to users who rely on it
Any harm caused by your site being temporarily or permanently unavailable
Any damage caused to users if your site is compromised by malware
Any specific risks related to the subject of your site, for example if you offer financial or medical information and need to make clear this does not constitute professional advice
Remember to also address any liability on the part of users. For example, you might want to insist that by using your site, the user agrees to be held liable for any material they post. This could involve defamatory material or anything that breaches third-party copyrights.
The UK government website gives clear and specific examples of how it does and doesn't limit liability: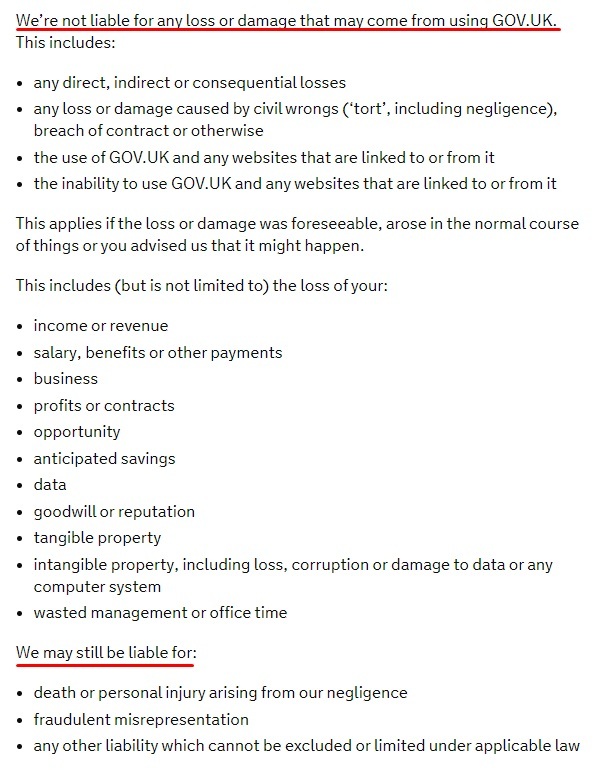 Copyright, Intellectual Property and Permitted Use
The material on your website such as text, pictures, logos and videos may be covered by a range of intellectual property rights such as copyright, patents, design marks and trademarks.
Depending on your location, you may automatically enjoy intellectual property rights simply by publishing material. In other locations, explicitly asserting these rights may:
Be necessary to enforce them later on
Increase the potential damages you can collect for a breach
Affect whether the breach can lead to criminal as well as civil penalties
In most cases you can cover this with a broad intellectual property clause in your Terms and Conditions asserting all relevant rights. In other cases, for example with user generated content, you may need to give more precise details. This could include whether you claim the complete rights to material posted by users or whether the user grants you a limited right to use the content on the site.
The Guardian communicates these points well by combining broad statements of its rights with specific guidance for users about what they can and can't do with website material: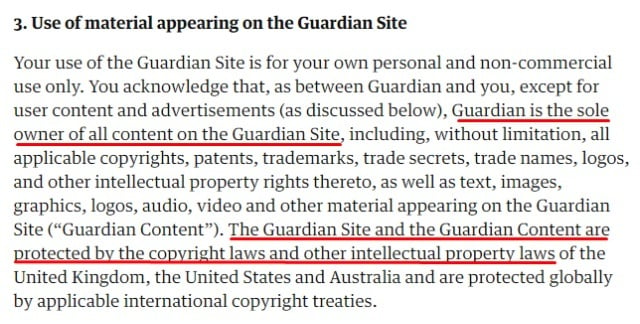 Payment Terms
If you offer any paid services on your site, you'll need to lay out your terms surrounding payment. At the most basic level, you'll simply be answering the question "what does the customer pay and what do I give them in return?"
In practice, it can be more complicated. You'll need to cover points such as:
When is payment due?
Does the price include any delivery costs, taxes or payment processing fees?
Does the user have the right to return goods or cancel an online service? Is the user allowed to simply change their mind or must goods be faulty?
What happens if an online service becomes unavailable, for example if your site has technical problems, and a customer has downtime during a paid period of service?
Do memberships with a monthly or annual fee automatically renew and be automatically charged? If so, how do price increases work?
Netflix addresses all of these points in its Billing and Cancellation clause. Here's just an excerpt of the detailed, robust clause: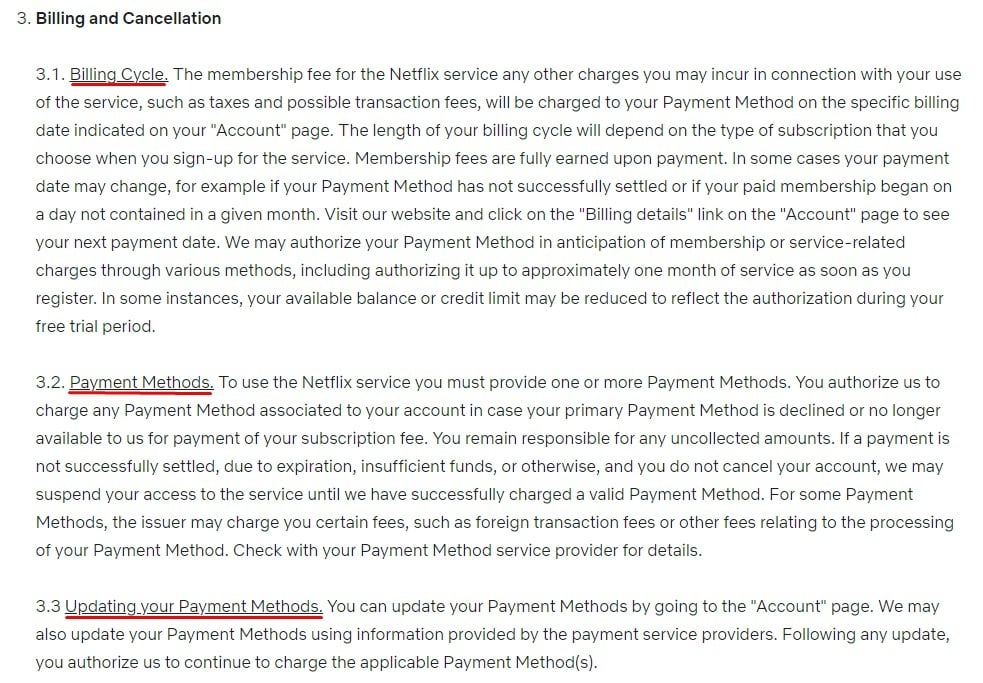 Jurisdiction and Governing Law
A jurisdiction clause sets out which state or country's laws apply to the Terms and Conditions. In turn, this affects where you or the user can take legal action over a breach of the Terms and Conditions.
Most commonly, the jurisdiction will be wherever you or your company is legally based.
Remember that in some cases the user may still have legal rights based on the law where they live. The jurisdiction clause is simply a way for you to set the default position.
Spotify notes that any disputes or claims arising out of the agreement are subject to the laws of the state of California:

Your Terms and Conditions can also set out specifically how users can pursue any claim against you, such as:
Taking any legal action in a specific court
Waiving the right to take action in a specific court
Agreeing to non-binding or binding resolution through a specific system, either before or instead of taking the case to court
Adobe gives specific details of how arbitration will work:

Summary
To summarize, while a Terms and Conditions agreement is not required, it's something you'll definitely want to consider adding to your website.
This agreement can help you set out and enforce the rules of your site, as well as protect yoru own rights and limit your liability.
Your site will also look more professional with a Terms and Conditions agreement.
If you do create a Terms and Conditions agreement, add it to the footer of your website so it's easy for users to notice it and access it at any time.