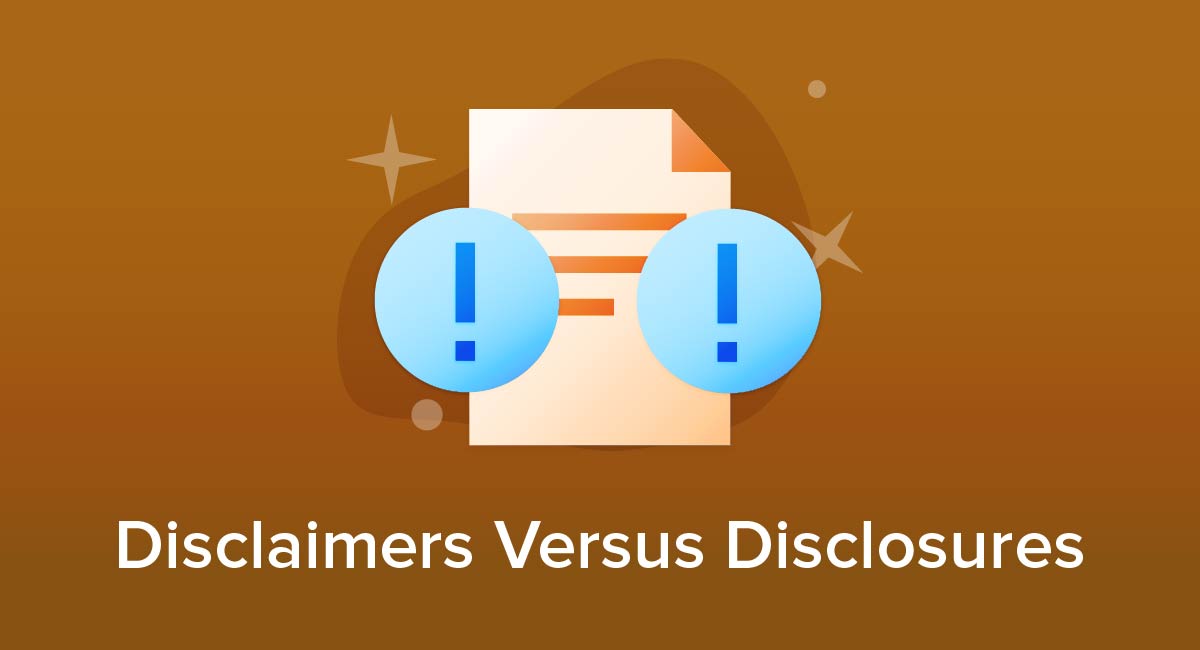 Commonly confused for one another, and often used interchangeably, disclaimers and disclosures are actually two separate things. They do, however, work together to create informative statements about your website.
They both act as a type of notification to users about a website, but what each statement notifies users of is where they are different.
Disclosures and disclaimers are sort of two halves of a whole. Both sides function as a whole to inform or disclose to users about your website, but each side provides something different to a user.
Alternatively, you can try thinking of it like this. The whole statement includes a part that discloses something (information) and a part that disclaims something (liability).
Disclosures state what the website's purpose is, and provide users with information about the site, whereas disclaimers can include what the site does not warrant or the limits to what the site is liable for concerning users.
A note to remember about both of these is they are common for every website. However, you should always tailor your disclaimers and disclosures to fit your website and its services.
Our Free Disclaimer Generator is designed to help you comply with the requirements of various affiliate programs, such as Amazon Associates. It also includes various disclaimers like medical disclaimer, fitness disclaimer, website disclaimer and so on.
Just follow these few simple steps and generate a Free Disclaimer for your site or your app:
Start by choosing the "Free Disclaimer Generator" on our site.

Then select where your Disclaimer will be used on:

Follow with adding your website/app information:

Enter the country and click on the "Next Step" button:

Continue with building your Disclaimer and answer on questions about your business from our wizard:

Now just enter your email address where you'd like your Disclaimer sent and click on the "Generate" button.

You're done! You can copy and paste your Disclaimer code into your website/app, or link to your hosted Disclaimer page.
Disclosures

Every website has its own distinct information. Disclosures reveal this information to users. Information about the website can be relationships with third parties, how these relationships affect users, and advertisements on the site.
There are a plethora of disclosures that your site may need to make. What type of disclosures you should include depends on the type of information or services you provide. Here are a few of the most common:
Medical or legal services
Relationships with third parties
Affiliate links
Ads
Let's take a quick look at each of these disclosures.
Medical/Legal Services
Thousands of people look for medical, legal, or psychological advice on the internet daily. If your site features health tips, recipes, legal news, etc., you will need to include a disclosure about what the real "purpose" of your website is.
This type of disclosure is two-fold. It informs users about how they should view the information on your site and it protects you from potential legal issues, such as misleading or untrue statements.
A good example can be found on WebMD. WebMD states in its disclosures that users should view the information on the site not as medical advice, but is only for "informational purposes." The disclosure also states if users need professional advice, they should see a doctor: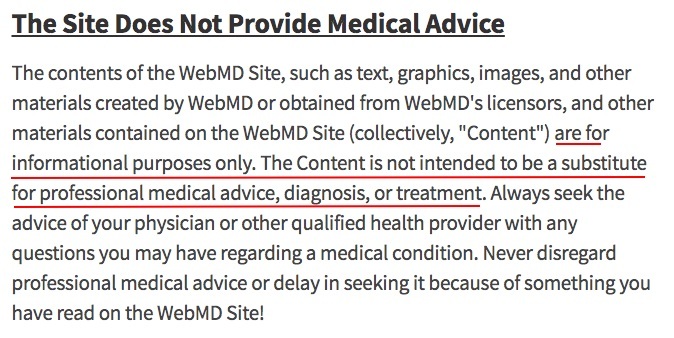 You'll often find this type of disclosure on blogs that cover topics about health, healthy living, or alternative products.
The Honest Company promotes "safe and natural" baby products. Its disclosure, or notice, states information on the site should not replace medical advice and users should not delay in seeking medical advice based on what they have learned or seen on the website:

Third Parties
Another piece of information disclosures reveal to users is whether a site uses or partners with third-parties. Websites may partner with third parties for links, offers, sharing information, or ads. These disclosures are included to notify users of the connection and why they partner with them.
If your site is compensated by third parties for including a link to their site or to an offer, you should disclose this as well, as The Points Guy does in its disclosure:

Third-party disclosures can also include who the site partners with and for what reasons.
Etsy's third-party disclosure reveals that it provides links to partners (Facebook, Twitter, and Pinterest) and if users want to use some of its services, users will have to use these third-party services:

Affiliates
This disclosure doesn't apply to every website. Blogs, influencers, and some ecommerce websites that have affiliate links will need to include a disclosure stating this to users.
Some companies even require websites to disclose on their sites that they are affiliated with the company and receive compensation for those links.
One of the most popular ones is Amazon. In Amazon's Associates Program Operating Agreement, it is required for websites to notify users of the affiliation.
The FTC also requires blogs/social media influencers to disclose affiliates and endorsements they receive.
An example of a lengthy affiliate disclosure is from The Blonde Abroad. The disclosure reveals that the blog contains sponsorship and the author occasionally receives compensation for products she is affiliated with: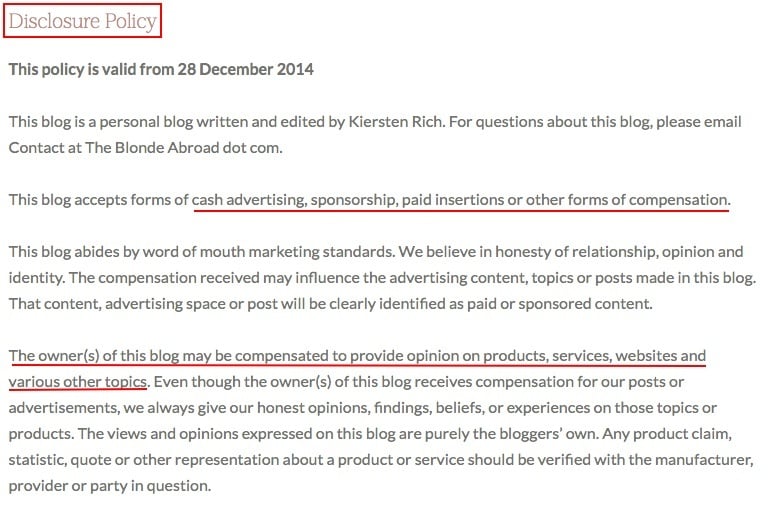 For an example of an affiliate disclosure that is included on a single page of the blog, take a look at Fit Bottomed Girls. The blog includes an FTC-required statement at the end of its blog posts about products and affiliate links that may be included on the page:

Ads
Like affiliate links, the FTC also requires websites to disclose if they include ads and receive compensation for those ads. These disclosures can be long or short, but should adequately disclose the type of ads on the site.
The Penny Hoarder states that it may include ads on its site, but that doesn't mean it endorses these ads:

Websites that use generated ad services for revenue, such as Google Adsense, should also disclose this information to users as well in an advertising disclosure.
Gear Junkie states that third parties might collect or receive information and use it to show tailored ads: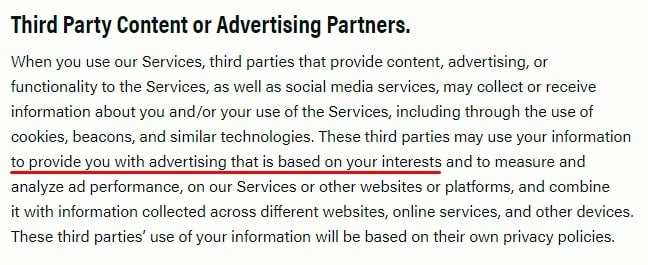 Now let's take a look at disclaimers.
Disclaimers

While disclosures notify users of information about the website, disclaimers advise users about the restrictions of the website's liabilities to users. Disclaimers are the protection side of the informative statement about your site we mentioned earlier.
Disclaimers work to protect your site from potential legal claims. They act somewhat like waivers that state the limits to what the site is responsible for when it comes to third parties, links, and issues the users may have when using the site.
Disclaimers are also distinct from disclosures by their text. Disclaimers are usually bolded or written in capital letters whereas disclosures are normally in standard text. However, this isn't always the case.
The two primary disclaimers you'll encounter are Disclaimers of Warranties and Limitation of Liability. Typically, these are included together in the same section or close to each other because they both pertain to what the site disclaims.
Amazon's Disclaimer of Warranties and Limitation of Liability section is an example of including both disclaimers together: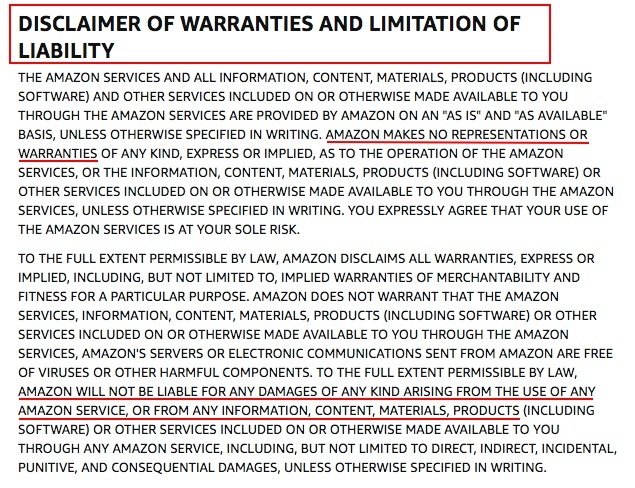 Disclaimers of Warranties
Disclaimers of Warranties are fairly uniform and many sites use similar language. One key language you'll see in these disclaimers is that the services are provided "AS IS." This means users must take the site "as is" and that the website doesn't claim anything won't go wrong.
You'll also find in a Disclaimer of Warranties a list of specific things the website doesn't warrant, which can include errors, defects, or failure to meet expectations.
BuzzFeed is an example of a common disclaimer that includes the "AS IS" language and what BuzzFeed does not warrant or guarantee to users: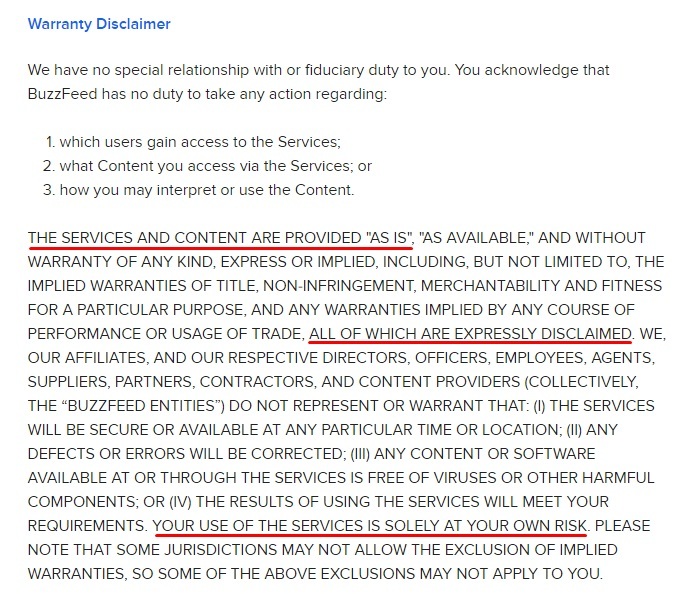 Apple offers another way to disclaim the types of issues or problems it will not be responsible for, including deletion, interruption, and specific legal cause of actions: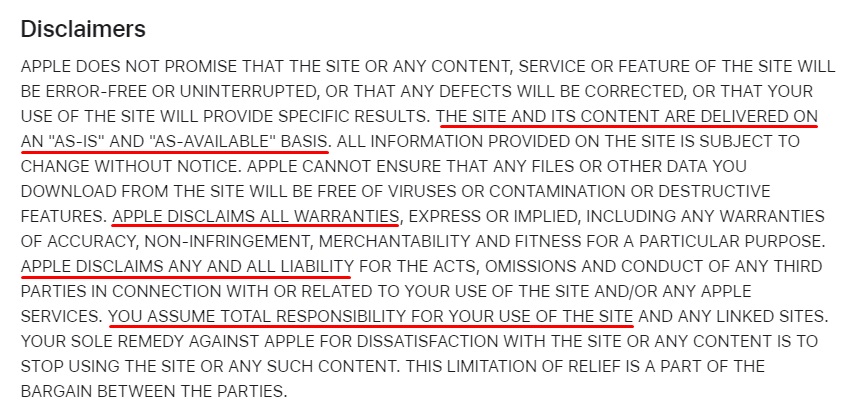 As we mentioned above, when drafting your disclosures and disclaimers you should keep in mind what type of service you provide. Disclaimers of Warranties for a news website will be different than those for an ecommerce site.
Lulus is a clothing ecommerce site and includes similar language to BuzzFeed's Disclaimer. It also specifically includes language about not guaranteeing issues won't happen when users make purchases on its website: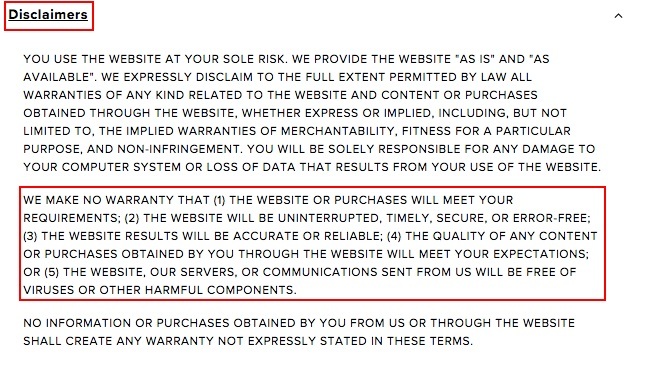 Limitation of Liability
A Limitation of Liability disclaimer states what the restrictions are to the website's liability for any damages a user may obtain when using the site. These damages can be direct, incidental, or through third-party links.
An example of a detailed Limitation of Liability can be seen from the American Red Cross:

A shorter version of this disclaimer, but just as effective, is from NerdWallet:

Social media influencers and bloggers also include these disclaimers on their sites. Magnolia has a disclaimer that states the entire risk of using the site is on the user and even includes how much money Magnolia will be liable for: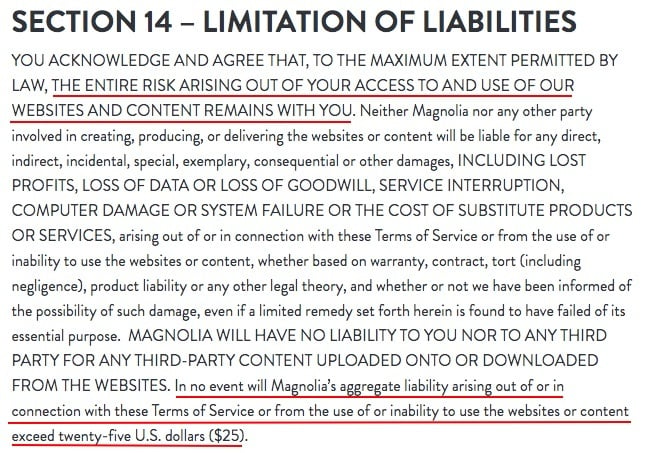 Limitation of Liabilities can also be tailored to the specific website, business or service. For example, Uber's Limitation of Liability provides a section pertaining specifically to transportation issues a user may have in addition to other damages:

Summary
Disclosures and disclaimers are commonly mistaken for each other because of their similar names and language.
The key thing to remember when drafting these is what is each type of notice works to inform the user about:
Disclosures reveal information about the website to users
Disclaimers notify users of what a site disclaims or does not guarantee
Your website will likely benefit from having at least one of these two, if not both. And, the more complex or wide-reaching your site or service is, the more you'll want to consider including both. It will keep your users informed, while protecting your business and limiting your liability.