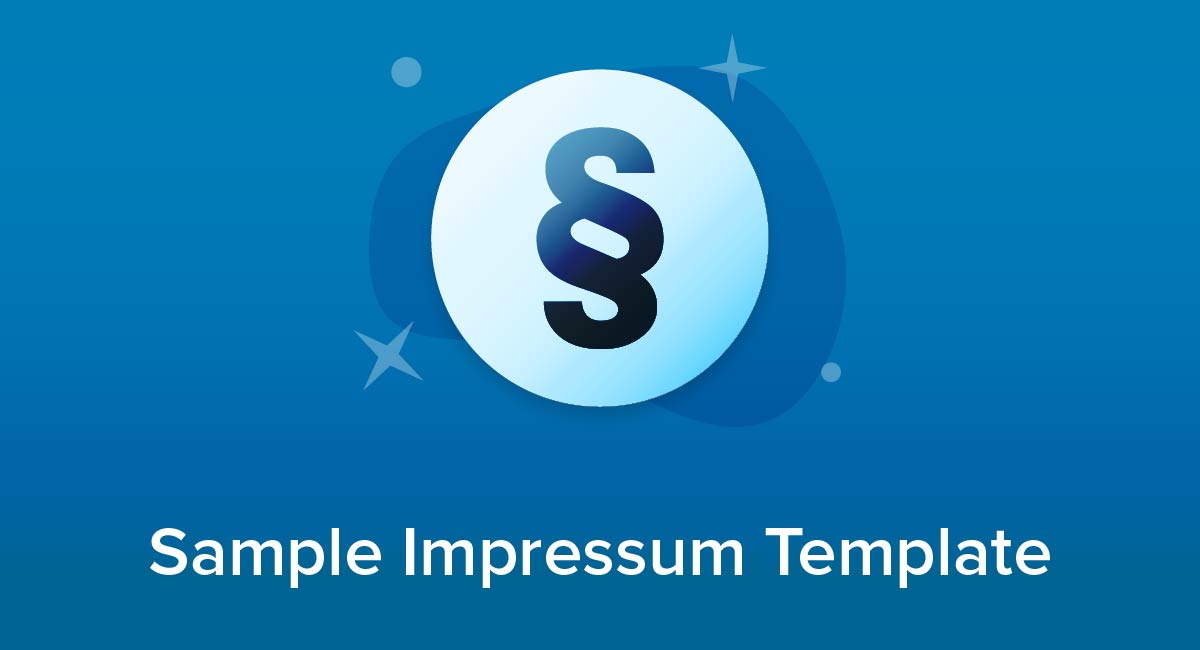 If your business operates in Germany or several other German-speaking countries, you'll need to put an Impressum on your website. An Impressum discloses who created and is legally responsible for the website. You may also need to include it on a Facebook page.
Here's what you need to know about what an Impressum is, why and when one is required, and how you can create your own.
What is an Impressum?
In general terms, an Impressum is a statement of who owns and operates a form of communication. While it originally related to newspapers and magazines, it's now also used for websites.
Here's an example of an Impressum page from Josef Mayr and Company: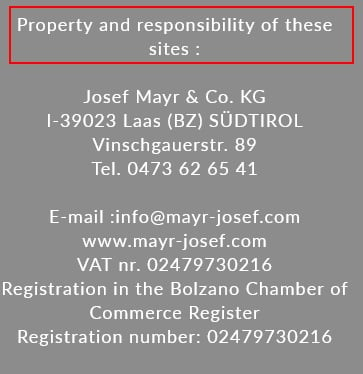 There's no direct translation into English. The name comes from the Latin "impressus," roughly similar to the idea of an "imprint" in English. The concept is similar to an "about us" or "contact us" page.
While anyone anywhere can publish an Impressum, the term also specifically refers to a legally-required statement in several German-speaking countries. That's the meaning and concept we'll be covering in this guide.
What Law Requires an Impressum?
The current rules requiring an Impressum in Germany are from the 2007 Telemediengesetz, which means "Telemedia Law." This updated existing rules to take account of online technologies and to distinguish between publishing in a business and personal context.
Although the Telemediengesetz has been updated several times since 2007, the broad principles of the Impressum requirement haven't changed.
The law was designed to combat spam and illegal content by making people and businesses accountable for what they publish online.
Failing to comply with the Impressum requirement can lead to an "Abmahnungen" (an official written warning) and/or a fine of up to €50,000.
Austria's E-Commerce Act and Switzerland's Federal Unfair Competition Act both contain similar Impressum requirements. Though the laws are separate, they are close enough that complying with the Telemediengesetz should normally be enough to comply with all three laws.
Who Needs an Impressum?

The two criteria that decide if you need an Impressum are that you are operating commercially, and that you operate a website in Germany, Austria or Switzerland.
In most cases, operating commercially means that you are a business, regardless of whether you sell anything online.
Normally, a personal website doesn't require an Impressum. However, you do need one if you have monetized your website. This includes displaying paid advertising (including through ad networks) and using affiliate links.
As with any online business, it can be a hazy legal point deciding where you "operate." The safest option is to assume you can be classed as operating in Germany in any of several situations:
Your website has a .de domain name
Your business has a physical presence in Germany
Your website operates on servers in Germany
You intentionally target customers in Germany, either by selling directly through your site or using it to promote your business. ("Targeting" simply means you serve customers there, not that it's your primary market.)
You are legally required to have a business license in Germany
Again, broadly similar principles apply for the rules in Austria and Switzerland. In all cases, it's definitely a case of "better safe than sorry" and you should err on the side of assuming you are covered by the rules.
Although the Impressum concept covers German-speaking countries, it doesn't matter what language your website is written in.
What Must You Include in an Impressum?

The precise information you need to include in an Impressum will vary depending on the structure and nature of your business. These are some key points that should be in every Impressum.
Name and Address
If you are a sole proprietor without a business name, list your own name.
If your business is a legal entity, list both the business name and the name of your authorized representative (the person people should contact with any questions).
List your registered business address. This should be a physical address, not a PO Box.
Ingredion lists both its legal business name and the name of its legal (authorized) representatives: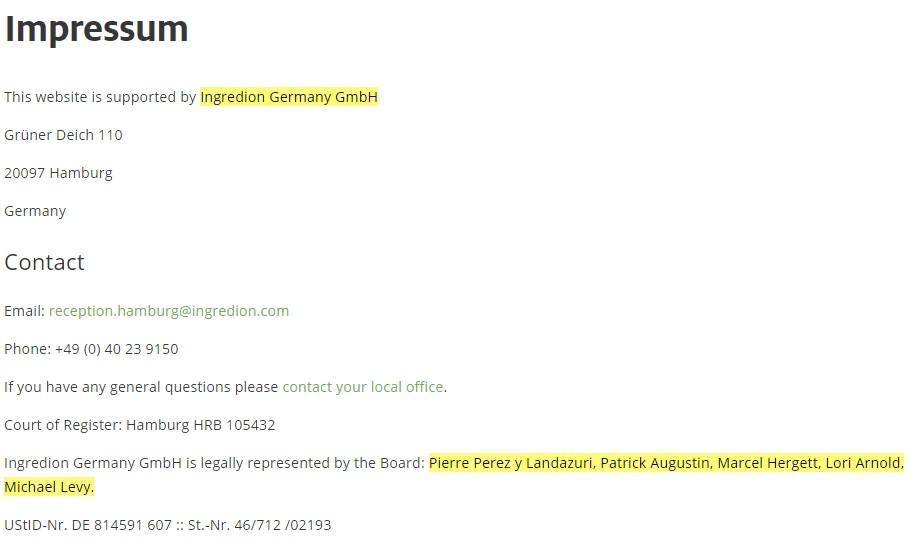 Contact Information
At the minimum, you must include the most direct way people can instantly contact you (so not just a postal address). This could be a phone number, fax number or email address.
Court rulings have established that the means of contact you list must be reliable to use and have no extra cost. This means you can't list a premium-rate phone number.
Usually there's no reason not to list all of these rather than just one. However, don't give any numbers or email accounts that you don't answer or monitor.
Don't simply provide a contact form. You must list specific numbers or addresses.
Eurofighter lists several contact options: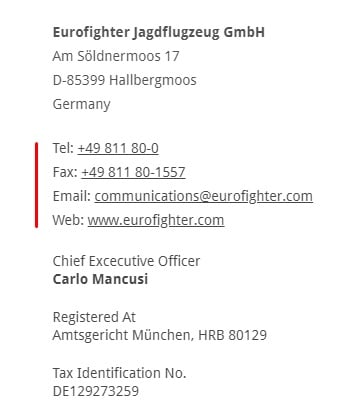 Supervisory Information
If your business is in a field that requires government approval or regulation, list the relevant supervisory authority.
If your business is legally required to be part of a professional association, list that association's contact details.
Note that some regulated legal professionals need to list the chamber to which they belong, their legal professional title, the state where they were awarded the title, and details of the professional regulations that cover their work.
Finnair lists the details of the Luftfahrt-Bundesamt, which regulates air travel in Germany: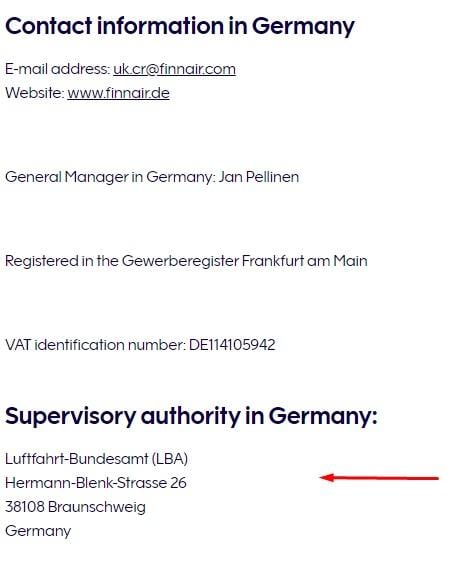 Identification Numbers
If you have one, list your VAT/sales tax identification number. Also list your business identification number (also called a business registration number).
SoftwareAG has, and lists, both numbers:
Business Structure
Most ongoing businesses don't need to list information about their business structure. The two key exceptions are:
If you have information about your share capital anywhere on your site, you must say if some payments for ownership stakes such as shares have not yet been made.
If your business has its own entity (as opposed to you trading as an individual) and is being wound up or liquidated, you must say so.
Online Dispute Resolution
If you sell products or services in the European Union, your site must link to the EU's online dispute settlement platform. While you don't legally have to do so in the Impressum, it's often a logical place to put the link.
How and Where Should I Display an Impressum?

The Telemediangesetz says that you must keep the Impressum information "easily recognizable, immediately accessible and constantly available."
Both guidelines and good practice have established several ways you can comply with both the letter and spirit of these requirements:
Always use the specific term "Impressum" as a header. This makes it much easier for people to find the information when they are looking for it. You could also call it an Imprint.
Make the Impressum easy to find on your site. You can achieve this by either linking directly to the Impressum from both your homepage and your navigation menus that appear on every page, or by putting the Impressum in a logical section of your site such as "About Us" or "Legal Information." The former option is safer to comply with the "immediately accessible" principle.
Make sure your Impressum appears by default as part of a page. Don't hide it away in a drop-down menu or pop-up window.
Nexthink directly links to its Impressum from within the footer, which appears on every page:

Do I Need an Impressum on Facebook?
If you're required to have an Impressum on your website, you're also required to have one if you run a Facebook Page. This is because Facebook requires you to follow all applicable laws, which would include laws that require an Impressum.
The good news is that Facebook makes it simple to include a dedicated Impressum on your Page.
How to Add an Impressum to Your Facebook Page
Here's all you need to do to add an Impressum to your Facebook Page.
Go to Facebook and click on the Pages option:

Select Edit Page Info from the left-hand menu:

Scroll down to the "More" section:

Add the information to the "Impressum" section.
The text will appear immediately on the "About" tab of your page:
You can edit and update the Impressum section as often as you like. The only constraint is that the section is limited to 2,000 characters.
Allianz has a detailed Impressum on its Facebook Page's 'About' section: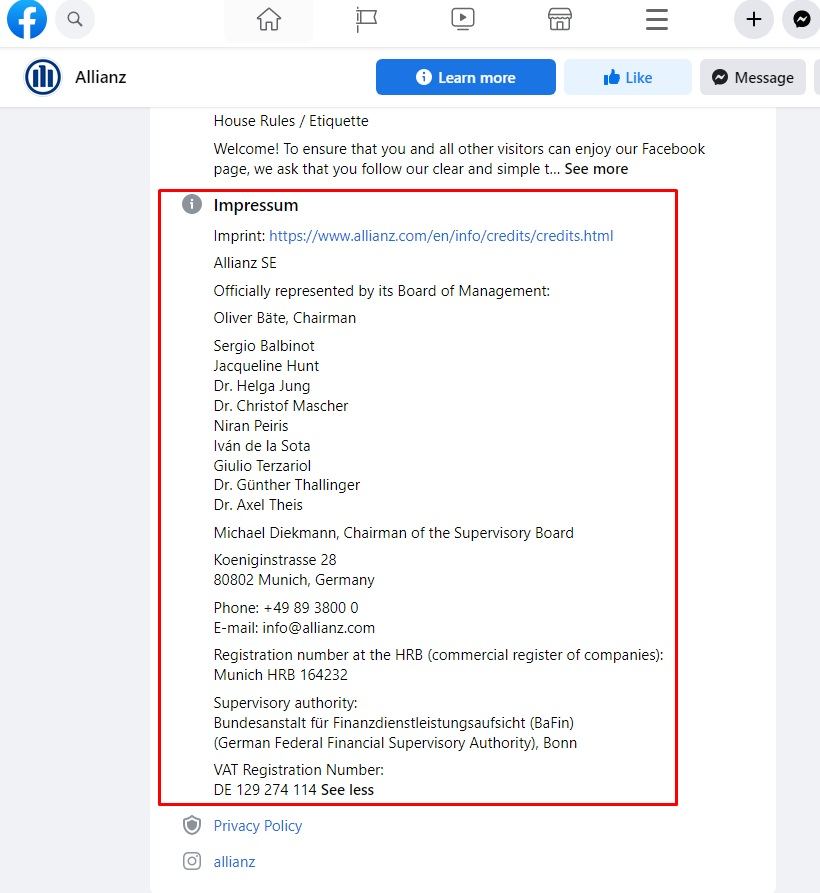 You can also include a link to your full Impressum page within your Facebook page.
Summary
Let's recap what you need to know about Impressums:
An Impressum is a statement about who owns and operates your site, designed to increase accountability for online content.
The German Telemediangesetz law requires an Impressum. Laws in Austria and Switzerland have similar measures.
The Telemediengesetz requires an Impressum if you operate commercially (including personal websites that make money) and you operate in Germany. This can include serving customers in Germany. Similar requirements apply in Austria and Germany.
If you're in any doubt, it's safer to assume you do need an Impressum.

The Impressum should include:

The name and address of your business and your authorized representative.
Contact information allowing direct contact without additional costs.
Details of any supervisory authorities or professional associations that cover your business.
Your VAT/sales tax and business identification/registration numbers, if you have them.

If you sell products or services in the EU, link to the online dispute settlement platform in the Impressum.

Make sure your Impressum is "easily recognizable, immediately accessible and constantly available":

Use the specific header "Impressum"
Link to the Impressum throughout your site
Don't hide the Impressum, for example in a pop-up window

If you have a Facebook Page, treat it as if it were your website and decide if you need an Impressum. If so, add the details to the dedicated Impressum section in the "About" tab under "Edit Page Info" on your Page.