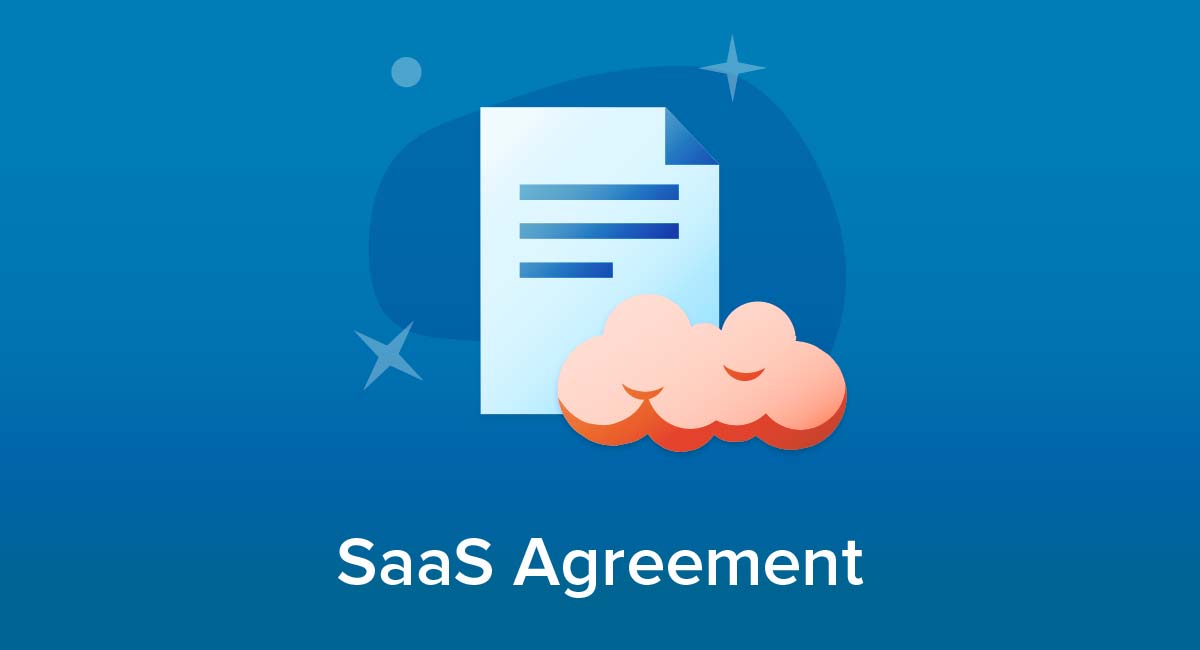 When you use the Software as a Service (SaaS) model for your business, you need to address multiple legal elements. A SaaS agreement is a convenient, transparent way to do this.
This article will explain what a SaaS agreement is and help you create and display your own.
Use FreePrivacyPolicy.com to generate the necessary legal agreements for your website/app:
You check our Free Cookie Consent to start making your business legally compliant with the Cookies Directive in the EU.
What is a SaaS Agreement?
A SaaS agreement is a document designed to cover multiple aspects of the relationship between a SaaS provider and its customers. It is similar to a Terms and Conditions agreement in that it's where you set out things such as:
Prohibited activities
How termination is handled
Payment and billing terms
Limits in your liability and warranty disclaimers
Why Should You Have a SaaS Agreement?

Having a SaaS agreement comes with a number of benefits for you and your customers.
The biggest benefit to you is that you get an enforceable legal agreement that helps you manage your SaaS platform.
Your customers benefit because questions they may have can be quickly and easily answered without needing to contact you (which is also a benefit to you).
How to Create a SaaS Agreement

When writing your SaaS agreement, set out the clauses in clear sections so that readers can quickly find the information they are looking for.
The following are some of the key points you may need to address in dedicated sections (or "clauses") of the agreement.
The SaaS Model and Licensing
While it may seem obvious, you should address the fact that you are offering a service through the SaaS model rather than using a traditional software license. This means:
The customer is allowed to use the services but does not own any software
The permission to use the service is only valid during the licensing period
You have the right to impose conditions on how the customer uses the service
Spell out exactly what the service covers. Key points to address include:
The purposes for which the customer can use the service. For example, it may be for non-commercial uses only.
How many devices the customer can use the service on
What countries or regions the customer can use the service in
Whether you have any limits such as the number of times the customer can perform an operation using the service or if any time limits apply
Whether or not the customer can give a third party the right to use the service
Cloudlytics explains how key limits on customer usage work:

It also notes what kind of license it grants to users:

Prohibited Activities
Set out clearly anything the customer is not allowed to do when using the service. Examples could include:
Reverse-engineering or otherwise altering the software that you use to provide the service
Breaching intellectual property rights
Causing damage to other people or equipment
Using the platform to break the law
Cloudlytics has a Restrictions clause that lists what users shall not do, including copying or reproducing the software:

For more detailed information on creating these clauses, view our article on the topic: Rules for Using our Site or Service Clause
Payment and Billing Terms
Set out the rules for how a customer pays for the service. These will usually be rules that apply to all customers, regardless of the particular package they have or the specific price they pay.
Key points to address include:
When payment is due
What happens if payment is late (for example, assessed late fees or restricted service)
What currency people can use to pay and what happens if exchange rates vary
Whether a license period automatically renews and whether you take the renewal payment automatically
Whether prices will rise at the renewal date. You could list a specific percentage rise or explain how you will decide the price increase such as using a given measure of inflation.
Whether prices include any taxes and what happens if these taxes vary over time
Firstup covers many of these points in its SaaS agreement: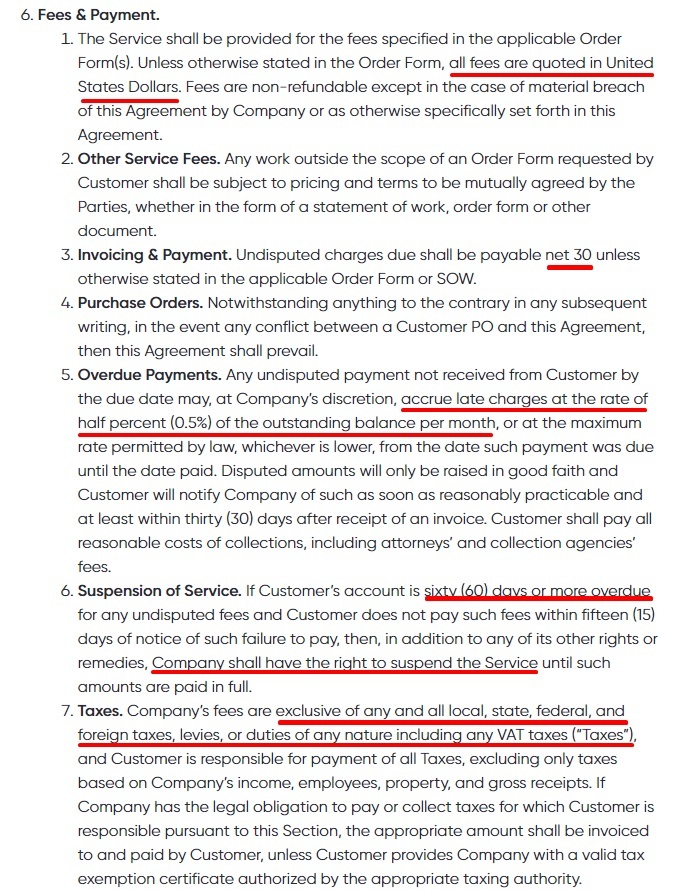 Termination of Accounts/Service
Explain how the licensing agreement will end. This should cover both any scheduled end (such as a fixed-term license) and the ways it could end early. Key points to address include:
The reasons you may end it early, such as the user missing payments or breaking the terms of use
Whether the customer has the right to cancel early and how to exercise this right
What happens to any outstanding payments
When you will withdraw access to the service
Whether the user will be able to access any data after you withdraw the service
What happens if your business stops operating or you are taken over by another company
Security Scorecard goes into detail on the process and consequences of termination. Note that this is just an excerpt of its rather long, highly detailed clause: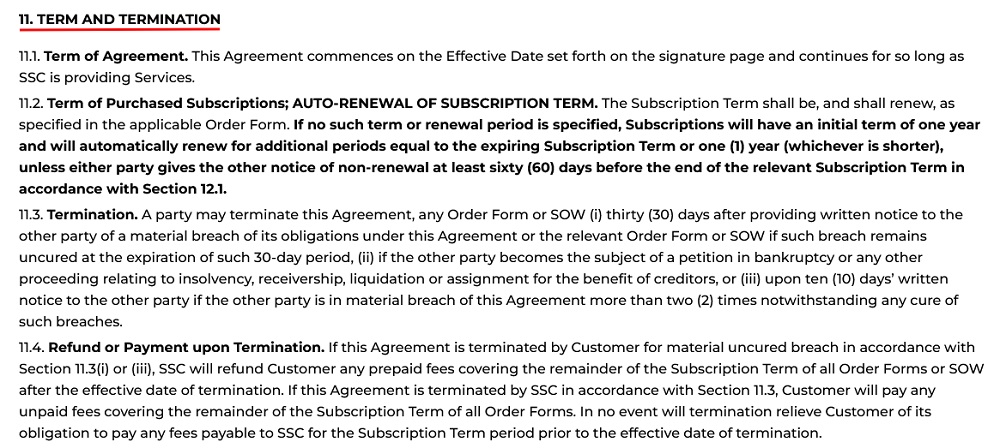 Limitation of Liability and Disclaimer of Warranties
Liabilities are when you are legally responsible for something while warranties are effectively promises you make to a customer. If you don't address particular liabilities or warranties, customers may assume they exist when that is not your intention. A court might agree with them and even if you win a case, legal disputes can be time-consuming and expensive.
To avoid this problem, businesses often use these two types of legal statements.
A limitation of liability sets out:
Risks and potential harm for which you are not taking responsibility
Any limits on the amount of money you will pay when you are responsible for damage, for example, a limit of your liability to the fees a customer has paid you and nothing more
A warranty disclaimer makes clear you are not making particular promises. This could include:
That your service will always be available and working
That your service will perform a particular function for the client
You can also make a general warranty disclaimer that says you don't make any warranty beyond what you specifically promise in your SaaS agreement.
Check the applicable laws in your jurisdiction. Sometimes some liabilities and warranties apply automatically even if you say you have limited or disclaimed them. In some cases, it may be against the law to tell customers such liabilities or warranties exist.
Stampede combines liabilities and warranties into one section of its agreement:

Your Level of Service
This clause, which sometimes comes as a standalone document known as a Service Level Agreement (SLA), sets out what customers can expect from your service and what happens if they don't get it.
With SaaS this could include:
The percentage of time the service will be available ("uptime") and how you calculate it
How quickly you will fix any problem and how you triage reported issues
How often you will update the software behind your SaaS or fix any bugs
You can also set out what happens if you fall short of this service level such as:
A cash refund
Credit to spend on other services
Extending the service period without additional cost, either by a fixed period (such as a month) or to make up for the downtime
SailPoint clearly sets out its service level and the compensation it offers when falling short: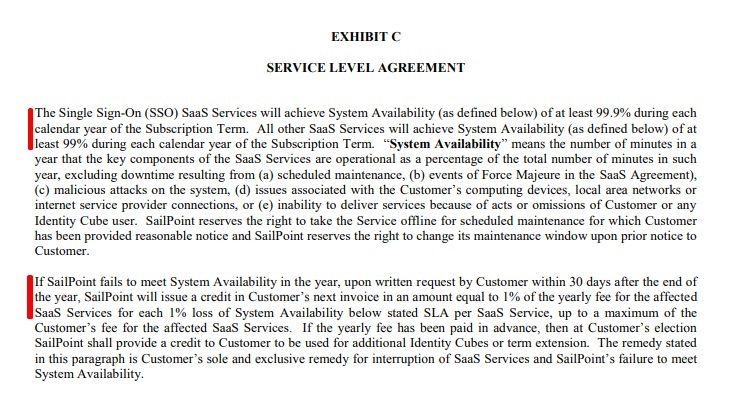 Privacy
You may handle customer data either in processing orders and offering support for your service, or through the way customers use the service itself (such as data uploaded to your servers.) This will often come under privacy laws.
Privacy laws require you to have a dedicated Privacy Policy, but you can additionally address key points of it in your SaaS agreement and then link to your full Privacy Policy.
These points can include:
What data you collect
Why you collect it and how you use it
Who, if anyone, you share the date with
When you will delete the data, or how you decide when
What rights the customer has, such as to access the data and request you delete or correct it
How you secure the data
Matics covers some of these points within its SaaS agreement: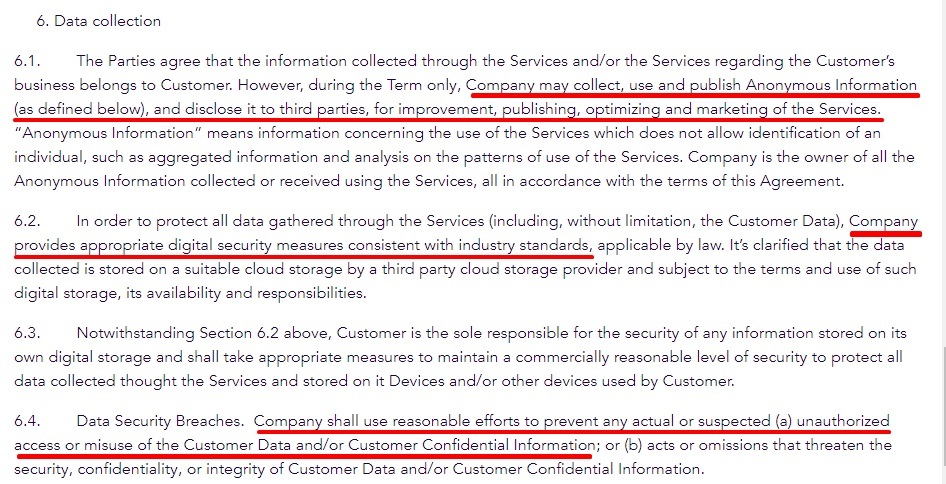 Just don't forget to keep a separate, complete Privacy Policy, even if you include this information in your SaaS agreement as well.
How to Display and Get Consent for Your SaaS Agreement

People must be able to access your SaaS agreement at any time, whether they're customers or not. The best way to do this is to make the SaaS agreement available as a dedicated web page that you link around your website, and within the SaaS platform itself.
Tooled Up Raccoons has a footer link to its SaaS agreement:

Here's an example of how you can display a legal agreement link within an app menu so your customers can access it from within your SaaS app itself: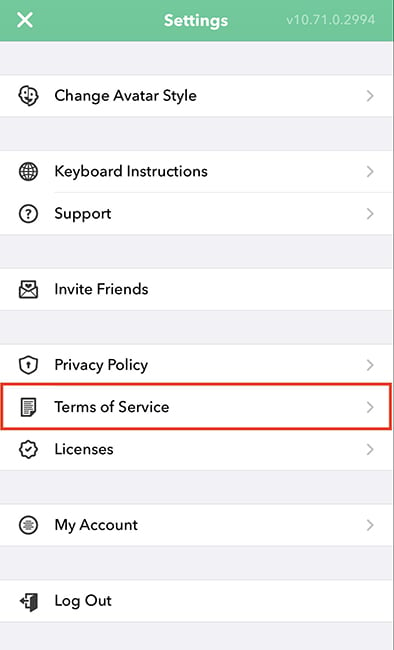 ed
Because a SaaS agreement is so fundamental to your relationship with the customer you need to be absolutely certain they have read and agreed to it. Do not simply assume the customer has read it.
The best way to get this certainty is to require a positive indication before the customer is able to sign up to your service. This should have the following features:
A clear statement that the customer is indicating they have read, understood and accepted the SaaS agreement.
A clear link or other way to view the agreement, placed directly before or by the sign-up point.
A requirement of an action from the customer such as ticking an "I Agree" checkbox or button to continue and sign up. Don't use a pre-ticked checkbox.
Meister requires users to tick a checkbox which is directly by both a link to the Terms (such as a SaaS agreement) and the sign-up button: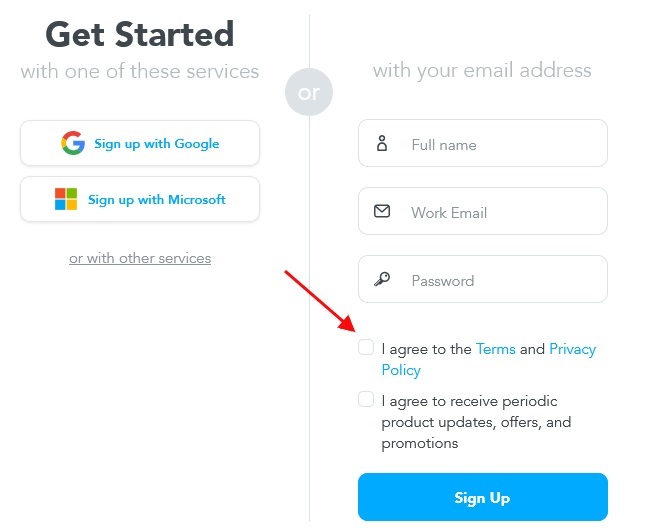 Summary
Let's recap what you need to know about SaaS agreements:
A SaaS agreement is a document outlining the relationship between you and your users. It should include information on the following::
Rules your customers must follow
How payment and billing works
How the agreement can end (from either side) and the consequences
Whether you are limiting liability or disclaiming warranties
What level of service you promise and what happens if you fall short of this level
A link to your Privacy Policy
It's best to display your SaaS agreement in multiple locations such as your website, a sign-up page and in the SaaS application or online service itself.
For legal certainty, require customers to give a positive, unambiguous sign of consent to the SaaS agreement (such as ticking a checkbox) before they can sign up to your service.