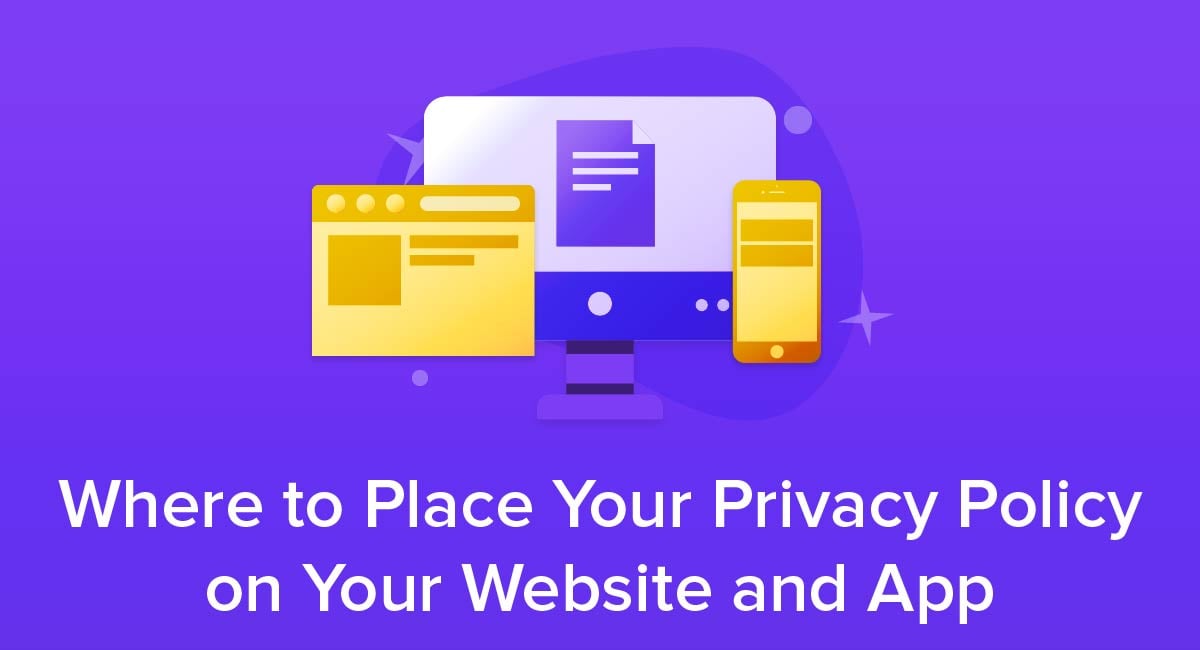 One of the most important things to consider when deciding where to place your Privacy Policy is its accessibility.
The design and feel of your website will have some influence on how you post your Privacy Policy, but there are important legal considerations to keep in mind when making this decision.
This article will look at those legal considerations and explore some best practices for compliantly and effectively displaying your Privacy Policy on both your website and app.
Our Free Privacy Policy Generator helps you create a custom Privacy Policy for your website and mobile app. Just follow these few simple steps and your Privacy Policy will be ready to display in minutes.
Click on the "Free Privacy Policy Generator" button, located at the top of the website.
Select where your Privacy Policy will be used:

Answer a few questions about your business:

Enter the country and click on the "Next Step" button:

Continue with building your Privacy Policy while answering on questions from our wizard:

Almost done. Now enter your email address where you'd like your new Privacy Policy sent and click on the "Generate" button and you're done.

That's it. Now you can copy and paste your Privacy Policy code into your website, or link to your hosted Privacy Policy.
Why You Must Make Your Privacy Policy Accessible
Your Privacy Policy is Important
Your Privacy Policy is one of the of the most important pieces of information you can post. Make sure users can access it quickly at any time and encourage them to read it before committing to using your product or service.
Accessibility Promotes Transparency and Transparency Inspires Trust
Placing your Privacy Policy in a prominent place and making it easy to read increases users' trust in you and your business.
An Accessible Privacy Policy Keeps Your Team Vigilant
Placing your Privacy Policy conspicuously serves as a reminder to you and your team to be accountable and to uphold your own stated values and standards.
Consumers Will Be More Likely to Read Your Privacy Policy
Placing your Privacy Policy prominently, while also following the legal directives to make it as simple, concise, and understandable as possible, increases the likelihood that clients and potential clients will read it and better understand their rights.
Laws Demand That Your Privacy Policy Be Accessible
There are a number of legal regulations all around the world that are designed to protect citizens' privacy. All are in agreement regarding the necessity of well-written Privacy Policies to ensure the safety of online commerce. One common stipulation is that these Policies must be accessible to users.
The General Data Protection Regulation (GDPR) was created to protect the privacy rights of the citizens of the 28 European Union countries.
CalOPPA (California Online Privacy Protection Act) was developed in California to protect the online privacy of California residents.
PIPEDA (Personal Information Protection and Electronic Documents Act ) was developed by Canada to protect its citizens when they're dealing with private businesses, particularly online. It contains special stipulations regarding the language of Privacy Policies, stating that the language must be simple enough that children and the mentally impaired will not have difficulty understanding it.
Australia's Privacy Act of 1988 uses a principles-based method to protect the online privacy that country's inhabitants.
In short, it's now virtually impossible to advertise products and services online to anyone not covered by a privacy regulation.
Even though laws themselves don't always prescribe exactly where the Privacy Policy should go on your website or app, they do demand that it be not only easily understood but easy to find.
Where to Place the Privacy Policy on Your Website
Footer Links
The most common place to put a link to your Privacy Policy is in the footer at the bottom of every page of your website.
The Snapchat website places the Privacy Policy URL at the bottom of every place you might land. It's not always in the same form, but it's always there.

Sign-up Forms
If you ask users to share information with you to sign up for an account or register with your website or app, you should provide a link to your Privacy Policy within the form or close to it.
The New Yorker places a link to its Privacy Policy in its registration form along with an assurance that all information will be treated according to that Policy: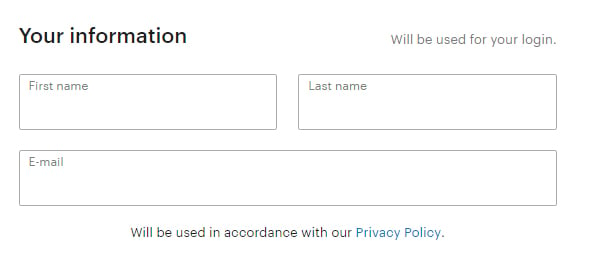 Checkout Pages
Privacy Policies can also be linked in checkout pages.
Here's an example of how HostGator links and also gets agreement for its Privacy Policy (and other legal agreements) on its checkout page:

Shopify instructs online stores how to do this in its "Help" section: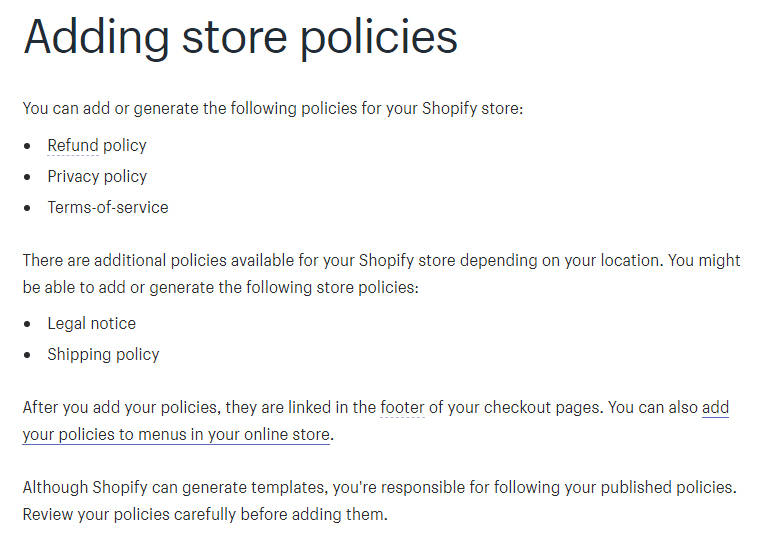 Note that they also wisely suggest adding policies to menus.
As a Banner on the Landing Page
You can put a banner or popup message on your site that shows up as soon as a user accesses your site and is presented with a landing page. The message will say something like "Press OK to signify that you've read and accepted our Privacy Policy."
Many businesses reject this for aesthetic reasons, choosing rather to draw users' attention to the website's product or brand. However, with a bit of clever planning and smart design this kind of banner can be appealing, reflecting the business's own aesthetic, as witnessed below in Fast Company's landing page banner for cookies and its Privacy Policy:

Where to Place the Privacy Policy on Your App
Mobile apps present a slightly different challenge for posting your Privacy Policy due to limited space, but you do have choices. A good rule of thumb is that you should make your Privacy Policy accessible to users both before and after they download your app.
App Store Listings
You can post a link to your Privacy Policy in your app store listing. This can alert users to your Policy even before they download your app, and that's what informed consent is all about. The Privacy Policy is usually down at the bottom of the listing, under a category such as "Additional Information."
Here's how the Netflix app store listing provides its Privacy Policy in the Developer section of the app listing: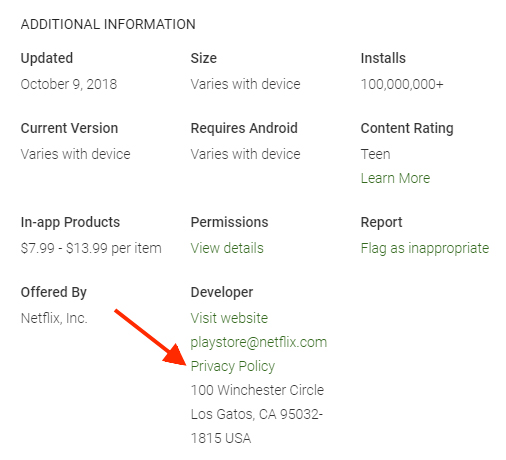 In fact, most major app stores are now requiring all apps to have a Privacy Policy or they won't be accepted for distribution through the store.
Sign-in Pages
The Privacy Policy can also be made accessible on sign-in screens so a user will always have an easy time accessing the policy before sharing any personal information with you: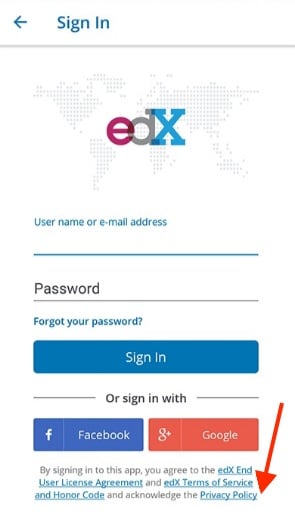 About or Legal Menus Within the App
If the app has menus that are accessible within the app, the Privacy Policy link can be listed there.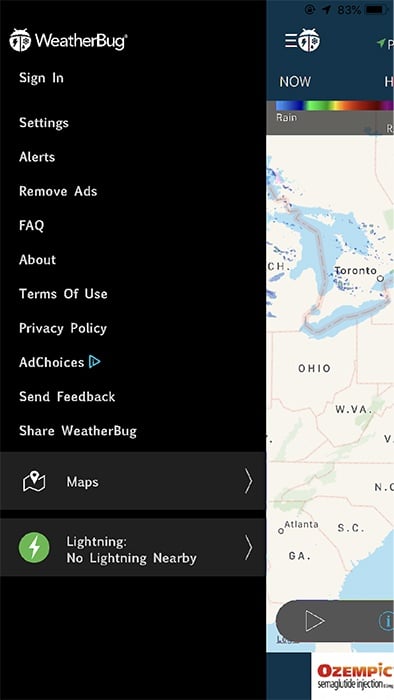 Checkout Pages
Your Privacy Policy can also be linked within the app during the mobile checkout process.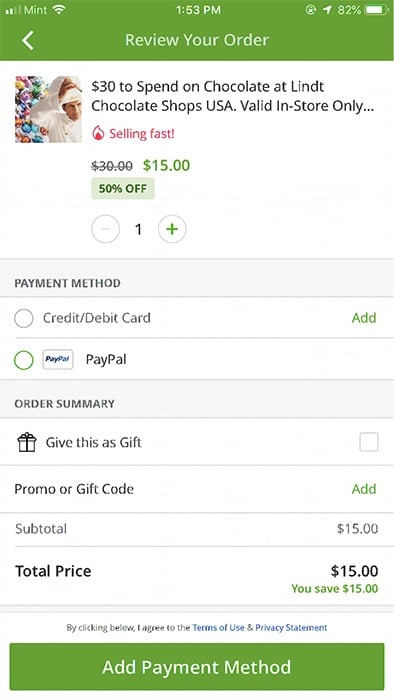 On the Website That Promotes Your App
When people want to know more about an app or the company behind the app they'll often check the website. Post your Privacy Policy URL on your promotional website in the same ways listed about in the website section, including, for example, in a footer the way King does it in the website that promotes their game Candy Crush Saga:

Summary
The law and good business practice both demand that your Privacy Policy be accessible to users, both before and after they decide to interact with your website or mobile app.
For websites, the most common places to place a URL to your Privacy Policy are in the footer, in your sign-up forms, on checkout pages and in a banner on your landing pages.
For mobile apps the best places to post a URL to your Privacy Policy are in app store listings, on sign-up and sign-in pages, in menus within the app, on checkout pages, and on the website that promotes your app.