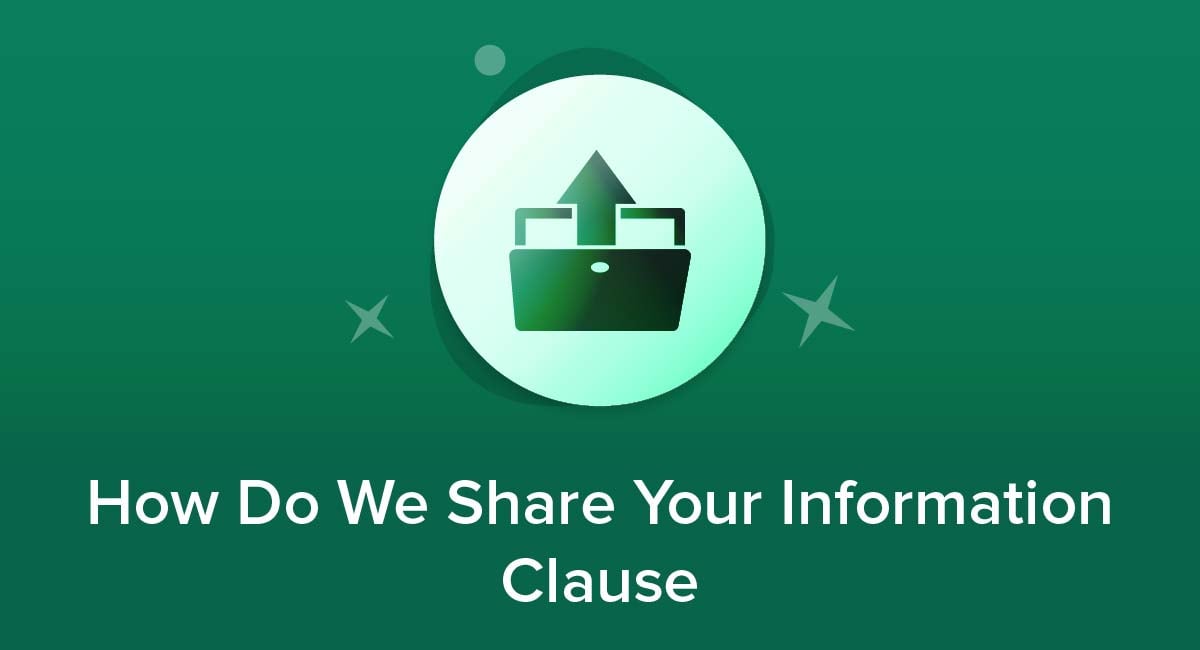 If your website or app collects the information of users and shares that information to help with analytics, user experience or function, then including a "How Do We Share Your Information" clause in your Privacy Policy is a must.
This clause is one of the key sections of your Privacy Policy and has dual purposes. First, to protect your website. Second, to inform users of when their information is shared.
This article will offer more about what this clause is, why it is important, and how you can draft your own.
A How Do We Share Your Information clause is a statement by your company of how, when, and with whom you share the information that you collect from your users. Your company can share the information with other companies, third parties, social media, and law enforcement for certain reasons.
Additionally, this clause is required by privacy laws across the world.
Our Free Privacy Policy Generator helps you create a custom Privacy Policy for your website and mobile app. Just follow these few simple steps and your Privacy Policy will be ready to display in minutes.
Click on the "Free Privacy Policy Generator" button, located at the top of the website.
Select where your Privacy Policy will be used:

Answer a few questions about your business:

Enter the country and click on the "Next Step" button:

Continue with building your Privacy Policy while answering on questions from our wizard:

Almost done. Now enter your email address where you'd like your new Privacy Policy sent and click on the "Generate" button and you're done.

That's it. Now you can copy and paste your Privacy Policy code into your website, or link to your hosted Privacy Policy.
Why a How Do We Share Your Information Clause is Important
This clause is one of the most important clauses within your Privacy Policy. As the protection of the private information of consumers on websites and apps becomes ever more important, who that information is shared with is one the key things consumers want to know.
It's also essential because it creates open communication between your company and your users. Transparency is extremely important for privacy laws and is a major concern for consumers. Making sure you are open about your sharing processes will help create trust between your company and current and future users.
This section can also help protect your website or app if a potential legal issue arises. If there is a dispute over whether a consumer was informed about whether their information was shared with third-parties or affiliates, not having this section could potentially leave your company liable.
How to Draft a How Do We Share Your Information Clause

No one privacy law dictates how you should construct your How Do We Share Your Information clause. This means that you need to pay close attention to the privacy laws that apply to your company. It also means that you have a little discretion with how you format your clause.
Where this is included in your Privacy Policy is up to your company. However, most websites include it after the sections about what information you collect and why you collect that information. Keeping this section together with these other key clauses will make it easier for consumers to understand your practices.
Below are a few more tips on how you can construct this clause.
Use Good Formatting to Keep it Easy and Readable
You can draft your clause in whatever way you want. Whether that is by using bullet points or using paragraphs, the thing to remember is that the information needs to be easy to read.
Oftentimes websites will use some way to separate out who they share information with. Since this list can be quite extensive for some websites, for example ecommerce stores, making sure there are plenty of breaks can keep this clause understandable.
COACH is an example of how you can do this using bullet points. Bullet points are one of the most common formats for this type of clause: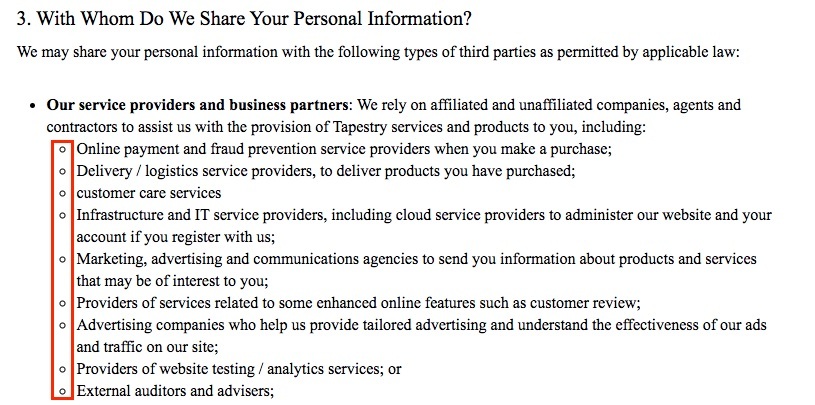 Venmo also uses bullet points and simple, clear words to state its sharing practices: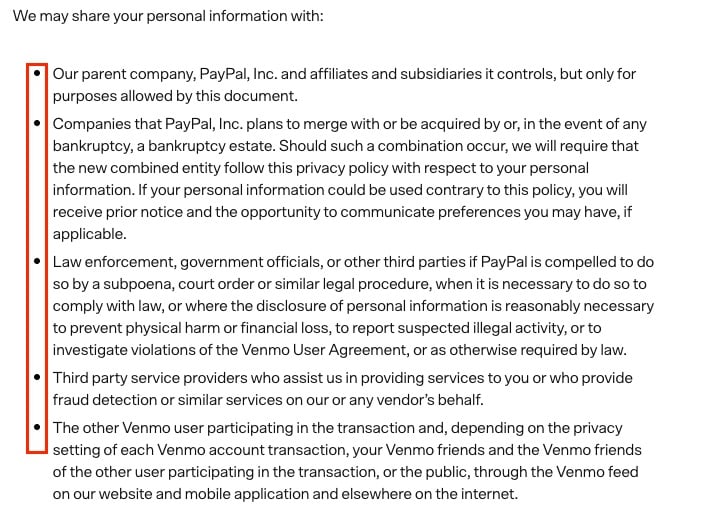 As another option, you can also use a table. Anthropologie uses a table that breaks out what type of data is collected, when the information is shared with service providers, and when it is shared with third-parties:

Disclose Who You Share Personal Information With
This is the main point of this clause. You need to state who you share your information with. Some websites will have a longer list, while others will have a shorter list. You don't have to give specific third parties you share with, but it's recommended that you state the different types of entities, or categories, at a minimum.
Along with stating the types of entities you share with, including why and when you share the information is also a good option.
West Elm is one way of doing this. It offers extensive information on who the data is shared with and why the data is shared: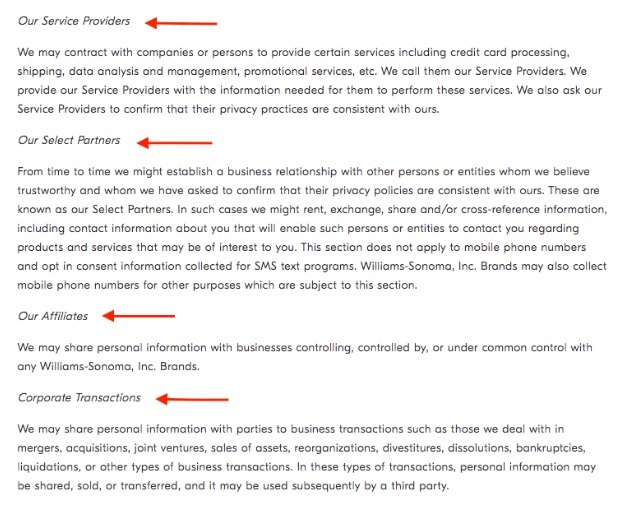 Under Armour offers a different option. In its general Privacy Policy it simply lists the entities it shares with but also directs readers to "Read More" about this information. If you have an extensive list of who you share with, this may be a good method to keep your policy from being too wordy: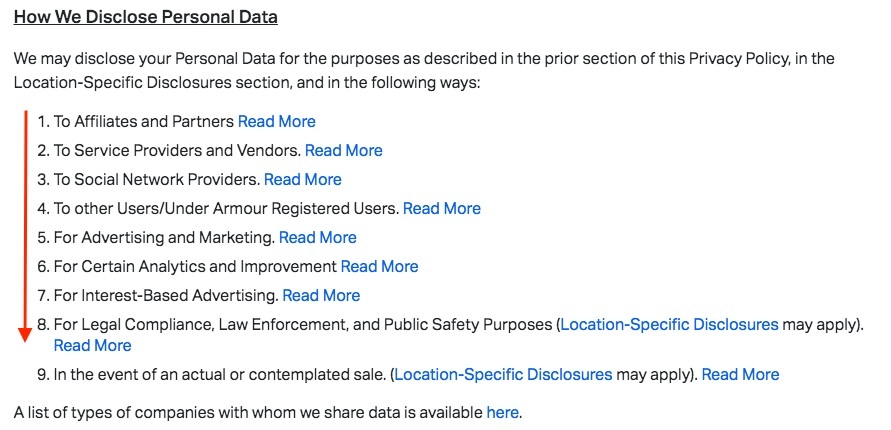 While each of these clauses will be tailored to each company, there are a few common topics that most of these sections have. These can include sharing with:
Third parties
Other users
Public information
Law enforcement
Third Parties
The most common section in a How Do We Share Your Information clause is whether you share information with third-party entities. It's very difficult nowadays for websites and apps to function without using third parties. This can be to help run the website, improve analytics, and even improve user experience. Sharing user's information is a key part to make sure these entities' purposes function correctly.
When you state what third parties you are sharing with, it's helpful to elaborate on why you are sharing this information, such as for financial processing, analytics, or other services the third party offers to you.
Take a look at Snapchat's third party section to see how this can be done: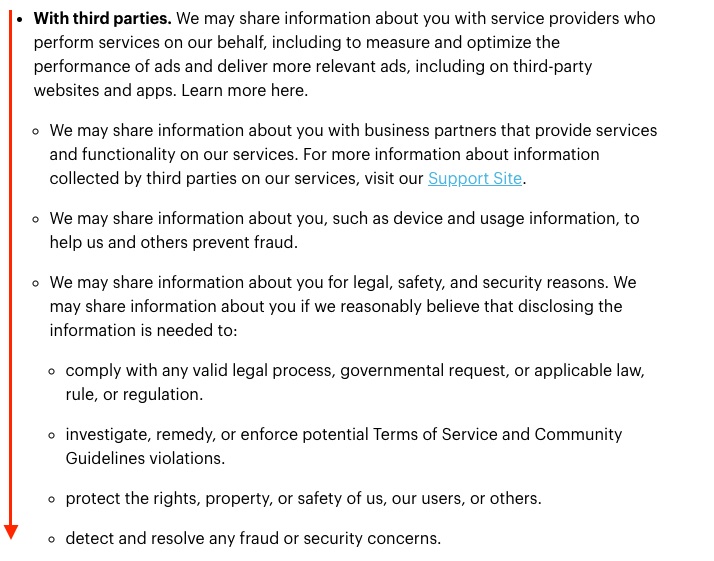 Other websites may offer a more simple approach by listing out the third-parties they share with in a single paragraph. You can see how to do this in COACH's Privacy Policy:

Other Users
If your website or app has forums or is based on user-generated content, including a section about how the information users upload is shared with other users is key. This can be what is uploaded, geological location, or a user's interaction with the app.
See how Snapchat does it in its "With other Snapchatters" section of the clause: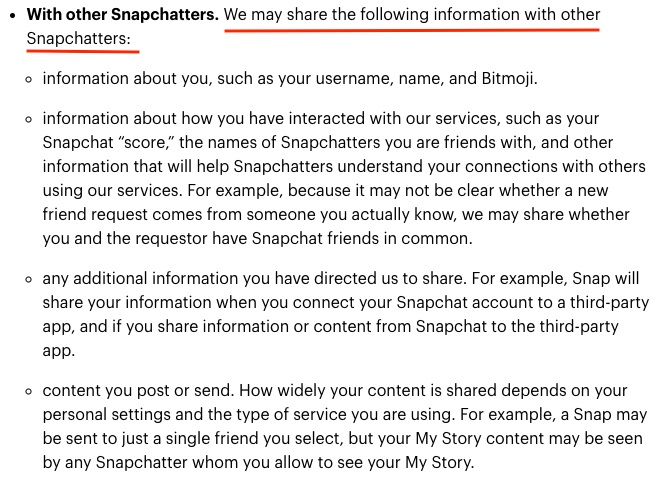 In this section, you may also want to include a statement notifying users that they should consider what they upload and share with a website or app. This reminds users that their information will be shared and encourages users to help protect their own information.
Instagram includes this in its Privacy Policy since its primary function as an app is for users to share photos and videos with each other: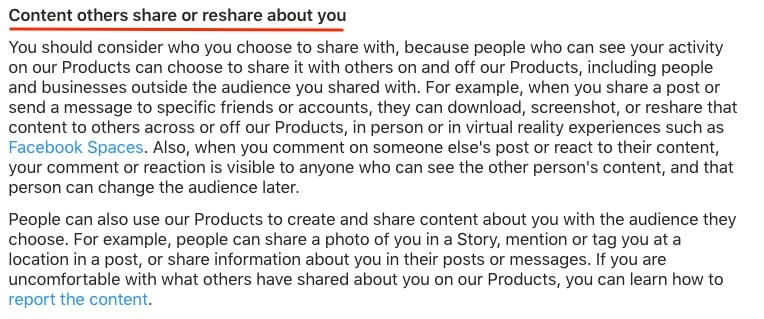 Public Information
Some information that websites collect may actually be considered public information that can be shared with anyone when they visit the website. For example, usernames or "general information" sections of a user's profile may be shared with anyone when the website is visited, even if that visitor doesn't have an account.
Disclosing this information is especially important because users need to be made aware of the information that is on the public space of the website. Users may not always think about this, so including this in your clause can put users on notice.
Venmo includes this in its Privacy Policy since visitors are able to see the public profiles of Venmo accounts: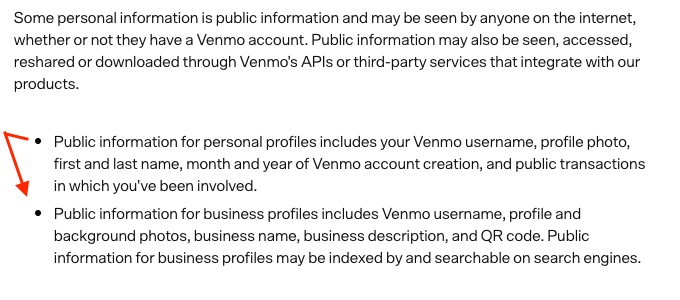 Law Enforcement or Required Sharing
Sometimes websites are required to disclose a user's information to comply with law enforcement or government requests. This can result from a legal dispute, a subpoena, or a review by a government agency.
Here's how Microsoft discloses this: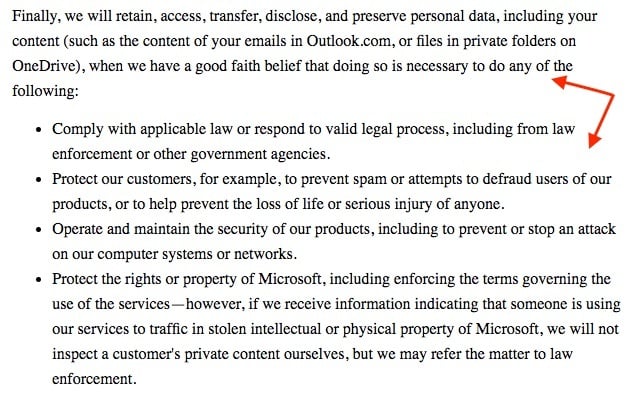 Uber has another example of how to state this information and even includes a link to Uber's guidelines for when it shares specifically with law enforcement:

Summary
Remember when drafting your clause to keep it simple and easy to read. You can construct the clause in whatever fashion you choose. Bullet points or tables are a couple of recommended formats that will help keep your clause organized.
You should include any and all entities that your website shares information with. Different websites will have different entities they share with so tailor the clause to your website.
The below list is not exhaustive, but can be a good start when drafting your clause:
Third parties
Other users
Public information
Law enforcement